7 Fun Things To Do in Allentown This Fall
Posted by Alex Lopez on Monday, September 28, 2020 at 3:46 PM
By Alex Lopez / September 28, 2020
Comment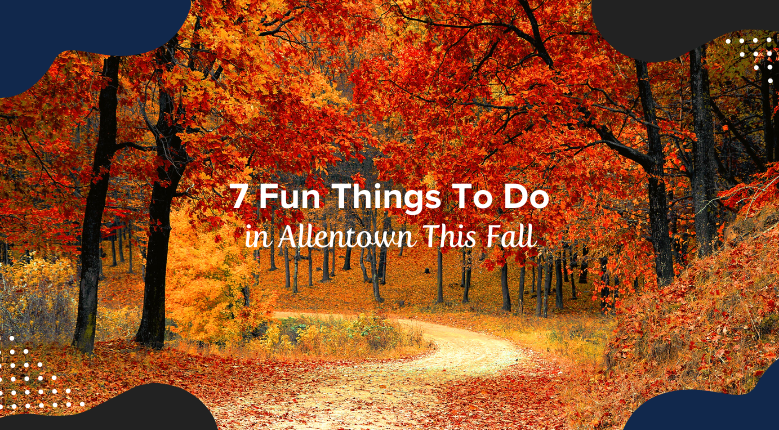 Whether you are a visitor or a local resident, there are so many things to do in Allentown that will make it interesting and educational for you and your family and guests. In the Lehigh Valley of eastern Pennsylvania, Allentown is the third-largest city in the state and is close to Philadelphia and New York, if you are looking for a day trip.
Some of the outstanding suggestions are the following:

In 2010, Grim's Orchard & Family Farm decided to expand their annual pumpkin picking patch to a full scale pick-your-own farm market offering farm-market-fresh strawberries, cherries, tomatoes, peppers, green beans, zucchini, eggplants, potatoes, sunflowers, other flowers, apples, and pumpkins. So, they redeveloped their 17-acre farm that raised over 3,000 chickens, wheat, feed corn, oats, and barley as well as a one-acre garden. With the variety of pick-your-own produce, there are many reasons to enjoy Grim's Orchard & Family Farm year round.

In season, your family can celebrate the Sunflower and Zinnia Experience where you can cut flowers.

Their fall events feature an apple picking season along with the pumpkin patch. In addition, Grim's Orchard & Family Farm includes other activities during their Fall Festival starting in mid-September. Your family can enjoy a corn maze, hayrides, cattle rides, and games.

A selection of 23 apple varieties are available. Grim's provides a calendar to let customers know when different varieties of apples will be ready to pick. The farm market also offers cider, baked items, and more.

Address: 9875 Schantz Road, Breinigsville,
Fall Festival Hours of Operation: From Saturday, September 12 through Sunday, November 1, 2020, the festival is open Monday through Friday from 10 a.m. to 6 p. m., Saturdays, Sundays, and Columbus Day Monday from 10 a.m. to 7 p.m. Last entry is at 6 p.m.
Visiting Hawk Mountain in the fall provides you with the opportunity to view the colorful fall leaves and see the fall migration of the raptors. Hawk Mountain covers 2,500 acres and offers eight miles of trails. Programs to learn about the role of raptors in the ecosystem are available at Hawk Mountain. Among the raptors that can be viewed at Hawk Mountain are the bald eagle, golden eagle, Cooper's hawk, broad-winged hawk, red-tailed hawk, Peregrine falcon, osprey, and American kestrel.

In the fall, the Hawk Mountain raptors migrate south over the eastern Gulf of Mexico and Veracruz, Mexico. In 1987, a program began that is connected with Hawk Mountain to count the number of raptors migrating over Vera Cruz. The first 45 day count in the spring of 1991 tallied 800,000 hawks. The first fall count in 1992 tallied 2.5 million raptors. The fall count is now up to 4.5 million raptors including Swainson's hawks, broad-winged hawks, turkey vultures, and Mississippi kites.

Address: 1700 Hawk Mountain Road, Kempton
Hours of Operation: Sunday through Saturday from 8 a.m. to 5 p.m.
The Coldbrookdale Railroad should be on your list of things to do in Allentown. It provides an 8.6-mile, two hour excursion to Secret Valley, a historic and scenic area that is little changed since the early settlers first arrived here. The valley includes the Manatawny and Ironstone Creeks. It was home to early iron foundries and offers lessons in geology. Deep rock cuts in the valley were caused by Civil War veterans, who were hired to extract the available ore. This work exposed an ancient mountaintop and an ancient sea floor. The valley is now populated by bald eagles, blue herons, red-tailed hawks, white-tailed deer, fox, turkeys, geese, ducks and turtles.
Seasonal excursions are available throughout the year. The autumn splendor fall foliage train showcases the colors and scents of fall. Cider and autumn snacks are provided. For Halloween, you will hear stories of the haunted Secret Valley on the Eerie Limited train. The "Twas the Night Before Christmas Train" is an excursion for pajama-clad passengers to enjoy hot chocolate as they view the scenery. The Santa's Polar Bear Express Train takes you and Santa to the Secret Forest to select a Christmas tree.
Location: Third and Washington Streets, Boyertown
Hours of Operation: Monday through Friday from 9 a.m. to 4 p.m. and Saturday and Sunday from 10 a.m. to 3 p.m.
Local Seasonal Beers
With the arrival of fall, many local breweries will introduce new seasonal beers and bring back previous favorites. So, make sure you have a chance to sample some of them. One favorite is Weyerbacher's Imperial Pumpkin Ale. Weyerbacher has some good beers among their regular offerings including Sunday Morning Stout, Merry Monks, Blithering Idiot, and Last Chance IPA. However, their Imperial Pumpkin Ale is considered one of the top seasonal beers in the country. If you are hungry, they offer chips and dip or on the weekends, there is usually a food truck. On Friday, Saturday, and Sunday, they typically offer a free 45-minute tour of the brewery and tasting room. Weyerbacher has also hosted special events such as live music, release parties, Pints & Poses (yoga), and arts and drafts classes.
Address: 905 Line Street, Suite G, Easton
Hours of Operation: Monday through Wednesday from 12 p.m. to 7 p.m.; Thursday 12 p.m. to 8 p.m.; Friday and Saturday from 12 p.m. to 9 p.m.; and Sunday from 12 p.m. to 6 p.m.
Happy hour is Monday through Friday from 4 p.m. to 6 p.m. On Saturday and Sunday from 12 p.m. to 2 p.m., they have Hair of the Dog specials.
You can never have enough apple cider or apples to make your favorite treats for fall events. You can make an outing of visiting any of the additional orchards listed. Be sure to get enough apples to create apple pies, apple dumplings, apple crisp, apple strudel, and apple butter.
Other area orchards include:
Bob White Acres

County Line Orchards

George Schmidt Berry Farm

New Tripoli

Gogle Farms

Gulick's Orchard

Bechdolt's Orchard

Juniperdale Farms and The Produce Crib

Schantz Orchards

Scholl Orchards
Local Coffee Shops
As the weather turns cooler, you will be looking for flavorful, hot drinks. You're in luck. The Lehigh Valley has numerous coffee shops for you to try. Those coffee shops include Bethlehem's Monacacy Coffee Co. In Allentown, try Coffee House Without Limits and Hava Java. In Bethlehem, sample the selection at Deja Brew Coffeehouse & Deli, The Joint Coffee Co., The Wise Bean Coffee & Espresso Bar, and Saxbys Lehigh. In Easton, visit Tucker Silk Mill, Fieldstone Coffee Roasters, Cosmic Cup Coffee Company, Terra Cafe, and Tucker Silk Mill. In Bangor, you will find Baby Harry Coffee Roaster, Empire's Coffee, Daily Grind, and BeanBath Cafe.

A popular coffee shop in Lehigh Valley is LIT Coffee Shop & Bakery. It is located at 26 East Third Street in Bethlehem and open Wednesday through Friday from 9 a.m. to 2 p.m. and Saturday from 9 a.m. to 5 p.m. They offer seasonal lattes and teas as well as empanadas, macarons, and other baked goods.
A special event among the things to do in Allentown is the annual Oktoberfest at SteelStacks that is currently scheduled for September 26 and 27. It provides onsite dining with a show or pickup dining featuring loaded corned beef potato pancakes, Schweinshaxe, spaetzle, fried sauerkraut, Reuben and Swiss dressing, and apple strudel. Participating restaurants include Heaven on a Bun, Karl Ehmer, Waffle de Lys, Mattie's Strudel Haus, and Heidi's Strudel & Island Expressions. Yuengling Oktoberfest and Hofbräu are among the available beverages. The shows feature oompah bands and are scheduled from 11 a.m. to 1 p.m. and from 2 p.m. to 4 p.m
Other events include Dragtoberfest, a virtual Hasselhoff-off competition including a slow-motion beach run, a virtual Weiner Dog Parade, the U.S. Steinholding Association's competition, a Sausage Sculpting contest, free in-person art for kids including Chalk the Walk Coloring Contest, and a virtual Oktoberfest 5K.
Location: Steelstacks at the old Bethlehem Steel plant at 1st and Founders Way
Hours of Operation: Open Saturday, September 26 from 11 a.m. to 8 p.m. and Sunday, September 27 from 11 a.m. to 6 p.m.