7 Home Improvements You Could Knock Out This Summer
Posted by Alex Lopez on Tuesday, June 2, 2020 at 12:07 PM
By Alex Lopez / June 2, 2020
Comment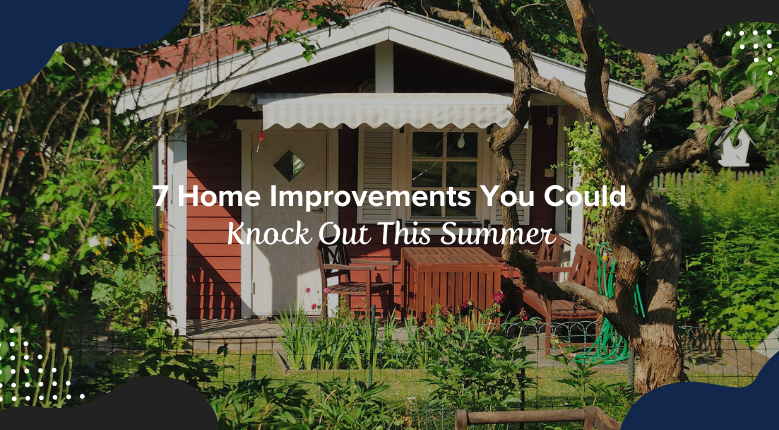 Just because home improvement projects can be big and elaborate doesn't mean they have to be. Projects that are fairly quick and easy can add just as much beauty and value to your home as larger projects. For these "normal-sized" projects, pretty much all you need is some determination and a day or two of free time. To help motivate you to get some projects done, here are ideas for seven home improvements you could knock out this summer.
Install a New Fence
While the process of installing a new fence is fairly labor-intensive, it's also fairly simple. As long as you've got the right tools and a strong back, you've got pretty much all you need to get started. Wooden fences tend to be the easiest to install yourself because their individual components are more forgiving and require fewer specialty tools to install. You can either purchase the lumber individually, or you can buy pre-assembled six-foot sections to help make the process much faster. The main thing to remember is to keep the 4x4 support posts level so that the rest of the fence ends up level, as well.
Create A New Garden
While maintaining a garden is a common summer pastime, the warm weather also provides a great opportunity to create a new garden that can be enjoyed by Homeway Real Estate clients. Before you clear the way for the new garden, it's important to draw up a plan to make sure the garden will fit where you intend it to. Make sure to carefully measure the area so that you don't run across any surprises once you're into the project. You'll also want to make sure that the ground where you place your new garden is fairly level to prevent any puddles and help promote good water and nutrient distribution.
Maintain Your Water Heater
While HVAC maintenance is something you should largely leave to the professionals, water heater maintenance is something you can do mostly on your own. The most important part of water heater maintenance is draining your tank to remove any sediments that have accumulated at the bottom. Since it's warm outside, it's easy to run a hose from the drain valve on your tank to an out-of-the-way area in your yard to accept the water. Removing sediments from your tank will help it heat water more efficiently and will help the materials that make up the tank to last longer.
Install New Interior Doors
If you're tired of the look of your current interior doors, the good news is that replacing them is a fairly simple process. As long as the door openings are the correct size, you can use pre-hung doors so that all you have to do is attach the door frame to the framing around the door opening.
If you have odd-size door openings, you can still install new doors yourself. However, you may have to install the framing yourself. Once the doors are installed, we at Homeway Real Estate recommend testing them to ensure they don't swing by themselves or scrape on the frame when they're opened and closed. Also, don't forget to install door stops so that you don't put holes in your wall.
Paint One or More Rooms
If you're looking for easy home updates, then look no further than refreshing the look of your home with a new coat of paint. Summer makes a perfect time to paint your home's interior because you can open some windows to allow the paint fumes to escape quickly. If you do open your windows, though, make sure to close them and turn on your air conditioner once the fumes have escaped, as the humidity from outside will slow down the drying process. A good paint job is all about good preparation. If you take enough time to properly tape off ceilings, baseboards, and other areas, you can get professional-quality results without a professional-quality price tag.
Build a Pergola
If your backyard doesn't have much natural shade, you can add a pergola to dramatically increase the amount of shade that's available. With a step-by-step plan, pergolas are fairly straightforward to build on your own. Home improvements like pergolas tend to get better with time, because you can cover them with various vines and other plants to help increase the shade they provide, meaning they'll continue to improve the larger the plants get. Since most pergolas only have a few support posts, you'll want to make sure to securely anchor these posts in the ground.
Add a Ceiling Fan
Among the most productive and easy home updates that you can add is a ceiling fan. Ceiling fans help to lower your energy costs by reducing the amount that you have to run your air conditioner. The most important part of ceiling fan installation is proper anchoring. You want to be sure that the fan has a solid anchor surface so that it doesn't shake and rattle when it's spinning at high speeds. Once you have the fan installed and the electrical line connected, it's time to start enjoying some relaxation and cool breezes.
Looking for homes that are already updated?
We totally get it. Fixing up your home all summer isn't always for everyone. If you're thinking about selling to move into a more updated home, check out some of the new construction homes for sale in Allentown. Feel free to reach out to our team at Homeway Real Estate to chat more about the type of home you are looking for. We'd be more than happy to show you some of the houses currently on the market.