Is Now a Good Time to Sell? 5 Things to Consider Doing Before Putting Your Stroudsburg Home on the Market
Posted by Alex Lopez on Saturday, January 30, 2021 at 2:44 PM
By Alex Lopez / January 30, 2021
Comment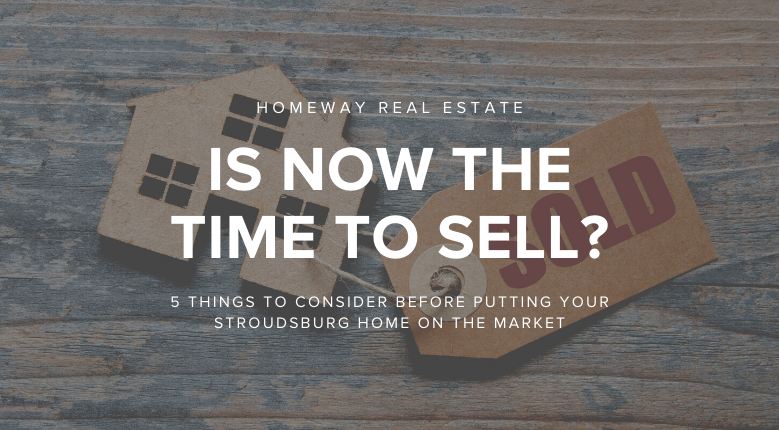 When you're ready to put your home on the market, you might be wondering if the timing is right. And to be honest, anytime is a good time to sell. But considering the conditions of the housing market in Stroudsburg today, along with the incredibly low-interest rates, listing your home now could be a really smart move. More and more people are working from home and socially distancing, which means more and more people are realizing they need a more conducive place to live. To really take advantage of this potential influx of homebuyers, here are a few things you can consider doing before putting your Stroudsburg home on the market.
1. Improve the Curb Appeal of Your Stroudsburg Home
Attracting new buyers in today's market means standing out from the others in the neighborhood. Before putting your Stroudsburg home on the market, consider improving your curb appeal to catch the attention of those driving by. Fresh landscaping, fresh trim paint, and easily visible house numbers are all great first steps.
2. Repairs & Maintenance Always Helps
Get your Stroudsburg home ready for market by fixing things and taking care of maintenance around the house. You don't have to necessarily spend big on more extensive remodeling projects, either. Instead, make a series of smaller changes and upgrades where you can, like replacing doorknobs, hanging new ceiling fans, and installing fresh smoke detectors.
3. Lighten Up the Decors
When it comes to decors, beauty is in the eye of the homeowning beholder. And what may look wonderful to you might be a complete turnoff to a potential buyer. Consider walking through your Stroudsburg home and looking for ways to lighten up the decors. Avoid busy patterns, too many accent pillows, and loud colors. Instead, look for ways to incorporate neutral and basic tastes.
4. Start Packing for Your Move
To make your home seem more prominent and more spacious, consider packing up a few things. Since you're planning a move anyway, packing now means one less thing to do later. And freeing up storage space by putting holiday decorations in storage will help potential buyers appreciate the extra space. A room will open up with fewer things in it. So decluttering and packing up where you can, will be helpful during a showing.
5. Hire a Professional Before You List
Probably the most significant decision you can make before putting your Stroudsburg home on the market is to call and enlist the help of a local professional. There are certain aspects of the housing market that only a real estate expert will understand. All of the best home selling advice in the world may not translate into a sold sign in the yard. But hiring a local professional who knows Stroudsburg and the nuances of selling a home certainly can.
Contact us today at Homeway Real Estate if you've been considering a move. Our local experts can help you prepare to put your Stroudsburg home on the market and partner with you through each step of the listing and selling process.