Top 10 Places To Satisfy Your Ice Cream Craving in Lehigh Valley
Posted by Alex Lopez on Wednesday, August 12, 2020 at 1:21 PM
By Alex Lopez / August 12, 2020
Comment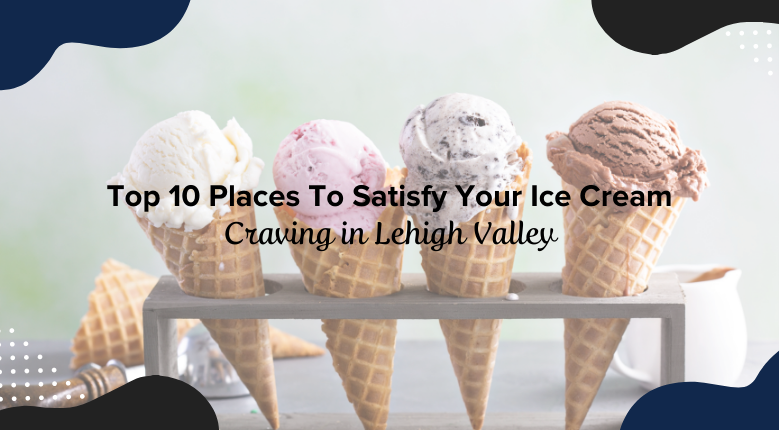 Summertime is here, so it's the perfect time to stop and get some ice cream. There's no better way to beat the heat in Lehigh Valley heat than a cool, frozen treat. Here are 10 of the best choices for ice cream in Lehigh Valley according to the team here at Homeway Real Estate.
Owowcow Creamery Inc.
Owowcow Creamery Inc. takes the traditional ice cream shop and kicks it up a notch with new flavors that they create almost daily. When you walk in Owowcow, you will see a case that holds 24 flavors. 12 of the slots are filled with their staples, and the other 12 are rotated in and out as new flavors are created.
Udder Bar
The only thing more fun than ice cream is ice cream with foosball. Not only does Udder Bar add some creative flavors to the traditional ice cream menu, you'll also be able to enjoy foosball, shuffleboard, checkers and more while you enjoy it.
The Inside Scoop
Don't let the line that's seemingly always at the door dissuade you; this is some of the best ice cream in Lehigh Valley. In addition to the standard chocolate and vanilla options, you can grab a taste of innovative flavors such as rum raisin and orange pineapple.
Klein Dairy Farms
Not only can you spend a day at Klein Dairy farm looking at all the sights and taking in the sounds, but you can also hit up the ice cream bar, where the sweet treats are made from the cows that are on-sight! In addition to using the milk produced by their own cows, Klein Dairy Farms doesn't add any artificial flavors or colors, either.
Hotel B Ice Cream Parlor
Located right on Main Street, Hotel B Ice Cream Parlor offers ice cream made by the legendary Penn State Creamery. While all the Nittany Lions' alumni will tell you that nothing can compare to their on-site ice cream, you don't have to drive all the way to State College to enjoy it.
The Shoppes at Premise Maid
Not only is there an on-site chocolate shop here, but they also serve up some of the best ice cream in Lehigh Valley. The chocolatiers are involved in the ice cream process, as well. Every day, this team makes more than three dozen premium flavors. The team here at Homeway Real Estate is especially fond of the Blueberry Crumb Pie ice cream.
Ice Cream World
With a name like "Ice Cream World" how could this place be anything but wonderful?! In addition to their 50 flavors of ice cream, you can also check out their yogurt and water ice menus as well. With that many options, everyone can find something they'll love at Ice Cream World.
Crystal Spring Farm
Klein Dairy Farm isn't the only place you should stop by if you're wanting some ultra-fresh ice cream and dairy options. Not only does the team at Crystal Spring make their unique ice cream menu from the dairy produced on sight, but they also sale their own fresh yogurt, milk and cheese. If you're not looking for scoops of ice cream, try out their soft serve, floats or other options.
Bank Street Creamery
Located in Easton, just off of Centre Square, Bank Street Creamery's location may seem familiar if you've been in town before. This spot used to be known as the Purple Cow before it underwent a re-branding. Their menu literally changes every day, as they have over 100 recipes on file. You can stop by Bank Street every day and experience a completely different menu than you saw the day before.
Batch Microcreamery
Microbreweries are sweeping the nation, seemingly offering every small town in America their own taste of home-brewed beer. Batch Microcreamery is offering the citizens of Lehigh Valley something family friendly with the same home-spun feel. They also offer handmade ice cream sandwiches!
The Bethlehem Dairy Store
This stop used to be called "The Cup" because it was shaped like a giant milkshake cup. This place has been satisfying the ice cream cravings of Lehigh Valley for over 80 years! For an ice cream shop to be successful for that long, they have to be doing something right. If you're in Lehigh Valley, you owe it to yourself to check out this historical spot.