11 Reasons Your House Isn't Selling in Hot Market
Posted by Alex Lopez on Saturday, November 20, 2021 at 9:00 AM
By Alex Lopez / November 20, 2021
Comment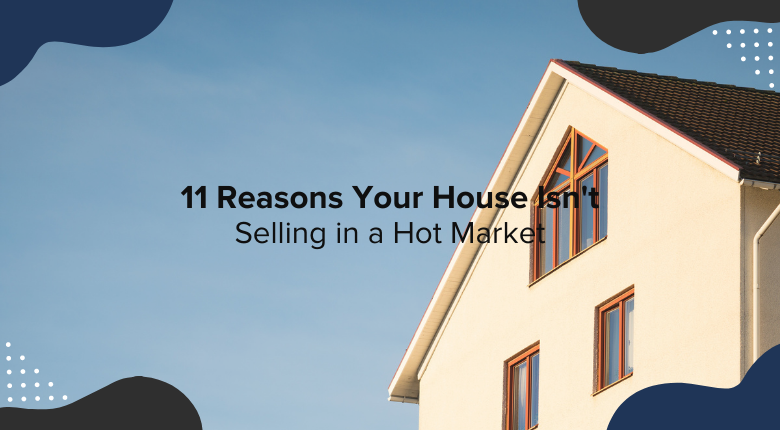 Right now, the real estate market is pacing at record highs. Mortgage rates are rock-bottom and demand is through the roof. But sometimes, despite all of the hot home market trends, a house just doesn't seem to sell. Why then, when all the other houses are selling so well, does yours appear stuck in forever-listing limbo? We'll highlight eleven reasons why your house might not be selling in today's hot market and how to reverse this to get multiple offers.
House pricing is a tricky and strategic balancing act. If you list it too low, buyers might think there's something wrong with it, as if you were desperate to move. But if you price it too high, potential buyers might see for themselves that it's not quite worth the asking price.
When you're looking to calculate your home's price, you need to consider four key criteria: comps in your same neighborhood, a market evaluation, how much work went into the home's condition and the residential quality of the area.
Your real estate agent partner should have the tools necessary to come to the right pricing conclusions. However, even realtors can sometimes be wrong. If you're listing your home by yourself, maybe you made the pricing mistake. It could be time to go back and revisit your price and the steps that led you to that number. You can make adjustments accordingly to keep your listing price in line.
2. It Doesn't Have Inviting Curb Appeal
Buyers will make judgments about your home within the first few seconds of pulling up to the curb, long before they ever get in the front door. It's called curb appeal because a home that is attractive at the curb will appeal to buyers in a way that maybe inspires them to see what's inside. If you have a budget to invest to help your home's marketability, be selective about what improvements you do. If you aren't sure about renovating a bathroom or redoing the exterior siding, the odds are favorable that the exterior improvement will get you the most bang for your buck. Touch up chipping paint, replace a missing piece of siding, and trim the hedges. A broken window or overgrown fence lines can deter buyers. Remodeling a bathroom is great. But not fixing the front patio steps can lead buyers to decide against purchasing altogether before they ever see that remodeled bathroom.
3. It's Too Unique
Sometimes a house doesn't sell because it's unique and in some cases, kind of an oddball. It certainly doesn't mean that there's anything wrong with the house necessarily, just that it's different. It could be that your house is massive but in a neighborhood of small homes (or vice versa). Your home might be an expensive house in an area of cheaper homes. It could be a perfectly average house in a very unusual place. Or your house might have a quirky personality, either in architecture, design, or interior. In these unique cases, there isn't much you can do other than wait for just the right buyer to come along. Don't be tempted to just reduce the listing price, hoping someone will overlook the quirks. Of course, sometimes you need to adjust your pricing. However, unique homes typically sell when the right potential buyers into the home to see it first hand. someone who will fit it like a glove.
4. It Needs Repairs
A home found in disrepair can be a big red flag for home buyers. If the house has visible problems, they will automatically wonder what hidden issues it has, too. And if it has hidden problems found during the inspection, you might get a lot of offers, but they back out before finalizing. You have to be honest: if your house needs repairs, you should fix what you can improve and adjust the price as needed.
5. The Pictures Aren't Great
Houses are selling so fast that they often get snapped up the moment their pictures show up online. But if yours isn't among them, you might want to ask if the photographs are of the quality needed to get that home off the market. You don't need Ansel Adams, but the more professional your pictures look, the better. Make sure that you have well-framed photos that highlight all the good stuff, not the bad stuff (avoid showing your neighbor's unsightly yard), and have enough pictures to give online lookers a complete view.
6. It Could Use Better Staging
As with curb appeal, there's a ton to be said for the staging of the house. People want to be able to see themselves living there. They're not particularly interested in knowing that your kids and your dogs are currently in the middle of a slumber party. If you have to live in the home while trying to sell it, it will be challenging to keep it clean for showings. But the better you can do about keeping things tidy, the more likely it is to sell. And there are endless lists of things you can do to make the staging better, from taking down personal photos to decorating more generically to rearranging the furniture. If you have questions about staging, ask your realtor or look online for tips because it matters.
7. The Appliances Are Old
As surprising as it might be, buyers put a lot of stock into a home's appliances. They tend to judge the kitchen and the whole house by the age of the fridge and the stove. Part of this is subconscious. The presence of outdated appliances can make a house seem out of style to them or out of date. It can also lead potential buyers to wonder then if the furnace is just as old as the microwave or the air conditioner is as old as the freezer.
8. It's Not Getting the Right Exposure
There's a difference between a lot of exposure and the right exposure. Your house might have been in front of many eyes, but if it's not in front of the right ones, you're sunk. You want your home to get in front of the potential buyers that will be attracted to it. And you do that by targeting those listings and ads. Use appropriately descriptive listings so that when people search for specific amenities, they find you. If you're in a high-end area, you want to feature your home on high-end websites. If the house is niche in some way, offering a massive garden or a garage that can fit eight cars, for example, you'll want to be targeting gardeners and car enthusiasts.
9. It Smells Bad
As soon as someone walks in the door and takes that first inhale of air, the next reaction could make or break a sale. You want the aromatic impression to be a good one, or at the very least, not a bad one. Some people use scented candles, and others bake bread. Smells can be difficult to identify and remedy, especially if the house is old or has been vacant for an extended period of time. Odor can also be a problem if the house has a history, including a former smoking resident or feline collector. Carpeting and cloth surfaces can lock in smells that you might not even realize are there, too. Sometimes the answer can just be a few air fresheners in each room. But sometimes the solution requires a deep clean and then some.
10. It's Been Listed for More Than 120 Days
Market transparency data suggests that most homes sell, for the most money, within the first 30 days of listing. Of course, you probably hoped your house would sell that soon. But if you're crossing more than 120 days off the calendar without traction, the time on the market alone could be counting against you. Buyers perceive a long-term listing as a potential poor-quality home. Of course, that isn't always true and this kind of signaling isn't your fault. But it can point to other issues. If you haven't opted to consider some of the other reasons mentioned above, or are waiting too long to address upgrades, your house may fall into this long-term listing pitfall.
11. You Have the Wrong Realtor
A realtor is supposed to be in your corner during the listing process and beyond. They should be just as motivated to get the house sold as you are. But if your realtor seems disinterested, is often unavailable, or gives you unsound advice, maybe it's time to find someone else. Don't feel bad about this! You have a house to sell, and the realtor works for you. You can partner with a new one at any time, and you should do so the moment you feel your realtor isn't doing the best work. If your agent isn't proactive about scheduling open houses or showings, it could be time to start looking.
If your home isn't selling, consider these points as the first places to look for improvement. And if you think you need better listings, more impressive pictures, targeted ads, or a new realtor altogether, let Homeway Real Estate help!
You can also rely on a realtor for buying your next house and even structuring your offer or learning about closing costs. Always work with the best.