13 Signs You Need a Better Real Estate Agent
Posted by Alex Lopez on Wednesday, November 3, 2021 at 9:06 AM
By Alex Lopez / November 3, 2021
Comment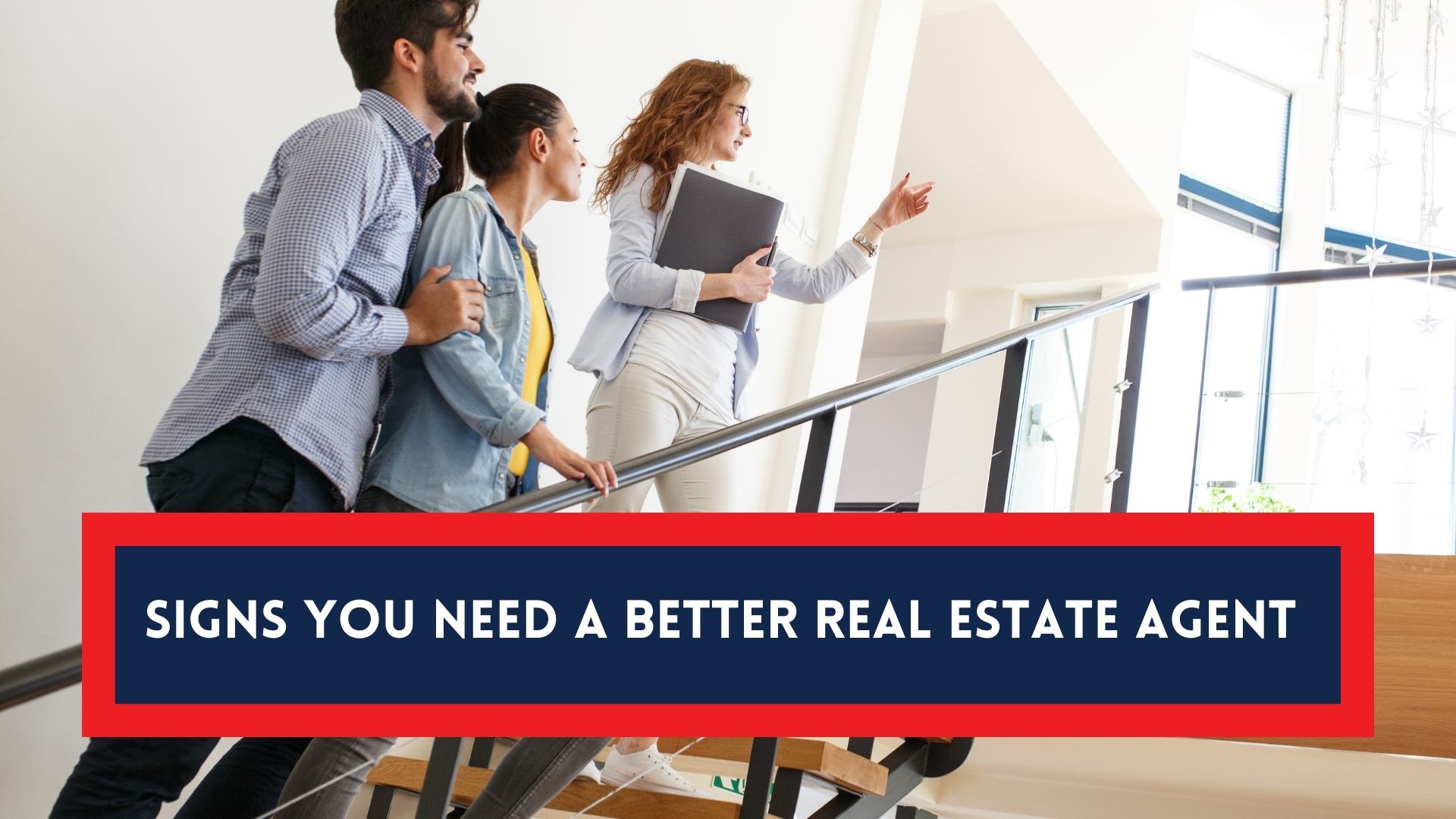 When you're ready to buy a car, you try to be selective about choosing just the right dealership to work with during your process. Likewise, when your family needs a new doctor, you likely make several phone calls to ask questions or check with friends and family for referrals. These services are too essential to leave in the hands of anyone less than professional, right?
When it comes to buying what is probably the most expensive thing you'll ever buy, a home, don't presume to cut corners on finding the right partner either. You'll need a top real estate agent.
Unfortunately, real estate agents can be a dime a dozen out there. And you might feel compelled to work with your second cousin "Chuck" or your Aunt Nancy's friend, "Barb." But don't jump into just any real estate partnership, especially if the agents in question are unproven. Instead, do your homework to find a better real estate agent.
And if you find yourself working with someone now who exhibits some or all of these signs, it's time to break up and find a new professional.
1. Communication with Your Agent Is Terrible
You call. No response. You email. No response. Two to three days go by, and you finally get a text from your real estate agent that says, "so sorry… crazy busy!" There are a few problems with this scenario. Not every Realtor will answer your call every time. But the best real estate agents will be prompt about calling you back. If you have questions, a true professional will prioritize answers for you. And no matter how busy an agent is, the best partners will be diligent about keeping you in the loop ongoing and have a comprehensive communications strategy.
2. Attitude Problems
If you feel like you're in a power struggle with an agent who feels like he's a step over the confidence line, it's time to find a better real estate agent. Regardless of your financial position or how you define affordability with a new home purchase, no one should treat you with any disrespect. You should feel comfortable asking even the most basic of real estate questions. The best agents will know not to throw unnecessary jargon at you. And they'll be empathetic to your unique situation, ready to coach you through the sometimes-hectic process. Buying or selling a home, especially the first time, can be intimidating. Your agent should be, too.
3. Too Little Time as an Agent
Even if some part of you wants to root for the little guy, don't engage with a real estate agent who is absolutely brand-new. You can't fake experience. And while some realty firms have better real estate programs, it really boils down to the knowledge, experience, and hustle of the agent you've chosen. This is especially mission-critical if you're trying to sell your home. A selling agent needs to be an expert about filing paperwork, alert to timelines, and an absolute boss in negotiations. Missing any of these opportunities because you have a rookie agent will only cost you time and money. Worse yet, you might not end up selling your home.
4. Real Estate Is a 'Side Hustle'
To piggyback on the last pointer, try to avoid the real estate agent who helps people buy and sell houses as a side hustle. If you're working with someone who has to supplement their income with another job, they're probably not very effective in real estate. Additionally, someone who just wants to earn a little extra commission on the side is just as detrimental to your mission. He or she won't necessarily be as hustled to get your deal done. And in general, these side-gig agents usually don't have the extensive market and real estate transactional experience you're probably looking for in the best real estate agent.
5. Lack of Control & Leadership
So, you don't want a bossy, arrogant real estate representative, but you don't want the complete opposite in a "yes, ma'am" partner either. A lack of leadership might present in the form of a lack of guidance. There might be an over-agreeable nature but without any real substance. In other words, are you asking yes or no questions and only getting ho-hum, nervous, chuckled responses? Does your agent seem wishy-washy about making a statement or offering insights you need right now? Now imagine that same agent trying to negotiate on your behalf. Chances are if he or she can't take control of a conversation about real estate with you, it's not going to happen at the bargaining table either. A better real estate agent will be like the "Goldilocks" partner, with enough hardened negotiation experience and control, without the attitude or over-confident chip on the shoulder.
6. Lots of Offers, But No Deals
If you're seriously interested in selling your property, you need a realtor who can get you the best offers. But what does it mean if you're getting offers, but ultimately no one's buying? It's a sign you need a better real estate agent because there is a breakdown in negotiations. Whether your house is in top-notch condition or being sold as-is, negotiating the sale price is part of every transaction. The truly experienced professionals will know how to compromise when they can, and more importantly, they know how to close the deal.
7. Mediocre Marketing (Or Worse, No Marketing)
It's kind of exciting when you make the official decision to put your house on the market. It means you're committing to the idea of selling and moving elsewhere. But if you're trying to sell yourself or you have the wrong real estate agent, you'll fall short in the marketing department. Your agent's actual job is to attract as many potential buyers to your doorstep as possible. That requires more than your run-of-the-mill yard sign or mediocre listing on a real estate agent website. The best real estate agents will have a marketing plan to review with you that will usually entail listing efforts across multiple channels, walk-through video production, open house schedules, and more.
8. Little Market Knowledge
You can have a real estate agent who's been at it now for decades and assume you're in good hands because clearly, he has experience. But you also need to look out for current market trends and actionable market knowledge. Some old dogs won't learn new tricks in real estate. What used to be an efficient process ten years ago may not apply in today's economy. And when it comes to finding ideal buyers for your house or helping you put in an offer on a new home, you need someone who's in the know about the latest and greatest techniques to get you what you want. If your agent doesn't know what other homes are selling for in the area or have an idea about home-tour digital scheduling, it might be time to find someone with better market knowledge.
9. Nothing Is Actually Happening
Real estate is one of those business models that is pretty black and white, rooted in results. The house either sells or it doesn't. Your offer is accepted, or it isn't. So, if you are still sitting around twiddling your thumbs, waiting for an update about your progress, it's a problem. Likewise, if it's been weeks since anyone's expressed interest in buying your home, there's a problem. No calls, no interest, and no updates mean no results. In which case, you'll need to find a better real estate agent.
10. The Over-Eager Beaver
You know the type. The real estate agent who is just always eager to please, even if it's not realistic. Super-chipper and agreeable to almost everything you say, this type of agent won't be beneficial to your home selling or buying process for a few reasons. These agents are order takers and will just try to green-light their way through the deal, regardless of your best interest. These deals are often those that result in surprises and challenges along the way because your real estate agent didn't realistically prepare you for the next steps or potential setbacks. If you want a better experience, find the professional who won't be afraid to tell you no and offer transparent and forthright guidance along the way.
11. Pushy & Passive Aggressive
If your real estate agent seems passive-aggressive or crosses the line into "pushy" territory, you might need to have a stern conversation. You're the boss, not the agent. No one should pressure you into accepting an offer, making a deal, or extending your budget. Again, you need your agent to be honest with you about the details. But in the end, it's your call. This is your financial transaction, not theirs.
12. 'Flustered Florence'
If your real estate agent always seems rushed, tends to run late often, or appears unorganized, you might be dealing with a "Flustered Florence." This agent will be making things harder than they need to be with a continuous lack of organization, leading to missed appointments and dramatic conversations. She will overindulge in excuses and try to talk her way out of conflicts. This is not a good agent for buyers or sellers because this type of flighty responsiveness can cost you the deal. And if your agent routinely says, "the buyer wants to know…" and can't seem to advocate for you without a ton of back and forth, you need to trade up for a better real estate agent.
13. Liar, Liar, Realtor Pants on Fire
The big-ticket red flags to notice about your real estate agent include misrepresenting you, misleading you, or encouraging you to conceal information. These are absolute deal-breakers that warrant finding a better real estate agent. If you want a home inspection, get one. If you know about certain defects in your house, include them in the listing. Any agent who violates some of these key conversations is like a doctor committing malpractice. There is a strict Realtor Code of Ethics for anyone who becomes a Realtor. Not only should you avoid these violators at all costs, but you should report them to your local association, as well.
If you're ready to trade up for a better real estate agent or just want to avoid partnering with the wrong person in the first place, call on our team at Homeway Real Estate! Our agents are simply better because of their robust experience and market knowledge. So let Howeway Real Estate help you find your dream home or help you sell for top dollar today!