13 Things To Do in Easton, PA the Whole Family Will Love
Posted by Alex Lopez on Monday, November 1, 2021 at 10:02 AM
By Alex Lopez / November 1, 2021
Comment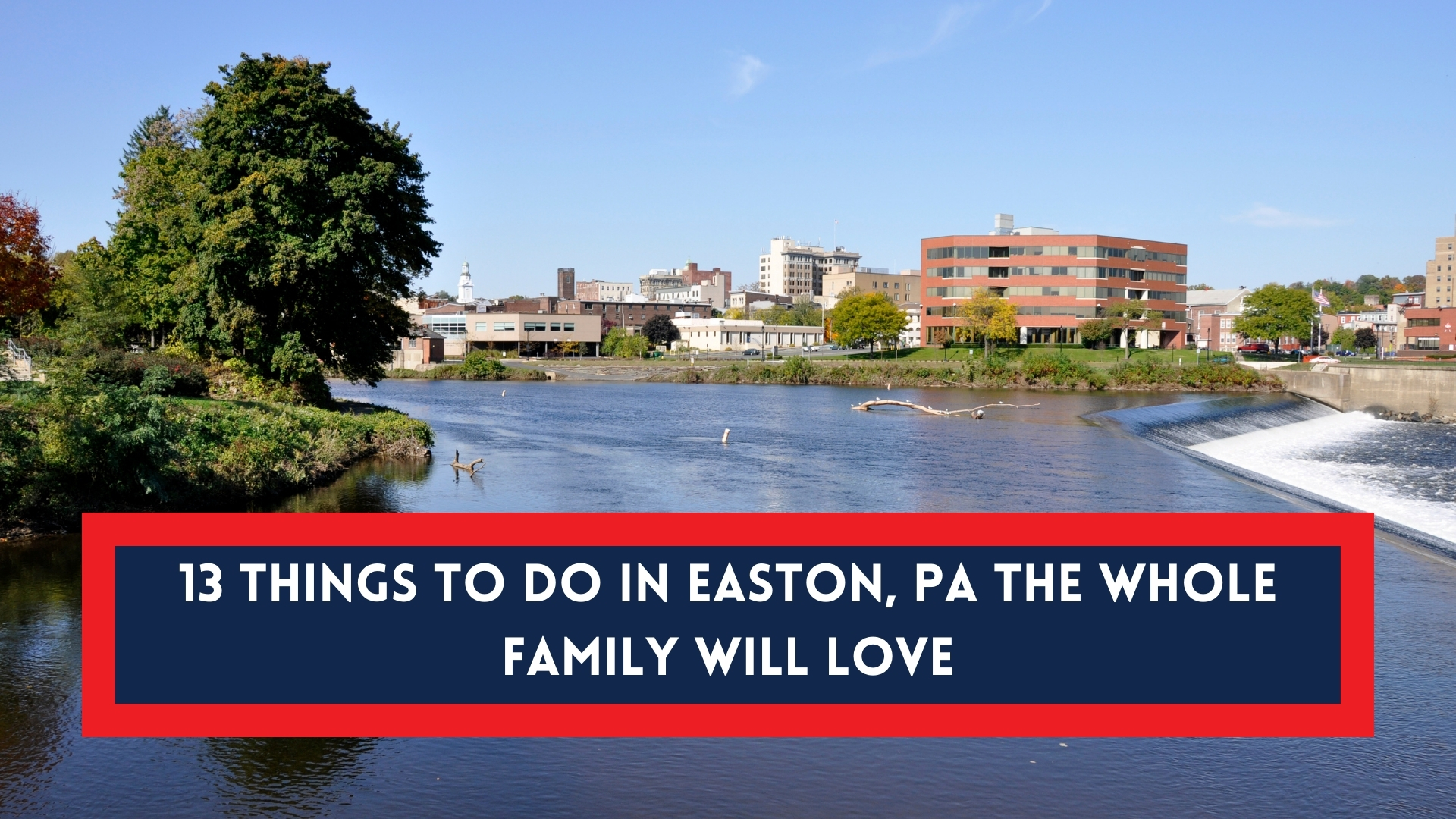 Easton, PA, is one of the pillar communities within the Lehigh Valley. It's also the official county seat of Northampton County and home to roughly 27,000 residents. Part of the attraction to live in Easton is location, with breathtaking scenery in nearly every direction, including scenic views of the Delaware and Lehigh Rivers. It's an ideal place to live, too, because of its convenient proximity to Philadelphia (55 miles away) and New York City (70 miles away.)
If you're thinking a move to Easton, PA, is in your future, you might be wondering about some of the other amenities the area has to offer. There are a host of things to do in Easton, PA today, and the community continues to grow. For families with children, there are things to do in Easton, PA, that everyone will love.
1. Crayola Experience Easton
If you're looking for new family things to do in Easton, PA, this weekend, the Crayola Experience is a must-see. At Crayola Experience, Crayola's top-rated one-of-a-kind family event, families can discover the wonder of color in a hands-on environment. The colorful adventures of the Crayola Experience enable children and adults alike to explore art and technology while expressing their creativity and experiencing color in a brand-new way. So make plans to visit with your family, so you can create colorful memories that will last a lifetime!
2. Freefall Trampoline Park
The largest indoor trampoline Park in Lehigh Valley is Freefall Trampoline Park. Make a reservation for an upcoming family party and pencil it in on your schedule as a popular thing to do in Easton, PA today! Freefall parties are simple to organize and lots of fun for the children. Let the littles burn off some pent-up energy all winter long where they can enjoy the trampolines, dunk hoops, a mechanical bull, and more.
3. Colonial Woods Family
If your family is into camping, then check out Colonial Woods. This camping resort is family-owned and offers a truly memorable experience for all ages to explore here. Located in the beautiful Lehigh Valley, the Colonial Woods weekend may be just the close-to-home getaway your family needs.
4. Scott Park
The Larry Holmes Drive amphitheater, located south of the Northampton Street Bridge, is home to an open-air theatre with adequate viewing space for 400 people and more room along the perimeters. This lovely park is situated right at the junction of the Delaware and Lehigh Rivers, giving breathtaking views of the Lehigh Dam and all of its bridges, which played important roles in city transportation history. Scott Park is also a great family venue with its expansive playground, free boat launch accessibility, and convenient on-street parking for visitors.
5. 2 T's Mini-Golf and Driving Range
If your family is on the hunt for things to do in Easton, PA, this weekend, check out 2 T's Mini-Golf and Driving Range, conveniently located at 3521 Sullivan Trail. A day at 2 T's Mini-Golf & Driving Range is fun for the whole family, and it's located on land that was formerly a functioning farm. The venue features an 18-hole miniature golf course with various difficult-to-complete mazes. There's also a 280-yard driving range available.
6. Bar Don Lanes
As the winter season approaches, your family might be more interested in finding indoor things to do in Easton, PA, today. Consider a trip to Bar Don Lanes! This old-fashioned bowling alley has been an area staple for more than 50 years. It features open bowling, tournaments, and special events year-round. If the kids really get into the spirit of knocking down pins, there are also leagues available. And for those parents who don't feel like bowling while the kids have fun, there's an on-site pub serving food and drinks.
7. Sigal Museum
For those area families looking for something a little more education to do in Easton, check out the Sigal Museum. This gathering place is popular among adults and youth alike, with plenty of cultural sights to see. This museum showcases artifacts, farming tools, colonial furniture, and art dating back to pre-European settlement times. It's a great way to explore the Easton area's history while having a little family fun at the same time.
8. National Canal Museum
More educational family fun awaits with a stop at the National Canal Museum. The National Canal Museum is dedicated to the towpath canals, which served as transportation routes before the advent of the railway. Interactive displays highlight the lives of canal hands in this museum dedicated to the towpath canals.
9. State Theatre Center for the Arts
Take in a fun show at the State Theatre Center for the Arts! When it comes to finding things to do in Easton, PA, this weekend, this is a schedule you'll want to check frequently. Enjoy music and live performances in this 1500-seat theatre. Your family may enjoy it so much that you want to become a regular member!
10. Easton Waterfront
For those families who routinely look for things to do in Easton, PA, that involve the great outdoors, the Easton Waterfront is a must-visit. Located at the beautiful confluence of the Lehigh and Delaware Rivers, this area is the perfect outdoor getaway for relaxing and enjoying the countless recreational activities available. Multi-activity playgrounds and bike paths are great for afternoon family adventures. Spend the day on the water with convenient boat access to both rivers. And there are countless special events throughout the year, making a day at the Easton Waterfront always a memorable one.
11. Easton Farmers' Market
Families can enjoy a few hours or a whole day on the farm with a visit to Easton Farmers' Market. This venue is the area's oldest open-air market in the entire country. It features stands from producers only, meaning the goods offered here come from local growers and producers. A vast majority of the mouth-watering garden favorites are naturally or organically grown as well. Try new foods and get some much-needed fresh air with a trip to this local and iconic gem.
12. Fisher Field
Calling all sports enthusiasts! If your family is into all-things sports, you'll definitely want to keep a schedule of events happening at Fisher Field. Home to the Lafayette football program, as well as the Lafayette Leopards Varsity football organization, a day in the stands might be perfect for your family. Local sports in Easton, PA, are a significant part of the culture. And taking in a game at Fisher Field is a perfect game lover's experience.
13. Regal Northampton Cinema 14
If you're stumped about things to do in Easton, PA, at night, it might just be time for a family movie night. Check out the Regal Northampton Cinema 14 to catch the latest releases. You'll enjoy an immersive movie-going experience in the RPX auditorium and digital projection. There are self-service options available and mobile ticketing, as well. Kids can enjoy the game room prior to the show and stock up with all the goodies from the lobby snack bar.
This shortlist of family-friendly things to do in Easton, PA, barely scratches the surface. There is a weekend adventure, educational pitstop, and historical icon around every corner. You may decide that with so much to offer, Easton might be the best place for your family to live, too. Let Homeway Real Estate guide your house-hunting efforts and introduce you to the many amenities Easton has to offer!