15 Essential Questions to Ask When Buying a Home
Posted by Alex Lopez on Wednesday, December 2, 2020 at 9:00 AM
By Alex Lopez / December 2, 2020
Comment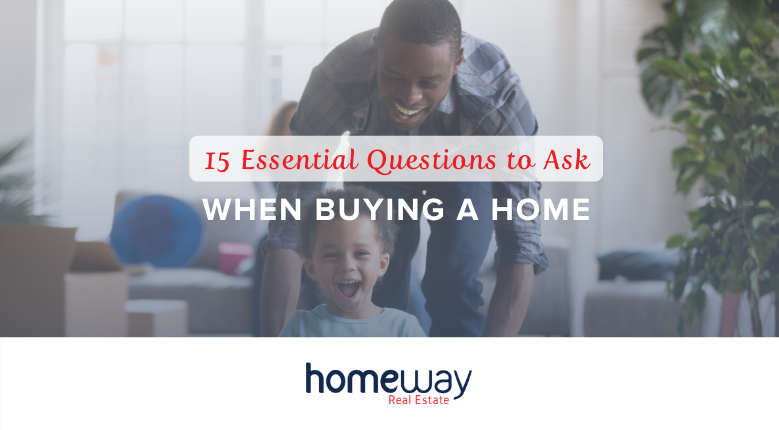 Buying a home is a big decision, and in the excitement to get the keys in hand it's possible to overlook some important details about the home you're buying. Here are 15 questions that you should always ask before you buy a new home.
What Are the Total Costs?
There's so much more to a home than just the purchase price, and you've got to make sure that this new place won't break the bank. So some important things to remember when buying a new home are to ask the cost of the appraisal, the property itself, the inspection, the mortgage interest and insurance, homeowner's insurance, taxes, and HOA fees. All of these things really add up and you don't want to end up in a home that you thought you could afford, but it turns out you really can't.
Why is the Seller Moving Out?
There are times when the reason for the sale is totally understandable and above-board: the owner's job is relocating, the family has outgrown the home, the owner is downsizing for retirement. But there may be other reasons that they're moving that they may be less reluctant to express--that may make all the difference. Are the neighbors a major nuisance? Are the HOA rules oppressive? Has there been a history of crime, such as burglaries or vandalism? All of these are reasons that someone might be choosing to leave, but might be less than eager to tell prospective buyers. Do a little digging; it'll be worth it.
How Much Do Utilities Usually Cost?
Just as you want to know all the costs of the sale, you want to know the monthly costs that you're going to be pumping into the home. Some homes are drafty and even with the newest HVAC don't heat or cool effectively--and that leads to higher costs. Some neighborhoods have higher than average water, sewer, or garbage costs. It's important to get a clear picture of everything you're going to be paying month after month before you sign on the dotted line.
What's Included in the Sale?
Before you buy, it's important to know what comes with the home and what is going with the owners. And this doesn't just apply to the appliances. The home may have beautiful accessories like window treatments and light fixtures that you've fallen in love with--and it'll come as a shock when you move in to find them gone. There are also some property issues you want to know about: does the home come with water rights? Where exactly is the property line? Sometimes fences don't measure the property exactly, and you might be buying property you're unaware of (or thinking you're buying property that actually belongs to your neighbor).
How Old is the Roof?
Roofs have a limited life, usually 20-25 years, and replacing them can be a major expense. If you're buying a home--particularly an older home--make sure that you know the last time that the roof was replaced so that you can factor the cost of replacing the roof into your future plans.
How Old are the Appliances and HVAC?
Often a home on the market might have brand new appliances--something that realtors recommend for staging a home--but have aging and broken heating, air conditioning, and water heaters. Asking how old everything is is an essential question when buying a new home. You're going to get stuck with the costs of replacing anything that breaks.
Are There Any Health or Safety Hazards?
Sometimes a home may look too good to be true, and it may be, but it also may have hidden health and safety issues that are very important. Does the home have a pest problem? Roaches, mice, bedbugs? That's an extremely important question to ask. Also, ask about water damage that may have caused mold in the walls or ceiling. Any of these can turn a dream home into a nightmare.
What Are the Neighbors Like?
When choosing your new home, you want to consider more than just the house itself. What are the neighbors like? Do the lawns appear to be well-kept? Do you see children playing outside? Are the neighbors friendly? By taking a couple of visits to walk or drive around the neighborhood during the day and evening can be eye-opening.
What Warranties Come With the Home?
Many warranties are non-transferrable and won't be able to help you when buying a new home, but if there are some things that are still under warranty, the seller should be eager to tell you about them, as they can make your life much easier down the road. This can be anything from appliances to roofing to pest control.
Is the Home in a Flood Zone or Subject to Other Natural Disasters?
After a year when we've seen how devastating floods, wildfires, and hurricanes are to various regions of the country, it's essential to ask if the home is in any danger of natural disaster. Is it near an open forest that is ripe for a fire? Is it in a region hit hard by hurricanes or tornadoes? Has it flooded before and is it possible for that to happen again? Are you on a fault line? Some of these things you can't control--if you live in Florida, you're going to be aware of hurricanes, for example--but sometimes you don't know that the slope your home is on is exactly where all the rainwater runs to during torrential storms.
Were There Any Major Renovations or Additions?
A renovation or addition may be perfectly fine and well done, but it also could have been done by the owner themselves--who may or may not have known what they were doing, or it could have been done by the cheapest contractor they could find. Renovations and additions are potential places for problems--from electrical to plumbing to structural. Knowing where these things took place will give you a heads up on your inspection.
How Long Has the Home Been on the Market?
There's nothing wrong with asking how long a home has been on the market, and while being on the market for a little longer than average may not be a bad thing, it may give suggestions that something isn't quite right with the home. Finding out it's been on the market for a long time is an opportunity to ask more probing questions about why other buyers have been steering clear.
What's the History of Past Insurance Claims?
Finding out about past insurance claims will give you an idea of how insurable the home is now. If many claims have been made for the home, new insurers may be reluctant to bite. One resource you can turn to is the CLUE (Comprehensive Loss Underwriting Exchange) Report. While not every insurer participates, the CLUE Report lists every insurance claim filed for the past seven years.
Are There Any Problems with the Home?
This may seem like the most basic question, but it also may be something you ignore, figuring the inspector will come to the right answer. But the truth is that some problems aren't visible upon inspection, and asking the owner will give you the best information possible. And, if you do your due diligence into asking, in addition to getting an inspection, any future lawsuit will go much better for you if you've been sold a lemon.
What Do You Love Most About Living Here?
Finally, ask the good about the home! What do the owners love about living there? What will they miss most? Are there wonderful neighbors? Beautiful sunsets from the master bedroom? Great places for the kids to play? Easy access to schools, libraries, and parks? Quick routes to the freeway? All of these things could be the key to making you pull the trigger and making an offer on that home.
If you need help, we can help you. We'll teach you everything, including what closing costs are and how to price your home. Call today!