16 Pieces of Bad Real Estate Advice to Never Listen To
Posted by Alex Lopez on Wednesday, July 27, 2022 at 10:00 AM
By Alex Lopez / July 27, 2022
Comment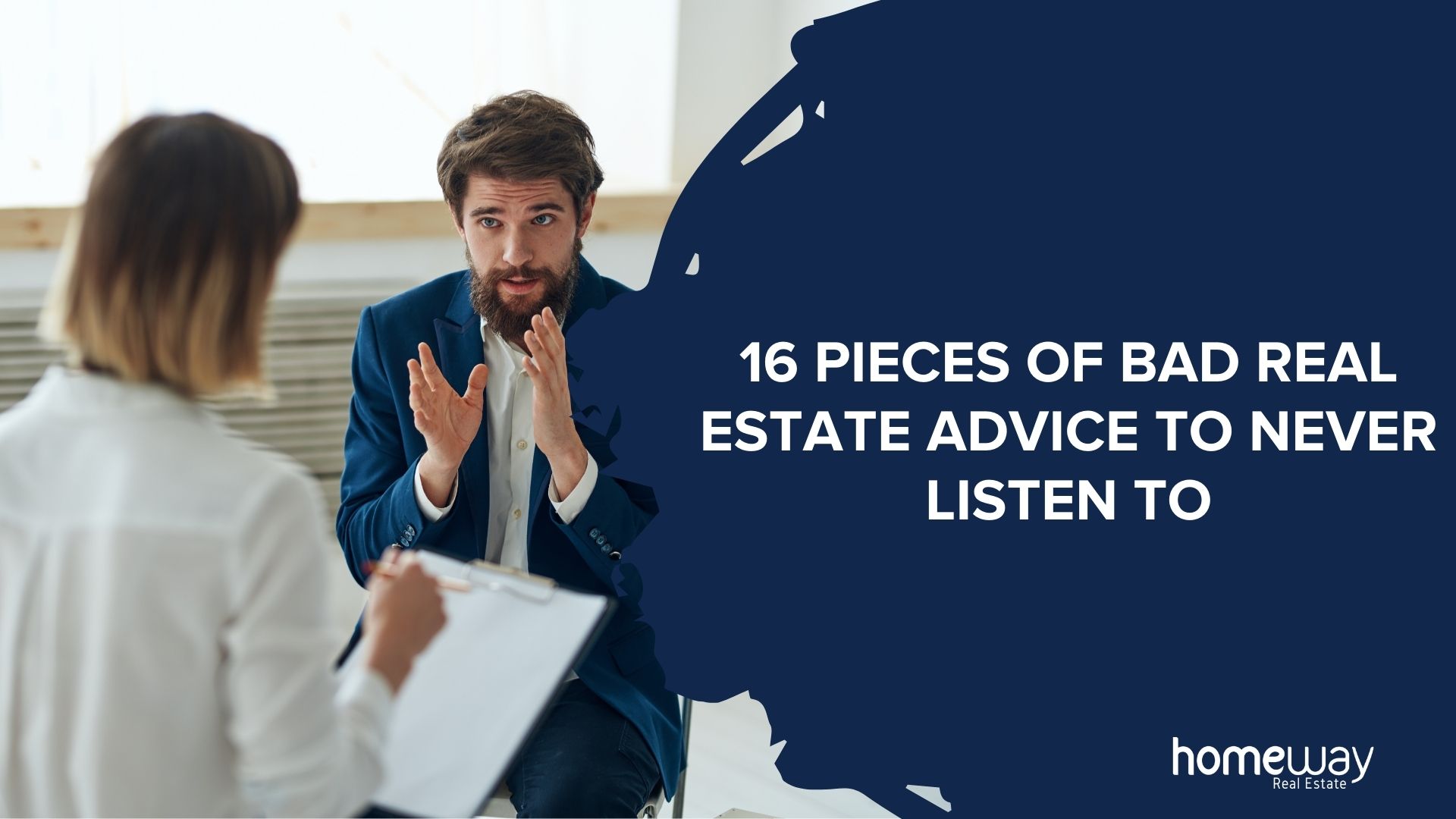 With a grain of salt, right? That's how you approach any type of advice you get from friends and family. And it makes sense because these are people in your circle that you love and trust. They would never steer you in the wrong direction. But sometimes, when the advice you seek is really important, you need to make sure the suggestions you follow are legitimate. Like, when you're buying or selling a house, where hundreds of thousands of dollars and 30-year commitments are at stake, mistakes can be costly and significant. And heeding the wrong piece of advice could ruin your experience altogether.
Yes. Getting advice from friends and family who've recently been through the home buying or selling journey is helpful. But before you take any action, based on anyone's suggestions, compare those tips with this list. We've put together the pieces of bad real estate advice you should cross off those lists. These are the worst suggestions you'll want to avoid, no matter how proven the advice-givers say they are. Following these pointers will be utter mistakes.
1. Find a House, Then Worry About Lending
You might have some people in your circle suggesting that you need to act fast in finding a house to buy because the market is so active right now. But putting the lending cart before the home-buying horse is a bad idea. First, find a lender and get pre-approved or pre-qualified for a mortgage. Doing so will ensure you stick within your budget and prevent you from wasting time in the house-hunting phase without having your finances in order. It's true that the transactions are moving quickly these days. But the best way to keep up with the new pace means handling your mortgage details first, then finding the dream house.
2. Just Talk to Your Bank, No Need to Shop Around for Financing
You might get real estate advice about financing, like the notion that working with your local bank is best. And while those local banking relationships can certainly help, it's still important that you shop around for the best rates and lending terms before you decide. Securing a few points better can save you thousands over the life of a mortgage. So, it's always worth shopping around and exploring your options with online lenders and other sources before committing to your traditional bank.
3. Just Use Your Savings for a Down Payment
If you have money in the bank, that's plenty for your down payment. Some people adhere to this advice, only to completely deplete their savings. Then when other costs come up, like the home inspection, the appraisal, title work, and moving expenses, they're strapped. When evaluating your finances, don't just make sure you have that typical 20% down payment in savings. Make sure you also have enough to see through the remaining costs associated with buying a home. And to really cover your financial bases, don't make a move until you have enough to cover your down payment as well as an additional three to six months of living expenses in an emergency reserve fund.
4. Your Offer's Accepted, Go Ahead and Buy New Furniture Now
You're keenly aware of the importance of maintaining a healthy credit score for purposes of qualifying for a mortgage. But you might hear the advice that implies, once the offer has been accepted and your loan is being written, it's ok to start making significant purchases elsewhere. Most financial advisor professionals will tell you that's bad advice. Rushing out to borrow more money or spend loftily on big purchases could still offset your debt-to-income ratio and hinder your borrowing power. Some loans have fallen apart altogether because of frivolous spending. It's always best that you wait until your mortgage is completely finalized and your home purchased before making other significant purchases.
5. Be Prepared for a Bidding War
It's a vastly different real estate market today than it was five or ten years ago. And your well-intentioned friends and family might be telling you to prepare for a back-and-forth bidding war when putting an offer in on a house. There is stiff competition right now. But the bidding war tactic can quickly backfire if you're not careful. Rely instead on the offer-making advice from your trusted agent professional instead and do your own homework. Extend a reasonable offer that makes sense, and that will inspire sellers to accept right away. Too much negotiating or low-balling offers can be frustrating, causing sellers to look elsewhere for the right buyer.
6. Always Find the Biggest House You Can Afford to Grow Into
Yikes. This is bad real estate advice that could really cost you. When you're looking at various properties, be mindful of your budget that you've properly planned for by getting pre-approved. And just because you've been approved for $500,000 doesn't mean you have to buy the biggest house you can get at the highest end of your limit, either. Remember, the bigger homes will come with more expensive taxes, higher utilities, and more maintenance. If you can check off your must-have list with a smaller property costing less than your max borrowing power, it's going to be a smarter buy.
7. Don't Bother Asking the Sellers to Fix Things
You'll be hard-pressed to have a home inspection without a few issues arising. And that might be why you get the advice to not worry about asking the seller to fix things. But it would be a serious and expensive mistake to let everything go. You're not going to make the seller mad, especially if what you're asking for is entirely reasonable. More often than not, sellers know what problems are going to show up during an inspection. Just be smart about asking for fixes or price reductions, like to accommodate an HVAC system or roof replacement. You don't have to nickel and dime list every issue. But don't move forward with the purchase if you can get at least some accommodations for costly problems that you'll inherit when you purchase the property.
8. Listing For Sale by Owner Will Help Save You Money
With so many people buying and selling these days, you might hear real estate advice like this, suggesting selling on your own will be the cost-saving way to go. Don't believe it. Listing on your own requires more know-how than you might think. A sign in the yard is only the first step. Dealing with walkthroughs, phone calls, and questions alone will rob your nights and weekends. Then there are scams to look out for, not-so-serious buyers, and negotiations to handle. Drafting contract paperwork, understanding the real estate terms and managing the details require more expertise than you might have. And that's why it's best for both parties to have agent representation.
9. Zillow 'Zestimates' Are a Reliable Way to Price Your Listing
General overviews and average ranges are great with sites like Zillow. But they're not intended to be hard-fast price points to base your listing on entirely. If you follow this real estate advice and just stick with one valuation tool, you could inadvertently over or underprice your home. Zillow and other sites won't have the up-to-date intel about the condition of your home or any recent repairs or investments made. That's why relying on the help of a professional agent, who can help you evaluate the specifics of your home, as well as compare the going listing prices of similar properties, is the best way to go.
10. The Only Time to Sell Your House Is in the Spring
There are certainly tips for selling your house at different points throughout the year. But it doesn't mean there's only one season worth waiting for to list your house. Spring might just be the most popular season of the year for selling real estate. But homebuyers are out there all year long. And your property might present different or unique features worth promoting anytime. It's what makes your home special that makes it marketable, not the season. When you're working with a professional real estate agent, they'll tell you they're more than capable of selling a home, whether it's 100 degrees or 10 degrees outside.
11. Don't Worry About Making Improvements Before You List
This is some of the worst real estate advice for anyone preparing to sell. Yes, you can probably find a buyer right now willing to purchase your property as-is. But if you can get a few additional thousand dollars, wouldn't you want to do what it takes to do so? Not all home improvements are expensive. And there are plenty of easy, DIY upgrades you can do that won't break the bank. Your agent can guide you on what areas of the property need to be addressed. It could just be a little yard maintenance and touch-up paint. But anything you can do to improve curb appeal and first impressions or to address potentially deal-breaking issues is worth exploring.
12. All Agents Do the Same Thing; Just Pick One
Not all agents are created equal. Do your homework, and don't settle with any real estate professional who has a business card. Ask about years of experience in the Lehigh Valley. Inquire about communication channels and strategies for marketing your house for sale. And regardless of which side of the real estate transaction you're on, having the wrong representation will be costly. Take your time and find a qualified agent you're comfortable with and generally like.
13. Let Their Agent Represent You
If you're not getting that last round of advice, you might instead hear this one. And it may be some of the worst real estate advice of all. You work with an agent because you need someone knowledgeable to represent you and your financial interests during negotiation, discussion, and even at closing. As a homebuyer, when you choose to work with the listing agent of the property you're looking to buy, that agent may be more loyal to the sellers. Even if an agent offers to help you, take the time to find someone different.
14. Save Yourself the Money and Headaches by Avoiding the Home Inspection
Go ahead and pass on the home inspection. I have a cousin who's a contractor who can help fix things if need be. Despite the best intentions, your friends could be ill-advising you in a big way. A home inspection may cost you $300 to $700. But it's peace of mind you need to ensure you're making the smartest purchasing decision. If there's a major complication, like a failing foundation or major renovation required, that could cost tens of thousands. And it's a pitfall you can only avoid by booking the home inspection.
15. Go Ahead and Skip the Title Insurance
Unfortunately, this piece of bad advice comes up more often than it should. And if you're buying a property from people you know or feel confident about the sellers, you might be inclined to skip the title insurance. However, having title insurance is worth its weight in gold. This coverage ensures that you're protected should there be legal concerns with the property down the road. And claims are rare, but they do happen. They're downright nightmares if you don't have title insurance, too. So, when they ask you at closing, insist you get the coverage.
16. Don't Worry About the Final Walkthrough.
Final walkthroughs usually occur right before closing. It's your opportunity to lay eyes on the property one last time before taking ownership as a homebuyer. And with all the other steps and to-do lists, you might be advised that this step isn't necessary. Do the walkthrough anyway. If the sellers have fixed or repaired things, you'll want to know. Alternatively, if there is new damage, maybe from the seller's pets or a recent storm, those will play into your consideration since they represent new costs. Take the time to do the final tour of the property to solidify your decision to buy. You'll be more confident at the closing table, too.
It's really a great idea to talk with friends and family to seek real estate advice. Much of what they experience can be helpful in preparing for your journey. But if any of these tidbits of advice come up, know to steer clear. They could lead you down a very different path, costing time, effort, and money. Take those suggestions with a grain of salt. And when you believe you're ready to get serious about selling or buying, start your agent search with Homeway Real Estate. Our team of professionals knows the Lehigh Valley market and all the nuances that lie ahead on your journey. Let one of our agents represent you and help with actionable and proven advice for the absolute best results, no matter what your real estate goals are.