23 Easton Area Home Styles You Simply Must See
Posted by Alex Lopez on Wednesday, November 17, 2021 at 12:23 PM
By Alex Lopez / November 17, 2021
Comment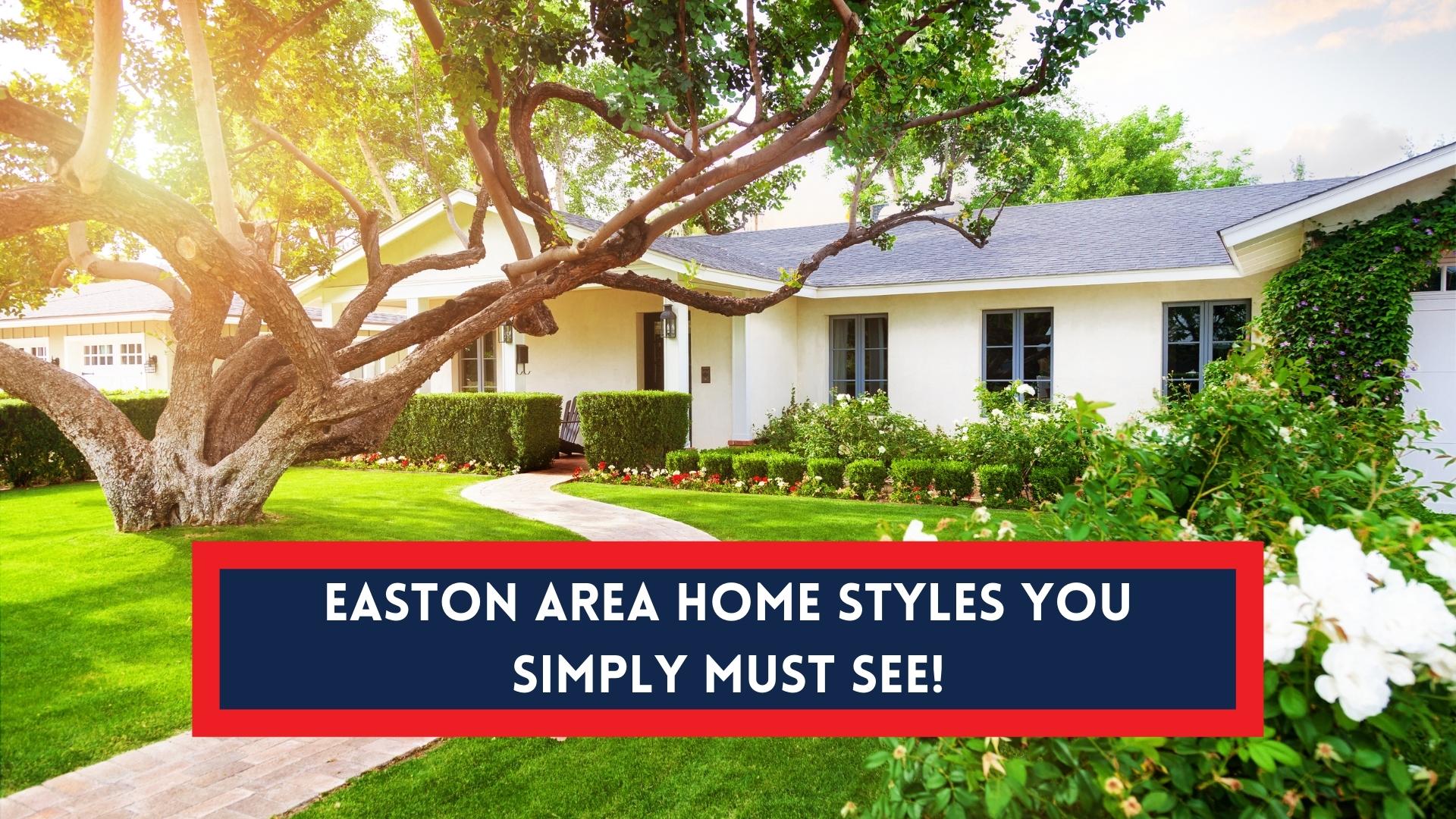 There are plenty of different reasons to move to Easton, Pennsylvania. Ask any Easton resident what they love about the area, and you'll be in for a lengthy conversation. With a lively and friendly community promoting growth, a rich local history, and with tons to do, Easton continues to be at the top of some of the Lehigh Valley's best places to live lists. But another attraction for new potential residents is the wide variety of Easton area home styles, making it easy to find the home of your dreams.
Easton is the county seat in Northampton County, and roughly 27,000 residents call Easton home. Life here feels one part big-city and one part country living, making it a kind of "Goldilocks" of the Lehigh Valley. And the picturesque landscape at the confluence of the Lehigh River and Delaware River makes the perfect backdrop for all types of unique and desirable Easton area home styles from which to choose.
Not all of these home styles will be available for sale all the time, of course. And some house designs are more prevalent in the Easton area than others. But here are some of the unique residential home styles and structures to look out for as you start browsing for an Easton home to buy.
1. Traditional Ranch Homes
If simplistic is the order of the day, the traditional ranch home is a great option. Usually noted by their efficient living spaces, ranch homes tend to offer simple floor plans and attached garages. This Easton area home style is perfect for upgrading with additions if customizing a home sounds appealing to you. The style itself dates back to 1932 and continues to be a popular layout for new construction homes still today. Homeowners love the single-story layout, too, making access to every corner of the house easy and without stairs. Ranch homes are also popular because they can be built with a variety of different features, amenities, and layouts, making them feel less cookie-cutter than some home styles.
2. The Cape Cod Home
Dating back to the 1930s, the Cape Cod style home is a signature design in Massachusetts. But these sometimes one or one and a half story homes are prevalent all over the U.S., including in Easton, PA. To spot one of these gems, you can look for steep rooflines, multi-pane windows, and wood siding. Inside a Cape Cod style home, you can look for smaller living spaces and hardwood floors. These styles will have an upstairs room that may or may not be finished, giving you options for developing the space how you see fit. You'll typically see dormer windows with the Cape Cod style, helping to bring light and space into the living area, as well.
3. The Tudor-Style House
If you're looking for an Easton area home style that harkens back to the architectural designs of 16th-century England, look for the Tudor house style. Of course, today's Tudors are modernized versions of the traditional Medieval layouts, with all the must-haves of today's lifestyles. But you'll see hints of the old-world with the steeply pitched rooflines, tall and narrow windows, and half-timbering. Most of these homes also have those prominent and easy-to-identify cross gables.
4. Victorian Home Styles in Easton, PA
The Victorian home can come in different styles, but all are reminiscent of architecture from the Victorian Era back in 1860 to 1900. These romantic layouts are incredibly distinctive, featuring an attention to style and engineering details like no other home style. Expect these homes to feature two or more stories, with tons of nooks and cranny spaces throughout for storage. There are traditional and more contemporary Victorian home styles, both trends offering various amenities. However, you'll recognize one when you spot it just by the patterned shingles, steep roofs, cutaway bay windows, and expansive front porches.
5. Stunning Country French Homes
Back when France occupied much of the eastern portion of the country, in the 18th century, the French settlers brought with them a unique perspective on home building and home style. Country French homes are well-known for their incredible curb appeal and stunning driveway designs. But they also tend to feature narrow windows with shutters, stucco walls, and steeply pitched rooflines, with one-story architecture. You don't have to be French or live in the country to enjoy these home Country French styles.
6. Find a Farmhouse in Easton, PA
You don't have to be a Pennsylvania farmer with tractors or own livestock to enjoy the beautiful designs of the traditional Farmhouse, either. Sometimes these homes resemble old-time barn structures with barn-looking rooflines. But most will have the giant front porch, perfect for rocking with a cold glass of lemonade. There is often a central fireplace, tall ceilings, and exposed support beams for a more rustic look and feel. These might present with stone or brick exteriors, as well. Even modernized versions or remodels of these Farmhouse style homes still offer that relaxed, rustic ambiance you won't likely find in other Easton area home styles.
7. What About Contemporary Styles?
When you see a home listing with the phrase, "Contemporary style design," you may not know what that entails. After all, there are lots of interpretations of what is considered "contemporary." But in real estate, the Contemporary style of home is usually referring to an architecture made popular between 1950 and 1970. Simply put, these homes have simple forms and geometric lines, with open floor plans and lots of windows. There is usually a healthy mix of contrasting materials, too. For example, you might see a variety of textures like exposed roof beams and smooth metal accent surfaces. These homes will sometimes feature a low-pitched roofline or an entirely flat roof, as well.
8. The Split-Level Home Design
Everyone wanted a Split-Level back in the 1950s and 1960s when its ranch-style versatility made home lifestyles different. Living spaces are separate in the home, usually connected by shorter flights of stairs, contrasting the official two-story home design style that presents long flights of steps. The Split-Level design is still popular today, with so many potential functions for these uniquely distinctive layouts.
9. The Colonial Style House
The iconic Colonial house has been one of the most popular home designs, dating back to 1876. These homes usually feature two or even three stories, perfect for growing families. You'll hear about different variations of a Colonial, but the Georgian style tends to be most common. There are often fireplaces, and both kitchens and family rooms are on the first floor. Look for brick or wood exteriors, as well. These homes are also popular to renovate. There are plenty of reproduction Colonial materials available for contractors and designers to maintain the look during modernization and remodels.
10. The Cozy Cottage Home
Think English countryside meets modern American architecture, and you have the Cottage Style home design. These charming houses tend to look like they belong in a storybook for children. It became super popular back in the 1920s and 30s, but today's simple-living home buyers love the Cottage Style. Look for cross gables, arched doors, and steep roofs. They look cozy and inviting regardless of their brick, stone, or stucco exteriors.
11. Mediterranean Houses Are Unmistakable
While they're not entirely prevalent in Easton area home styles, you might still come across a Mediterranean-styled home for sale here. Made popular as a design in California during the 1920s and 30s, these homes are unmistakable when you spot them. Inspired by a Spanish colonial impression, these homes have arches, grillwork, and typically low-pitched tile roofing. In addition, there are usually courtyards, sometimes with a fountain, promoting airflow between these U-shaped layouts.
12. Easton Area Home Styles Include Townhomes
If you're not looking for an expensive home investment with all the responsibility that comes with homeownership maintenance, you might live your best life in an Easton area townhome. These home styles are individually owned and typically share a wall with other property. Townhomes feature more vertically designed living spaces with more than one story. Collections of townhomes may also have shared community amenities you might find appealing. While these living situations can reduce privacy and remodeling flexibility, they're great options for those looking for a modern and simplistic design.
13. The Craftsman House Is Making a Comeback
Back in 1905 and through the 1930s, the Craftsman home became popular with its extensive woodwork. One of the most distinguishing construction features of these "Crafts-style" houses is the abundance of wood throughout the home's interior, including built-in bookshelves, seating, and woodworking details. Look for square columns on the porches and low-pitched rooflines. There are often decorative beams and exposed roof rafters, as well. Many of these traditional designs have usable attic spaces, great for remodeling and usage flexibility.
14. The Dutch Colonial
There is Colonial, and then there's the Dutch Colonial. This home style is much older than the traditional Colonial, back to the early 1600s. Original designs featured one-room homes, but today's variations obviously accommodate residents to today's standards of living. Look for the broad gambrel roof and styled dormers. It might look like a "barn house" with flared eaves and decorative porch entryways. Also common with the Dutch Colonial is the existence of the double door.
15. The Lifestyles of the Rich and Federal Colonial
You don't have to be wealthy to appreciate a Federal Colonial home design, but you'll feel rich living in one of these homes. Sometimes referred to as the Adam Style, this variation of the Colonial home is reminiscent of Roman classicism. These homes have different wings and plenty of decorative embellishments around every corner. The Federal Colonial almost always features a brick exterior. These wealthy-looking styles offer grand entrances, too, usually with prominent pillars, curved stairs, and large symmetrical windows on either side of the structure.
16. Living Your Best Life in a Log Home
It used to be that log homes or log cabins were reserved only for life in the wilderness. Early settlers built their homesteads with available materials, creating an iconic look. But fast forward to present-day homebuilding today, and there are several modern home styles that feature the look and feel of the back-to-nature characteristics you'll only find with a Log Home. The apparent differentiator of the Log Home is the home style's exterior, featuring actual logs. But these homes today often feature open floor plans, great use of natural lighting throughout, and a natural atmosphere.
17. Forward-Thinking Mid Century Modern Home Styles
Flourishing in popularity from 1945 through the 1980s, the Mid Century Modern home style looks entirely different from its predecessors. Engineers brought new ideas and materials to the homebuilding segment. Look for large glass windows, open spaces, and plenty of flat planes. Many of these homes will also offer unique aesthetics using steel and plywood in a way that feels simplistic yet natural. This design prioritizes function over form and presents in a no-frills, less ornate way. If organic and geometric designs appeal to you, the Mid Century Modern home is ideal.
18. Art Deco Features Can Be Found Anywhere
The official Art Deco home style may have you thinking of tropical locations like Miami Beach. And you wouldn't be wrong since Art Deco styles are more prevalent in California and Florida. However, Art Deco features are popping up in a variety of places, including in commercial office building designs. Technically, you can spot Art Deco characteristics in plenty of homes across the country today. In some Easton area home styles, you'll see smooth wall surfaces and fluting or reeding around windows and doors. Art Deco shows up in low relief decorative panels and front facades that appear stepped. When you see liberal use of chevrons, zigzag patterns, or geometrical forms as a home's style exterior, it harkens to the Art Deco design roots.
19. Italianate Style Homes
For those with a keen eye for the ornate and brilliantly decorative, the Italianate style home might be perfect for you. Styled with the elaborate villas of Italy, these styles often present with rounded windows and rectangular doorways. Look for window cornices and corbels with one-of-kind design features. You can almost tell an Italianate style home from its porch layout alone. These houses can come in two, three, or even four stories.
20. The Formal Proportions of the Neoclassical Home
Your idea of the dream home might lie within the design styles and features of the Neoclassical home, complete with formal proportions that reflect Greek and Roman influence. These are the residential homes that look like they could be universities or government buildings with their tall columns and full-height front porches. These are the elaborate home designs that might even have a few domes or towers incorporated into the layout. You won't find any portion of this home's style out of symmetry either, with evenly spaced windows and features throughout.
21. Dogtrot Houses: Why the Two Front Doors?
It's not uncommon in Pennsylvania to spot homes for sale that feature two front doors. You might be wondering what design category that might fall into and why houses seem to have them. Families settling in the area historically used to be comprised of several immediate and extended family members. Dogtrot Homes were built, according to some reports, with multiple entries and exits in case of an emergency and in part because transporting glass for windows was more challenging back then. Other historians suggest some doors were simply a status symbol of the 19th century.
22. New Construction for Sale in Easton, PA
If you're still not sure which home style interior or home style exterior you like best or think you'd rather not deal with potential maintenance or repairs of an existing home, you can look at some of the available new construction homes for sale in the Lehigh Valley. New developments in Easton have homes for sale right now, with all the latest styles and amenities you'd expect with new construction. And you might even find some of them have the unique style features you love about some of these other traditional home designs.
23. The Custom Home with Your Unique Style
If you like some features of the Victorian as well as the Art Deco or the Mediterranean, you could find the perfect blend of all three by designing and building your own custom home in Easton, PA. New construction projects can be costly but also allow you to bring the styles and designs you want to your unique home. So start browsing available lots and land for sale with Homeway Real Estate to find your perfect corner of the Lehigh Valley for your dream home!
You may not have an idea right now about what kind of front porch you want or if you like ornate moldings. That's ok! If all you really know is that you're ready for a move to Easton, PA, you're in luck. Homeway Real Estate can help guide your efforts and identify all the different Easton area home styles to consider seeing firsthand. So start browsing our Easton property listings today and let our real estate professionals introduce you to your Easton dream home!