4 Incredible Lehigh Valley Trails To Explore
Posted by Alex Lopez on Wednesday, February 10, 2021 at 9:00 AM
By Alex Lopez / February 10, 2021
Comment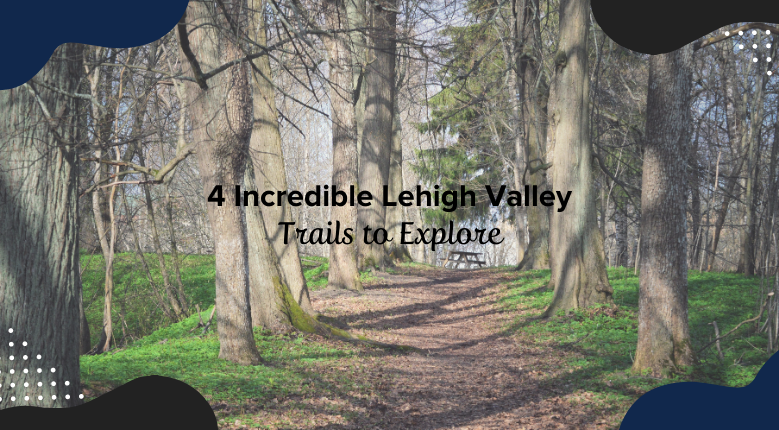 Calling all nature enthusiasts! Welcome to the Lehigh Valley, where there is always a trail just waiting to be explored. With so many parks weaving through the valley's breathtaking scenery, you're sure to find a route suited just for your ideal pace.
For exercising gurus, there are more rigorous hikes you'll find inspirational and challenging. There are paved trails, perfect for biking, and more casual paths for those family-friendly, casual strolls. Today, we'll highlight a few of the Lehigh Valley's best trails to entice you to find your next adventure here. Whether you prefer to tackle the trails with your bike, your dog, or as a family, there is a Lehigh Valley path around every corner.
1. Lehigh Parkway
You can't have a list of the Lehigh Valley's most iconic trails without first talking about Lehigh Parkway. This popular local park is home to more than a few running and biking trails. There are scenic paths that cross creeks and through covered bridges, too. Some of the area's many community 5K Runs and charitable walking events take place here. And in addition to the six-plus miles of trails, you can also play disc golf, go fishing, or visit the Museum of Indian Culture.
2. Ironton Rail Trail
If you're looking for a change of scenery or have a special appreciation for historical sites, you might consider exploring the Ironton Rail Trail. This path is a paved walking trail that predominantly weaves through Whitehall, Pennsylvania. Part of your journey will have you alongside the calming sounds of the river. But you'll also be following an old train track that leads to a former industrial area, with echoes of the Lehigh Valley's iconic manufacturing past.
3. Trexler Nature Preserve
Lehigh Valley residents often take advantage of the nearly 20 miles of trails that blaze through the Trexler Nature Preserve. This preserve is dedicated to bringing people closer to nature, and there are plenty of paths suitable for a variety of activities. Each trail leads to spectacular views of the surrounding Lehigh Valley. Casual explorers can enjoy wildlife and bird watching. Others can entertain more vigorous workouts with mountain biking or experienced hiking. There are horseback riding trails and beginner-friendly walking paths. Anyone can enjoy an adventure in the Trexler Nature Preserve.
4. South Bethlehem Greenway Rail Trail
There is a hiking area in Bethlehem, Pennsylvania, that residents absolutely love. The Greenway Rail Trail is an asphalt surface, perfect for inline skating, children's strollers, and cyclists. It's a former rail line, turned into a great way to experience and enjoy the great outdoors.
There are countless trails and paths that dot the Lehigh Valley, including others like Lehigh Mountain Park and the South Mountain Trail. With a region of Pennsylvania this beautiful, it only makes sense there be accessible trails in every township and city within the valley. If trails, outdoor activities, and nature matter to you, consider finding your next home in the Lehigh Valley. Start browsing listings today or contact one of our Lehigh Valley experts. We can help you find your ideal home with access to your local trails and paths.