46 of the Best Places to Eat in Lancaster, PA
Posted by Alex Lopez on Wednesday, June 16, 2021 at 9:00 AM
By Alex Lopez / June 16, 2021
Comment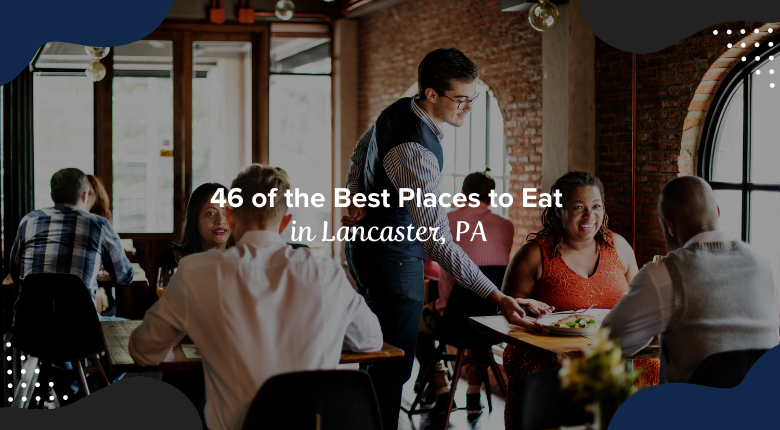 People move to Lancaster, PA, for a number of reasons. Maybe it's the abundance of recreational parks, great schools, or even the incredible houses that lure them. But residents of Lancaster can almost always agree on one incredible amenity. There are plenty of amazing places to grab a bite. We've scoured the reviews online and talked to those who call Lancaster, PA home. Here are some of the most favorited and best places to eat in the area, and not a palate will go unsatisfied.
1. Cabalar Meat Co
Some of Lancaster's best sandwiches can be found at Cabalar Meat Co. Try the "Sweet Heat" with jalapeno jam and a Fresno aioli. Or maybe the "Steakhouse" is your jam, with blue cheese, marinated mushrooms, and steak sauce. When burgers and sandwiches are what you crave, Cabalar Meat Co is your spot.
2. Citronnelle
Find creative French dishes at Citronnelle! This classy and modern restaurant is BYOB and a local favorite. Ingredients are thoughtfully sourced, and eating here will have you feeling like you're café dining in Paris!
3. John J Jeffries Restaurant
When Lancaster residents need comfort food, one of the best places they visit is John J Jeffries Restaurant. This cozy farm-to-table style eatery will have you feeling like you're down on the farm with gram's home-cooking. The fare is seasonal and can be shrimp and grits or grass-fed beef. Warm yet elegant, John J Jeffries is a must-try.
4. Horse Inn
American restaurants come and go, but none are quite as popular as the Horse Inn. Visit this Lancaster historical site for a grub pub experience the way you love it. Dishes here are globally inspired, and the atmosphere is quasi-refined, making your experience feel much like speakeasy times. You'll enjoy the vibe and the specialty cocktails.
5. Callaloo Trinidadian Kitchen
When you crave something truly unique, you will appreciate Callaloo. This Trinidadian restaurant marries the south-Asian and African-creole traditions for authentically Trinidad & Tobago experiences. Vegans and gluten-free diners find their favorites here, too. Taste unique fusions of tropical flavors at this colonial Caribbean hotspot.
6. The Belvedere Inn
It's not every day you get to truly enjoy new American dishes in a Victorian setting with a jazz lounge perfecting the atmosphere. But wait, you can have all of this and more when you step into the Belvedere Inn. This Lancaster restaurant is a great place to relax with friends, enjoy a mouth-watering meal, sip fine spirits, and tap a toe to some of the finest local jazz.
7. LUCA
If wood-fired pizza is your family's favorite, then LUCA is your new hotspot in Lancaster. This trendy and modern atmosphere is filled with Italian aromas. And it's a great place to grab a pint with friends, too.
8. The Pressroom Restaurant
If you're looking for some of Lancaster's best burgers and brisket, you simply must visit The Pressroom Restaurant. Enjoy many popular New American cuisine menu selections at this amazing Gastropub. And for one of the most relaxing dinners, sit with a prime view of the courtyard waterfalls.
9. JB Dawson's Restaurant and Bar
Dine-in, get curbside pickup or call for no-contact delivery for a taste of traditional American favorites from JB Dawson's Restaurant and Bar. Mouth-watering burgers, juicy steaks, and lip-smacking ribs are all part of this upscale yet casual venue.
10. Iron Hill Brewery & Restaurant
When you and your friends need a new spot to gather for homemade beers, Iron Hill Brewery & Restaurant may be the Lancaster place to hang. Enjoy elevated American fare and popular comfort food in this fun and relaxed environment. Regional brewpubs don't get any better than Iron Hill!
11. The Greenfield Restaurant & Bar
Do you ever wonder what dinner in the White House tastes like? Well, you can sample for yourself with cuisine from former White House Chef, Chef John Moeller at The Greenfield Restaurant & Bar. This upscale eatery offers a relaxed environment with a delectable selection of menu options. And there is occasionally live music for the perfect ambiance.
12. Bistro Barberet & Bakery
Dine-in or take home some of Lancaster's most talked-about artisan desserts from Bistro Barberet & Bakery. Sample some of the finest wines for a relaxing afternoon with friends. Home of the $35 dinner, you can enjoy Prince Edward Island mussels or meticulously prepared burgers. And don't go home empty-handed. Take home a warm and freshly prepared Parisian Baguette from the bakery!
13. Cork & Cap Restaurant
When you crave seafood, dinner, and drinks, think Cork & Cap Restaurant at the Cork Factory Hotel. This gem is open for dine-in and offers carry-out of some of the tastiest American comfort foods. The atmosphere features leather banquettes, 19th century stone walls, a rustic bar, and seasonal outdoor patio seating.
14. The Lancaster Dispensing Company
Another local icon for craft beers and traditional pub grub is The Lancaster Dispensing Company. This charming taproom sits in a historic building, adding character to the ambiance. There is weekly live music, and menu items are available for both dine-in and takeout orders.
15. Lancaster Brewing Company
If you're interested in a brewery experience, complete with brew room tours, consider spending the day at the Lancaster Brewing Company. Enjoy relaxed dining and craft beers made using authentic German purity guidelines. And if dine-in or curbside pickup aren't convenient, online sources say Lancaster Brewing Company offers no-contact delivery, too!
16. Annie Bailey's Irish Public House
You don't have to be of Irish descent to be welcomed like family at Annie Bailey's Irish Public House. This pub serves pints and traditional eats in a laid-back, casual environment. Enjoy the lively setting or sit outside on the deck with friends. Annie Bailey's is a Lancaster favorite, and not just on St. Patrick's Day!
17. Flora's
For a truly unique dining experience, BYOB and visit Flora's! This venue serves an always-changing menu of classic Latin dishes and offers a simple yet relaxed atmosphere. Dive into a Lobster Paella or a Stuffed Pina as you admire the local art on display throughout the restaurant.
18. Himalayan Curry & Grill
Nestled in the heart of Lancaster, PA, sits Himalayan Curry & Grill. This fine Nepalese and Indian restaurant is a true gem for local restaurants. Traditional menu items include several Nepal and India staples. And the lunch, all-you-can-eat buffet always aims to please midday diners, too!
19. Max's Eatery
Imagine a griddle buttermilk herb-marinated chicken breast topped with cheddar, banana peppers, tomatoes, and a tangy bacon mayonnaise. If the thought of such a sandwich has your mouth watering, you should head over to Max's Eatery to get one! This American-style restaurant is home to many great must-haves, including the SmashBurger. Dine-in, pick up an order, or call in for delivery service to enjoy Max's Eatery anytime!
20. Silantra Asian Street Kitchen
Sometimes, wraps and rice bowls are in order. And for many Lancaster residents, the best place to find modern, health-focused Asian cuisine is Silantra Asian Street Kitchen. Enjoy this counter-serve experience Mondays through Thursdays, from 11:30 to 7:00.
21. On Orange
Eclectic breakfast and lunch favorites are comfort food for many. But if you want amazing chilaquiles and pancakes, you have to stop into On Orange. This casual venue is available for dine-in and takeout.
22. Maison
Another Lancaster must-visit is Maison. This New American kitchen serves farm-to-table fare in an upscale atmosphere. If French-Italian flair is what you crave, Maison will surely satisfy. Dine-in or takeout dinner tonight!
23. Sukhothai
Calling all Thai enthusiasts! Sukhothai is a contemporary and relaxed restaurant serving up traditional and spiced-to-order Thai favorites. Pop in for the perfect Thai dining experience. Take out dinner or go online to schedule your no-contact delivery.
24. LongHorn Steakhouse
LongHorn Steakhouse may be a chain restaurant, but it's another Lancaster favorite for anyone looking for that ranch-style experience. Known for the various grilled beef selections and festive birthday chants, residents appreciate their local LongHorn. Dine-in with friends or place your order for curbside pickup.
25. Route 66 Restaurant
Travel back to the 1950s, right here in Lancaster, when you visit Route 66 Restaurant. This diner offers some of the most cherished comfort foods, including juicy burgers. Cruise over to 45 W Liberty Street and sample Route 66 for yourself!
26. Root
Earning 4.5 stars online, Root is a popular eatery for those who prefer vegan dishes. This modern restaurant features a bar and brick wall theme, adding to the clean and simplistic atmosphere. The menu here is vegan and sourced for sustainability. And local residents check back often since the specials rotate throughout the week.
27. Issei Noodle (Downtown Lancaster)
Not all iconic Lancaster restaurants offer sit-down dining. In fact, Issei Noodle is a downtown staple providing fast takeout and delivery. Enjoy Asian-infused dishes, including ramen, and sample Japanese sake, spirits, and beer.
28. C'est La Vie
Discover a frequently changing menu at the artisanal yet casual C'est La Vie. Find large portions and small dishes, sure to satisfy even the pickiest of palates. Ingredients for the sandwiches, brick oven pizzas, and more are sourced from local butchers and farmers. Explore the large selection of draft beer or sample wine by the glass.
29. 551 West
Another American pub grub hotspot in Lancaster is 551 West. Pop in to sit at the sizeable bar and enjoy a craft beer. Try the bacon-wrapped macaroni and cheese, delectable wings, and even the Surf and Turf.
30. The Loft Restaurant
Get dressed up for world-class cuisine at The Loft Restaurant in downtown Lancaster. The menu is European-inspired and includes homemade desserts. For more than 36 years, this iconic venue has been serving up delicious fare. Call and make your reservation to experience it for yourself!
31. The Imperial Restaurant
If you're looking for culinary masterpieces on display with incredible flair and style, you have to sit down for dinner at The Imperial Restaurant. Here, every plate is worthy of its own Tik Tok video and still delights the senses. Check out the brunch or dinner menus as well as the imperial ballrooms for celebrations.
32. Chellas Arepa Kitchen
Lancaster residents will tell you there is really only one authentic arepa kitchen offering South American flavors. Chellas Arepa Kitchen serves up fresh Latin cuisine with gluten-free options. Check out the menu online to place your takeout or delivery order!
33. The Brasserie Restaurant and Bar
Cheesesteaks, gyros, and wraps, oh my! Stop in to experience The Brasserie Restaurant and Bar for some of the best flavors in Lancaster. This bar and grille also offers, of course, burgers. But it also features your choice of atmosphere, including elegant dining room areas, the casual bar, and the outdoor patio.
34. Stockyard Inn
If you're looking for a fine-dining experience, complete with fresh flower centerpieces and cloth napkins, you won't mind cleaning up for a night at the Stockyard Inn. This steak house is a date night favorite. Sample the bar menu and raw oysters, too!
35. Bonefish Grill
You don't have to live on the coast to enjoy some of the finest seafood. In Lancaster, residents know the place to go for all things seafood is the Bonefish Grill. This contemporary chain also offers mouth-watering steaks and summer cocktails. Seasonal specials change often and include savory dishes like the salmon caprese.
36. Rice & Noodles Restaurant
Vietnamese favorites are all on the menu at Rice & Noodles Restaurant. Only available for curbside pickup, this venue offers up spring rolls, macarons, and banh mi sandwiches you'll absolutely love! Check out the online menu and find your new favorite carry-out spot.
37. Yuzu Asian Cuisine
A girls' night out isn't complete without a table full of sushi. For that matter, date nights, family nights, and average Tuesdays are excuses enough to stop in at Yuzu Asian Cuisine. Enjoy fresh and natural dishes with specialty Japanese favorites. And if dining in isn't convenient, you can spring for delivery or take out instead.
38. Hunger-N-Thirst
Hunger-N-Thirst is more than just a Lancaster eatery. It's a New American kitchen in a warehouse-style setting offering gastropub fare. But it's also a craft beer store and a gourmet market. Check out their website to see the more than 400 beers available in the Bottle Shop!
39. Plough
If you're in downtown Lancaster, exploring the historical sites, you simply have to include dinner at Plough. Celebrating the rich cultural roots of the area, this farm-to-table feels cozy and inviting. Sample the black garlic BBQ-basted ribs or house-baked focaccia. Or sink your teeth into the Plough Burger, a top-seller.
40. Park City Diner
There can't be an all-inclusive restaurant list with the community-centric diner. Park City Diner is a favorite because of its 24-hour availability, its generous portions, and the comfort food selections. Meet for coffee. Pop in for afternoon breakfast. Or you can order curbside pickup. Park City Diner has been voted "Best Diner in Town" for several consecutive years for a reason.
41. Plaza Azteca Mexican Restaurant
You don't have to reserve tacos for Tuesdays when you know you have Plaza Azteca Mexican Restaurant nearby. This casual dining chain offers all of your favorite Mexican dishes, including burritos, tacos, and chimichangas. Don't forget to ask your server for an order of cheese dip and enjoy watching the guacamole made tableside.
42. Cafe One Eight
Café One Eight may become your new daily stop. Serving espresso drinks and healthy-conscious smoothies, it's a great way to begin your workday. There are also delectable breakfast plates to ensure you never start your day on an empty stomach. And it's a great pitstop for lunch, offering amazing salads and hearty sandwiches.
43. The Fridge
The Fridge is the "Clark Kent" of Lancaster eateries! It's a storefront that sells craft beer. But it also doubles as a quaint café with mouth-watering flatbread pizzas and sandwich selections. Pop in when you're in a hurry, and take home some craft beer, too!
44. Souvlaki Boys Grill
Counter-serve gyros don't get any better than they do from Souvlaki Boys Grill. Enjoy many Greek favorites, sandwiches, pitas, and hearty platters. And the SB Signature Greek Salad is an absolute must-try, even if salads aren't your jam.
45. Pasquale's
Sample some of Lancaster's favorite made-to-order pizzas and pastas come with an order from Pasquale's. Dine-in and enjoy the casual setting for burgers, sandwiches, and Italian dishes. And for those busy weeknights, you can order Pasquale's for delivery!
46. Frisco's Chicken
When you need fresh, Peruvian Charcoal Chicken ready when you are, you know it's a Frisco's Chicken night. The Frisco's team will feel like family for weeknight dinners, deliveries, and even special events. Order ¼ or ½ chickens and a wide variety of sides. When Lancaster residents don't feel like cooking, they let Frisco's do it for them!
Believe it or not, there are more restaurants, pubs, eateries, and tasty hotspots to enjoy in Lancaster, PA. You might be considering a move to the area for other reasons. But you'll certainly appreciate your decision even more, knowing there are so many options for dining.
When you're ready to start the browsing process for your Lancaster dream home, contact us! While we're out exploring houses for sale, we might even treat you to lunch at one of these amazing eats!