5 Inexpensive Home Improvements That Can Drastically Increase Value
Posted by Alex Lopez on Tuesday, February 2, 2021 at 11:56 AM
By Alex Lopez / February 2, 2021
Comment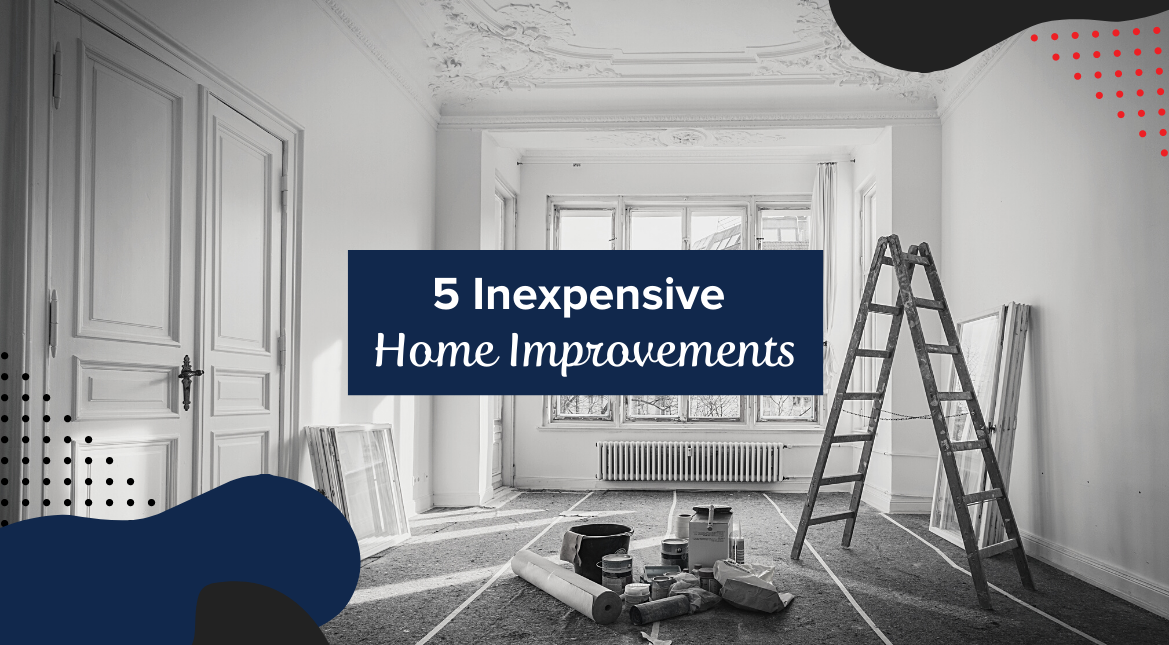 You might assume that in order to increase the value of your home, you'll need to invest in major remodels or upgrades. But there are subtle, more affordable ways to increase your home's value. Whether you're looking to inexpensively spruce up your house before selling or just interested in improving it's condition and overall value, there are small changes that can make a big difference. And it won't break the bank, either.
A Fresh Coat of Paint
Ok, so painting can be somewhat of a project. But in the big picture, it's an inexpensive way to put a fresh face on a stale room. It can also do wonders for exterior curb appeal if there's an opportunity to paint or stain a porch, window shutters, or window trims. Inside, lighter colors can open up a room and make it appear more spacious. It will also hide years of scuffs or wear and tear. Exterior paints and stains can protect wood components from weathering and breathe new life into the look of your home.
New Lights & Ceiling Fans
If your light fixtures seem a bit outdated, consider an upgrade to a more modern or stylish design. Add in ceiling fans to smaller rooms, great for moving stale air throughout. Better lighting can increase the aesthetics of a room, as well. Soften the mood in a den or brighten dark corners of a hallway. These subtle touches can often be inexpensive to purchase and easy to install. And they can make your home more marketable and appealing.
Fresh Landscaping & Cleaned Fence Lines
Curb appeal is always on the list of things to do to increase the value of your home. But you don't need to hire expensive professionals and rework your entire yard. Instead, look for small improvements that make a big difference. For example, overgrown fence lines can be trimmed and cleared away in a weekend with a little elbow grease. Pulling weeds from a flower bed will improve the look of your home, too. Plant some easy-care perennials, like Black-Eyed Susan varieties, Peonies, or Day Lilies that grow back every year to add color to your landscape.
New Kitchen Cabinet Hardware
You may have aspirations of remodeling your kitchen with upgrades like marble countertops and stainless-steel appliances. And those enhancements will certainly increase the value of your home. But if your budget is restricting you, there are some other changes you can make to a kitchen that you might love, as well. Start with smaller replacements, like a kitchen sink hardware. You'd be surprised how affordable new faucets can be. Cabinet hardware makes a huge difference, too. Changing out knobs and handles throughout can inspire a completely different look altogether in your kitchen.
Add in Some Smart-Home Technology
There are a host of smart-home tech products on the market these days. And yes, some of those installs can be costly. But there are other technology-based home technology systems that are rather affordable and can increase the value of your home. Digital, smart thermostats are easy to install and allow you to control the temperature of your home with a mobile device.
Improving the value of your home doesn't have to cost a fortune. And if you're looking to spruce up a few things before putting your house on the market, let our expert agents help! Contact us today to connect with one of our professionals who can help you devise a plan to increase your home's value and get it sold quickly.