5 Mistakes Homeowners Make When Buying & Selling At The Same Time
Posted by Alex Lopez on Wednesday, October 28, 2020 at 4:49 PM
By Alex Lopez / October 28, 2020
Comment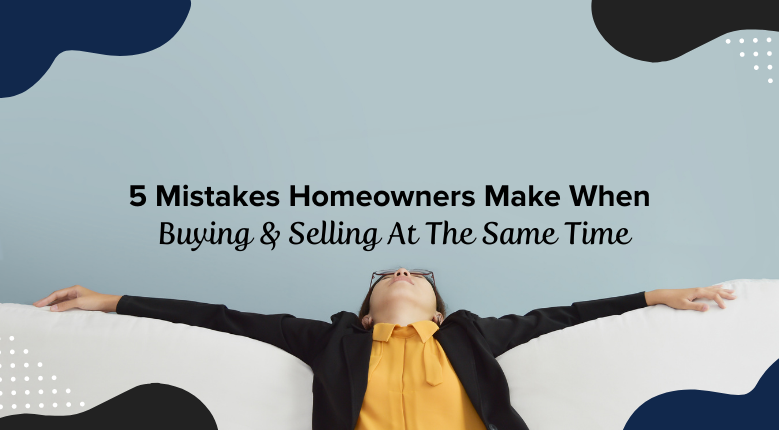 Buying and selling at the same time can be a daunting task for homeowners. Often one might find it hard to find the right pricing for their current home to purchase a new home. There's also the stress that comes with relocation and the financial burden one has to incur. That said, when you find yourself in this situation, you need to take extra caution to ensure the process goes smoothly.

So, to help you navigate this challenging task, here are five mistakes to avoid.

Let's dive right in.
Lack Of A Back-Up plan

When selling and buying a house simultaneously, it is essential to note several variables to consider. You might not be able to sell and buy your new home simultaneously. Thus, you'll need a back-up plan in case things don't go as planned. Most homeowners make the mistake of committing all their finances in the home transaction with nothing to fall back to.

Lack of a back-up plan can distort the whole buying and selling process. For example, if you expect to use the finances from selling your home to buy a new one, and the prices go down, you might be stranded. It will help to assume that your house will sell less than the selling price. This way, you won't panic if this happens.


Besides, what happens if you sell your home, yet the new home you are moving into hasn't been finalized? You'll need a motel or a rental apartment for some days or a week as you wait. Without a back-up plan, these setbacks may cause further stress to the already bleak situation. Therefore, it's vital to have extra cash at hand to fall back to in case of such a hitch.
Failing To Prepare The Home In Advance

One of the home buying mistakes is actively looking for a house, yet you've not prepared your home for selling. Before selling a house, you must ensure it is in good condition. Maybe you'll need to fix the sink or paint the walls, among other repairs.

Often homeowners take too long to prepare the house for sale. At the last minute, they rash the process only to finish when the great offers are no more. Also, the renovation processes drag the selling to the slow season.

When buying and selling a home at the same time, hire a competent real estate agent that can guide you on the market dynamics. This way, you'll work on the house project in good time and pave the way for timely selling.
Being Too Rigid

Homeowners often find it difficult to compromise their terms for buyers. Circumstances change, and issues arise. In such scenarios, it helps to be understanding and provide room for discussions and compromise. It won't help to be rigid and take a longer time to sell and buy a home.
Choosing The Wrong Timing

Selling a house for the first time is a new experience for many homeowners. When buying and selling happen at the same time, the situation becomes even more complicated. One wouldn't know the right season or timings to get the most out of the process. Selling your home way before you find one to buy is a recipe for disaster. Where will you live as you wait for the sale? Chances are you'll have to spend more on accommodation as you wait. Thus, it is crucial to work with your agent to ensure the houses' selling and buying happens a few days apart.

Scheduling your home sale on a Friday is a bad idea. You might have to wait until Monday for the payment processing. Also, it is better to focus on selling in the morning. If it's in the afternoon, chances are the transaction will be carried forward to the next day.
Hiring Two Agents

When buying and selling at the same time, you might be tempted to work with two separate agents, which is okay if you are relocating to another state or if you found an agent specializing in either buying or selling.

However, it would help if one agent can handle both the buying and the selling. This minimizes the back and forth movement between the selling and buying transactions. Besides, if you are working with one agent, he/she will find it easier to coordinate both processes in your favor. You might be lucky enough to sell and buy a house almost at the same time.
Bonus Tip

Before diving into the process of buying and selling a house simultaneously, take your time to research. It will help if you have background information about what is expected of you. You can inquire from others about the home buying mistakes they made when buying their homes and make a better choice. If you're looking to dive deeper into the topic of buying and selling at the same time, feel free to email me at [email protected] or give us a call at (855) 805-0605.