5 Signs You Need a New Realtor with Lehigh Valley Experience
Posted by Alex Lopez on Wednesday, February 10, 2021 at 9:00 AM
By Alex Lopez / February 10, 2021
Comment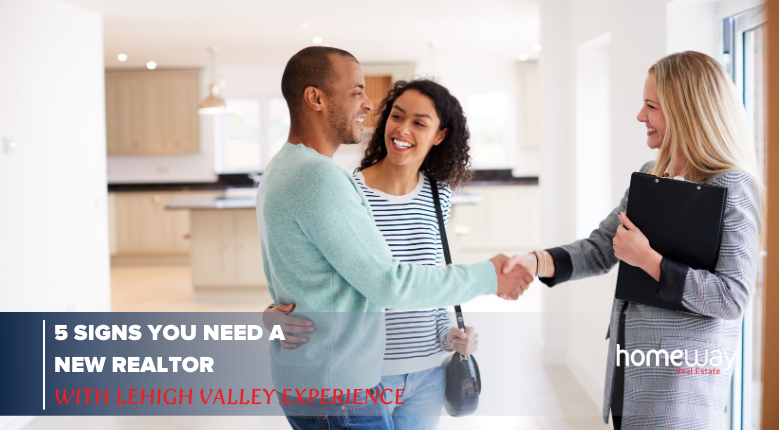 Buying or selling a home is not always a straightforward process. Often, it can take months to decide on your ideal area as a buyer or prepare your home as a buyer. While the process can be difficult, it can be made a lot smoother by an experienced realtor.
When it comes to buying and selling in the Lehigh Valley, our realtors at Homeway know the area inside out. We believe that local realtors can do it best. And while some realtors from further afield may seem like they know their stuff, they may not have the insider knowledge that will make your experience quite as easy as it could be.
Wondering whether it's time to find a new Lehigh Valley realtor? Here are five signs to look out for.
1. Your Realtor is Showing You Properties in the Wrong Areas
As a buyer, you likely have a few important must-have elements on your list. One important factor that all buyers consider is neighborhood. If you're a young family, you may be looking for an area with a safe, family-oriented feel. Or, if you're a young couple, you may be keen on finding a property in an up-and-coming area with a few local bars and restaurants.
Whatever your needs may be, it's vital that your realtor shows you properties that are located in the right sort of area for you. If your realtor doesn't have much local experience of the Lehigh Valley area, you may find that they sometimes miss the mark when it comes to neighborhoods.
If you've started to notice that you're viewing properties in the "wrong" neighborhoods, it may be a sign that your search could benefit from a Lehigh Valley expert.
2. You're Struggling to Find Properties That Tick All of Your Boxes
Realtors without local experience may also struggle to find properties that tick other boxes on your list. Typically, realtors without experience in the area have fewer industry contacts in the area. This means that they may not always have access to all of the available listings in Lehigh Valley.
>With a local expert, you'll be far more likely to see all of the available properties. This means that you'll also be more likely to find a home that really does tick each and every box.
3. Your Realtor Doesn't Seem to Know Much About the Area
It's natural for both buyers and sellers to have questions about the state of the property market for their realtor. What are the average prices this year? When's the best time to look or sell? Which neighborhoods have the best schools? The list goes on.
With some realtors without local Lehigh Valley experience, you may find that your realtor simply can't answer your questions. If your current realtor doesn't seem to know crucial details about the local housing market, it's probably a sign that you'd be better off with a Lehigh Valley realtor.
4. Your Realtor is Struggling to Negotiate
When it comes time to negotiate, you may think that any good realtor should be able to get you the best price. However, local realtors tend to have the advantage in the negotiation phase, too. This is because local realtors usually have strong connections with other realtors in the area, and know how to work with them to get the best bargain (for the buyer) or best profit (for the seller).
5. Your Viewings are Few and Far Between
If you're buying, you probably want to see as many homes as possible so that you can get started with your move. If you're selling, you'll want to get as many potential buyers through the home as possible so that you can, well, make a sale!
If you notice that viewing appointments are few and far between, this may be a sign that your realtor isn't quite up to scratch on local listings and resources. By switching to a local expert, you'll almost certainly find that you see far more homes or buyers.
Discover our Local Lehigh Valley Realtors at Homeway
Here at Homeway Real Estate, our team of realtors are some of the best local experts around. If you think your search could use the help of an expert, we're here to help. To get started, contact us at (855) 805-0605, or click here to speak with us today.