5 Tips to Find the Best Lehigh Valley Investment Properties
Posted by Alex Lopez on Wednesday, August 10, 2022 at 10:00 AM
By Alex Lopez / August 10, 2022
Comment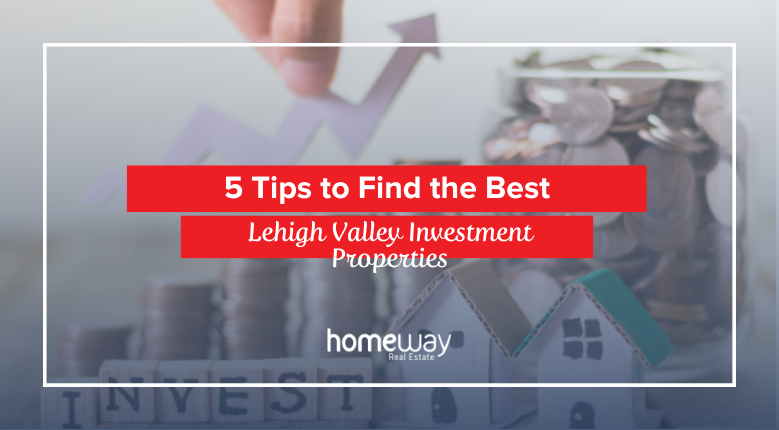 Whether you're 25 or 65, managing your finances is a top priority. Either you're exploring new ways to save and invest, or you're looking for new methods for improving your retirement income. And one solid solution to both dynamics is investing in real estate in the Lehigh Valley. Real estate continues to be a smart financial investment but beware. Not all investor experiences will be positive. And there are certain insights to consider to help you prepare in advance before venturing out to buy Lehigh Valley investment property.
Real estate investment properties are definitely lucrative for generating passive income, building wealth, and improving savings. And in today's market, with all the tools and resources available, you don't have to be a savvy landlord or investment tycoon to be successful. All you need to know is what questions to ask, what properties to look for, and what steps you can take to make the investment and management process seamless. But you'll also need some additional, reliable advice as you embark on your journey. Here are the tips you need to see to help you make the best decisions for your finances, timing, and goals. And before you know it, you could just be managing a portfolio of successful real estate investment properties!
1. Prepare Yourself Financially
Having a little capital in reserves isn't going to be enough to prepare for a real estate investment. You'll also need to consider your short and long-term investing goals. Sit down with your finances and really think about what's driving your motivation to buy an investment property in the Lehigh Valley. Are you trying to generate a steady stream of income? Are you looking to quit your job and focus on real estate full time? How much income is going to be a home run for you monthly, quarterly, or annually? Strategize your objectives first, and you can look to make all other decisions in accordance with those goals.
With those goals in mind, you then need to evaluate your own skills, experience, and preparedness to manage the property or properties beyond the closing table. Are you wanting something turnkey with existing tenants and profits? Are you prepared to manage those engagements in a landlord capacity? Or are you more interested in a DIY project where you can later try to market a property as a rental? Answering these key questions and aligning them with your goals will help you better understand what type of financial and management position you want to be in to reach them. That way, you can easily steer clear of any Lehigh Valley investment properties that don't fit your current position and overall objectives.
2. Setting Realistic Investment Expectations
Finding the best Lehigh Valley investment properties isn't always about quick returns. There are expectations, some realistic and others not so much, that real estate is lucrative all the time for everyone. And there are factors that play into just how successful of an experience you can prepare to have, depending on the property you buy. So, really explore the hard truths about your borrowing power, your ability to sustain without an immediate income, and, more importantly, the current state of the real estate market.
By now, you've decided what type of property or budget you need to stick with, single-family, multi-family, commercial, or vacation rental. But based on those goals, you can next go and explore the very latest listing prices, sale volumes, and economic benchmarks of those specific types you believe to be a good fit. Check out the various geographic areas around the Lehigh Valley, too, looking at unemployment rates, economic development trends, and interest rates.
As you spot new properties for sale, look at these factors, too:
Population Growth: Know before you buy if more people are moving into the community or out of it. No matter how impressive your rental property ends up being, if the area is drying up in population, there will be challenges in finding new tenants. Also, consider the average age of the current population to help you gauge who a target resident might be for property you buy there.
Appreciation Rates: These rates will be indicators of the overall health of the local market. Look for steady increases year after year. Too much fluctuation could be a signal of an unstable investment.
Property Tax Rates: Because these payments can significantly impact your returns, you'll want to verify any property's taxes before buying. Overly high taxation rates can be an indicator of a declining economy.
Price to Rent Ratios: Get into the math on potential rent by taking the median property price and dividing it by the annual median gross rent. Any communities with low rent ranges will have a higher price-to-rent ratio. You want to avoid any ratios so low that buying a property is more advantageous than renting one.
Income Levels: In addition to the unemployment rates and economic development data, look at the latest median income levels for the area. Ideally, you'll want residents to easily afford the rent you'll be charging.
Risks Associated with Natural Disasters: Any Lehigh Valley real estate you choose will need to have marketability for current residents, but you'll also want to be able to sell it if need be. Avoid pitfalls by investing in areas that tend to be prone to environmental disasters or damage.
3. Working at a Pace That's Right for You
Today's real estate market is fast-moving. But don't be rushed into buying any property unless and until you're ready. The best Lehigh Valley investment property experiences are those that move at a pace that's conducive to you. If any property or scenario has you second-guessing or feeling pressured, don't make a move until you consult with someone who can help you decide. Keep the emotional aspect of investing out of your process so you can avoid caving into the FOMO dynamics that are all too prevalent in today's market.
4. Get Yourself Some Bench Strength of Investment Support
Speaking of consult, make sure you have an army of support at your fingertips. Know your team, including contractors, attorneys, accounting professionals, and financial advisors. The real estate investment journey is going to require first-hand experience from the pros. Now's not the time to take advice from your friend's cousin who just started in the industry, either. Take your time and vet each support partner and vendor, so you know every nugget of advice you do get is going to be sound and helpful in reaching your goals. One of the most critical members of your investing support team is a well-versed, locally knowledgeable, and seasoned real estate agent.
Working with the Homeway Real Estate team of professionals will put your mind at ease because you'll have just the right guidance you need to find and buy the right-fit Lehigh Valley investment property. And whether you're looking in Allentown, Stroudsburg, Lancaster, or the Pocono Mountains, our agents know the investment landscape and can help you make financially savvy decisions that alight precisely with your goals.
5. Finding Great Lehigh Valley Investment Gems
With your financial goals in mind and ideal property types outlined, you can begin your search for the best property to buy. And finding the best deals and iconic gems will require the expertise of your agent. But you can also explore some of these tips when looking through the listings.
For Sale by Owner Properties: Not all sellers will choose to work with an agent. So, don't be afraid to drive around and look for FSBO properties to consider. Let your agent handle the details, but you could find great little properties worth buying.
Existing Rental Properties: Some existing rental property or investment property owners are considering selling but haven't had the right offer or haven't officially taken steps to list their property. If you spot a condo, for rent sign, or investment property with tenants, don't hesitate to reach out to the current owner and inquire about an interest in selling.
Check All the Sites: Don't stick with just one real estate listing site. Not all agents use the same platforms. So, explore MLS, Zillow, and Realtor.com. And don't forget to check out the rental sites, too, to spot existing turnkey properties you might be able to buy.
Consider these tips when you're ready to explore and find the best Lehigh Valley investment properties! And call Homeway Real Estate to help you get started!