5 Types of Mortgage Loans Ideal for Homebuyers in 2020
Posted by Alex Lopez on Wednesday, September 30, 2020 at 11:00 AM
By Alex Lopez / September 30, 2020
Comment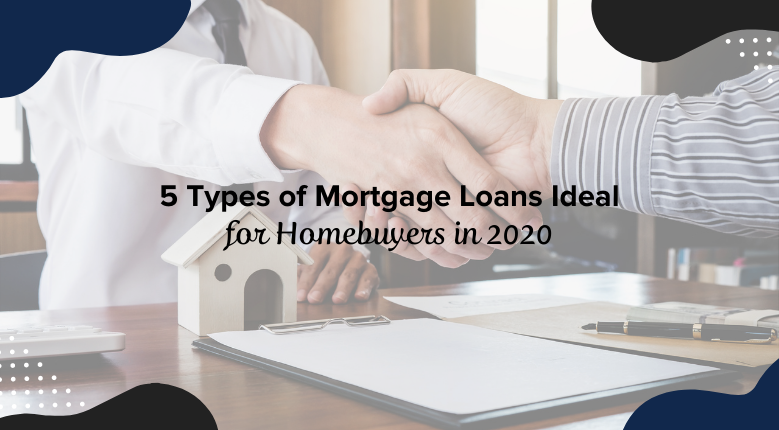 The most significant purchase that you will likely ever make will come when you purchase a home. Buying a property today is a significant purchase, which requires most people to take out a mortgage to finance the purchase. If you are looking to buy a home, choosing the right mortgage product is very important. Today, there are a variety of different mortgage loans for homebuyers to consider. It is important to consider the features and qualifications for each type of loan when trying to determine which type of loan is right for you.
Conventional Mortgages
The most common type of loan that someone will get is a conventional mortgage, which is any loan that complies with the standards that are set forth by Freddie Mac or Fannie Mae. You can take out this type of mortgage to purchase your primary residence, an investment property or a second home. When you apply for a conventional mortgage, the lender will base their approval on your credit score, income, and down payment. If you have less than a twenty percent down payment, you will also be expected to pay PMI until you have twenty percent equity in your property.
Government Insured Mortgages
For a lot of property buyers, getting a government-insured mortgage could be a great option. There are three popular government-insured programs that you may qualify for.
FHA Loans
An FHA loan is a mortgage that is intended to be used by first-time homebuyers or someone that has not owned a home in a while. When you get a loan that is guaranteed by the FHA, you will be able to qualify with a lower credit score, less down payment, and moderate levels of income. However, the monthly interest rates on an FHA loan can be higher than they would be with a traditional loan.
VA Loans
If you are an active or former member of the military, taking out a VA home loan could be a great option. VA home loans are intended to help veterans and active members qualify to purchase a home. If you take out a VA home loan, you could qualify for it with no down payment and will not have to pay PMI.
USDA Loans
A less popular program, but one that is ideal for those in rural communities, is the USDA loan program. As long as you are eligible for the loan based on your income, you could qualify for a USDA mortgage loan if you purchase a home in certain rural communities. These loans are ideal for many as they do not require a down payment.
Jumbo Mortgages
Depending on your situation, you may need to take out a mortgage loan in order to purchase your home. For those that are looking to purchase a more expensive home and need to take out a loan, getting a conventional loan will not be possible. Instead, you will have to get a jumbo mortgage. In most cases, you will need to take out a jumbo mortgage if you have to borrow more than $510,000 in 2020. However, this limit tends to increase on an annual basis and those in more expensive markets will have higher limits.

Qualifying for a jumbo mortgage can be more challenging. Generally, there are more stringent standards when it comes to income, credit score, and down payment. Further, the interest rates on a jumbo loan tend to be a bit higher than they would be with a conventional loan.
Fixed-Rate Mortgages
One of the biggest choices that you will have to make when you are looking for a new mortgage is to decide whether you want to get a fixed-rate or adjustable-rate mortgage. With a fixed-rate mortgage, you will have the same interest rate for the entire term of your loan. This will allow you to benefit from a consistent loan payment that will stay the same during the term of your loan. A fixed-rate mortgage can range from 10 to 30 years and interest rates tend to be higher the longer the term of the loan is.
Adjustable-Rate Mortgages
Another one of the popular mortgage loans for homebuyers is to get an adjustable interest rate loan, which is commonly referred to as an ARM. When you receive an ARM loan, you will have a low fixed interest rate for a period of time, which normally ranges from five to ten years. Once this fixed-rate period is over, your interest rate and payment will fluctuate based on the current market rates.

If you are looking for a home to buy, it is important to have someone by your side that you can trust. One great company to work with when you are searching for a new home to buy is Homeway Real Estate. The team at Homeway Real Estate will be able to help you to find a home that is within your budget and gets you what you are looking for in your next property.
Homes for Sale
Finding the right mortgage loan is the first step, but the next step is to find the home fit for you or your family. Homeway Real Estate has invested in one of the best home search tools on the internet. Give it a try and see the homes for sale in Allentown.