6 Best Lancaster Bars For Unique Craft Beers
Posted by Alex Lopez on Monday, February 8, 2021 at 12:34 PM
By Alex Lopez / February 8, 2021
Comment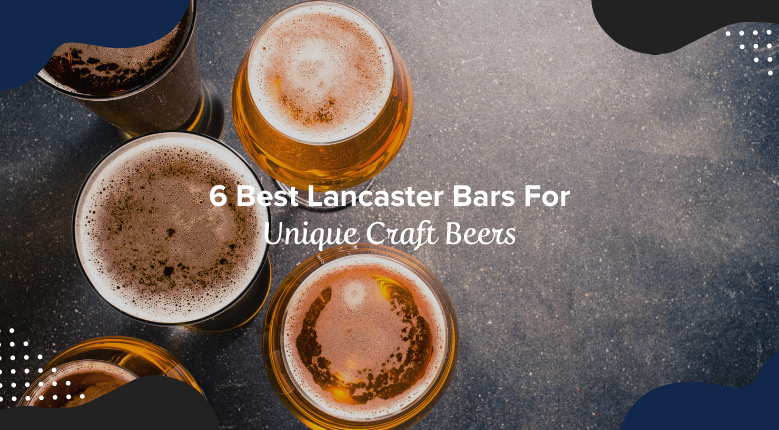 If craft beers and unique brews are your jam, there are plenty of stops you need to make in Lancaster, Pennsylvania. The Lancaster area is home to many bars, breweries, and pubs, each specializing in offering amazing craft beers you just won't find anywhere else. Today, we'll highlight six pit stops you definitely need to make to sample some of the area's best.
1. The Taproom
Step into The Taproom on West King Street for a funky, cool experience. This brewpub offers a casual environment and tavern food. You can play shuffleboard and gather with friends. But what you'll really appreciate here are the creatively named beers and a wide selection of craft favorites.
2. Lancaster Brewing Company
At 302 North Plum Street, you'll find Lancaster Brewing Company. This pub offers brew room tours and a relaxed dining atmosphere. But when it comes to craft beers, Lancaster Brewing Company takes production seriously. Adhering to strict German purity guidelines for beer-making, tastes here are truly authentic and unique.
3. Wacker Brewing Company
One of the more historic venues for craft beer brewing at its finest is the Wacker Brewing Company. Sample the rich, generational pride behind Wacker Beer and Little Dutch. Both of these brands are found commonly around the city of Lancaster at bars and restaurants as a local favorite. Visit the brewery at Penn Square and prepare for a new location and taproom coming soon in Willow Street. This new venue will combine Harley-Davidson motorcycles and Wacker Beer for an entirely new atmosphere to enjoy local crafts.
4. Iron Hill Brewery & Restaurant
Iron Hill Brewery is a more popular brewpub chain known for its American comfort foods and beer selections. But in Lancaster, the Iron Hill Brewery & Restaurant is where you'll find some of the best local craft beers, house-made variations, and unique flavors. Pony up to the Iron Hill bar or grab a booth with friends to enjoy this beer-centric location.
5. Hunger-N-Thirst
Go all out with a trip to Hunger-N-Thirst. This warehouse-style venue combines all the things you love, including a new American menu, a craft beer store, and a gourmet market. This may not be a traditional bar environment, but you'll certainly find an excellent selection of craft beer, along with charcuterie and cheeses to accompany your favorite ales.
6. Spring House Brewing Company
One of the most popular brewpub stops in Lancaster is at 209 Hazel Street. The Spring House Brewing Company is one of Lancaster's absolute best, with one of the widest selection of craft beers in the area. Sample something new or enjoy a reliable favorite while you dine on casual fare.
Craft beers and local brews may be one of the many reasons people visit Lancaster. But the residents will say it's these unique outlets for socializing and local brewing mastery that make Lancaster a fun and tasty place to live. When you're ready to explore your new home options in Lancaster, contact us to begin your search! Our team of Lancaster experts can help you find your dream home. And you can start searching for your dream brew.