8 Must-Ask Questions When Interviewing a Realtor To Sell Your Home
Posted by Alex Lopez on Friday, December 11, 2020 at 11:12 AM
By Alex Lopez / December 11, 2020
Comment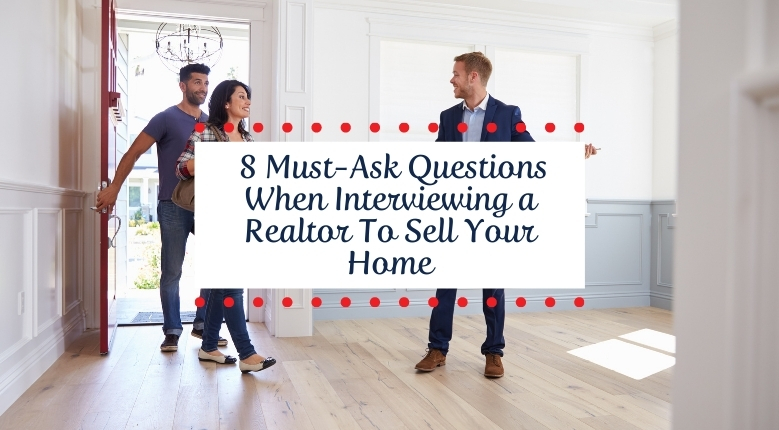 Owning a home can be a great long-term financial and personal option. When you invest in your own home, it will give you a chance to build long-term equity while also having pride in a place that you can call your own. While you may intend to own your home for a very long time, there will come a time when you need to sell. No matter what the reason for selling is, receiving right representation from an experienced realtor is very important. There are eight questions that you must ask when you are going to hire a realtor to help sell your home.

What is Your Experience and Track Record?
One of the most important questions to ask a realtor is what the real estate experience is for the realtor. You should try to get a sense of how long the real estate agent has been practicing, what their track record is in your area and anything else that you feel is relevant. During the process, you could also ask for references from past clients to see how they felt about the whole process.

What Sets You Apart?
Another important question to ask is what sets them apart from the competition. There are a lot of realtors that work in some of the top real estate markets. Due to this, you should try to find out what differentiates a real estate agent from the rest. You should focus on what their strengths are, what their process and strategy is and other pieces of information that could make them more successful.

What are the Costs?
As you are hiring a realtor, it is also very important that you understand what the total costs are. A realtor should be able to provide you with an easy to understand cost structure. Most of the time, the fees will be based on a percentage of the sale of your home. This way, if they are able to sell the property for a higher price, they will earn more as well. This helps to align interests.

What is Included?
Along with knowing what you pay to sell your home, you should also understand what you are getting for the fee. A real estate agent fee structure can vary from one sale to the next. Some additional fees that you incur can include costs associated with staging the home, holding open houses and marketing photos. This will help you to understand the true costs that come with selling your property with each real estate agent.

Do you Have a Team?
While the lead realtor is the person that you should be the most comfortable with and rely on, ensuring that they have a backup is very important. Selling real estate requires constant attention and support. Due to this, you will want to ensure that there is someone there that can pick up the slack and answer the calls if the primary realtor is too busy. The real estate team is often involved in helping to stage and show a home, handle open houses, and market the property. Due to this, you should make sure that you are happy with everyone that you will be working with.

What is Your Pipeline?
Along with knowing who else works with your realtor, you should also get a sense of what else they are working on. A successful realtor will often have a variety of clients and deals that they are working on. If it seems that they have a full plate, you need to understand how it will be managed. Based on this assessment, you may determine that they are too busy.

What is Your Strategy?
Another one of the questions to ask a realtor is what their strategy to sell your home will be. Realtors tend to have different strategies for how much to list the home and how to market it. You should make sure that you understand the plan and then move forward.

What should I know?
Not knowing what to ask is an issue for many sellers. Due to this, you should ask the realtor to walk you through the process and answer any questions that you did not think of. This will help you better learn the process of what you are stepping into.

Selling a home can be a very stressful experience. To make it go faster and easier, you need to hire a realtor. Since picking the right realtor can be challenging, it is important that you know what to ask. For those that are looking to sell their home in the area, Homeway Real Estate Allentown is a great place to turn to for your real estate needs. The team here can help you to market your home and feel great about the sales process.