8 Signs You Need a Better Real Estate Partner
Posted by Alex Lopez on Monday, October 10, 2022 at 8:56 AM
By Alex Lopez / October 10, 2022
Comment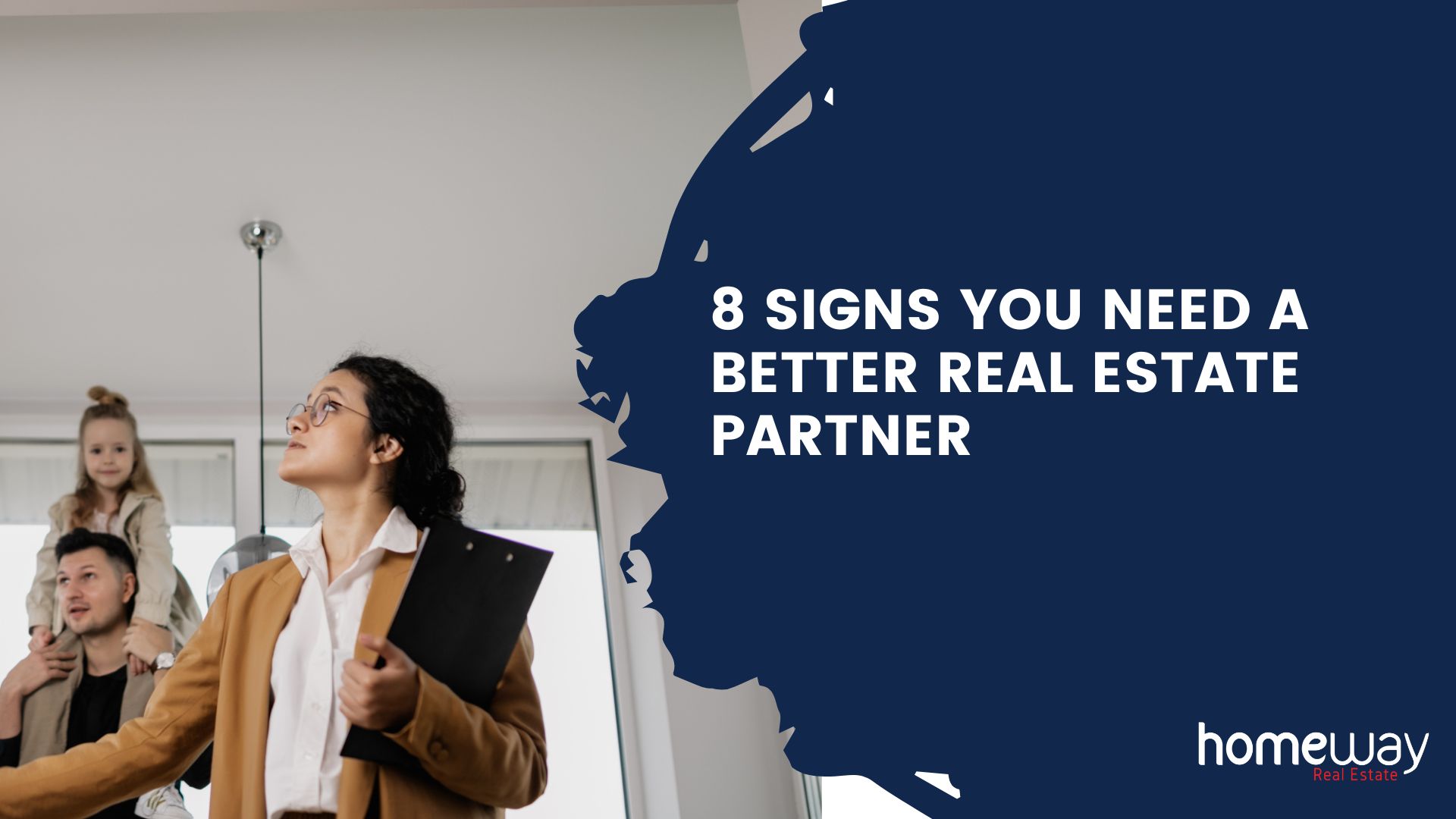 Even when the real estate market is calm, you want to make sure you're working with the right real estate agent. There are so many details to manage, nuances to know, and tasks to tackle; not having the right professional in your corner could wreck deals or, worse, cost you thousands. But in today's volatile market, the need for the right agent is heightened as buyers line up to put in offers, contingencies move quickly, and deals close before you know it. You can't afford not to work with the best agent who has the most experience by your side.
So, how can you really know if you're working with a great professional? Probably the better question to ask is, what signs indicate you're working with the wrong agent? So, get out your checklist and jot these down. If these scenarios sound all too familiar with your current real estate experience so far, it's probably time to find a more qualified agent partner.
1. Communication Is (or feels) Entirely One-Sided
When you first met with your agent, you felt confident you were making the right decision. They seemed competent and knowledgeable. Or maybe they even came highly recommended. But here you are, a few months into your journey, without offers and even fewer walk-throughs scheduled for you. You leave a message or two, or maybe even forward a listing you might like to see. Still, no response, or you get the "let me call you later tonight" text without substantive follow-up at all. If you're feeling like you're chasing down your agent for answers or results, or worse, are feeling ignored altogether, it's time to find a better partner.
2. The Agent Bully
Like a toxic relationship you'd tell your friend to leave, agents can be just as arrogant and overconfident. If your partner suddenly seems argumentative, controlling, or downright bullying, it's time to move on to greener pastures. You'll want a confident professional to help guide you through this selling and buying process. But the keyword there is "professional." Any over-pushy or condescending behavior should never be tolerated. Find a real estate partner who can be just that for you, a true partner.
3. Too New to Know Better
Noobs will cost you time and money. Plain and simple. So, even if your agent is a referral or you feel like you've hit it off well, when the agent is too new to the business, they won't have the expertise you need to deliver. Yes, there are fresh agents out there who are absolute rock stars. And if you're confident you're in good hands with such a rookie rebel, run with it. But typically, without a track record of sales and listings, there isn't going to be enough insight for efficient troubleshooting. A new agent won't be able to see around corners like a veteran. So, look for proof in experience and make sure you're partnering with someone who knows the ropes, the ups and downs, and all the potholes that may lie ahead. And definitely verify that the agent you choose has the appropriate licensing and credentials.
4. Too Busy to Commit to You
On the flip side, the veteran agents out there may have their plates full of buyers and sellers, meaning they're too busy to commit to a thorough process for you. When you have an agent who you know comes with a glowing reputation, make sure they have the capacity to take on your listing. Follow up to ensure they're still looking for new properties for you to explore. And if at any point you feel back-burner, trade in your agent for someone who has the time to commit to your needs and home buying journey.
5. Marketing Mistakes
If you're listing your Lehigh Valley home for sale, you'll need an agent partner who is a savvy marketing master. Top-performing agents will groom their networks, run ads, heavy up on social media, and will have regular open houses. Simply posting on MLS or a few listing sites won't cut it in today's market. If you aren't seeing any results or traction from your listing agent, ask about what kind of marketing they're doing on your behalf. If you're not satisfied in the slightest with the answer, it may be time to look for a new real estate partner.
6. Flurry of Activity without Results
Because the real estate market is bustling these days, it's easy to feel like you're seeing a lot of activity. Maybe there are lots of people showing up to your open house or making inquiries about your listing. And if you're buying, your agent may have tons of fresh listings for you to look at and explore as your next dream home. But in a market this hot, a lot of activity is happening for everyone. What you really want is results, whether it's an accepted offer on a new house or a better-than-expected offer on your house for sale. If you're not seeing any results, it could mean there's a breakdown in your agent's ability to negotiate a sale or to get others to commit. Negotiation skills and sales experience will separate the great real estate agents from the mediocre agents. Make sure you're working with one of the greats who can turn all that buzzing activity into dollars and cents.
7. Sketchy or Misleading Behavior
This is a big one. If at any point in your real estate agent partnership you feel like something's off, they're misleading or misrepresenting in any way, move on to another agent. Any agent who encourages you to skip the inspection because "it's just a little water in the basement" is not honest. Alternatively, any agent who encourages you to conceal information about your home for sale so as not to detract buyers who "won't appreciate having to get a new roof" find someone else. Yes, there will be some tough love conversations sometimes with an honest and professional agent partner. But in the end, the best agents know they're there to guide you and advise based on experience. Any other shady suggestions or quick-sale tactics only make you look like the bad apple in the transaction. Stick to your gut.
8. You're Not Working with a Homeway Agent
Seriously, though. When it comes to Lehigh Valley real estate experts, there isn't a group of agents more qualified and experienced than the team at Homeway Real Estate. And you can check out some of our online reviews from buying and selling clients who have nothing but great experiences and positive real estate transactions with our team at the helm.
"Everyone was kind, helpful, and very organized. I would definitely recommend Homeway." – Valerie M.
"Great staff!" – Amanda S.
"Amazing agents in Allentown. And they service the entire Lehigh Valley, so I was able to look at listings in Bethlehem, Easton, and Allentown!" – Jacob G.
Don't trust your real estate journey with just anyone. Make sure you find the right Homeway Real Estate agent partner whenever you list or buy a property in the Lehigh Valley. What you'll get is a top-rated professional partner with experience and knowledge, commitment, and passion for helping you achieve your best results. What you won't get are any of the aforementioned signs that you're working with the wrong agent.