9 Financial Tips For Buying Your First Home
Posted by Alex Lopez on Sunday, August 30, 2020 at 9:50 AM
By Alex Lopez / August 30, 2020
Comment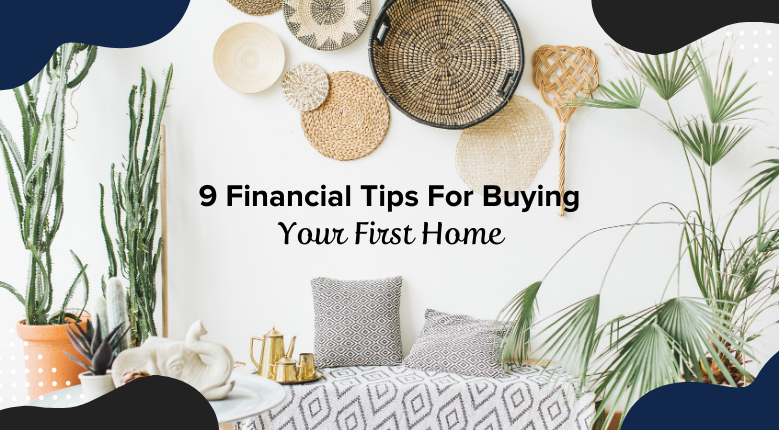 If you're currently planning to purchase your very first home, you may be feeling a little overwhelmed. Housing prices have risen steadily for years — and 2020 has been a difficult year for many families. However, with vigilant, careful planning, you'll be able to make all of the right financial decisions so that owning your first home becomes a real possibility.
In this article, we'll give you our top ten tips for buying your first home — we'll cover everything from saving for your down payment to finding a home that you can actually afford. Read on to discover what you'll need to buy your first home.
1. Focus on Saving as Soon as You Can
Many people assume that they can only begin saving once they start earning a certain amount. However, this type of thinking can be detrimental. Even if you can only set aside a few dollars each week, the practice of saving some of your earnings is worth it. Start by setting aside a few dollars each week. Slowly increase the amount you save until you find it's impossible to increase the amount any more — think of this as paying yourself before you pay anyone else.
2. Understand All of the Financial Options for Down Payments and Mortgages
It's important to remember that there are plenty of mortgage options out there. Be sure to examine the positives and negatives of each option so that you find one that works for your financial situation.
The higher your down payment, the lower your mortgage payments will be. There are other factors that can affect your mortgage repayment plan, too. For instance, a 30-year fixed mortgage plan usually offers low monthly amounts — however, the interest may be higher, meaning that you will end up paying more overall.
In order to pay as little as possible, try to find a plan in which you pay the maximum amount that you can afford each month as you'll save on interest in the long run.
3. Discover Pennsylvania and Lancaster's Assistance Programs
If you're struggling with the down payment, you can always look into state and local programs designed to assist first-time buyers. There are a variety of payment assistance programs that offer options like grants, zero-interest loans, and low-interest loans.
In Pennsylvania, for instance, there is an HFA Preferred Risk Sharing program that eliminates the requirement for you to pay mortgage insurance premiums, and will give you a lower monthly payment amount.
Check out this list of other Pennsylvania-specific loan programs.
4. Check Your Credit Score Before You Apply
When you apply for a mortgage, your credit score will play a significant role in whether your application is approved. Make sure you understand your current credit score before you begin applying for loans.
If there are any errors or anomalies that are affecting your score, these can be disputed. Focus on repaying any debts to improve your score. If possible, stop using your credit card for new purchases to maintain a good credit score as you go through the home-buying process.
5. Get a Pre-approval Letter
A pre-approval letter is a document from a lender that gives you an estimate of the amount you may be able to get in a loan. A pre-approval letter can greatly improve your chances of succeeding in your mortgage application, as it acts as proof that you are realistically able to afford the house in question.
6. Decide What You Need and Where You Can Compromise
For most first-time buyers, compromise is essential. While you may have an image of your ideal home in your head, in reality, you probably won't be able to find the perfect place in your budget.
In order to find a home that comes close to your ideal, make a list of your essentials. What do you need in your new home? Next, make a wish list. While you may not need a pool, you might add it to your list of highly desirable features. This way, you can begin by searching for homes that fulfill your needs before you become distracted by houses with beautiful features but too few bedrooms.
7. Create a Realistic Budget That Accounts for Other Expenses
In a similar vein, it's vital that you create a realistic budget plan for yourself. This will include the down payment and mortgage repayments, but it will also need to include other expenses. Account for unexpected fees such as insurance, moving costs, closing costs, monthly bills, repairs, and so on. Closing costs alone can cost you up to 5% of the purchase price, so be sure to leave plenty of room in your budget.
8. Always Invest in Home Insurance
While home insurance may seem like an unnecessary extra monthly fee, it really is a vital investment for homeowners. Examine a range of home insurance policies to make sure you are paying a competitive rate, and that your policy covers you for as many unexpected circumstances as possible. Also, if you happen to live in an area that's prone to flooding, be aware that homeowners insurance doesn't cover floods, so you may need to purchase flood insurance as well.
9. Choose the Right Buying Agent
The process of purchasing a home is rarely done by the buyer alone — chances are, you'll be working closely with a real estate agent. Make sure you find someone who understands your needs and has an excellent knowledge of the local housing market.

We hope you've found these tips for buying your first home useful. At Homeway Real Estate Lancaster, our team has decades of experience buying and selling homes in the area. We are realtors you can rely on to find your dream home quickly and smoothly. Contact us today to enquire about listings in Lancaster, and prepare to find the dream home you've been waiting for.