A Complete Guide to Homeowner Costs in Pennsylvania
Posted by Alex Lopez on Monday, April 12, 2021 at 9:00 AM
By Alex Lopez / April 12, 2021
Comment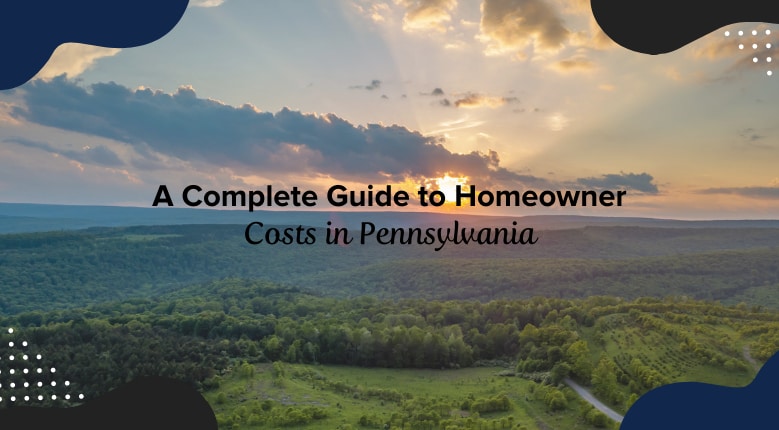 Owning your own home can be the culmination of a life-long dream. But once you sign on the dotted line and become a homeowner, your work isn't over -- it's barely begun. That's because while owning your own home has many advantages over renting, it's also a big responsibility, and you never want to take being a homeowner for granted.
Regardless of what you've heard, it's not all smooth sailing when it comes to owning your own home. While ownership is often cheaper than renting a comparable property just about anywhere, including the great state of Pennsylvania, homeowner costs can catch you by surprise if you're not careful. When you compare a mortgage to what you see in the local rental market, you're not looking at the same thing. And while it's admittedly the biggest part, a mortgage is just that -- a part of the total cost of homeownership that you'll face as an owner.
When you rent, you're given an all-in price, reflecting the mortgage, property taxes, insurance, and other costs that go into owning property. As a renter, you won't see any of that, but it's baked into your rent, and if there's a big repair, renovation, or another issue that hits the owner, you can be sure that your rent will be going up to match.
As an owner, your Pennsylvania homeowner costs are yours and yours alone. From the mortgage payment to property taxes and more, if it has to do with your home, it's on you to pay the bill and ensure that your home doesn't fall into disrepair. After all, it's up to you to protect your home's equity and value, which means covering all the costs.
Mortgage
The number one expense for homeowners is that all-important mortgage. It's a loan for all the money you'll need to borrow to purchase your home, and you'll have to pay it in full each month unless you want to donate your home to the bank. Therefore, it's essential to apply careful thought and budgeting to determine exactly how much mortgage you can afford in the planning stage. The more funds you direct towards the down payment, the lower the entire amount you owe on your mortgage.
Lenders make the mortgage approval decision by examining the monthly income - the total housing costs of owning a home, including a mortgage, shouldn't exceed 28% of your monthly income. They also evaluate other debts to ensure the total monthly debt payments don't go beyond 36% of the income.
Property Taxes
You may have heard about property taxes before, but if you've never paid them, you could be in for a surprise. In Pennsylvania, the property tax rate is a high 1.58%, much higher than the national average of 1.08%. That means each year, you're on the hook for 1.58% of your home's purchase price. On a $300,000 home, that's over $3,200 a year, or an extra $270 a month.
Insurance
Another Pennsylvania homeowner cost is insurance, which you'll need for your home and possibly your mortgage if you put less than 20% down. Your mortgage lender typically requires homeowner's insurance, and it protects your home in the case of fire and other events, but it doesn't include flood insurance, which is an add-on. Mortgage insurance is another requirement for buyers that put little down on their homes, and most times, it's included in your monthly mortgage.
Escrow
To help pay for property taxes and other costs during the year, an escrow account is typically opened when you close. And while you'll be paying into it during the length of your mortgage, homeowners often have to fund this account at closing in case property taxes and other bills are higher than the estimates.
Points
You've probably heard of "points," but they're just up-front charges usually in the low single digits that you pay on top of the home's final sale price. That said, points can sometimes jump into the high single digits, which could represent a significant expense, so make sure you understand the terms of your mortgage before you sign it.
Closing Costs
What are closing costs, and who pays them when buying a house in the Greater Lehigh Valley? Or who pays closing costs in PA, to be more precise? Closing costs are all expenses associated with closing a real estate deal or transaction, whether it is a home or commercial property. For the scope of this article, we've limited our discussion to residential properties. However, in any real estate transaction, the seller pays for very few closing expenses, with the buyer being responsible for paying most of them.
The costs to be paid by the buyer include the aforementioned points, escrow, and other costs such as lender's fees, processing fees, underwriting fees, inspection fees, appraisal costs, title insurance, recording fees, document prep fees, and credit report fees. But the expense that accounts for the largest proportion of closing costs is the Realty Transfer Tax, which is approximately 4.28%. It is a regular practice for the buyer and seller to split the cost equally, but it's not legally binding on the seller to do so. Another important point to note is that the buyer pays the full transfer tax when buying a foreclosure.
How much are closing costs in Pennsylvania exactly? Closing is one of those homeowner costs that can vary considerably. The average closing costs in PA are often in the 5% to 6% range (of the purchase amount).
Utilities
While renters are familiar with utility costs such as electricity, gas, or the internet, they may not be used to paying the water bill, sewer bill, and garbage collection bill. Sure, these aren't as significant as other costs, but they could add an extra hundred or two to your monthly payments.
HOA
If you've never owned a home in a neighborhood or building, you probably have no idea what HOA fees or dues are. But many owners know that HOA fees are a type of homeowner cost used to cover maintenance, upkeep, and costs associated with community features such as a pool or workout facility. Naturally, depending on the facility or building, the HOA costs can vary wildly. Some neighborhoods might only charge $20 or $30 a month, while buildings with many amenities could demand hundreds each month.
Maintenance
But the biggest wild card in Pennsylvania homeowner costs is maintenance. There's no way around it, and time will undoubtedly throw you a few curveballs or two when it comes to long-term homeownership. From the negligible cost of replacing a filter or two to the major cost of buying a new air conditioning system or replacing your entire roof, maintenance isn't something to scoff at, especially with older homes. Experts suggest budgeting about 1% of your home's value per year for maintenance.
Brought to you by Homeway Real Estate, Pennsylvania's number one source for buyers and sellers of Lehigh Valley real estate.