A Look At Lancaster's Arts And Music Scene
Posted by Alex Lopez on Sunday, October 25, 2020 at 11:55 AM
By Alex Lopez / October 25, 2020
Comment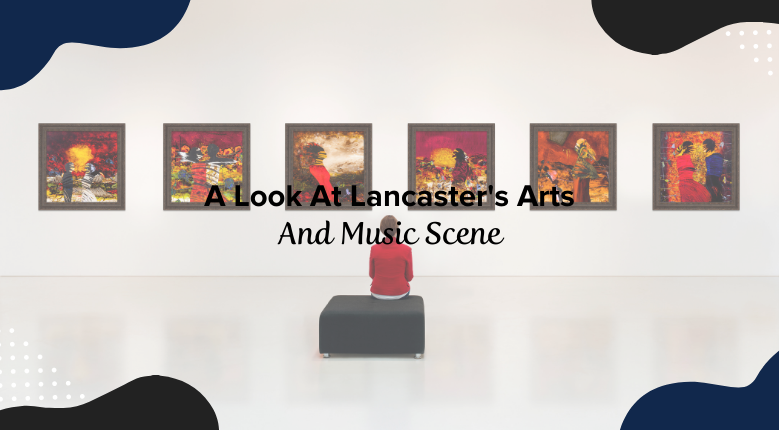 Lancaster, Pennsylvania is best known for its Amish culture, its history, and its charming, quaint feel. What many people fail to realize is that Lancaster also boasts a thriving arts scene. Whether you're into visual art, theater, dance, or music, you're sure to find plenty to keep you interested and involved in the city's art scene. Here is a quick guide to the major arts organizations that offer arts and music in Lancaster.
Art
If you're interested in viewing, purchasing, or getting involved in the visual arts, there are plenty of spots in Lancaster that will suit you.
Lancaster Art Festival
This yearly event presents Lancaster's best artists in a range of disciplines including ceramics, digital art, drawing, fiber, jewelry, photography, painting, sculpture, and more.
Gallery Row
For those who are interested in local artists, Gallery Row is a must-visit strip on North Prince St. in downtown Lancaster. Here, you'll find an eclectic mix of paintings, pottery, antiques, and more. For instance, check out:
Christiane David Gallery

Cityfolk Gallery

Curio Gallery & Creative Supply

Freiman Stoltzfus Gallery

Gail Gray
Demuth Museum
This museum is located in the former studio and home of Charles Demuth, a modernist painter and native to Lancaster. Here, you'll find the world's largest collection of Demuth paintings, along with an insight into his habits and practices as an artist.
Lancaster Museum of Art
This lovely local museum showcases local and regional artists. With a rotating selection of exhibits, events, and kids camps, this museum is a hub for artistic-minded residents of Lancaster.
Lancaster Arts Hotel
Whether you've booked a room at the Lancaster Arts Hotel or not, it's well worth visiting for the gallery. Over $300,000 worth of fine arts hangs on its walls, ranging from pieces by local, new artists, to more established, well-known painters.
Artist Inn and Gallery
This charming inn is filled with fascinating pieces. If you aren't staying in one of the quaint rooms, visit the art gallery where you can see paintings by Bruce Garrabrandt, a local artist.
Dutchland Galleries
The Dutchland Galleries is situated in the center of Amish Country and features the works of Pennsylvania's finest artists. Visiting this gallery will give you a real feel for the local culture and history.
Theater
For fans of the theater, Lancaster offers a range of touring and resident productions. There is also a range of opportunities to get involved, regardless of your skill level.
Fulton Theater
The state-of-the-art Fulton Theater presents professional plays and Broadway musicals year-round. There's always something on at the Fulton that will entertain the whole family.
Ware Center
The Ware Center is another performing arts venue where you can see music, dance, theater, and family-friendly shows. This building is primarily used by Millersville University, but the theater also hosts external productions too.
Dutch Apple Dinner Theater
For some good old-fashioned lounge-style entertainment with dinner, head to the Dutch Apple Theater, where you can enjoy a range of classic music tribute acts and full-scale pantomime productions.
Prima Theater
Prima is a modern, professional music and theater venue that presents a range of productions throughout the year.
Theater for Transformation
The Theater for Transformation is a Lancaster-based company that tours interdisciplinary arts productions that encourage conversations about race and racial awareness.
Viktor Yeliohin International Ballet Academy
This exceptional dance studio is Lancaster's top academy for classical dance. They put on several performances throughout the year, including a much-loved, high-quality production of The Nutcracker.
Music
Whether you're interested in classical or contemporary music, there are countless events in and around Lancaster to keep you entertained.
Long's Park Amphitheater Foundation - Summer Music Series
This non-profit organization produces the Lancaster Art Festival, showcasing a wide range of artists. It also presents an annual Summer Music Series, a fun, outdoor music festival for the whole family.
Wolf Museum of Music and Art
This museum is found in a stunning Victorian house that once belonged to Dr. William A. Wolf. At this museum, you'll be able to see many original Victorian furnishings. Dr. Wolf's wife's music room is almost perfectly intact.
Allegro Chamber Orchestra
The Lancaster Allegro Chamber Orchestra presents classical music concerts throughout the year. The orchestra is composed of professional players and is led by Dr. Brian Norcross.
Barshinger Center
The Barshinger Center offers a world-class 500-seat venue that hosts musical performances, primarily those by the students of the Franklin & Marshall music program
Lancaster Symphony Orchestra
This professional orchestra performs throughout the year and offers a range of community engagement opportunities. For fans of classical music, this is a wonderful organization to get involved with.
Opera Lancaster
Opera Lancaster is a company producing high-quality amateur and professional opera productions. Members of the community are all encouraged to get involved. Young singers who join the company have gone on to enjoy impressive careers in opera.
Trust Performing Arts Center
The Trust Performing Arts Center is located in a gorgeous historic building. Here, you can see performances and talks of all kinds. Many musical touring acts perform in this space,
Moving to Lancaster, PA? We Can Help!
If you're considering Lancaster, PA as your next new home, our team of excellent real estate agents is here to help. We are the go-to realtors in Lancaster thanks to our friendly, enthusiastic approach. With Homeway Lancaster, you're sure to discover the home of your dreams in no time!