Allentown Pennsylvania Investment Real Estate: The Complete Guide
Posted by Alex Lopez on Wednesday, August 17, 2022 at 1:18 PM
By Alex Lopez / August 17, 2022
Comment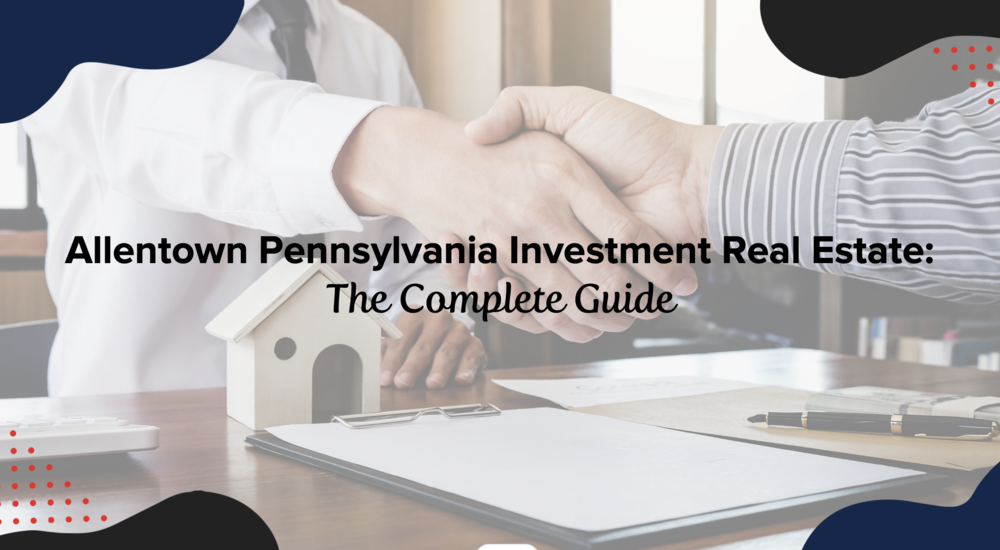 No matter where you call home in the Lehigh Valley, most people agree that Allentown, Pennsylvania is pretty special. With a host of things to do, consistent economic growth, and a rich history, it's the perfect marriage of charm and modern amenities.
So, for anyone who's exploring their options as a real estate investor in the Lehigh Valley, Allentown likely tops your list of local cities in which to start your search. To help you embark on this investment journey, we've put together a guide highlighting all things Allentown, along with insights and details you need to buy an investment property there.
Allentown, Pennsylvania Is a Lehigh Valley Investment Gem
Of all the places to begin your real estate investment journey, Allentown is a true gem. And when properties become available, they certainly don't last long, with an average of nine days before selling. Home values are up, too, by about 19%, as are employment and the general population, each approximately by 1%.
Allentown offers the best of both urban and rural advantages. And if the city life isn't what you had in mind, you can always explore these Allentown suburbs, equally fantastic settings for real estate investment properties.
Nazareth
North Catasauqua
Helle
Emmaus
Freemansburg
Topton Walnutport
Alburtis
Macungie
Quake
The City of Allentown sprawls across 17 square miles in total and has an average population of over 120,000. And within its city limits, you can explore a host of real estate diversity, including manufacturing facilities, commercial properties, city lifestyle amenities, and suburb-like tranquility within its residential neighborhoods. With all this bustling activity comes tons of restaurants, shopping, nightlife, and seasonal festivities, too. Allentown really does have something to offer everyone.
Industrial Real Estate
To explore opportunities to invest in area industrial properties, connect with the Allentown Economic Development. Manufacturing and industrial projects can be lucrative investments. Even if you only want to explore warehousing and commercial storage options, you could find just the property worth investing in, in Allentown.
Qualified Opportunity Zones
Qualified Opportunity Zones, or QOZs, are newer community development programs intended to encourage long-term investment in rural and low-income communities. There are tax incentives available for investors exploring these options. Additionally, there are more than 300 census tracts in Pennsylvania designated as Qualified Opportunity Zones worth exploring.
Neighborhood Improvement Zones
There is a special taxing district, created initially by Pennsylvania state law, called the Neighborhood Improvement Zone. Tax incentives and financing resources are available for these areas, as well. The Allentown Neighborhood Improvement Zone Development Authority or the ANIZDA oversees the NIZ, and it may be worth connecting as an Allentown real estate investor looking for new opportunities.
Brownfields
There are redevelopment opportunities across the Allentown brownfield sites designated for sustainable development initiatives. The Lehigh Valley's Land Recycling Initiative, along with the Lehigh Valley Economic Development Corporation, are supporting partners, ready to help you with any development, planning, or financing of sustainable investment projects. If you're looking to invest in sustainable solutions, this may be a connection you want to make.
Finding the Best Allentown, Pennsylvania Investments
When you're officially serious about moving forward and investing in Allentown, Pennsylvania, real estate, you'll want to prepare financially and with a team of professionals who can help. You'll want to make sure you have guidance from your preferred financial advisor, your lender, and your favorite Homeway Real Estate agent. Secure your financing and outline your purchasing strategy to set yourself up for success.
Make sure you're ready with stats supporting:
Allentown neighborhood population
Allentown community development rates
Allentown appreciation rates
Allentown property tax rates
Allentown average income levels
Allentown price-to-rent ratios
The Pros & Cons of Real Estate Investing
Generally, investing in real estate is a safer option, presenting fewer risks than other investments like mutual funds or the stock market. But like with any financial and investment strategy, there are pros and cons to consider. While you have advantages pointing to a return on your investment, there will always be some degree of investment risk involved. Here are both perspectives you can review and reference as you make your Allentown purchasing decisions.
Pros Include:
Tax Benefits
Appreciation Returns
Infused Cash Flow
Diversification Options
Physical Asset
Short and Long-Term Flexibility
Cons Include:
Maintenance Expenses and Property Condition Repairs
Unexpected Expenses
Financing and Lending Challenges
Complex Purchasing Process
Time-Consuming to Buy, Find, and Manage
Still Risk of Potential Loss in Value
Existing Rental Properties
As you begin to look for available properties, it can often be a great idea to start by looking at existing rental properties. Commercial or residential, those Allentown real estate investments already generating income can be ideal first properties for new investors.
For Sale By Owner Properties
Because incredible properties don't stay on the market for long in Allentown, you might be hard-pressed to act quickly enough to make your purchasing decisions. But don't discount those listings offered directly by owners. FSBO properties can represent great opportunities for investors. Just make sure you have your real estate agent to represent your interests during negotiation and purchase.
Airbnb and Vacation Rentals
Maybe you're looking for more seasonal properties, ideal for vacation rentals or Airbnb listings. Allentown is a bustling attraction for thousands of tourists each year. You can browse available vacation listings and actively search for new properties that could easily transition into vacation rentals.
Single-Family
You won't be hard-pressed to find incredible homes in and around Allentown that would make great investment real estate properties. From move-in ready to fixer-uppers, you'll have a variety of options from which to choose. And the styles range from eclectic colonials to modern architecture, including these iconic home types:
Classic Ranch
Pennsylvania Colonial
Farmhouses
Victorian
New Construction
Custom Homes
Multi-Family
If you're looking for an Allentown, Pennsylvania, investment property that will offer a higher return, then you might want to consider buying a multi-family property. These properties are perfect for those who want to live in one unit and rent out the others or for investors who want to generate income from all units. Condos, apartments, and complexes are all available in Allentown, Pennsylvania. Just find the ideal investment for you and make an offer!
Commercial Property
Of course, you're not limited to residential properties when investing in Allentown real estate. There are plenty of commercial properties available as well, ranging from office space to retail storefronts. And with a thriving economy, there's no shortage of businesses looking for new locations.
Every Allentown Property Has These Marketable Assets
Regardless of the type of investment property type you decide to buy, there are certain things you'll always be able to market in Allentown. Developing your marketing plan for renters, commercial tenants, and tourists will be easy when you tap into these incredible Allentown amenities:
Parks & Recreation
Convenient Commutes to Other Cities
Plenty of Retail
Festivals & Family-Friendly Activities
Swimming & Water Fun
Hiking & Biking
Historical Sites & Museums
Great Schools & Educational Resources
Investing in Allentown real estate is a great financial move. Keep these details handy as your guide to available resources, local information, and tips for making your best investment decisions. And don't forget to contact Homeway Real Estate for a front-row seat for all the available listings in Allentown. Our team of agents can answer any questions for first-time investors and seasoned veterans alike.