Are the Cheap Houses for Sale in Lancaster, PA Worth It?
Posted by Alex Lopez on Monday, February 28, 2022 at 10:00 AM
By Alex Lopez / February 28, 2022
Comment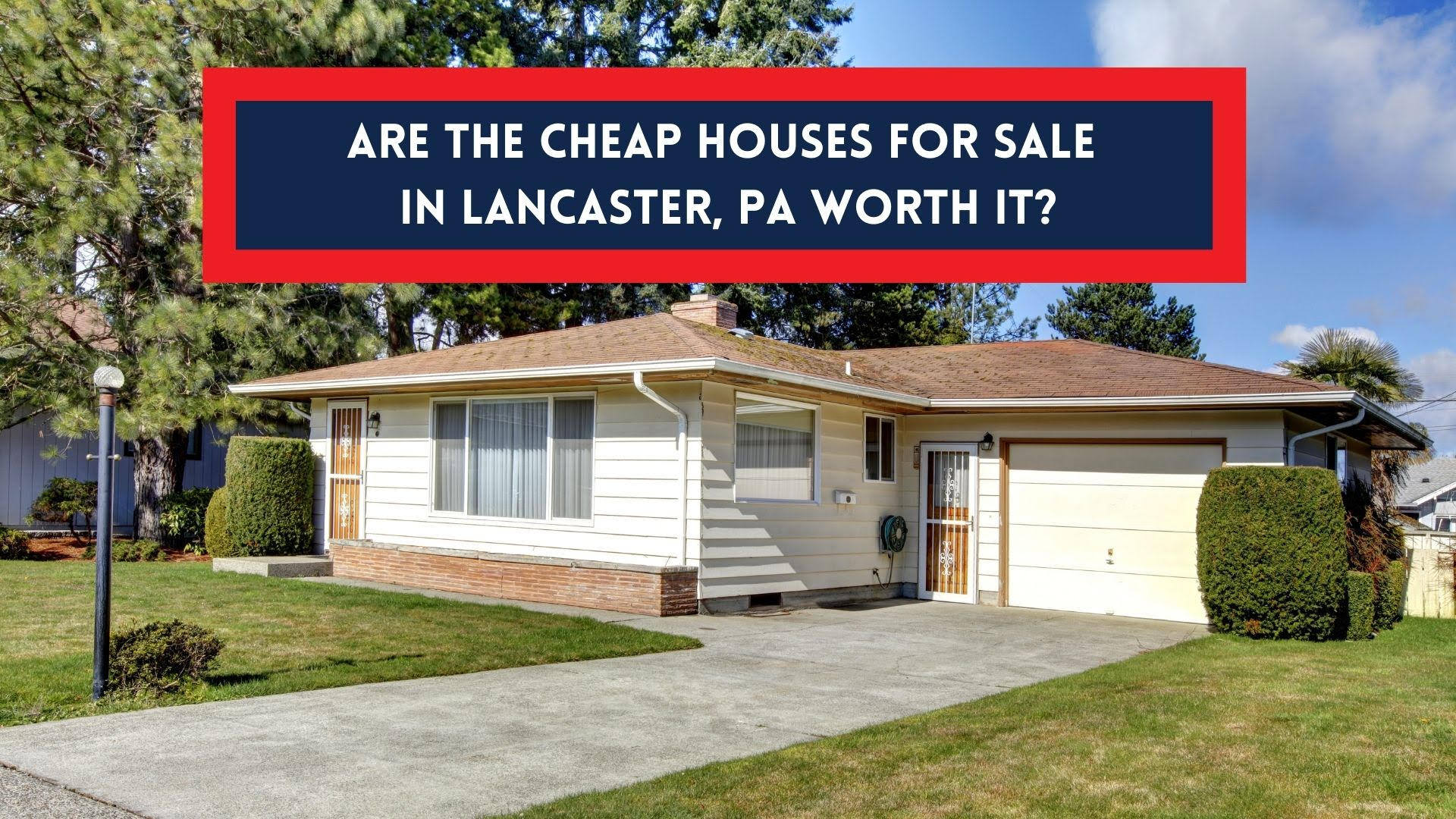 You've been watching the Lancaster, PA, real estate market for a while now. And you have a sharp, keen eye for spotting investment opportunities when you see them. One thing you notice is an abundance of cheap houses for sale. While you know these types of cheap homes are typically reduced in price for a reason, you're not afraid to explore potential renovations, especially if you can get a good deal on the purchase.
But you're cautious about any investment you make. The more you think about buying cheap, the more you recognize there is so much you don't know about buying property. And what if you buy a cheap home in Lancaster that requires way more remodeling than you anticipated? Is it smart or worth the hassle in the end? Should you be sticking to that old saying about deals being too good to be true?
We'll uncover some of the nuances that go along with buying cheap houses. These tips will help demystify the process of shopping for and purchasing cheap homes in Lancaster, PA, so you can have the clarity you need to make the best investment decision for you.
What Makes a Lancaster, PA, House Cheap?
The term itself, "cheap," can imply negative impressions about quality or inadequacies. Sometimes, a cheap house is reduced in price for those very reasons, they have subpar quality conditions or require repairs to become livable. But sometimes, cheap only means affordable. And those types of cheap houses in Lancaster are worth considering.
Some homes are marked down because:
They're located in an underdeveloped area
They've been on the market too long, and the sellers are motivated
It's a secondary property for the seller who is looking for a quick exit strategy
It's a bank-owned, bankruptcy property
It's an inherited property being sold off as part of a trust or auction rate
It's unlivable due to poor maintenance or condition
The market is complex, especially these days. Confusing advertising with "price reduced" or "priced to sell" only muddies the waters even more. And then, when you narrow your listing site search to homes for sale for less than $25,000, you can't help but be inspired to learn more. There are cheap houses for sale that deserve a look, as long as you know what to look for and have the right real estate partner to help you evaluate your options.
Reasons People Buy Cheap Homes in Lancaster
You might already have your reasons for exploring cheap houses to buy. But there are added benefits to consider that inspire others to buy up these cheap and affordable homes. Investing in cheap properties will allow you to explore rental options, secondary living options, or short-term lease options.
Buying cheap will allow you to tap into potential revenue streams that will help offset your current mortgage or pay down existing debts.
Buying cheap will provide you with an added equity-building resource.
Buying cheap will serve as a safety net should you experience financial hardship in the future.
Buying cheap with plans to make the property your primary residence will afford you the financial benefits of lower payments, EMIs, and improved household budgeting.
Purchasing a cheap house in Lancaster has its immediate financial benefits, regardless of your plans to move into the property or rent it. You're paying less upfront and over time, in deposits and with your mortgage, which could be reason enough for you to look at some of these cheap house listings.
When Buying Cheap Houses Isn't Worth the Hassle
It really boils down to your financial position and intentions. If you aren't pressured to move out of your existing home and want to buy a cheap house as a secondary investment, your deal breakers are going to be different from someone who's buying cheap to move into the property immediately. However, these are the considerations you'll want to weigh before committing to buying, regardless of your situation.
Foreclosure properties aren't always the best deals
Tenants or residents of the cheap property could delay timelines
The condition of the property requires more than just a few repairs
Falling home prices in the neighborhood could be a bad investment sign
The community itself is far from amenities, has increased crime, or is undesirable
These scenarios can all make the cheap property harder to renovate, harder to sell later, and even harder to rent out if you plan to find tenants. In these cases, your investment won't provide the level of benefits you probably need to justify the purchase.
How to Determine a Good Cheap House from a Bad One
You might be savvy about buying, selling, or even building houses. But navigating the Lancaster real estate market on your own could be challenging. And when it comes to properly assessing a cheap house to buy, you'll want a few key players on your side.
Reputable Home Inspector
Don't rely on your own eye to calculate maintenance or repairs needed on a cheap house. Spend the few hundred dollars to have each property evaluated by a reputable home inspector. You can then view a report, itemizing all operational, safety, and condition concerns you'll need to address. These reports will help you avoid money-pit purchases and spot diamonds in the rough.
Trustworthy Real Estate Partner
Cheap houses in Lancaster are listed right now on all the big sites. But you won't really know the history of those listings without a trusted real estate partner who knows the area and volatile market. A Homeway Real Estate agent can guide you to narrowing your roster of cheap homes for sale based on experience and Lancaster knowledge. Make your purchasing decisions with the help of someone who can spot trends, knows what to expect, and can steer you away from the wrong cheap houses for sale.
Reliable Lending Partner
Having the right lending partner is key. Even if you plan to pay outright for your cheap Lancaster property, you'll need someone to help you plan down the road. Maybe you need to borrow funds for renovations. Maybe you want to explore using the equity to fund future remodels. Get the lending perspective you need from a reliable lender.
Real-Estate Savvy Financial Advisor
If you're buying cheap houses because you're intended to build a portfolio of properties, sit down with a real estate investment financial professional. A financial advisor can help you strategize for long-term investment success and keep you from buying cheap houses that don't help you achieve that success.
Don't Be Swayed by Anything Other than Hard Data
The soundest advice for buying cheap homes for sale in Lancaster is to never commit without having the numbers and data in hand. Leave the impulse buying for the candy bar in the checkout lane at the grocery store. Don't be swayed by a super-cheap asking price for a house without studying your budget and the data. Don't let others weigh in on your decision either, unless they're the industry professionals previously mentioned. Your brother's wife's cousin who did construction for a few years in the 90s isn't really going to be helpful. And your parents, despite their best intentions, may not have the most relevant advice concerning today's housing market or your personal finances. Use the tools and resources you have to gather all the information you need to strategically look at a cheap house buying opportunity.
If, after careful consideration of your situation, you decide you're ready to start hunting for a cheap house for sale in Lancaster, let a Homeway Real Estate agent be your guide!