Best Breweries To Grab a Craft Beer in the Allentown Area
Posted by Alex Lopez on Wednesday, November 4, 2020 at 12:00 PM
By Alex Lopez / November 4, 2020
Comment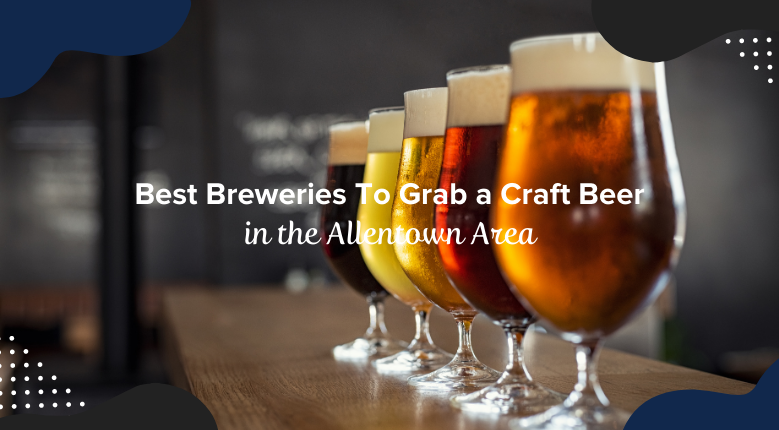 Visiting the Allentown area gives you a chance to explore museums, restaurants and the best breweries in Allentown. From exploring local parks and trails to delving into the town's rich beer brewing history, the options for fun and relaxation are endless.

Along with great ambiance, you can look forward to perfectly crafted beer with distinct flavors served out of great glassware. Various breweries are dedicated to making beverages that enthusiasts will enjoy time and time again by experimenting with a range of flavors. It is always exciting to try out different and new beers that offer a memorable aroma experience along with delicious food to nibble on as you drink.

The following is a list of the best breweries in Allentown worth trying out whenever you are in the area:
Hijinx Brewing Company is a great spot that is located in Allentown that has steadily gained a reputation for making great tasting beer. It gives people a relaxing and enjoyable way to spend their afternoons or evenings with attentive bartenders who spare no effort to ensure customers are comfortable and properly taken care of. The meadery and distillery nearby add to the overall charm of the brewery and amplify customers' appreciation for craft beers. Affordable samples are available for a fun tasting experience at this pleasant and fascinating brewery.
Features of the Trapp Door Gastropub include sit-down dining and outdoor seating to accommodate more patrons. This brewery is popular for its beer as well as its sumptuous dishes. Happy hour happens on Fridays and Saturdays while live music fans can enjoy sessions on Thursday, Friday and Saturday night. Whether you are in the mood for Sunday brunch or the weekly food specials, pairing your meals with casks or drafts is a well deserved treat.
This taproom and nano-brewery situated in Emmaus, PA makes and serves artisan beers. The owner's passion for brewing is evident in versatile styles of well-crafted beer in a fun and cozy atmosphere that has been enjoyed since the brewery was established in 2016. Patrons also have the option of trying out something stronger at the nearby distillery.
Bonn Place features a bar setting and fun place for sampling drinks during happy hour throughout the week. There are different types of beers at pocket friendly prices and a vast selection to choose from. It is usually busy, which is attributed to the popularity of the place but service is still timely and efficient to keep the beers flowing all day long.
This brewing gem is tucked away downtown with tasty food, great service and friendly staff. It offers a dynamic beer list, which means that customers can look forward to diverse drinks and a new surprise during every visit. The staff ensures everyone always has a drink and clears plates promptly. Along with the beer selection, there is an array of cocktails to sip on.
Funk is a fun brewery in Emmaus that is great for stopping by when you need a couple of beers. The staff is always eager to help and there is a wide variety of beer. There is adequate seating inside and more outside, which is a good choice for cooling down during summer. A food truck is provided occasionally with different options you can indulge in while enjoying a nice beer and great location.
Tavern on Liberty is a good option for anyone who wants a place where the drinks are abundant and hot pub food is served. The extensive beer list features more than 300 options of cold beers that ensure there is always something different to try out. Prompt service and outside seating guarantee a good time during warmer seasons of the year.
The tour at Gallows Hill provides an interesting history lesson and informative tour by the gracious owner. All the spirits are perfectly crafted, flavorful and smooth and served by knowledgeable and pleasant servers that guide the tasting process. Specialty cocktails are prepared by talented bartenders to enhance the creative and fun atmosphere of this unique distillery.
Seven Sirens is a friendly brewery with a welcoming feel in an accessible location. The brewery's outstanding style and decor coupled with personable service creates the type of atmosphere that you want to keep coming back to. Each beer is different and unique with delicious flights available, which means there will always be something for everyone to enjoy. Tasty food is provided by a food truck just in case you need some bites to accompany your drinks.

Craft beer is highly popular as more and more people take on beer tasting as a hobby. The best breweries in Allentown offer different craft beer styles that consist of high quality ingredients to create the perfect match for a variety of good food.
Are you looking to move to a home in Allentown? Take a look at all of the homes that are currently for sale in Allentown! This list of homes updates daily, so feel free to create a profile, save searches of homes, and come back see more!