Buying a House with the Best Real Estate Timing Expectations
Posted by Alex Lopez on Monday, November 22, 2021 at 10:58 AM
By Alex Lopez / November 22, 2021
Comment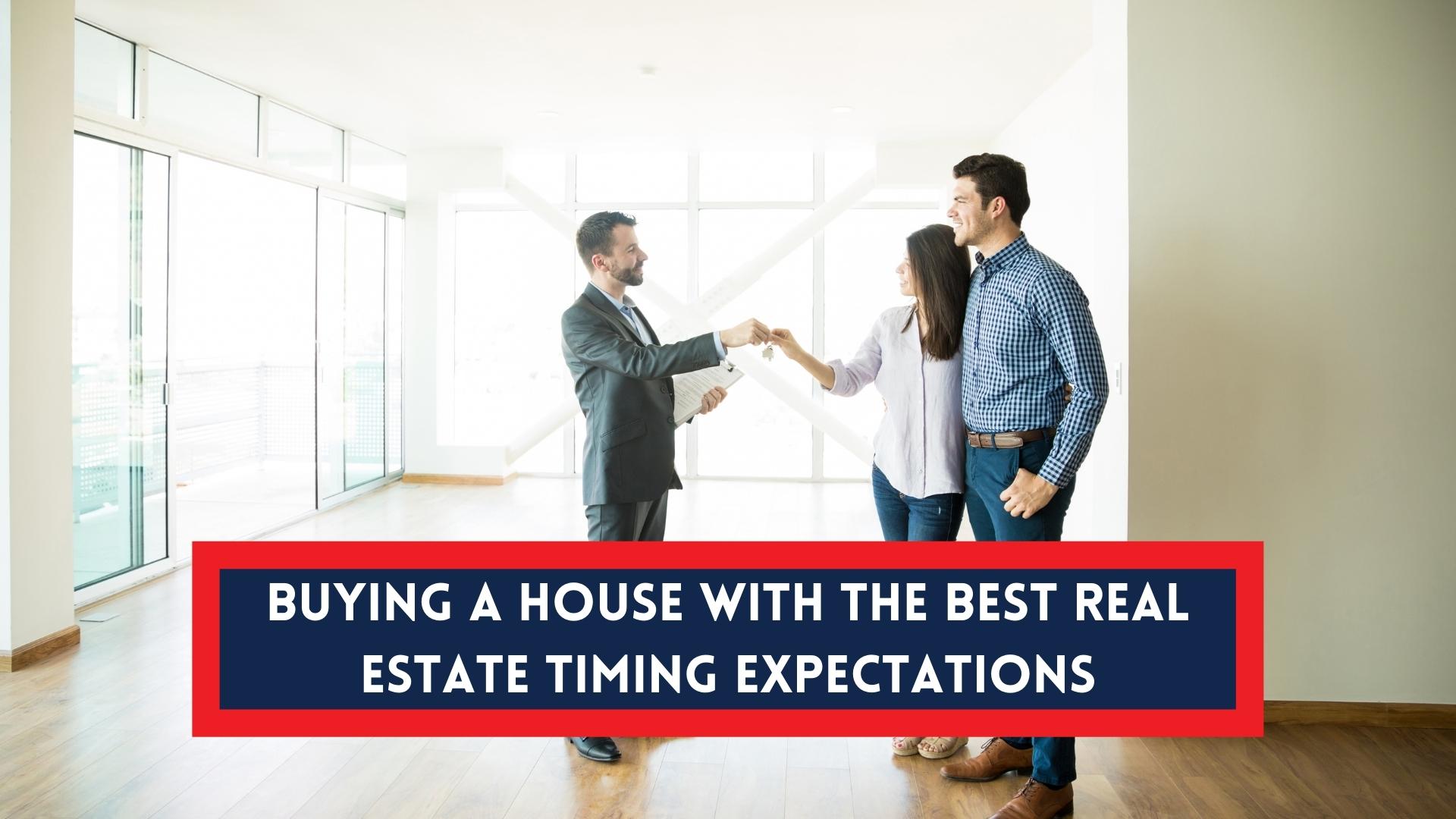 Like all life-changing decisions you face, the best outcomes sometimes boil down to perfect timing. And in real estate, timing is everything. Real estate timing matters whether you're buying or selling, and it's all about managing your timing expectations. For anyone buying or selling a Lehigh Valley home, it's important to not only understand when to make a move but also when to expect the results you want.
The housing market can be volatile, as we've seen over the last two years and as a result of the pandemic. And you might be feeling the pressure to take advantage of the hot Lehigh Valley real estate market right now. But before you make any official decisions to list your house or start shopping for a new or new-to-you home, here's what you need to know about real estate timing, learning what phase of the real estate cycle you're in, and making the smartest investment decisions at the right time.
Let's Talk About the Planning Stage of Real Estate Timing
Leave the impulse buying to your lunch decisions. Buying a house or deciding to list your house are not impulse decisions to be taken lightly, no matter how hot the real estate market is right now. Home buying represents the most significant purchase you'll likely ever make. Don't go into that process the same way you'd order Taco Bell.
Planning and proper preparation can take up to three years, yes three years. First, there is some soul-searching involved to come to the decision you're ready to move. Then there is financial planning and long-term lifestyle decisions to make. Do you need to consider the local school systems for the kids or commuting time for a job or career change? Take the time you need to think through the personal motivation for moving. Don't rush into a transactional decision that you might regret later.
Here are three processes to consider during this one-to-three-year period before you decide to buy or sell:
1. Is Buying or Renting Your Best Option
Explore all of your potential options when it comes to buying or renting. The economy, your job situation, and the local market will play a part in how you make your official decision.
Also, consider where you are in life. For example, if retirement is in your future, you might not want the hassles of homeownership and decide to trade in snow plowing for a travel schedule. Alternatively, if you've been renting for a while, you might be ready to make the homeownership commitment.
2. Analyze Your Budget & Finances
Look at your budget now as well as over the next ten years. You will need to consider your current financial situation as well as prepare for worst-case scenarios. Mortgages are based on debt-to-income ratios (DTIs.) Analyze your current credit scores and outstanding debt. You might decide there are a few bills you want to pay off before you follow through on securing a home loan. And it might take you the better part of a year to financially plan for the best home buying experience.
3. Start Saving Before You Buy
Even if you feel your finances and credit are healthy, you'll still want to create a cushion for yourself before diving into a home purchase. Real estate timing means planning ahead for unforeseen costs. Maybe your existing home needs renovations before you sell. Perhaps your dream home requires a more substantial down payment. Whatever lies ahead in your home buying journey, it will be easier to tackle with a little extra cash in the bank.
When Is the Right Time to Begin Looking into a Mortgage Loan?
There's no precise phase of the real estate cycle in which securing a pre-approved is ideal – as long as it's before you start house shopping. Look into special assistance programs. Start by browsing the internet for region-specific down payment or loan assistance. There are resources available for FHA loans, Veterans assistance, and others. Starting there will help you carve out your financial to-do list before you start shopping for a home or putting your house on the market.
Bring in an Expert Real Estate Professional
You might be inclined to hop online and start researching house pricing predictions for the next five years or try to estimate when home prices will go up before making your official decision. And when most real estate industry experts suggest buying and selling is best during the late summer or fall, you might hesitate to move forward right now. But in the end, every real estate market is different. And the best way to keep your finger on the perfect-timing pulse of the Lehigh Valley is with the help of Lehigh Valley experts, like the professionals at Homeway Real Estate.
Having a real estate professional in your corner from the beginning will be critical in having a successful home buying and home listing process. Let the agent talk you through the next steps and help you decide what new home amenities make sense for you and your family. The right agent can also help you get your existing property ready for market. Take the complicated guesswork out of everything that comes next by working with a professional you trust in the Lehigh Valley.
Start House Shopping One to Six Months Ahead of Your Moving Schedule
Now's the time to start seriously considering what you want in a new home. If you're relocating within the Lehigh Valley, you'll have a host of home styles and communities to explore, too. Are you downsizing with interest in single-story ranch homes? Or is your family growing with a need for larger homes in family-friendly neighborhoods? Start creating wish lists for yourself, too. And your real estate agent can help you decide which home features are realistic for the areas you're considering. Keep in mind too, what you absolutely need in a new home should guide your efforts, not just the nice-to-have options.
Online Home Browsing Options
You have a ton of online resources at your fingertips. You can begin your dream home search with a few of the common listing sites, like Zillow and Realtor.com. Check out neighborhoods and use the Google Maps street view option to explore a community. And some of the online listing resources offer virtual tours and comprehensive amenity details for each home featured. And don't be afraid to check out the various Lehigh Valley communities by browsing city and regional sites, activity calendars, and other city data-related information.
Navigating Open Houses
You might spend months searching for the ideal home. And you won't have enough hours in the day to visit every open house tour. But visiting a few open houses in a target area can help you better understand the types of homes and amenities in the local real estate market. Rely on your real estate agent to help you determine which top-pick homes are worth seeing in person. Then, stick to your house-hunting checklist and make amendments as you find features you don't like and others you do.
Real Estate Timing & Negotiating the Purchase Price
Once you've identified the Lehigh Valley home of your dreams, you'll need to make an offer. Negotiation is best left to your real estate professional, who has extensive experience and can represent your best interests. But you'll need to be aware of how much time this back-and-forth might take. There may be a counteroffer to consider. And the seller will have to agree to fees, earnest money, and any contingencies.
Home Inspection Processes as Part of Your Real Estate Timeline
Your real estate timing plan should also make room for the home inspection process. After you've found a house you like, you'll need to make sure you're aware of its condition from the roof to the foundation. You won't want to close on a house that you later find out needs repairs you weren't ready to make. Pest damage, flooding basements, and drafty windows can all be costly. And be prepared to start the home buying process all over again if the house you have in mind presents with deal breaker maintenance challenges, adding another potential six months to your real estate timing schedule. Whatever you do, though, don't skip this mission-critical phase of the real estate shopping cycle.
Locking in Your Mortgage Rates
When you've identified a property that you're serious about buying, it's time to also lock in your mortgage. At this point, you're about one month away from closing in your real estate timing schedule. Depending on your lender and real estate market at the moment, it might take a few extra weeks to lock in your rate and prepare title work for closing. As of December 2020, the average timeline to close from this point was 58 days.
Other Steps During the Three to Four Week Window Before Closing
In the month before closing, you'll also likely be required to secure homeowner's insurance and schedule an appraisal of the dream home you intend to buy. Your real estate agent can guide you through these steps, but your lender will usually organize the appraisal, and your insurance agent can help with homeowner's insurance. The appraisal, remember, will help your lender determine the balance in your loan with the home's value. If the house you have in mind appraises below what you're paying for it, you'll have more work to do. These steps might add additional weeks to your house-buying timeline.
Homeowner's Insurance a Week Prior to Closing
About a week before closing, the title review and title search will be completed. This is the process in which the title company reviews a property's history. There is a thorough examination of past ownership, easement information, liens on the property, and potential deed restrictions. While most title processes can take place within a week, it's not always smooth sailing. If there are issues that need to be resolved first, it could delay closing by a few days to several weeks.
Real Estate Timing for Your Final Walkthrough
A few days prior to closing, you'll be notified that everything's in order. An underwriter will prepare the paperwork for closing, where all the signatures happen, money exchanges hands, and keys transfer ownership. But now is also the time to schedule that final walkthrough of the property in question. A lot can happen between your home inspection and this point in the timeline. You'll want to verify the home's condition is as it was during your last viewing. Here's where you'll verify requested repairs, too. Your Homeway Real Estate agent will help you schedule this engagement. If there are any issues, it could delay closing.
Closing Time
It could realistically take you anywhere from one month to three years to get to this point in the home buying process, making it even more momentous of an occasion. But you're not done yet. During the closing, you'll go over and finalize the details of your loan. And then, you'll review and verify the details of the new home. You'll want to be prepared with your list of things to bring to closing, usually provided to you by your title agent or real estate attorney if you have one. Be thorough about reviewing all the terms and conditions before you sign. Ask questions if you have them, and don't be afraid to raise your hand if you're uncertain about anything. The actual closing could take anywhere from five minutes to five hours.
Before you buy or sell a home in the Lehigh Valley, you'll want to be aware of these real estate timing considerations. And the Homeway Real Estate professionals can help you at any phase of the real estate cycle. Having the right expectations and taking the necessary steps to plan ahead can ensure you have the best experience possible. So start browsing the Homeway Real Estate listings today to see what incredible homes are available on the market today. And call our team to help you navigate every point in the real estate timeline!