14 Curious Questions to Ask Your Real Estate Agent
Posted by Alex Lopez on Wednesday, April 21, 2021 at 9:00 AM
By Alex Lopez / April 21, 2021
Comment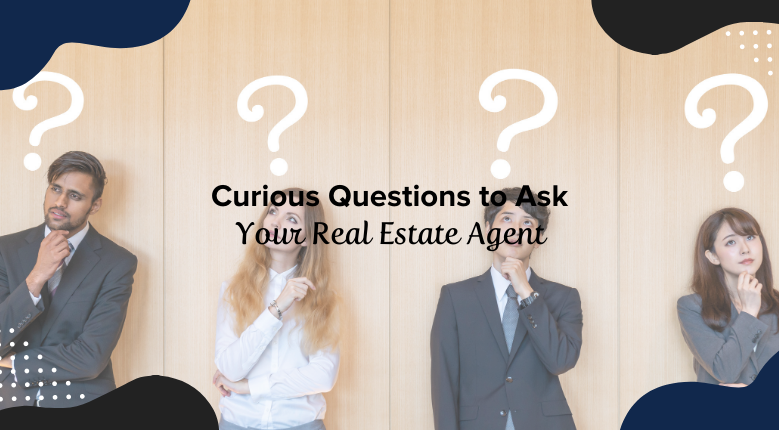 Selling your home is a big deal, and buying a home can seem even more challenging. You want a real estate agent who will treat your process with all the importance and care of a professional. Unfortunately, many people, ready to make a real estate move, are nervous about asking their real estate agent questions. If you're one of them, don't be. Real estate agents are working for you. Consider finding the right agent partner to be much like a job interview. And with any interview, you should be ready to ask all of the hard and critical questions.
Here are some questions you should be asking before setting out to buy or sell a home:
1. Can I See Your Real Estate License?
This may seem obvious, but there are a surprising number of people who claim to be real estate agents who are unlicensed or whose licenses have lapsed. This should be your first question, whether you're buying or selling, and any good real estate agent should be prepared to answer it right away. And if they can't produce a license, walk away.
2. Can I Get a List of Referrals?
The next thing you should ask for is a list of referrals. You want to make sure that this person can put their money where their mouth is. You need someone who can really sell your home. Alternatively, as a home buyer, you'll want to be sure you have the right partner to help you find a home that meets your needs. Get a list of referrals and then follow up. Call those referrals and find out more about their experiences. How happy were they? What added value did the real estate agent bring to the table?
3. Have You Sold Homes in this Neighborhood?
Every real estate agent has to start somewhere, so this isn't a make-it-or-break-it deal. Often newly licensed professionals can bring a fresh enthusiasm to the process. But ideally, you want someone who has worked in your area and knows how to make sales from the homes around you. Each neighborhood is different and has unique challenges and benefits. If a real estate agent knows your neighborhood backward and forward, then he or she will be more likely to get results quickly. Area experience works for both buyers looking for a new home in a particular community and sellers looking to move out of a neighborhood.
4. What is Your List-to-Price Ratio?
A good agent will keep track of their list-to-price ratio, which is the ratio between the amount they listed the home for and what price it actually sold for, as a kind of performance grade. Ideally, you're looking for a number above 90%, and the higher, the better. A good ratio means that they know what your home is worth when they put it on the market and that they can get the selling price. On the other hand, if their ratio is above 100%, be wary. You don't want an agent who is listing homes too low to inflate their ratio artificially. Whenever you look at this ratio, make sure you ask for the details that go with it.
5. How Many Sellers Are You Currently Representing?
A good real estate agent will have several clients that they're currently representing, but you don't want them to have too many, or else you can get lost in the crowd. There's no ideal number, but this may also be a good point to ask them if you'll be working with them alone or with a team and how that relationship will work. Don't be just a number--be important to them.
6. How Many Buyers Are You Currently Representing?
A top-performing real estate professional will have plenty of buyers on their current calendar, as well. Much like asking about listings, you don't want a realtor who is too busy to engage on your behalf authentically. And you don't want someone who doesn't have a lot of traction or experience helping buyers find a new home. You have specific amenities and preferences. Your new home will have to meet certain criteria for you. Realtors need to be great listeners and have the resources to connect you to listings that meet your needs.
7. How Long Have You Been an Agent?
This isn't a deal-breaker because some new agents are amazing, but experience is important. New agents might be more eager to close a deal. But market knowledge and real estate transaction experience can be incredibly valuable. A brand-new agent might give you more attention because they have fewer clients, but a veteran might be able to sell your home faster and for a higher price. Just know which you're dealing with before moving forward.
8. Have You Sold Homes in This Price Range?
Always ask if they've sold homes in your price range. If they're stretching too much in either direction--your home is either much lower or much higher in price than what they normally sell--then that means they may not really know how to market your home effectively. Someone who sells multi-million dollar homes may not be the best choice for your townhome--and vice versa.
9. Have You Represented First-Time Home Buyers Before?
This question is critical if you are embarking on a home purchase for the first time. Because the process is new to you, you will likely have more questions about the process. And you'll rely heavily on sound advice as you begin your dream home journey. Having someone work with you who has first-hand experience with other first-time buyers will have patience and empathy with you from your first meeting through closing day.
10. How Do You Help Buyers Compete in this Market?
You want to know their plan. What is it about this agent that makes them the best for you and your home? Finding out exactly how they sell homes and what sets them apart from other agents is key to making sure you get someone ready to compete on behalf of you.
11. What's the Best Way to Contact You?
You should always be able to get a hold of your agent, no matter what. This applies to both home buyers and sellers. Find out how to contact the agent, and don't be afraid to use it. Some will prefer you call their cell phones. Others tend to be more available via text or email. Whatever the preferred method of communication, your agent should always be accessible.
12. What Is Your Availability?
You can get a feel for a realtor's availability for you based on the responses to some of these other questions. But it doesn't hurt to ask about availability point-blank. Some agents dedicate time during their week in the office. Others make themselves accessible after hours and over weekends. This is an important conversation if you have a work, school, or daycare schedule yourself, especially when scheduling tours or connecting with questions.
13. What Do You Believe Will Sell This Home?
They should be the experts in knowing what will sell a home, and they're coming up with the marketing plan to sell it. Ask them what features need to be highlighted and what needs improvement before it goes on the market. Knowing all of this will put you in a much better position to sell your home fast and for what it's worth.
14. Do You Have Working Relationships with Other Professionals?
When you're buying a home, you're relying on your real estate agent's unique relationship-building and negotiation skills. This agent will also be a trusted guide and resource as you look for and buy a new home. Asking about connections with other area realtors, home inspectors, or contractor resources can come in handy. It's an advantage that more seasoned professionals usually bring to your process.
When you're ready to ask these questions, contact us! If you need help buying or selling, we can help. We'll teach you everything you need to know to ensure your real estate experience is seamless, including what closing costs are and how to price your home. Call today!