Discovering Lehigh Valley's Covered Bridges
Posted by Alex Lopez on Wednesday, February 3, 2021 at 9:00 AM
By Alex Lopez / February 3, 2021
Comment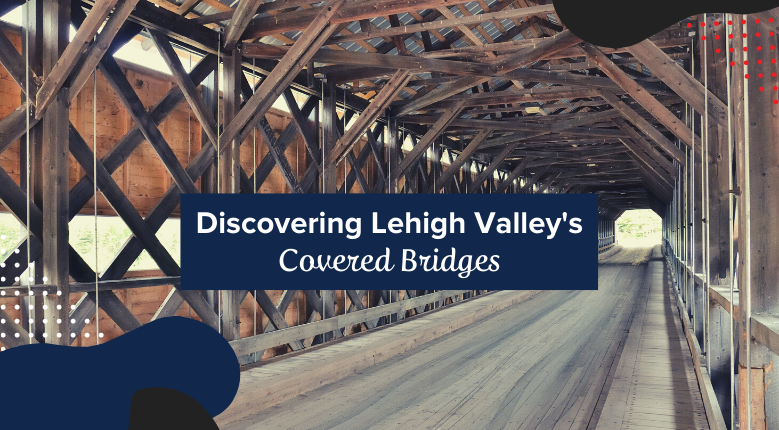 The Lehigh Valley is a beautiful area, in general. A unique combination of nature's most beautiful scenes and the local historical sites, there is a stunning view at nearly every turn. One of the unique characteristics that most locals endear the most are the many Lehigh Valley covered bridges. There are more than 200 covered bridges across Pennsylvania. And the Lehigh Valley is home to these most iconic few that are absolute must-see attractions.
Bogert Covered Bridge
In Allentown, you'll find the Bogert Covered Bridge. This structure was completely restored by the Allentown Parks Department and still features historic wooden architecture. Constructed in 1841, this 145-foot long bridge has a picturesque gable roof and old-fashioned vertical plank siding. It's a perfect place to stroll or have those fall engagement photos taken.
Manasses Guth Bridge
In the South Whitehall Township of the Lehigh Valley, you'll find a unique covered bridge that crosses the Jordan Creek. The Manasses Guth Covered Bridge is a favorite stop among bridge enthusiasts. It was originally built in 1858 and reconstructed in 1882. It's a 108-foot walk across this Burr Truss bridge and features vertical siding.
Wehr's Covered Bridge
The Manasses Guth Bridge isn't the only covered bridge gem in the South Whitehall Township. The Wehr Covered Bridge is another charming venue for a peaceful stroll or practicing with that new camera of yours. This covered bridge came to life in 1841 and has that favorite gable roof and horizontal siding. It's 117 feet across and is a three-span design. It's yet another breathtaking area to visit and listen to the Jordan Creek below.
Rex's Covered Bridge
Not to be outdone, North Whitehall Township is home to a few covered bridges as well. And they're some of the Lehigh Valley's best. The Rex Covered Bridge is one of the area's favorite spots for family photos and general sightseeing. It's a historic wooden bridge constructed in 1858. There are narrow horizontal planks for siding and a traditional gable roof. It's a peaceful stop on your walk or drive to take in the view of the surrounding area and the Jordan Creek this bridge crosses.
Geiger Covered Bridge
North Whitehall Township is also home to the Geiger Covered Bridge. Measuring 112-feet across and featuring a Burr Truss design, this iconic bridge sprung to life in 1860. The siding consists of vertical planks, but the entry is uniquely made of stepped, square planks. This bridge also connects both sides of the Jordan Creek.
Kreidersville Covered Bridge
One of Lehigh Valley's famous covered bridges is the Kreidersville Covered Bridge in Northampton County. This historic and charming bridge was built originally in 1839. But it almost didn't survive to see 1960. In 1959, the State Highway Department enacted plans to replace this covered bridge with a more modern, concrete bridge instead. The Northampton community rallied around this iconic landmark and managed to preserve its existence.
The Lehigh Parkway is another hotspot for hiking, biking, and exploring some of the Lehigh Valley's many bridges, covered and uncovered. And you can even venture out to view some of these and other covered bridges on the official Lehigh Valley Covered Bridge Tour. And if you want everyday access to these stunning views and rich history, you can find a dream home in the Lehigh Valley. Contact our professionals today to begin your house hunting adventure. Your new home could be close to one of the many beautiful covered bridges.