Five Tips for Attracting Motivated Buyers
Posted by Alex Lopez on Wednesday, October 7, 2020 at 9:00 AM
By Alex Lopez / October 7, 2020
Comment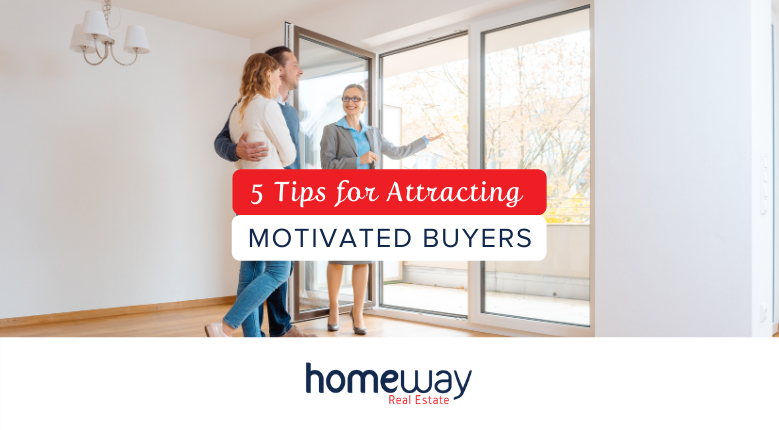 With how fierce the competition is in the real estate market these days, it's no longer enough to put your house on the market, add it to a website or two and wait for the offers to start streaming in. That's because A-level sellers have stepped up their game, attracting motivated buyers and leaving the scraps for everyone else. So the next time you have an open house and a bunch of looky-loos saunter through but never make an offer, you know who to blame.
But the only person you should be blaming is yourself. If you want your home's value to shine through and reach motivated buyers, you need to do more to attract buyers that are ready to buy. There's certainly no shortage of ways you can reach them, however, and between social media and various online tools, as well as the traditional open house, it's true that a buyer can come from just about anywhere these days.
That said, it's not like quantity is the same as quality, and you'll still get more mileage out of attracting motivated buyers than getting your listing in front of anyone with a computer and an internet connection. But by increasing your reach and putting up a few roadblocks to discourage all but the most interested buyers, you'll be concentrating your efforts on the best candidates, which is a great way to go from open house to closing on a sale.
1. Host open houses only for real estate professionals.
While most open houses are open to anyone, you're actually doing yourself a disservice if you let just anyone monopolize your time. Instead, you should hold open houses only for real estate professionals, such as agents and brokers. Not only will most other people waste your time with infuriating questions and anecdotes, but if someone really likes the house, they'll need to go through their real estate representative anyway, which means that you or your agent has to do the song and dance twice, and who knows if they'll end up buying. By only interacting with real estate professionals, you're amplifying your message among people that all have serious networks of their own, and they won't waste your time with curious or casual showings.
2. Require open house RSVPs.
When it comes to attracting motivated buyers, another great tip is to require open house RSVPs. By requiring an RSVP upfront, you'll be blocking those last-minute, curious showings that never turn into a sale. And, honestly, if someone can't be bothered to RSVP for your open house, you probably don't want to waste your time on being the entertainment of the day. An added benefit of open house RSVPs is that you'll be able to better estimate the demands of your next open house instead of being caught unprepared in the middle of a sudden rush.
3. Focus on a niche market.
With all the home availability everywhere, buyers are overwhelmed. Given that most homes are marketed in the same way, it's hard to stand out and attract motivated buyers when everyone's fishing in the same pond with the same bait. But if you target a subset of the market, say, relocation referrals or buyers that are looking for a great outdoor space or extra bedrooms, you'll find that the competition is much less, which makes it vastly easier to land that A-list buyer.
4. Update your MLS listings.
Most brokers and owners might simply list a house and then move on to their personal network. After all, that's where the real sales are made. But by updating your MLS listings with the date and time of your next open house, you're letting the world know that you have an upcoming event. Combined with number two above -- requiring open house RSVPs -- you'll be increasing the good amount of attention while minimizing the bad.
5. Don't forget social media and other websites.
Sometimes the best way to attract motivated buyers is to help them be aware of your property in the first place. But if they're on Facebook, Craigslist, or another website that isn't covered by your MLS listing, you won't have a shot at capturing their attention, nevermind completing the sale. That said, your job's not done the second your post goes up. Because of how these sites work, the most recent post typically gets the most attention, so following up with periodic updates and reposts is the best way to keep your property in front of mind when it comes to your online audience.
---
For more tips on how to attract motivated buyers, contact the experts at Homeway Real Estate. We've been helping buyers and sellers realize their dreams in the Lehigh Valley real estate market, and we can help you reach more A-level buyers and sellers today. If you're looking to buy or sell a home in the state of Pennsylvania, Homeway Real Estate is here for you.