FSBO vs Realtor: What They Don't Tell You
Posted by Alex Lopez on Wednesday, October 13, 2021 at 10:24 AM
By Alex Lopez / October 13, 2021
Comment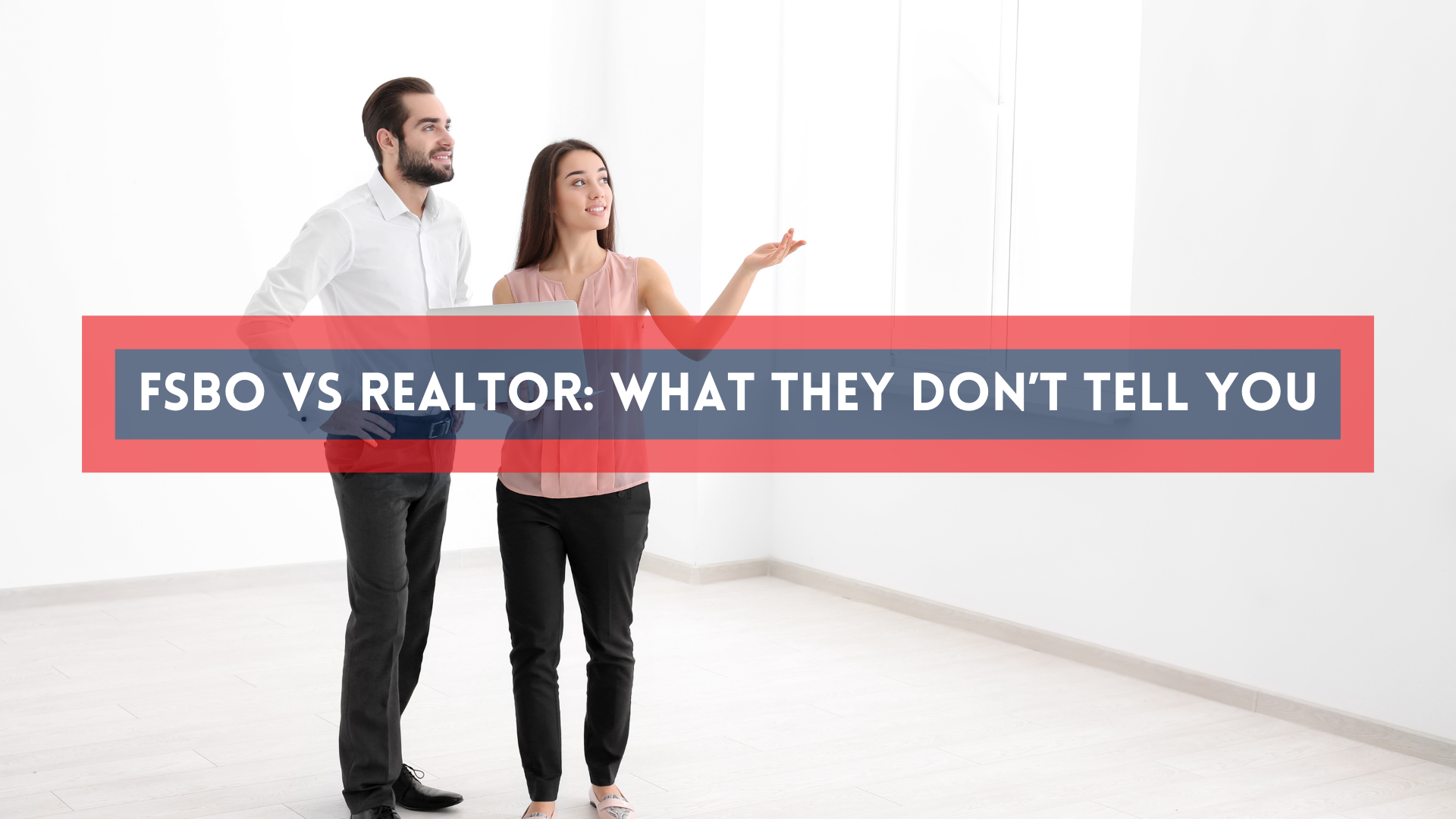 The real estate market in and throughout the Lehigh Valley is hot right now, and you want in on the action. You're contemplating taking the next big step, which involves selling your house. And you want top dollar, of course, so you're exploring how to get the most out of your listing and selling experience. In conversation with friends, someone suggests trying to sell "for sale by owner," often referred to as FSBO. They tell you that you don't necessarily need a real estate agent in a market this hot. And just think of all that money you'll save when you don't have to pay any Realtor commissions, either. The idea sounds pretty rosy.
But there's a lot they're not telling you.
Do for sale by owner homes sell, and are there FSBO vs. Realtor statistics out there to review?
Yes and Yes.
Zillow research suggests that 36 percent of home sellers try to do it on their own first. However, only 11 percent of them end up actually selling their property successfully without an agent.
Before you heed the advice of well-intentioned friends, keep reading. We'll tell you everything you need to know about selling your house FSBO vs. Realtor assistance. However, if the goal is to get the most money possible for your house and sell it as quickly as you can, there are a few things to consider before going it on your own.
FSBO vs. Realtor: What Goes into Listing a House?
You are certainly free to try to sell your house on your own. Many have success just spreading the word about their property within their own family and social circles. But when the leads run dry there, selling FSBO means reaching out beyond who you know to find potential buyers. You might put a sign in your yard or post smartphone pictures on your social media page. But nothing happens. Now what?
This is where the seasoned real estate professional earns his or her commission. When it comes to listing a property for sale, these Realtors already have a network of colleagues and connections in the old Rolodex. They also tend to have an increased online presence for listings with listing sites, MLS, and company websites. In addition, realtors have experience with Lehigh Valley and know where to find potential buyers. Getting the word out about your house with a Realtor is like putting a homing device on your house, attracting eager buyers. The real estate professional just has better marketing tools in the toolbox and knows precisely how to use them.
FSBO vs. Realtor: Showcasing & Showing Your Property
It's not hard to take a few pictures of your home's exterior on a sunny day and post it to your social media. You might even have an eye for making your den look cozier than usual in a picture. But what do you do when no one seems interested? How do you go about using those photos to offer walkthrough scheduling? And then, when someone does finally want to come and see your property, do you know how to stage your home or conduct a walkthrough?
Real estate professionals are veterans at identifying your home's best features and capturing inspiring images that showcase those features. Sometimes it's a small detail like proper indoor lighting or pulled drapes. But staging also requires a keen eye for sellable home attributes and knowing precisely what to add (or take away) to make it amazing. And when it comes time to schedule and chaperone potential buyers on a walkthrough, Realtors handle everything. Homeowners don't have to even be present, and the agent methodically introduces each area of the home in its best light.
By the Way, That's Your Phone Number
Most people tend to spend their time looking for a new home when they're not busy during the day or at work. That means property questions and inquiries tend to come on most nights and weekends. And you'll need to dedicate at least ten hours each week to communication. When you do a for-sale-by-owner listing, that's your phone number there. That means you should prepare for your share of nights and weekends conversations. You might even get some unwanted attention with your phone number from "buy houses quick" spam calls or pranksters.
Working with a Realtor means having a buffer between you and potential buyers. Let the agent handle those calls and inopportune time conversations. Don't worry about sharing your personal contact information with the wrong people or putting yourself at risk of unwanted solicitations.
Realtors Sell Faster, Plain and Simple
Look. We're not saying you can't sell your house FSBO. In fact, there are plenty of success stories out there of homeowners who had magic wand transactions. But the reality is in the numbers. Realtors sell homes faster. The National Association of Realtors (NAR) analytics and data suggest homes listed with professionals sold on average 20 days faster than FSBO listings that were forced to renew on the MLS. And let's be honest, Realtors dedicate their professions to selling property. FSBO listings rely on the part-time availability of the homeowner to connect with buyers and seal the deal.
FSBO vs. Realtor: How Should You Handle Offers and Paperwork?
Most people will only buy or sell a house a few times throughout their entire lifetimes. And some people only ever do it once or twice. That limited experience can lead to unfamiliarity with the process and can make navigating the offer and negotiation phase intimidating. Add to that the confusion that might come with title work, closing costs, contracts, and exchanging funds. If you're going about it as a for sale by owner versus Realtor, there's a lot of back-end processing to consider.
If only you had a professional to help you handle all of those details.
Realtors know the real estate transaction terrain better than anyone. They understand the dance of offers and negotiation. They're experts at handling the paperwork and dealing with buyers, attorneys, lenders, and closing agents. Having an agent in your corner means having the Lehigh Valley expert who understands the market and everything that comes with it. Get the sound advice you need every step of the way, including knowing when it's time to counteroffer or take the deal. You'll even have an agent partner with you through to the closing date, should any questions or challenges arise.
Realtors Get Better Offers
When potential buyers look through the online listings, they may shy away from your FSBO if it feels too unprofessional. If you're not able to return calls promptly or have limited photos to offer, you'll turn away offers, for example.
A Realtor knows and understands the market better than anyone else. This expertise allows them to advise their sellers on the best listing prices, how to proceed with offers, and what contingencies to expect. It's in their best interests, too, to get the highest price for your listing. The data varies on just how much more money a Realtor can get for you. But general statistics range anywhere from 10-40 percent more. Over the past few years, the median home sale price difference between for-sale-by-owner properties and Realtor represented properties has been roughly $30,000. Today's real estate market fluctuations can be wildly different but higher. According to the NAR, FSBOs accounted for 8 percent of home sales in 2020. The average FSBO home sold for $217,000, whereas the agent represented sold for $295,000.
They Don't Tell You About FSBO Scams
We mentioned having your contact information available to the general public can be risky. But there are other scams to know about, too, before you embark on your FSBO journey. When you're on your own and unaware, you can find yourself in a bad situation with little recourse available. Some of the more common FSBO horror stories include situations of fraudulent paperwork, including loan documents and appraisals. Third-party involvement can lead to scams, as do foreign buyer deposits. Having a real estate attorney partner in your corner can certainly help protect your interests. But these potential fraud risks alone sometimes sway people away from for-sale-by-owner and toward the Realtor partnership.
You might be ready to take the home-selling plunge and put your house on the market. And while your well-intentioned friends and family may suggest FSBO as the best way to save a little money, you will likely have a better experience with the help of a professional. Let the team at Homeway Real Estate take all the headaches out of the home selling process. And we can help you buy your next dream home, too! Connect with us today!