How to Find the Right First-Time Homebuyer Program for You in PA
Posted by Alex Lopez on Monday, January 24, 2022 at 3:30 PM
By Alex Lopez / January 24, 2022
Comment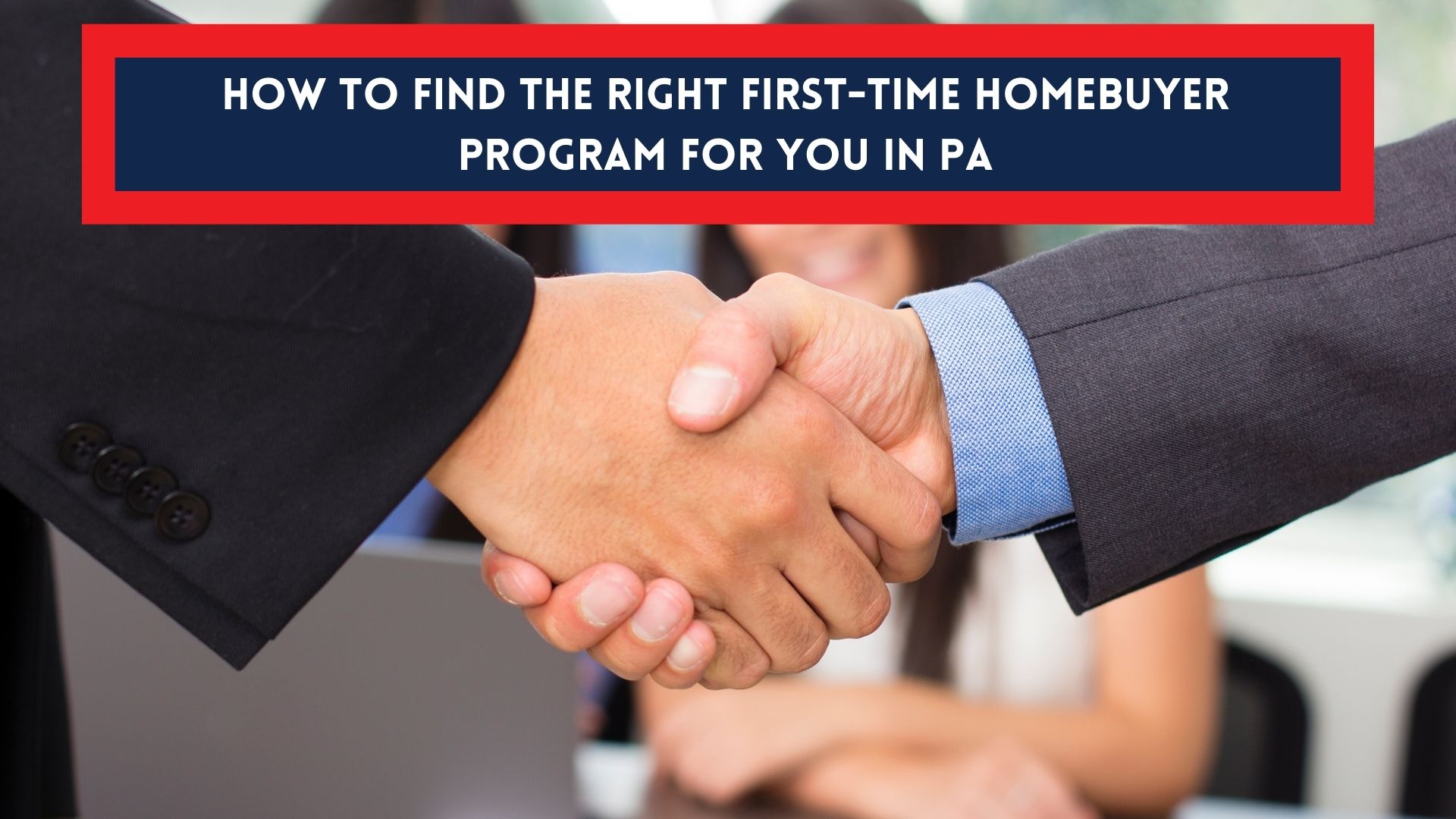 If you're ready to make your move, officially and literally, to become a first-time homeowner, this is a must-read guide for you. Right now, there are a host of first-time homebuyer programs available in Pennsylvania to help make your dream of homeownership a reality. But if you're like most people just starting out, you have questions like:
What are the benefits of these first-time homebuyer programs?
What do I need to know about these programs before leveraging one to buy a home?
What are the mortgage rates right now in Pennsylvania?
Can I buy a Lehigh Valley home with no money down?
With so much buzz in the hot housing market today, you need a road map to help you decide what steps to take first and which first-time homebuyer programs are worth exploring further. This is that guide to help you navigate available assistance opportunities and get you one step closer to homeownership. While we can't make the home buying decision for you, we know a thing or two about the Lehigh Valley, PA, real estate market and can walk you through what you need to know about exploring your financing resources and options.
Really Understanding Your Financial Situation
Before you buy anything, you typically look to make sure it's a sound decision you can afford. Of course, when it comes to buying a home for the first time, there is a lot more to consider than there would be when buying a car or new dishwasher. We're talking thousands of dollars to pay back over decades of financial commitment. And while there are a host of first-time home buying programs to explore, which we'll dive into here further down, it's best to first get an accurate snapshot of your financial situation right now. Here are a few key areas to review, to help you define what's affordable and what makes the most sense to your bank account and probability of homeownership.
Credit Score and Debt to Income Ratios
Mortgage Calculator Affordability
Know Your Monthly Cost of Living Expenses
Income Stability
Savings
Knowing precisely where you stand financially will help you through the next steps in exploring first-time homebuyer programs. Going through your finances will also help you prepare to apply for any mortgage programs for which you might be eligible.
Try a Homebuyer Education Course
The courses for first-time homebuyers are super helpful, even if you're not required as part of your loan to participate. It's a great resource to help you determine what you need and how you can decide which PA program is right for your situation. The National Industry Standards for Homeownership Education and Counseling sponsors these educational courses, intended to walk first-time homebuyers through the entire process from lending to closing. Here are a few other topics these courses can help shed light on for you as you decide what's best for your situation. And these are typically offered online, by phone, or in person.
Understanding the Pros and Cons of Homeownership
Planning for All Costs Associated with Owning and Maintaining a Home
Learning About Relevant Timelines in the Homebuying Process
Budgeting and Credit-Related Basics
How to Choose the Right Lender
What are First-Time Homebuyer Loan Programs All About Anyway?
Houses are expensive. Getting a loan means financially committing to a 30+ year relationship with whatever property you buy. But typically, when you engage in this commitment for the first time, as a first-time homebuyer, you have some challenges that others might not have. These programs are intended to help those who may be financially capable of buying a house but need a little support. These candidates usually want low down payments or need limited mortgage insurance premiums. Here are a few first-time homebuyer lending programs you need to know:
Conventional Mortgages
These loans aren't insured by the federal government, meaning they don't have to abide by some of the stricter requirements you'll find with Fannie Mae and Freddie Mac conventional loans. Fannie Mae and Freddie Mac loans allow qualified candidates to make down payments as low as 3% for first-time homebuyers. These are ideal for those with strong credit scores, who can be approved easily and can afford low down payments.
FHA Loans
This is the most popular program for first-time homebuyers with poor credit. The Federal Housing Administration allows down payments as low as 3.5% for individuals with credit scores of 650 or higher. The FHA will insure loans for those borrowers with credit ratings as low as 500, but it will typically require a 10% down payment. Mortgage insurance must also be paid for the duration of an FHA loan and cannot be canceled.
USDA Loans
The USDA provides financing to eligible homebuyers in rural and suburban regions. The USDA's Rural Development Guaranteed Housing Loan Program administers USDA loans. There are regional income limitations, which change from time to time. Applicants with credit score ratings of 640 or higher usually receive quicker processing. Those with credit scores below that threshold can be required to meet more stringent underwriting criteria.
VA Loans
The Department of Veterans Affairs aids service members, veterans, and their spouses in purchasing a property. VA loans are highly beneficial since they provide low-interest rates and frequently don't require a down payment or mortgage insurance. Although there is no official or strict requirement for a credit score, the majority of VA-approved lenders demand scores of at least 640.
How to Verify Your Eligibility for PHFA First-Time Homebuyer Programs
The Pennsylvania Housing Finance Agency is a great place to find free advice as a first-time homebuyer. You can also check with HUD for additional resources. Additional eligibility requirements might include:
An assessment of your liquid assets to determine accounts are no greater than $50,000
Calculations of potential monthly payments to ensure amounts don't exceed 30% of your income
Confirmation that the property in question will be your primary residence
Verification of credit scores to confirm a minimum of 660 (for some)
Confirmation and scheduling of homebuyer education courses, if applicable
If it's determined that you are, in fact, eligible to receive assistance, you might be able to enjoy:
Down payment assistance
Closing cost assistance
Tax credits
30-year, fixed-interest loans
These programs are open to anyone who falls within these eligibility guidelines. But originally, many of the assistance homebuyer initiatives were intended to help:
First-time homebuyers who haven't owned a "principal homestead" over the past three years
Individuals who may have only been a homeowner with a former spouse or during the marriage
Anyone who's owned a "residence" not affixed to a regulatory foundation
Anyone who's owned a "residence" not in compliance with regulatory building/structural codes
First-Time Homebuyer Programs in PA Worth Exploring
First-time buyers who need a little extra help with down payments will appreciate these PHFA programs. And for those who qualify, an additional $2,000 in tax savings may also apply with the Mortgage Tax Credit Certificate. Some of these might include:
Keystone Home Loan Program – Zero to 5% down payments may apply
Keystone Government Loan (K-Gov) – Provides government-sponsored FHA, USDA, or VA loans
HFA Preferred Loans - Payments are made to PHFA directly on this 30-year fixed-rate plan
First-Time Homebuyer Grants in PA to Help
In your quest to explore first-time homebuyer programs in PA, you'll definitely want to consider the advantages of the various grants available. The PHFA sponsors some of these resources, intended to reduce closing costs and down payments. And while they're referred to as actual grants, many of them function more like a forgivable loan, with guidelines to follow.
Keystone Forgivable in Ten Years Loan Program – The K-FIT program allows first-time homebuyers to borrow up to 5% of the appraised value, with each year of ownership, 10% of the loan is forgiven.
Keystone Advantage Assistance Loan Program – Get an interest-free loan to pay back over ten years and borrow up to 4% of the property's appraised value.
HOMEstead – Forgivable portion every year, with borrowing power of up to $10,000 with no interest.
Finding a Real Estate Professional Who Can Help
Another great resource for finding and exploring Pennsylvania area programs might just be your real estate agent. Of course, that's if you have the right partner. Ideally, you'll want to work with someone who not only knows the Lehigh Valley but who also prioritizes your affordability needs and preferences. If you're getting pre-approved for a loan, with potential first-time buyer program assistance, the home you buy will need to meet certain criteria and pricing. It's the diligence and expertise of your agent that will ensure you find just the right fit listing to view and home to buy. And a great real estate agent, especially for those who are buying a home for the first time, will make the entire process less stressful.
When you're ready, let Homeway Real Estate guide you through the first-time homebuyer process in the Lehigh Valley. We're experts in the area and can ensure your first-time home buying experience is pleasant, from securing mortgage assistance to moving day.