How To Get Multiple Offers When You Sell Your House
Posted by Alex Lopez on Friday, April 2, 2021 at 12:51 PM
By Alex Lopez / April 2, 2021
Comment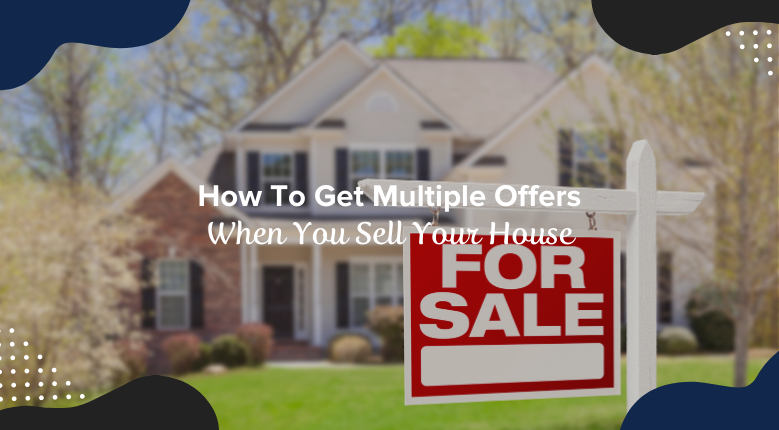 How to get multiple offers on your house may be a confusing topic, but it's a good problem. If you're selling, you're probably already thinking about how to list and wondering how long it will take to sell. There are steps you can take to increase buyers' interest and the odds of multiple offers.
1. Talk to realtors.
Realtors are professionals, but they're also individuals with opinions. They may know the real estate market, but they don't always agree on the best way to sell a property.
Do your homework. Talk to listing agents, tell them what you're doing, and ask them to look at your home and make suggestions. They'll do a market analysis that compares your home to similar ones in the neighborhood before suggesting a selling price. Use their advice to make your own decision.
2. Get rid of clutter.
When potential buyers look at your home, you want them to see its assets, not its liabilities. It's hard to see that granite counter and tile backsplash when appliances and mail cover it up. You want lookers to see an empty palette and imagine themselves in your space.
Depending on how much you want to keep, rent a storage space, have a yard sale or make donations. Pack up things you don't need, such as photographs, books, toys and office supplies, and store them out of sight. Don't forget basements, attics and storage areas.
3. Make repairs.
If you're handy, you may want to do your own repairs. If not, call a professional. Ask for estimates, suggestions, and referrals. Fix squeaky doors and leaky faucets, update tired light fixtures and hardware, and repair anything that's broken, dated, or unappealing to potential buyers.
When selling your house, don't forget the outside. If your house doesn't have curb appeal, many buyers won't make it inside. Mow the grass, get rid of weeds, prune shrubs and replace dead plants.
4. Paint the walls and trim.
If you have scuffed walls, dirty moulding or colors that are out of style, call a painter or get out the paintbrush and tackle the job yourself. You only get one chance to make a first impression. Don't forget the front door and entryway for a warm welcome.

Home stagers say a new paint job gives you more money for your investment than any other endeavor. According to 2012 statistics from Homegain, painting the inside gets a 107% return on investment, and the outside nets another 55%.

To appeal to buyers, choose light neutral tones of beige and gray, giving priority to kitchens, bathrooms, hallways and foyers. Depending on room size, use color to make rooms cozier or more spacious.
5. Stage your home.
Staging usually follows painting, repairing and decluttering. If you have an eye for detail, you'll enjoy creating vignettes and rearranging furniture. If not, hire a professional home stager to take your home from looking lived in to showing like a model. Staging also helps if you're selling your house while it's empty.

Home stagers regroup your belongings to make your space more attractive or bring in accessories and furniture to create the desired effect. Your choice will depend on your personal situation and budget.
6. Hire a photographer.
Most buyers search online before looking at homes in person, and eye-catching photos are more important than ever. Hire a photographer to increase the number of potential buyers and the selling price. Good pics also help realtors find buyers, and some realtors cover the cost.
Professional photographers know how to compose a photo to emphasize a room's best features, use lighting to capture the best results or edit shots to get the best angle. You can choose traditional, aerial or 3D photos, or you can opt for videos.
7. Price it right.
If you price your home too high, it may sit there for months with no offers. If you price it too low, you'll lose money. Here's where those market comparisons from realtors come in handy. You can also get an idea of what it's worth from sites like Zillow.com, but accuracy varies.

If estimates from realtors are close, there's a good chance they're in line with what you can expect. They are more likely to be accurate if there are similar homes nearby. It's easier to price a home in a planned neighborhood than a mansion that's one of a kind.
The Takeaway
At Homeway Real Estate, we know homes with special features or those in desirable locations are more apt to bring multiple bids, but any improvement increases the odds. Whether you take a bid or wait for a better offer depends on what's important to you. Do you want to sell quickly or hold out for more money? Is it a buyer's market or a seller's market? How much will it cost to keep your home on the market for weeks or months?