How to Read a Home Inspection Report and What to Do About It
Posted by Alex Lopez on Friday, April 30, 2021 at 9:00 AM
By Alex Lopez / April 30, 2021
Comment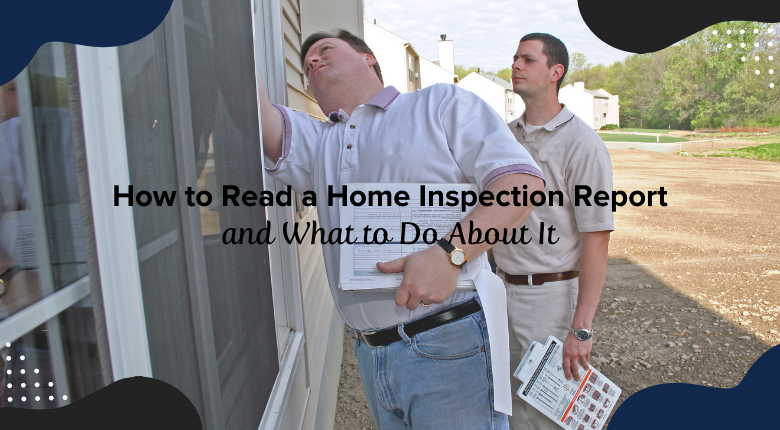 What is a Home Inspection Report and Why Do You Need One?
Buying a home is one of the most exciting things you can do, as you imagine your life in a new place and all the memories you'll make there. You may be visualizing what changes you'll make, where you'll arrange the furniture, where your family will play. But then you get the home inspection report, and it can be like a punch in the gut.
To be clear, the home inspection report is your friend: you want a good home inspection report to give you a clear and educated look at what your new home will be (or if you even want to still buy the home). The home inspector is on your side, looking out for your best interests as the buyer. But that doesn't mean that it is easy to read. A home inspection report looks at every inch of the house and analyzes it for problems. A good report will be between 15 pages (for a small home) and 70 pages (for a large one), and these reports will be chock full of all the things that are wrong with the house.
But don't let a detailed outline of your future home's problems scare you away! The report will show every problem, but all houses have problems, and some are easier to fix than others (and some don't need fixing at all, or at least not right away). And there's always the chance to renegotiate the offer on the home after the inspection so that you're not burdened with all the costs of fixing the damage.
So what's in a home inspection report?
What's Included in a Home Inspection Report?
A home inspection report will generally be structured in the following way:
General information about the home, including things like square footage and construction date
A table of contents
A summary of the report that highlights all of the major issues
Details about every problem found in the house, often including pictures and drawings
In many cases, the problems listed, or at least the major ones, will come with recommendations from the home inspector on how to fix it. The inspector may recommend replacing the HVAC or calling in a termite expert to look at wood damage.
Some of the items included in the report include:
Structural components, such as the foundation and framing
A look around the exterior, including inspection of the driveway, the porches, the sidewalks, and the siding
An extensive look at the roof, including the status of the shingles, skylights, flashing, and gutters
Electrical issues, including the breaker box, service panels, and fuses (if your house is old enough)
Heating and cooling systems
Plumbing, including pipes, drains, and water heaters
All interior surfaces, including doors, drywall, stairs, carpet, ceilings, windows, and cabinets
All appliances
The attic and crawlspace, if accessible
A good inspector will leave comments about all these areas, regarding whether an issue is cosmetic, in need of repair, or a safety concern.
What's Not Included in a Home Inspection Report?
A home inspector can only see what they can see, meaning they're not going to be able to look into the walls to see if there's damage to the framing or mold, and they're not going to be able to look into the septic system or wells if such things exist on the property.
A home inspector will also not give you their opinion about whether or not you should purchase the home, whether it's a good deal or a bad deal, and they won't give you a quote on repairs. What they will do is say "you need to have this inspected by a roofer, or carpenter, or plumber", and then those people will come and give estimates on repair costs.
What Do You Need To Watch Out For?
There are five big areas that you'll want to pay special attention to on the inspection report. They are the foundation, the roof, the HVAC, the electrical system, and the plumbing.
Foundation problems often mean there are problems running through the entire house: a crack in a foundation may mean that the wood frame is also cracked, or that the pipes that run along the foundation are damaged. Foundation problems are expensive to repair because so many things are affected by a bad foundation.
The roof is also essential. Next to a fire, water damage is the most costly damage to a home, and water leaking through the roof can rot the wood and spread mold everywhere. It can damage the drywall, and even get into the carpet and flooring.
HVAC systems should be working and up-to-date on maintenance. Remember that an air conditioner or furnace will begin to break down after just ten years.
Electrical systems can be outdated, especially in older homes, and an old electrical system is a potential fire danger. It may be as small a fix as replacing the breaker box, but if someone needs to get into the walls to replace all the wiring, those costs can add up fast.
Finally, plumbing is a key area to pay attention to, including drains, pipes, toilets, faucets, showers, and more. An inspector will look for discoloration in the ceiling or walls to see if there's evidence of a past leak.
What Are The Next Steps?
The next steps to take after getting a home inspection are to read through it thoroughly, discussing it with your realtor. Depending on what is found in the report, the buyer may want to lower the price of the house or may contact contractors to fix problems before the offer is finalized.
Only a buyer receives a copy of the home inspection report, so if you're a seller it might be wise to have a pre-inspection where an inspector comes to do the same report and warn you of any potential problems--otherwise, you may see your buyer walk away from the home and never know the reason.
One thing to note if you're the buyer, however, is that not everything on a home inspection report is going to be perfect--and that's to be expected! Most of the things an inspector will find are merely informational and not something that needs to be fixed, just something that you ought to be aware of for the future. Most home inspectors say they've never found a problem-free home. By being aware of that, you'll be able to make an educated decision about your home purchase.
Finally, if there are concerns, home protection plans are available. When listing the house, sellers can get a home warranty to cover the cost of repairs that come up.
Contact Us Today!