Inexpensive Home Updates That Drastically Increase Your Home's Value
Posted by Alex Lopez on Sunday, September 6, 2020 at 10:36 AM
By Alex Lopez / September 6, 2020
Comment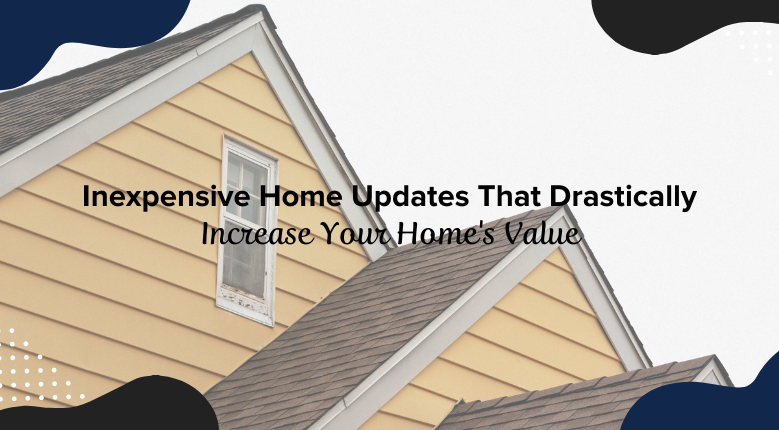 Updating your home is an excellent way to inject some extra value into your property. While renovations and refurbishments can be expensive, some home updates can actually dramatically increase the property value, making them smart investments. Whether you're hoping to sell your home in the near future, or you simply fancy an upgrade, these home updates for home value are sure to pay off in the long run.
1. Landscaping
Landscaping can make a huge difference to your enjoyment of your home and to your home's overall value. A well-landscaped home immediately gives off a positive first impression — in fact, many homebuyers will automatically avoid homes that are poorly landscaped. According to HomeLight, 94% of realtors agree that curb appeal is one of the most important factors in adding value to a property.
2. Exterior Upgrade
Another way to improve the initial impression your home gives is to update the exterior of the building. Unfortunately, most buyers will judge the book by its cover — if your home looks faded, outdated, or unkempt on the outside, many buyers will assume the inside also has problems.
Most exterior refurbishments cost between $6,000-$20,000, while the update can result in a return of 112% ROI in some cases, making it one of the best home updates for home value.
3. Remodelled Basement or Attic Space
If you have an unused basement or attic space, you should consider remodelling this space to add extra square footage to the home's usable living space. Remodelling the basement can give you a family room while redoing the attic can give your home a brand new bedroom. While these refurbishments can be pricey and complex, they will certainly make a huge impact on your home's value. A basement refurb can give you a return of around 70-75% of your investment, while an attic refurb can give you between 50% and 75%.
4. Kitchen Refresh
Kitchen renovations are often touted as being the best home updates for home value. Kitchen updates can cost an average of $35,000, however, they tend to add around $20,000 to the value of your home. If you want to earn back all of the money you spend on your kitchen update, consider adding high-quality features that many buyers look for, such as marble countertops, quality fittings, and hardwood floors.
5. Updating the Windows
While you may not think that windows make a significant impact on the value of your home, it turns out that many buyers are willing to pay a little extra for quality windows. Old windows are actually bad for your home's value, as they will eventually need replacing, thus causing the new owner money. Plus, new windows tend to be more energy-efficient and appealing to the eye, making them incredibly attractive to buyers.
Looking to Sell Your Home? Choose Homeway Real Estate
If you're hoping to get some refurbishments done to your home before you put it on the market, we are here to help. Here at Homeway Real Estate Lancaster, our team of experienced realtors are experts on the local housing market. Contact us today to find out how we can help you to add value to your home with a few simple updates.

Image Source: Freepik