June Market Update 2021
Posted by Alex Lopez on Thursday, July 1, 2021 at 3:03 PM
By Alex Lopez / July 1, 2021
Comment
Each month we offer a market update regarding real estate trends across the Lancaster, Allentown, Stroudsburg, and Easton regions for the previous month. As average sale prices are still increasing in the Lehigh Valley, Stroudsburg saw the biggest jump in average sales price over the year (over 40%). New listings are decreasing slightly across the board from last year in June. If you have thought about buying or selling, the numbers are strong for our region, indicating a great time to act!
Main Statistics for June 2021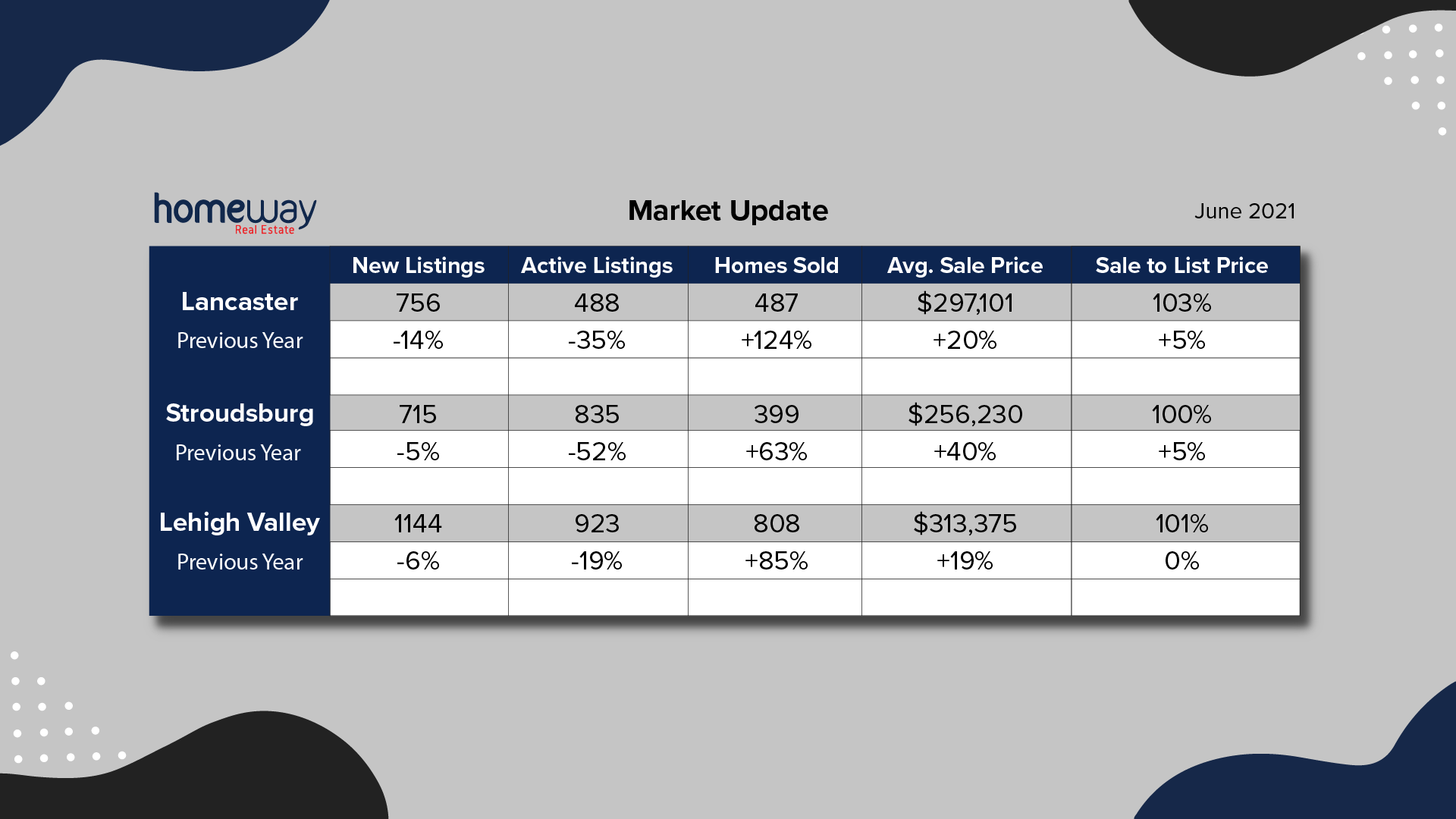 New listings – We have seen a decrease in new listings across the board from last year in June. If you were thinking about a summer move, inventory is still low in the valley with a very competitive market, so a real estate professional with industry knowledge is going to be more important than ever.
Homes sold – End-of-month inventory is down as well, this is expected with a decrease in listings and an increase in homes sold. This means inventory is moving quickly, so make sure you are going into the market with this knowledge or have a professional help you out along the way.

Sale price – Taking a closer look at the sale prices from June 2020 and June 2021, there's a clear trend. Homes are selling for higher prices today than they were last year. Lancaster's average sale price was up more than 20% from last year, at $297,101. The Lehigh Valley saw jumps in home sale price averages, too, with a margin of 19%. Once again the hot market is Stroudsburg, with an average sale price of $256,230 an increase of 40% from last year!

Sale to List Price Ratio – Looking at the sale to list price ratio from June things in the Lehigh Valley are the same as last year. Stroudsburg and Lancaster are both at or above 100% sale to list price ratio with Lancaster hitting 103%.
Homeway Real Estate
If this market comparison has inspired you to consider a move, let Homeway Real Estate be your guide! In today's real estate industry, you need a knowledgeable partner who continues to keep a finger on the pulse of the Lancaster, Stroudsburg, Easton, and Allentown markets. Contact us today and explore your options for selling with an expert marketing plan, look into refinancing, or start shopping for your dream home.