Lakefront Real Estate in the Poconos: 6 Things You Need to Know
Posted by Alex Lopez on Tuesday, June 21, 2022 at 10:00 AM
By Alex Lopez / June 21, 2022
Comment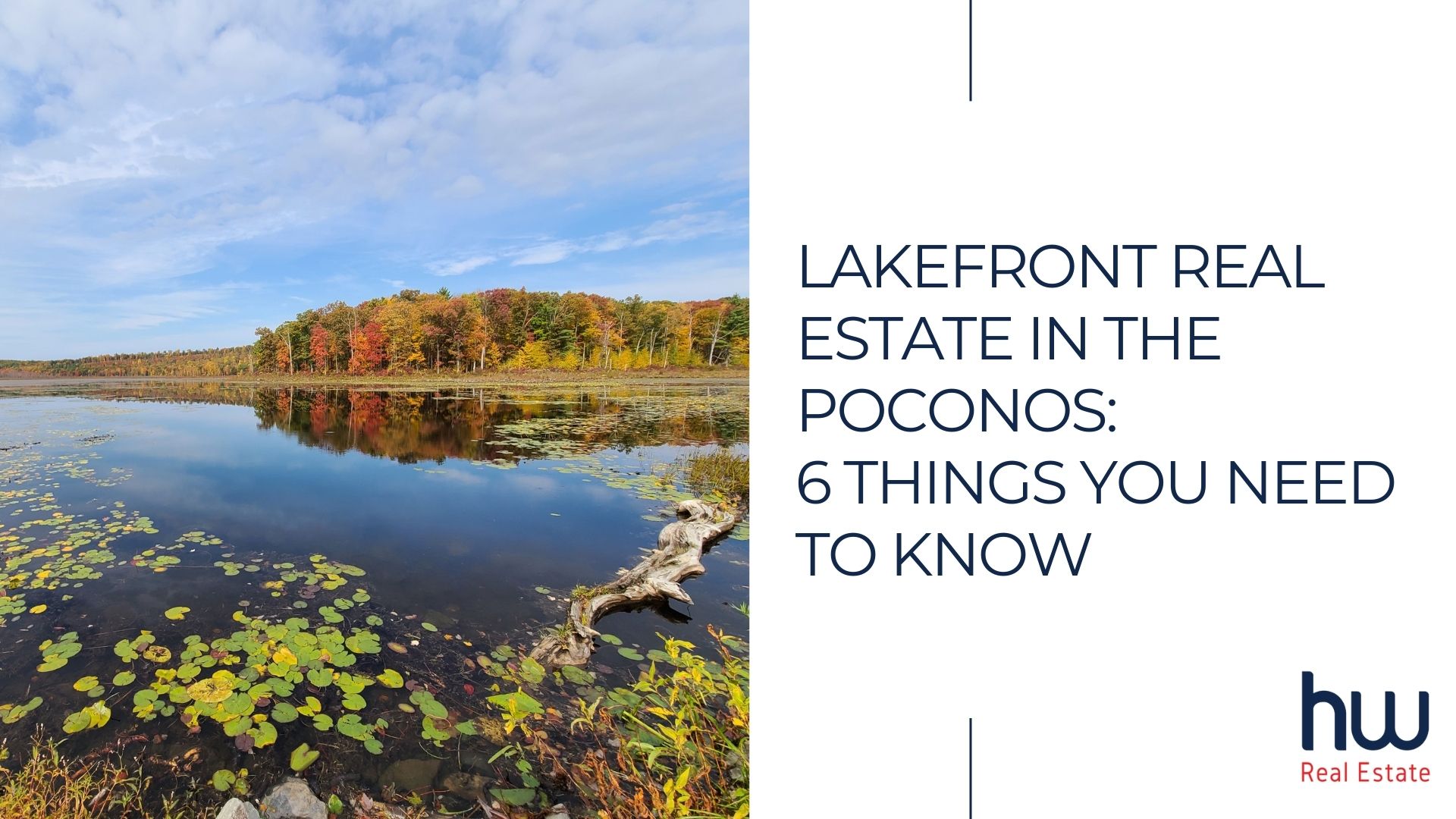 Some of the most beautiful landscapes nature has to offer are right here in the Poconos. With miles of explorable trails, countless waterfalls, and a full roster of extracurricular activities, there's a magical, nature-infused experience for almost everyone. Whether you're a lifelong Lehigh Valley resident or new to the area, there's just something peaceful and serene about visiting the Poconos. But what about living there?
If you're looking to make a change and move somewhere with breathtaking views, convenient access to amenities, and waterfront recreation, consider lakefront real estate in the Pocono Mountains. But before you officially decide to start looking for houses for sale or even put your home officially on the market, there are a few things you should know about building a life lakefront in the Poconos. Here are the details to know what to expect about exploring, buying, and living on the water in the beautiful Pocono Mountains.
1. Quaint and Cozy Communities in the Poconos
The region is sprawling and spectacularly beautiful, chock-full of tourist and resident activities you won't find anywhere else. People visit the many communities that make up the Poconos for the best bird watching, hiking, fishing, zip-lining, canoeing, golfing, and whitewater rafting. And before you make a move here, you'll want to explore the area to find just the perfect spot to call home. Here are a few of the small townships that dot this majestic region across Pike, Carbon, Monroe, and Wayne Counties.
Delaware Water Gap
Milford
Lake Wallenpaupack
Jim Thorpe
Hawley
Honesdale
2. Is Lakefront Property in the Poconos a Good Investment?
Yes! Buying lakefront property in the Poconos is a stable investment, and demand is typically high, considering real estate along the water is limited. Because it will almost always be in high demand, any investment you make today into property here will be sound well into the coming years. The real estate market in the area may show some signs of cooling off, but it continues to boast higher transaction rates and be wildly busy with activity. It's still a good time to make a move if you've had Poconos lakefront property on your mind.
Keep in mind, too, that there are countless rivers and streams running through the Poconos. If you're interested in waterfront property, in general, you could find just the perfect spot near one of these many rivers, creeks, and streams. The Lehigh River and the Delaware River branch off, providing incredibly scenic and relaxing views that make for a perfect backdrop to call home.
3. What to Expect with Lakefront Poconos Property Prices
As you might expect, the pricing of homes currently listed for sale in the Poconos will vary. Some cottages will be $100,000 or less. More spacious and finished homes, with acreage and amenities, can soar upwards of $500,000. On average, you can expect a $179,000 listing price for modest dwellings on a lake.
Before you begin your house-hunting adventures in the Poconos, take the time to evaluate your budget and get your financing in order. It's still recommended that you explore mortgage prequalification or pre-approval to know precisely what your borrowing power is. There are plenty of homes listed for sale. Don't waste your time exploring those that fall outside your ideal price points.
4. Pros and Cons You Should Know About Lakefront Life in the Poconos
Visiting the lake and taking a vacation in the Poconos is one thing. But living here means considering other pros and cons. If you've lived on a lakefront property before, you likely have some idea of what to expect. But if lakefront living is new to you, or you've not experienced life in more rural communities, here are a few aspects to consider.
Lake houses come in all shapes and sizes.
Know what you need in a home before you begin searching. There are small cottages, cozy A-frames, and sprawling ranches to consider. But just as you would make your must-have and nice-to-have home-buying lists if you were to buy a home elsewhere, you'll want to prioritize what you need in a lakefront home. Keep your budgets in mind, too.
Research the small town or community you have in mind.
Because there are so many charming communities in the Pocono Mountains region, it will serve your home-buying decision best to learn what all the areas have to offer. If you need to commute for work, check your drive times. Be mindful of area school districts if you have children, and check dining and retail options, as well. Envision daily life in your chosen community and consider every potential convenience and inconvenience before you make your final purchasing decision.
There are more than 150 lakes dotting the Poconos Mountains.
Research the lake you specifically have in mind for cleanliness, amenities, and options. The Poconos region has plenty of lakefront real estate from which to choose, depending on where you look. You might be more interested in a quiet lake to complement a life in retirement. Alternatively, those with young families may be looking for more recreational lake activities to explore on the weekends. Whatever you want from your lakefront experience, do your lakefront real estate homework to make sure you choose the perfect lake to have in your backyard long-term.
Familiarize yourself with the wildlife in the area.
You'll need to get comfortable with living in a more rural area, up close and personal with Poconos wildlife. Expect coyotes and red and gray foxes throughout the region. There are also weasel and raccoon populations to contend with, who aren't afraid to wander into residential neighborhoods. The Pocono Mountains are also home to resident bobcats and black bears, as well. Remember, too; you'll have a seasonal influx of insects, spiders, and rodents that will be more afraid of you than you are of them.
Potential for Higher Costs
Depending on how remote you're looking to live, there could be additional costs and higher expenses to consider with lake life in the Poconos. For example, utility bills could run higher, especially when heating during the frigid winter months. Some lakefront real estate is also part of an association, which may translate to additional association membership fees. Additionally, some lakes or nearby streams may present flood concerns. And that may mean higher insurance costs.
5. Second Homes and Vacation Rentals
Many real estate investors look to the lakefront properties in the Poconos for opportunities with second homes and potential vacation rentals. These are great investments, as well, should you have the financial standing to do so. Buying a home in one of the most beautiful parts of the country means also having the flexibility of living there, vacationing there, or renting it out to an already booming tourist industry. Depending on the location and condition of the property you buy, you can earn between $300 and $1,500 per night with your lakefront real estate. And owning a second home presents additional tax advantages worth exploring, too.
6. Finding the Right Real Estate Partner
Even if you consider yourself to be a top-notch expert in the Poconos, buying a lakefront home there is not a journey you should embark on alone. You'll want an expert real estate agent partner who not only knows the market but also has experience helping buyers like you find perfect homes there. You'll want to almost do as much homework on choosing an agent as you would when choosing a property.
Luckily, you can start your agent partner search with Homeway Real Estate. Our team of dedicated real estate agents is versed, more than experienced, and incredibly knowledgeable about buying and listing lakefront real estate in the Poconos. Contact us and take all the guesswork out of finding and buying lakefront property in the Pocono Mountains. Start living your best life on the water and among the stunning views you'll only find in the Poconos.