Lehigh Valley Pulse Check: Is Now a Good Time to Buy or Sell Real Estate?
Posted by Alex Lopez on Friday, October 14, 2022 at 10:00 AM
By Alex Lopez / October 14, 2022
Comment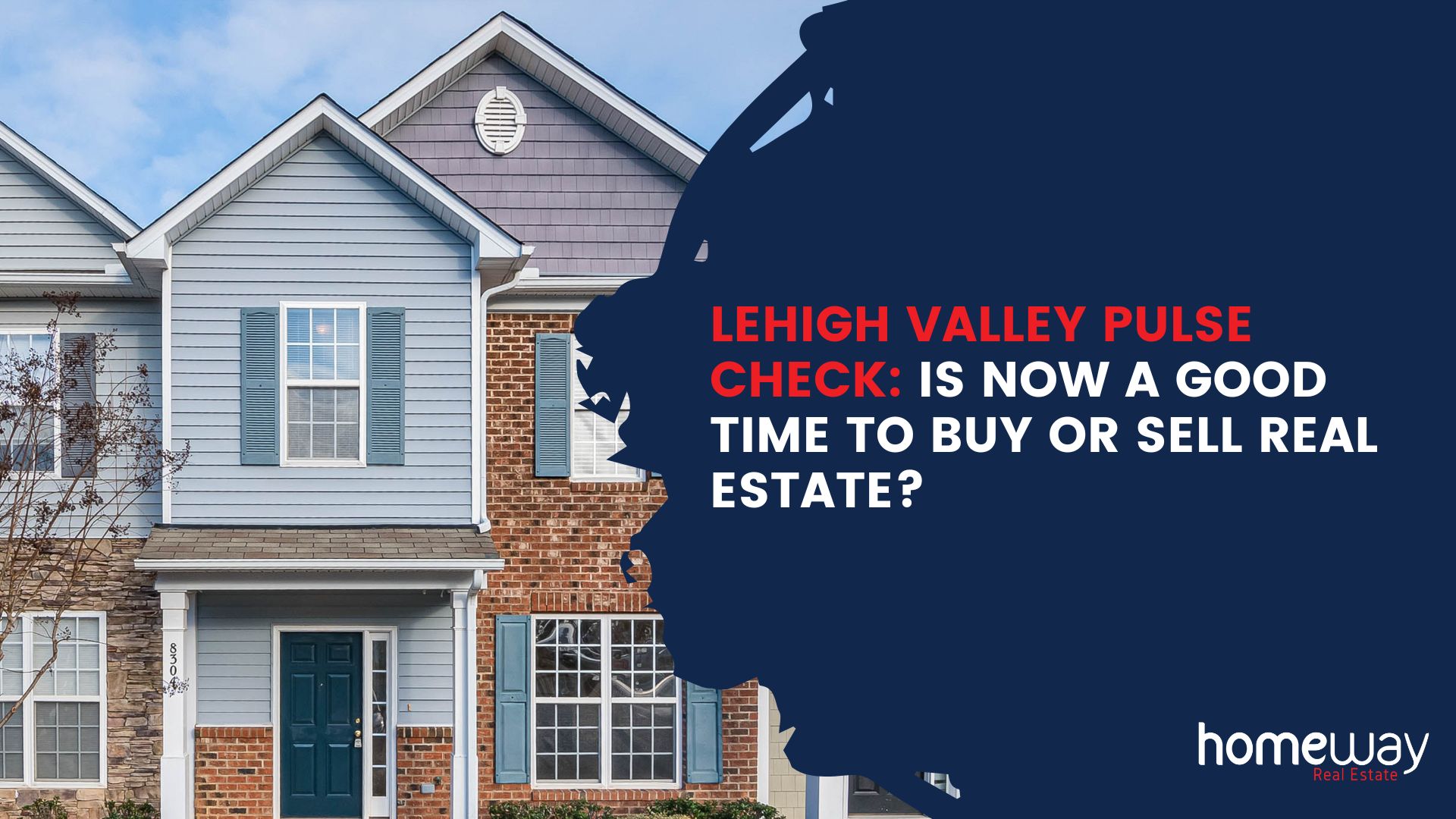 To be honest, it's hard to speculate sometimes whether it's a good or a not-so-good time to buy or sell real estate only because every individual's situation is unique. What may be a good time to buy for you may not be ideal for someone else.
However, the data continues to suggest a few key trends in today's Lehigh Valley real estate market. And at the moment of writing this blog, these are the metrics you need to help you decide if it's a great time to buy or a great time to sell your home. The market continues to be active, and there are plenty of real estate opportunities to explore!
Factors That Contribute to a Fluctuating Real Estate Market
When you're exploring the countless flow of data and suggestions out there, advising you when to buy and when to consider selling, it can be confusing to know which to follow. And it can seem like the dynamics change almost daily, meaning by the time you get a mortgage pre-approval, the market shifts again. So, how can you really be sure you're making the right move at the right time for your best financial outcome? Before we get into some of the latest trends and analytics, get comfortable with the key factors that contribute to a fluctuating real estate market.
Supply & Demand: A lot can impact the supply and demand of real estate, as we witnessed with the pandemic. People can decide or feel the need to move due to a host of reasons, including employment, workforce development, family dynamics, and finances. Those reasons are difficult to predict, too, making it an unknown contributor to the state of housing supply and demand. When fewer people are moving or looking to sell, it results in reduced supply.
Interest Rates: Another contributing factor to housing fluctuations is, of course, the interest rates for those considering mortgages. When the rates are low, buyers are incentivized to buy, increasing demand in the housing market.
Weather & Seasons: The metrics shift at various times of the year, some for obvious reasons. It's just easier to go through the moving process when it's sunny and warm, which is why many people decide to wait and list or buy during the spring or summer. The weather plays a role in when people choose to make purchasing or real estate selling decisions.
Economic Growth: Drilling down into various regions, you'll notice that certain housing fluctuations vary from county to county. And a lot of that has to do with the economic development and growth of an area. If jobs are drying up and major employers move out of a city, people could flock to move, as well. Alternatively, if a city or region is experiencing economic growth, with more employers and new development, it's a sign that it's a thriving place to live, driving more real estate buyers to the market.
Historically, These Are the Trends to Know
During normal or average real estate conditions, not related to the last two years of pandemic and economic fluctuations, the most popular month to sell a Pennsylvania property in terms of the highest selling prices has typically been June. Historical data suggests that most properties sold in June and spent an average of 37 days on the market before officially selling. Warm spring and summertime months are ideal for those considering a move, making these months more active for real estate transactions.
Contradictory to those metrics are other datasets that suggest the best time to buy a new home in Pennsylvania is during the winter and fall months. These analytics point to less competition of buyers in the market during the colder months, making it more lucrative for potential buyers.
Another real estate trend to consider involves selling and buying over the holidays. Because most people are bustling with activity during the holiday season, they're too busy to go out looking for new homes to buy. This also translates to less competition in the buying market during those holiday months. And if you're planning to sell a Lehigh Valley property, some of the best deals and savings can be achieved quickly.
Here's another aspect to consider before you officially buy or sell a property. Historically, low inventory and high demand, meaning fewer homes for sale and more buyers looking to buy, hits its apex in the middle of April, according to Realtor.com. Sellers listing their properties during these peak few weeks can expect 1.4% higher offers and quicker sales.
Rising Real Estate Prices
Increased competition and fluctuations in the market since the pandemic have driven real estate prices upward. And while most Pennsylvania markets have begun to "cool," there is still a lot of activity. Some real estate professionals suggest now is a great time to buy because some of the competition is slowing, reducing the competing offers on new homes.
It's important to point out, too, that listings are barely spending time on the market. One dataset suggests that listings are averaging a mere eight days on the market when comparing April 2021 to April 2022. And the median prices of those listings have increased by 10.2%.
September 2022 Margins Point to a Sellers' Market
Right now, most of the industry metrics are pointing to be strong for anyone looking to sell their Lehigh Valley property. In the Lehigh Valley, the listing prices continue to be higher than average, and homes are selling faster than traditional timelines.
The Pennsylvania Association of Realtors shared data that suggests buyers right now have "slim pickings," with available inventory tracking at 3.2 months' worth. The slight decline in available listings has contributed to the higher buying offers. This July, the median sale price was slightly higher than $219,000, which is still a steady 10.6% increase from last July.
Expect Changes Due to Interest Rates
Since the interest rates for the housing market change frequently, you can look for daily updates to know the most recent announcements. Bankrate provides such a resource. When the rates are low, they're favorable to home buyers eager to capitalize on the low-interest opportunities for homeownership. Keep an eye on the ever-changing rates to figure out the best timeline to buy or sell. However, here are some interest rate averages to consider:
30-Year Fixed Rate
Data for the average mortgage rate on a 30-year fixed mortgage is roughly 6.83%, with a daily margin right now of .03% points. Again, by the time you read these, these figures could have shifted.
15-Year Fixed Rate
The average interest rate for a traditional 15-year fixed mortgage is roughly 5.99%, with a daily margin of .02$ points. These interest rates tend to be lower because the terms for payoff are shorter.
Adjustable Rate Mortgages
The averages for ARMs currently are around 5.32% with .20% points of margin. These rates are also lower but within the first five years of the mortgage terms.
As of right now, it's a seller's market in the Lehigh Valley. But again, that advice could change at any moment, given the various contributing factors to the market. And because your financial situation is entirely unique, your ideal time to buy or sell could equally be unique. The best way to really determine your ideal timeline for any real estate transaction is with the professional help of a Homeway Real Estate agent. Contact one of our Lehigh Valley experts and discuss the best timing for your next real estate move! And we'll help you decide when it's best to buy a home or sell a home.