New Construction or Existing Home: Which Should I Do?
Posted by Alex Lopez on Wednesday, October 20, 2021 at 2:22 PM
By Alex Lopez / October 20, 2021
Comment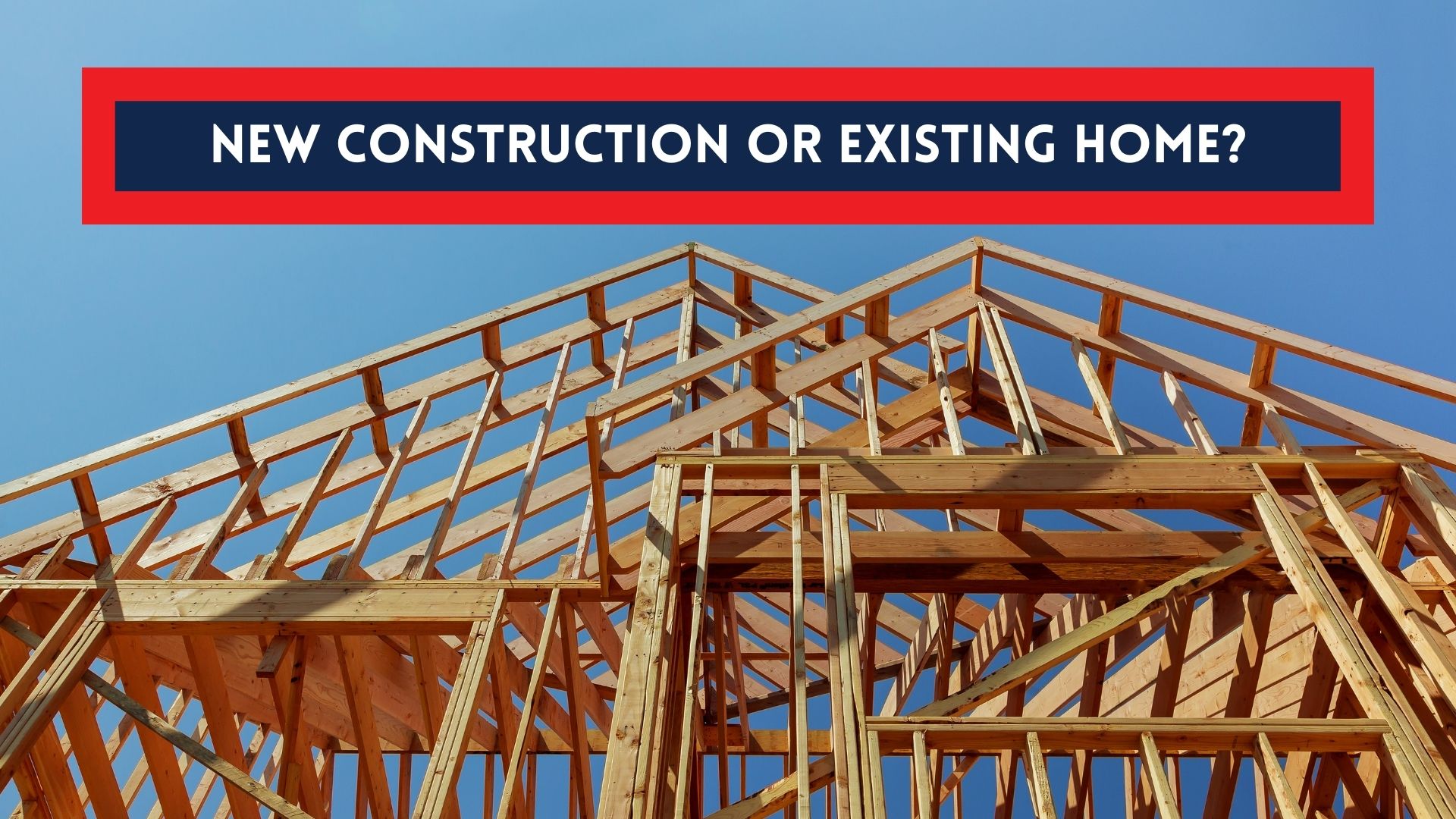 One of the greatest benefits of buying a house in the Lehigh Valley is the incredible home selection you have from which to choose, including new construction and existing structures. However, when you're ready to get serious about moving into the area, you'll need to decide which is best for you, new construction or existing home. To help you sort through the various benefits and disadvantages of each, we've outlined everything you need to know.
Which Saves More Money?
If you're sticking to a budget, you'll want to weigh the financial considerations of a new construction home and an existing house. Sit down with your numbers and carve out potential expected costs of both to then compare with your comfortable housing budget. Even if both fall within your range of affordability, calculating now is a great first step before moving forward in either direction, too. In general, purchasing an existing home tends to be the more affordable investment. But ultimately, it will really boil down to what amenities you want and what you can afford.
New Construction Costs
It can be challenging to put true numbers to a new construction project with custom-build options since it's up to you to decide what personalization additions to add. Buying a brand new home from a builder will present a host of customization decisions to make before you can assign expenses. But you can certainly estimate the costs of investing in a new build based on a cost-per-square-foot pricing equation. Some of the typical expenses to include in your new construction building estimate are land costs, basic home construction expenses, and home amenity option add-ons.
Existing Home Costs
The advantage of considering an existing home purchase is having the hard numbers at your fingertips right away. Land and home are already calculated in the purchase price. But when you sit down to evaluate what you can afford, take into consideration any renovations, remodeling, or additional construction you plan to undertake as part of your existing home purchase. Because some of these properties are sold as-is, you will need to be mindful of any additional costs in your estimation process.
Which Is More Energy Efficient?
When you consider the overarching costs to buy a new or new-to-you home, you also want to look at the energy efficiency as it relates to your budget. Older existing homes might come with outdated heating and air conditioning, for example, or drafty windows. Those features might cause increased monthly utility bills. New construction houses can be built with the latest energy-efficient designs, components, and appliances, ensuring more affordable energy bills. In general, new construction homes are 70% more energy efficient than existing homes.
The Land & Location Factor
Buying a home can take time. So, if you're on a quick turnaround timeline, it might be faster to explore existing home options. In these scenarios, the land and location are pre-determined, making it easier for homebuyers to identify neighborhoods and communities in which to begin their searches. Alternatively, new construction projects may require you to identify and purchase available land based on where you prefer to live. In new development construction neighborhoods, the land may already be included, but you won't have much say in choosing your location, considering it's part of the development project.
Which Is Easier to Renovate?
You're thinking that if you buy a new construction home, you won't have to worry about doing any remodeling or renovations. And to be honest, you wouldn't be wrong, for the most part. However, it's probably best to keep an open mind about making future changes to any home, new or existing. Maybe your family gets a little bigger, and you need a new room. It could be you decide you want to turn a finished basement into a home theater. And kitchen trends today might be obsolete five or ten years from now. If you plan to stay in this new-to-you home for a considerable length of time, you'll want to at least consider which is easier to renovate.
A newly constructed home can be relatively easy to change, depending on the nature of your project. The materials alone can make things hassle-free because their condition will likely still be viable. In an existing home scenario, on the contrary, it might require additional unforeseen work. For example, renovating an attic space might reveal outdated wiring or a need to replace deteriorating materials. So before purchasing any home, just be mindful of what a remodel or renovation might entail down the road.
Which Offers a Higher Quality Architecture?
You might assume that a new construction home will offer higher quality architecture and innovative designs. But you've also heard the old saying, "they just don't build 'em like they used to," and it has you wondering. So, when it comes down to investing in the highest quality home, should you go new or existing? The fact is there is some semblance of truth to both opinions. Today's new construction can offer innovative designs and architecture that technology and manpower alone couldn't have years ago.
Similarly, existing homes can feature incredibly revolutionary features, built the old-fashioned way, that you won't find in any newly built home. To evaluate the quality of any structure you consider buying, bring in a qualified contractor or home inspector for review. And the rest of your decision comes down to personal preference, whether you prefer the awe-inspiring character of a century-old old home or a fresh, modern look with all the latest trends built-in on a new home.
Which Move Can Happen Faster?
If time is your motivating factor, you might be wondering which transaction can happen faster, the new construction or the existing home. If you're on a schedule with intentions of moving fast, you'll probably meet your time constraints best by purchasing an existing property. Obviously, these homes already exist, whether they're move-in ready or not. So, purchasing a home that's already built means not having to wait on contractors, building permits, design phases, and weather. Now, if you find an existing home built within the last year and you're satisfied with the design layout, you can maybe find the best of both worlds, with a quick turnaround time to purchase.
If These Details Matter, New Construction Is Best
If you're asking yourself, "should I buy a new house," these are the details and preferences that would point to buying a brand-new home from a builder as your best option.
Floor plan: If you choose a custom-built home, you'll work with the contractor to come up with a conventional or modern design that suits your lifestyle. It's yours if you've always wanted a formal dining room for family get-togethers. If you're buying pre-made new construction, expect it to be more contemporary in layout, with big open floor plans. Kitchens typically connect into family rooms where you can cook and watch television at the same time. New construction homes' rooms are more prominent and brighter, with lots of natural light, particularly bedrooms and bathrooms.
Personalization: If you don't want your home to look identical to the one next door, new construction with the option for customization is probably the best fit for you. If you're dissatisfied with your existing construction, there's nothing better than remodeling it and making it your own. However, if you don't want to spend a fortune on labor and materials, you could opt for builder-grade materials instead and add personalized features later. You can also upgrade finishes from builder-grade materials after construction has finished if you connect with the builder before completion. It may cost a little extra, but adding your own personal touches might be well worth it to you.
Efficiency: The energy efficiency of new construction with new appliances and home systems is greater. In addition, more efficient insulation and windows allow for tighter homes that are less costly to heat and cool than previous versions. All of this leads to lower utility costs in the long run.
Smart and Innovative: If a home with smart and innovative amenities matters, go with new construction. "Smart" technology choices may be used to automate the internet, cable, speakers, and even an alarm system. Low- and zero-VOC paints and building materials are increasingly utilized in new homes, as well, improving indoor air quality. These features can be added to an existing home but can be tougher to implement without additional material or component upgrades first.
Maintenance: Because everything from appliances to the HVAC system and the roof is brand new, a brand-new house requires less upfront maintenance and care. This implies you'll have a better idea of your monthly costs for homeownership since you'll most likely spend less on upkeep. In addition, your new house might be safeguarded for years before you need to make any substantial repairs, thanks to warranties.
Amenities: Purchasing a new house often entails acquiring a lifestyle. Planned communities frequently include features like parks and community areas that are close to schools and public transportation. The goal is to discover a builder who offers the things you value most.
If These Details Matter, Existing Homes Are Best
If you're undecided about buying a new construction house or an existing home, how you feel about these criteria will likely point you toward finding an already established house for sale.
Location: New construction typically develops up in exurbia, where land is plentiful but commuting times are longer. In cities, new construction is typically high-rise condos or in-fill homes on smaller urban lots with limited outdoor space. If you're more interested in well-established neighborhoods or communities with unique positioning to local amenities, you'll be more apt to find your dream home already built.
Landscaping: Existing landscaping is frequently encircled by mature trees that screen the home in summer, protect it from the wind in winter, and block out traffic noise at night. Mature trees may be removed during new construction sites but growing into an entire landscape might take years. So, if mature landscaping matters to you, start your dream home search for existing homes.
Waiting: When you're looking at new houses that are already completed, waiting to move really isn't an issue. However, if you're building a custom home, it might take many months longer than moving into an existing property. For example, a bespoke house may take between five and six months to complete, although this varies by market and builder. If you're in a hurry, finding an already built home can be the faster timeline to move.
Regardless of your home buying preference, you'll need a trusted guide to help you find the best new construction or existing home in the Lehigh Valley. So let Homeway Real Estate help you find your dream home!