The Best Outdoor Activities In Stroudsburg
Posted by Alex Lopez on Saturday, January 30, 2021 at 2:53 PM
By Alex Lopez / January 30, 2021
Comment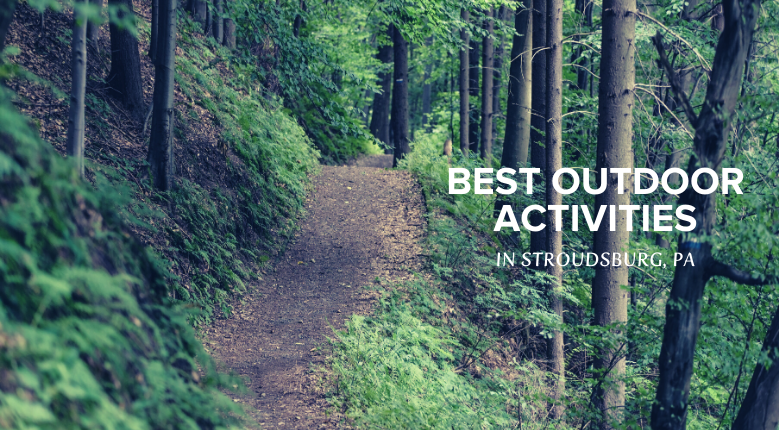 When you live in the Stroudsburg, Pennsylvania area, one amenity you never run short of is an outdoor adventure. Nature enthusiasts and outdoor recreational fans love the many parks, trails, and family-friendly activities available right here in Stroudsburg. From kayaking on the Delaware River to hiking in the nearby Pocono Mountains, nature is always calling. We'll highlight some of the best and most abundant outdoor activities you can enjoy when you call Stroudsburg home. And it may even convince you to move here and enjoy the fresh air and breathtaking views.
Canoeing, Kayaking, and Rafting
If living the river life means living your best life, then you can find your outdoor adventure on the Delaware River. Adventure Sports is a great place to start. Whether you consider yourself a seasoned professional on the water or are a novice explorer with children, you'll find some of the most relaxing waters and exciting rapids right here.
Biking Trails
If you're looking for new trails to hit on two wheels, you'll have a variety of venues to choose from in Stroudsburg. Glen Park, West Gate Park, and Rotary Creek Park offer nature immersive trails perfect for biking. You can also explore the McDade Recreational Trail, where you'll enjoy trailheads five miles apart and amazing views of the river, forests, and historical landscapes. Bikers of various skill levels can find their perfect afternoon ride here.
Skydiving in Stroudsburg
Sky's The Limit Skydiving Center is located in East Stroudsburg and offers those looking for extreme outdoor fun incredible adventures. This family-oriented company provides skydiving events for beginners and experienced jumpers. The staff members are fully rated instructors with the USPA, and the company pilots an elite fleet of aircraft for each jump. With over 30 years of skydiving experience, anyone looking for an outdoor adventure with a parachute can check off one more bucket list box.
Birdwatching & Wildlife Exploration
For a more scenic and quiet outdoor adventure, you can find plenty of places to see local wildlife. Visit the Cherry Valley National Wildlife Refuge during the spring to observe hundreds of bird species. Stroll the paved trails available at the Headquarters Tract and take in some of nature's finest creations through the lens.
Skiing & Snowboarding
If winter outdoor activities are more your style, Stroudsburg offers great powder for skiing and snowboarding adventures. Visit the Shawnee Mountain Ski Area to plan your next outing. Snow tubing, skiing, and snowboarding for beginners and extreme enthusiasts alike are available. When most people have to travel to have a ski weekend with friends and family, Stroudsburg residents enjoy the snowy months with a short drive to the mountain in their backyards.
For anyone who needs breathtaking views and fresh air, Stroudsburg may just be the perfect place to call home. To get in touch with nature any day of the week, you can start browsing the listings to find your dream home today! The real estate experts at Homeway Real Estate can help you find your Stroudsburg oasis, connected to all things outdoors.