The Best Places to Buy an Airbnb in the Lehigh Valley
Posted by Alex Lopez on Wednesday, August 3, 2022 at 10:00 AM
By Alex Lopez / August 3, 2022
Comment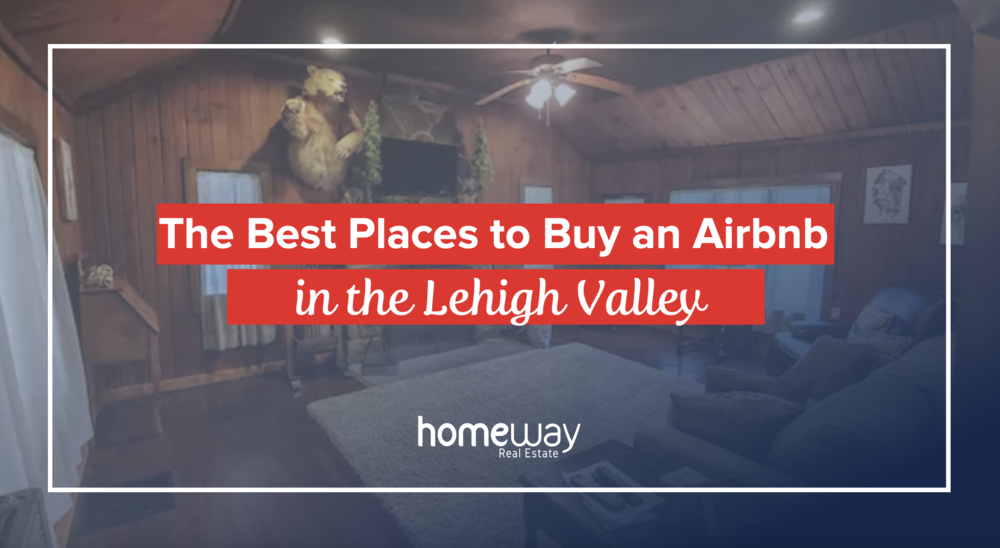 There has been a growing movement among travelers and vacationers over the last two years. Vacationing and exploring with friends and family, along with a renewed sense of travel for purposes of taking a break and self-care, are returning as popular trends. And with that return to travel and families taking advantage of the "great vacation," is a booming Airbnb industry.
You've been watching this short-term rental trend grow for some time now. And you're recognizing the incredible opportunity to generate income by owning a rentable space, especially in the Lehigh Valley. You've done your homework and know that millions of people travel to the Lehigh Valley for vacation every year. Now you just need help identifying the right property to buy that would be an attractive Airbnb rental. Today, we'll share insights and suggestions for finding the best places to buy an Airbnb property in the Lehigh Valley. And with these tips, you'll be well on your way to becoming a successful host of a great short-term rental.
Pennsylvania Airbnb Hosting Stats
If you need some reinforcement in your decision to buy an Airbnb, check out these stats. In 2018, and prior to the pandemic, Pennsylvania Airbnb hosts earned $122 million, based on the projected one million guests who passed through the state then. Roughly, those vacationing visitors have grown by 20%. The Lehigh Valley, more specifically Lehigh County, ranks among the top Airbnb Pennsylvania counties. It's estimated that 14,200 hosts are scattered around the state, proving it's a worthwhile investment for many.
Choosing the Best Places to Buy
There are some Lehigh Valley communities that already enjoy a robust Airbnb economy. Based on annual tourism and other amenities, there are a few cities worth exploring first when you're looking to buy. Lancaster, for example, boasts an annual guest headcount of 57,000. But Allentown is another top city for tourist attractions, along with being the third most populated city in Pennsylvania. Other communities, including Bethlehem, Stroudsburg, Easton, and small towns in and around the Pocono Mountains, are all ideal destinations for traveling guests year after year.
What Airbnb Guests Want
Because you're more interested in generating revenue with an Airbnb property and short-term rental, you'll need to put your "business hat" on before you decide which potential property to buy. Guests will come to the area based on a few key amenities and factors. So, make sure wherever you decide to buy, the surrounding attractions should be helpful in bringing in travelers all year round.
Historic Exploration
If you want to make sure you're buying the best place to market as an Airbnb, look for properties that have nearby historical stories to tell. The Lehigh Valley is full of rich history and adventures for tourists to travel back in time. Landmarks, museums, and nearby historical societies can all be great amenities to help attract guests to your Airbnb, including:
The Hoover Mason Trestle
Historic Moravian Bethlehem
Liberty Bell Museum
Nature-Lovers' Adventures
Travelers will have different preferences in amenities. But everyone will appreciate a gorgeous view. Nature enthusiasts will choose to stay in an Airbnb that offers a slice of life, au naturale, with outdoor views, nature trails, and scenic adventures. Buy an Airbnb that offers that outdoor experience, including some of these hotspots:
Valley Preferred Cycling Center
Delaware & Lehigh National Heritage Corridor
Appalachian Trail
Festivals & Special Events
Check the community calendars before you buy an Airbnb. Find a spot that maybe has festivals, annual celebrations, or seasonal events worth promoting to guests. From local farmer's markets to music festivals, these unique events will help attract guests to your rental.
Celtic Classic
PA Bacon Fest
Musikfest
Garlic Fest
Family-Friendly Attractions
Maybe the Airbnb you have in mind is perfect for a family stay. If you hope to attract those looking for a unique family vacation experience, be sure your rental is located near plenty of family-friendly activities and attractions. Showcase petting zoos, nature hikes, and swimming venues. Highlight all the best places to eat, with kiddie menus included. And be just as welcoming to the littles as you would be to the adults in the group.
Merchants Square Model Train Museum
DaVinci Science Center
Coca-Cola Park
Airbnb in the Poconos
One of the best areas to consider buying a rental space is the Pocono Mountains. Short-term rental investors can always find resources outlining the latest tourism statistics, terms for the various townships and boroughs in the region, and municipal requirements online. But with so much to offer, from recreation and dining to scenic adventures and history, owning an Airbnb in the Poconos is a great investment, no matter how you do the math.
People vacation to the Pocono Mountains year-round for skiing in the winter and water recreation in the summer. Zip lining, bike trails, dining, and wildlife adventures call to vacationers every year. You can capitalize on this gem of a region by investing in a rental property those travelers would love to book!
Find cottages and cabins perfect for hosting a rustic experience. Get even more off-the-beaten-path with tent sites and camping structures in the woods. Or you could instead go with the more traditional and upscale offering with a short-term stay in a cozily furnished home or posh condo setting. Whatever you choose to buy, remember, it's the experience you'll be advertising, not so much the dwelling itself. So make sure the area and the stay are appealing with something fun, unique, and inviting.
Types of Airbnb Properties Guests Love
There are plenty of property types, including structures and layouts, that can be attractive to Lehigh Valley tourists ongoing. Ideally, your guest stay should have something unique to offer, separating it from other rental properties and hotels in the area. Don't discount non-traditional structures, either.
Check out all the different categories of properties guests can search for on Airbnb. When you buy your space, have an idea in mind about which category your property would fall into for guests searching for Lehigh Valley experiences.
Lakefront
National parks
Cabins
Islands
Camping
Tiny homes
OMG!
Arctic
Amazing pools
Design
Surfing
A-frames
Caves
Amazing views
Earth homes
Tropical
Bed & breakfasts
Luxe
Iconic cities
Countryside
Castles
Farms
Shared homes
Barns
Golfing
Chef's kitchens
Mansions
Beach
Historical homes
Boats
Campers
Cycladic homes
Windmills
Vineyards
Casas particulares
Off-the-grid
Skiing
Shepherd's huts
Houseboats
Ryokans
Beachfront
Minsus
Grand pianos
Treehouses
Desert
Towers
Yurts
Domes
Containers
Creative spaces
Trulli
Riads
Dammusos
Ski-in/out
Lake
Consider these insights before buying your Lehigh Valley Airbnb. The key to finding the best places to buy is recognizing the marketing potential of the experience. And there is, as you can imagine, no shortage of unique experiences to be had in the iconic, fun, and adventure-loaded Lehigh Valley.
The second most important factor in buying the best place for Airbnb is having the right professional partner in your corner. Let Homeway Real Estate be your guide in any real estate purchase or investing you have planned if you want a Lehigh Valley expert at your side. Our teams can provide insights into the latest market trends and local hotspots. And we'll help take the investment guesswork out of buying your first or your tenth Airbnb property in the Lehigh Valley.