The Best Places to Find a Great Realtor in Allentown PA
Posted by Alex Lopez on Monday, December 20, 2021 at 3:15 PM
By Alex Lopez / December 20, 2021
Comment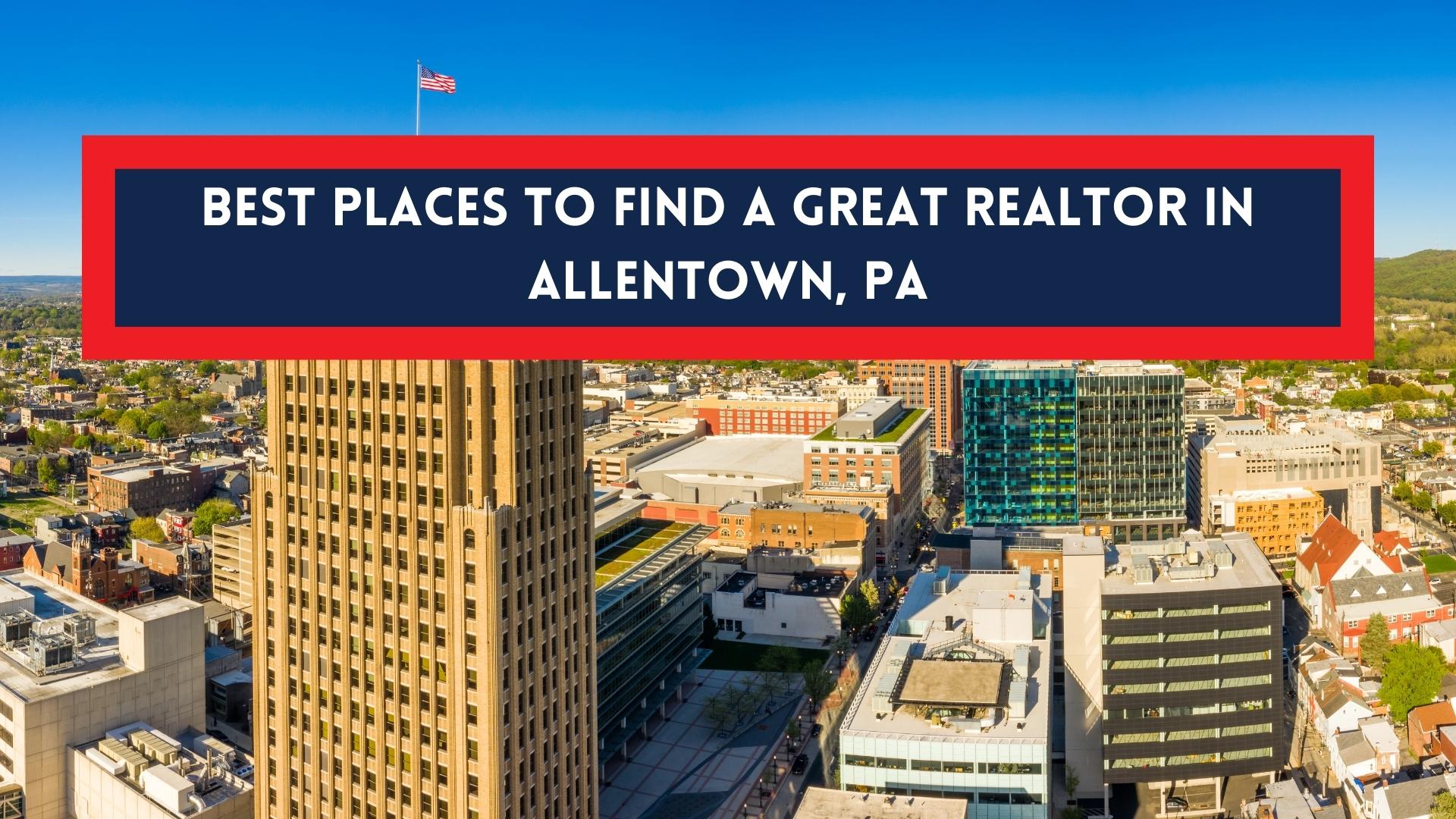 The Allentown, PA real estate market continues to be hot. And you feel like you've sat on the sidelines long enough. You're ready to join the movement and start your hunt for a new home.
Whether it's your first-time house-hunting or you consider yourself to be a seasoned pro, you know you still need the help of a local real estate agent. You might be able to find a home you'd like to tour or see. But then there's listing your house, negotiation steps, and closing details to navigate. And you'll only want to work with the best Realtor to help.
Based on the National Association of Realtors data for 2021, roughly 88% of homebuyers worked with agents to do so. You know there's a reason for this.
So now, you face another challenge. In addition to finding your dream home, you also need to begin your hunt for a real estate professional. Today, we'll take all the confusing guesswork out of finding the best Realtor. Here's what dream home buyers need to know about where to look, what questions to ask, and how to find an Allentown, PA real estate agent.
Why the Right Real Estate Agent Matters
There are different credentials out there for real estate agents, each representing strengths and weaknesses. And there are also scams to avoid. So before you begin searching for an Allentown PA partner, it's best to know and understand the various types of professionals, along with what each does best. Finding and selecting the right Realtor partner matters, so knowing these distinctions will help you choose the best-fit candidate for the job.
Homelight.com shared four certifications and designations that homeowners will likely encounter more frequently. Here's how they are and what they mean to you.
The Realtor: A Realtor® is a real estate agent who is also a member of the National Association of Realtors (NAR). The Code of Ethics and governing rules outlined by the association's board govern these agents' duties to their buying clients, the general public, and other real estate professionals. There are over 1.5 million Realtors® in the U.S.
The Seniors Real Estate Specialist, aka SRES: Real estate agents who have been educated and experienced in assisting buyers and sellers over the age of 50 through the house buying process.
The Accredited Buyer Representative, aka ABR: An Accredited Buyer Representative is a real estate agent that has been trained to work with buyers. These agents have extensive expertise assisting customers throughout the home purchase process.
The Certified Residential Specialist, aka CRS: Agents who have completed a thorough residential sales course and passed an exam may use the title Certified Residential Specialist (CRS). To earn this credential, agents must finish a comprehensive training program on the ins and outs of residential sales.
How to Find a Realtor Online
It's not hard to find a Realtor online. A quick, general search, and you'll have pages of options. But you'll want to peek at reviews and do some homework of the various agents who all want your business. Here are the most popular resources for not only identifying top-performing real estate professionals but also providing ratings to help.
Zillow
The benefit for Zillow is that this platform was created especially for real estate. They have distinct star ratings for qualities like process expertise, local knowledge, negotiation skills, and responsiveness. They also do things a bit differently from other websites in that they break down local real estate agent evaluations by zip code. In addition, the user must create a Zillow account, making it harder to fabricate reviews.
Realtor.com
The National Association of REALTORS is a real estate trade group that operates the Realtor.com site. The listings for land, houses, and rentals are all there. It obtains data from MLS. Because it is designed with Realtors in mind, the evaluation categories are tailored to those skills, such as market knowledge, overall rating, customer service, professionalism, and communication. You may get a comprehensive analysis of the local housing market, trends, presently available homes, school ratings, as well as top-rated local agents at Realtor.com.
Google
Now it's Google's turn. Some would claim that Google reviews are comparable to Yelp reviews since the platform offers access to any company. Any active Google account user can submit a review on the site. When people search for a realtor, the listing will appear on the right side of the screen. If everything is correct, a star rating and the words "X Google reviews" will be included next to the item. Searchers can read other users' real estate agent evaluations after clicking on the link.
Facebook
Realtors are making money off of Facebook by having a company Facebook page that allows consumers to recommend local real estate agents. The best part is knowing who authored the review and how you may improve your services. Also, Google will display reviews on the page in the search results.
Yelp
When it comes to real estate agent ratings, the first name that springs to mind is Yelp. If you're looking for expert feedback on any service, Google will most likely feature Yelp on the top page of search results. People may see orange stars by your name when they "Google you" if Google uses Yelp profiles to create its ratings. And Yelp has a policy for flagging fraudulent reviews.
How to Find Great Agents through Referrals
Talk to your friends and family about their recent real estate transaction experiences. But don't forget to also explore other referral options with some of your other connections. Maybe check with your banker or lending agent for a referral. Ask your accountant about their experiences with Allentown, PA, real estate agents. Use the feedback you receive from these sources to help you narrow down your search to specific groups or top few agent prospects.
Once you have a narrowed list of agents based on your referrals, you can go back to your online search. Look to Yelp and Google for reviews about those real estate agencies or individual Realtors directly. An occasional disappointing experience won't be a red flag. But any agents with several less-than-stellar reviews are probably worth avoiding.
Questions to Ask Before Working with a Real Estate Agent
Before you decide to work with a real estate agent, be prepared to do a little vetting. Have a conversation with each agent. And here are some great first-round questions to ask, according to Homelight.com.
How long have you been an agent?

Do you work as an agent full or part-time?

How many buyers do you represent right now? Sellers?

What's the average time you spend with a buyer before closing?

Will we be working with you directly, or do you have a team?

Can you offer recommendations for other services, like appraisers, inspectors, contractors, and moving companies?
How your prospective agent answers those questions will help you decide if you're settling on the right partner.
What Performance Metrics Matter When Choosing an Allentown, PA Realtor?
While you're asking questions, you'll want to be mindful of certain metrics. Not all Allentown, PA Realtors are created equal. And the proof is in the home selling and listing finding pudding.
Ask about how many buyers the agent worked with in recent months.

Ask, too, how many of those buyers were able to buy their dream homes.

The broad-stroked average number of homes closed in a year is ten.
Ask specifically if the agent has found homes for buyers within the price range you have in mind. Some agents are great, but only within certain types of homes, specific areas, or price ranges.
Ask for an explanation of how the commissions work. Buyers don't typically pay agent fees. But again, you want to know before you commit to working with a Realtor who does.
You'll Never Go Wrong with Homeway Real Estate Professionals
If the thought of all these vetting tips has your head spinning, there is an alternative. When you need to know how to find a Realtor in Allentown, PA, there's really only one call you need to make. The team at Homeway Real Estate will check all the boxes when it comes to experience, Lehigh Valley expertise, and proven results.
If you're ready to take the plunge, put your house on the market, and start your search for the ultimate dream home, Homeway Real Estate is ready to help! When you need to find a great Realtor in Allentown, PA, you can follow these tips or just give our team a call.