The Complete Guide to Lancaster Real Estate
Posted by Alex Lopez on Monday, December 27, 2021 at 9:38 AM
By Alex Lopez / December 27, 2021
Comment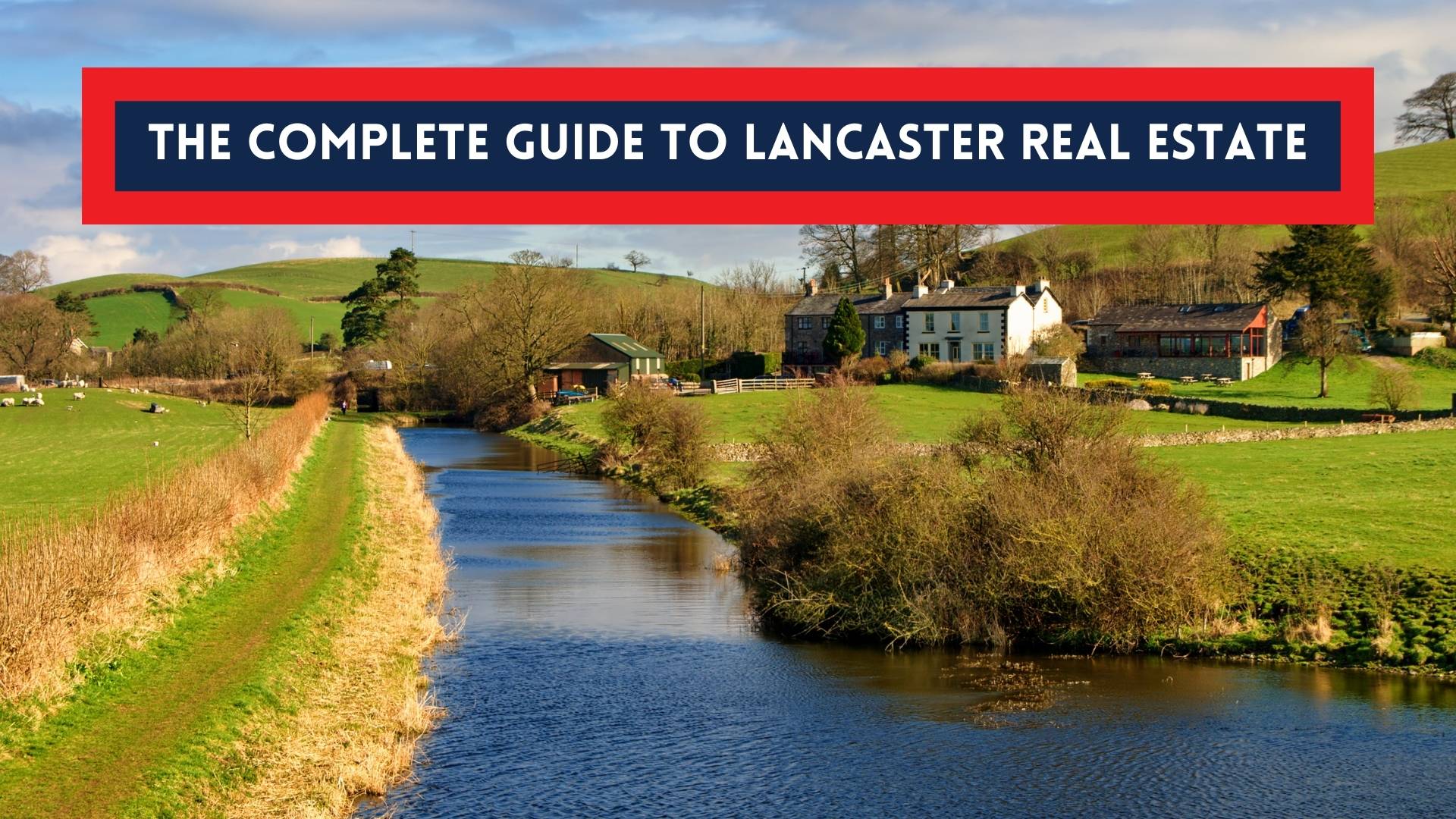 If you're considering a move to Lancaster, PA, you've come to the right place. This is the ultimate Lancaster guide you've been waiting for when it comes to all-things real estate, community, and things to do that Lancaster has to offer. It's not just about finding your dream house. It's about finding your dream community, too. And Lancaster may just be the perfect place to call home.
Lancaster, PA By the Numbers
Lancaster, PA, offers its residents a great urban and suburban feel. It's often on many lists of the "best places to live," as well. Here's a glance at Lancaster and Lancaster County, by the numbers.
Population and Growth
Lancaster is the official county seat of Lancaster County. With roughly 60,000 people calling the city of Lancaster home, it's clear there's a lot to love about living here.
The current growth rate in Lancaster County is about 0.32%. The county, as a whole, is home to nearly 550,000 residents and continues to be a popular place to relocate. Lancaster is currently the seventh-fastest growing county in Pennsylvania and has officially transitioned to the status of a metropolitan area.
The Lancaster View
Lancaster is an attractive place to live and visit because of its landscape. Nestled in the southern pocket of the state, Lancaster County sits on the beautiful Susquehanna River. The region features rolling hills, sprawling farmland, and a picturesque view of nature's best. With creeks all around and breathtaking views, it's no wonder homeowners continue to flock here.
Is Lancaster, PA Considered 'Up and Coming?'
Lancaster, PA, is often most known for its Amish population since it's home to one of the largest Amish populations in the nation. But Lancaster is also considered "hip" and "up and coming" because of the wide variety of trendy and highly desirable amenities here. Forbes even named Lancaster one of the "10 Coolest U.S. Cities" back in 2018.
Real Estate in Lancaster Tops Everyone's List
If you're not quite sold on the idea of relocating to Lancaster, PA, you'll probably need to know a little more about the real estate market here. Here's a snapshot of home-related stats, prices, and styles to help guide your home buying efforts.
Average Lancaster Home Prices
The housing market is hot everywhere right now. But Lancaster seems to be even more attractive to new potential residents. Based on data collected in October of 2021, 100% of homes in Lancaster sold for approximately the asking price. According to averages collected in November, the median home listing price for Lancaster properties was up 5.3%, hovering around $258,000.
Lancaster Home Styles You'll Love
Location might be the most important aspect of your dream home search process. But finding real estate in Lancaster also means finding the architecture and home styles you love. There is nearly every type of home in the area, but these styles tend to be most prominent.
German or Colonial Style (1710-1770)
Georgian Style (1730-1790)
Federal Style (1790-1835)
Classic Revival Style (1840-1860)
Italianate Style (1850-1895)
Second Empire Style (1860-1895)
Queen Anne Style (1876-1910)
Romanesque Revival Style (1860-1900)
Beaux Arts Style (1880-1930)
Colonial Revival Style (1880-1955)
Art Deco Style (1925-1945)
The Lancaster Community at a Glance
Finding the right home and Lancaster real estate to call your own is only half the battle. You also need to know about the community and what a lifestyle in Lancaster, PA, will be like for you and your family. Here are the job, family, and recreational details to help guide your decision.
The Job Front in Lancaster
Lancaster continues to grow and does so because of its robust economy. So finding work in the area isn't likely going to be a challenge, depending on the career for which you're applying. Zippia says these are some of Lancaster's largest employers to help with your job search.
Eurofins Scientific
Lancaster General Health
Armstrong World Industries
Fulton Financial
High Industries
Armstrong Flooring
SmileBuilderz
Aside from the major employers, the hotel and restaurant industries are thriving in Lancaster, always eager to hire top talent. And there is a healthy mix of professional and entry-level opportunities, perfect for nearly every skill set.
The commute isn't that bad, either. Lancaster, PA, workers mostly drive themselves on those morning commutes, averaging less than 20 minutes or so. But recent data suggests another 11.6% carpool with others, 4.5% work remotely from home, and 5.4% take mass transit.
Transportation in Lancaster, PA
So, how do most Lancaster residents get around these days? You'll enjoy plenty of transportation options here! Much of the city's center is walkable, perfect for leisurely strolls or faced-paced shopping excursions. You can take the bus or hail a rideshare. You can even try the bike share program, powered by Zagster, allowing you to pay by the hour and tool around on two wheels to enjoy the Lancaster culture.
Of course, you can drive your own vehicle anywhere you choose. And if you need to major metropolitan adventures, you're still only about 68.8 miles away from Philadelphia. You can even hit New York City for a day trip if you're up for a three-hour drive. And Allentown, PA, is roughly an hour's drive away, as well.
Schools and Education
If you have kids or are potentially planning to have children, Lancaster schools and education will be on your shortlist of real estate considerations before moving. And Lancaster schools do tend to rate above average academically. And the athletics programs are equally impressive, with a host of sports and events for nearly every interest.
The school district serves much of the city, with 13 different elementary schools and four middle school campuses. JP McCaskey High School allows for Advanced Placement® coursework and exams. And based on 2019-2020 enrollment, it educated 2,631 students. The average student-to-teacher ratio is 13.41. Alternatively, there is also the Lancaster Catholic High School, offering a progressive academic curriculum that includes a high level of AP classes, distance learning, certificate programs for Scholars, STEM (Science, Technology, Engineering, and Math,) the Fine & Performing Arts Certificate, and a Corporate Mentor Program.
Things to Do When You Live in Lancaster, PA
Before moving to any community, you'll need to do a little homework on what the area has to offer in terms of amenities. And you won't be disappointed with the "things to do" list Lancaster, PA brings to the table.
Lancaster, PA Parks, and Recreation
If you want to buy a new-to-you house in an area that is rich with natural beauty and plenty of ways to enjoy that beauty, Lancaster is perfect! With so many parks, pavilions, recreational areas, and paths to explore, you won't run out of afternoon outdoor adventures or morning jog routes anytime soon. Here are just a few park favorites you can visit when you come house-hunting:
Binn's Park 100 N. Queen St.
Brandon Park 525 Fairview Ave.
Buchanan Park 901 Buchanan Ave.
Conestoga Creek Park 1255 S. Duke St.
Conestoga Pines 150 Arthur E. Morris Pkwy.
Crystal Park 525 First St.
Culliton Park 210 Conestoga St.
Holly Pointe Park 300 Holly Ln.
Long's Park 1441 Harrisburg Ave.
Mayor Janice C. Stork Corridor Park 449 N. Mulberry St.
Musser Park 135 N. Lime St.
Penn Square Intersection of King St. & Queen St.
Reservoir Park 701 E. King St.
Rodney Park 200 Crystal St.
Sixth Ward Park 680 E. Ross St.
South End Park 10 Furnace St.
Family-Friendly Attractions Around Every Corner
Another reason to find real estate in Lancaster, PA, is the abundance of family-friendly amenities the area has to offer. If you have little ones or enjoy a jam-packed social calendar, Lancaster has you covered. Here are just a few of the local and regional adventures awaiting your family.
Magic & Wonder Theater
Lancaster Archery Supply & Academy
Dutch Wonderland
Old Windmill Farm
Turkey Hill Experience
Lancaster Virtual Reality Lounge
Refreshing Mountain Retreat & Adventure Center
The Lancaster Science Factory
Here are some of the fun, historic museums to enjoy.
Railroad Museum of PA | 300 Gap Road, Strasburg.
AACA Museum | 161 Museum Drive, Hershey.
Tiny Town | 533 Janet Avenue, Lancaster.
North Museum of Nature & Science | 400 College Avenue, Lancaster.
Choo Choo Barn | 226 Gap Road, Strasburg
Lancaster's Nightlife Is Hoppin'
Lancaster is a great place for nightlife, or as the locals call the downtown, Lancaster City. There are many bars and clubs to please any taste, from rooftop bars to dive bars; Lancaster has them all. Enjoying dinner before your evening begins? You can have that too! Lancaster offers some of the best casual food in PA with tons of options- you'll never be hungry! Beyond the food, there are live music venues, theaters, and attractions that are open late. Any time of year is perfect for an exciting night out in Lancaster City!
Finding the Best Real Estate Agent in Lancaster
Armed with all the information you need to better understand the Lancaster real estate and community, you just need a Lancaster expert real estate professional to help you start the search for your dream home. Lancaster and Lancaster County have so much to offer new residents. And the Realtors at Homeway Real Estate will ensure you find the perfect house, in the perfect neighborhood, with the perfect amenities to make your dream come true!
Contact our team today and let Homeway Real Estate give you a proper Lancaster, PA introduction!