The Most Popular Pennsylvania Home Styles
Posted by Alex Lopez on Wednesday, April 28, 2021 at 9:00 AM
By Alex Lopez / April 28, 2021
Comment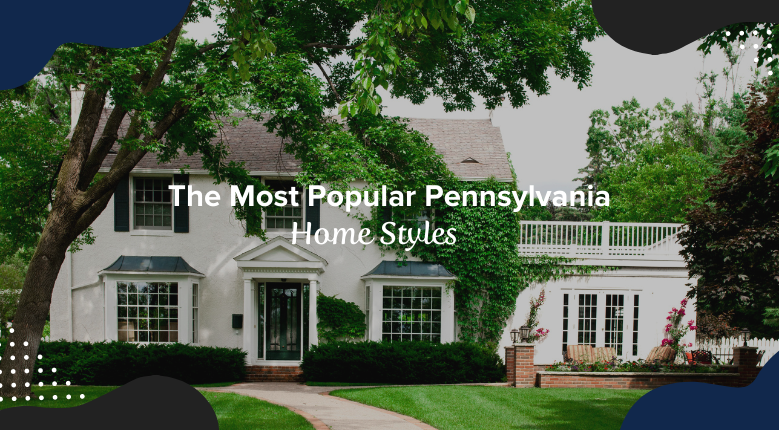 When looking at home styles in Pennsylvania, the state has much in common with the rest of the country, especially the East Coast. But to say that Pennsylvania home styles aren't distinctive to the state would be to ignore the history and culture of the region--a region whose history goes back to the 17th Century and which has seen some of the most landmark moments in our nation's legacy.
Which Pennsylvania Home Styles Sell Best?
Colonial
The real estate market in Pennsylvania is hot and there is no hotter home-style than the Colonial. The Colonial period dates from around 1640 to 1800; the term "colonial" refers to when Pennsylvania was a colony of England, so the home-style begins when European colonists entered the area and end when America became its own nation.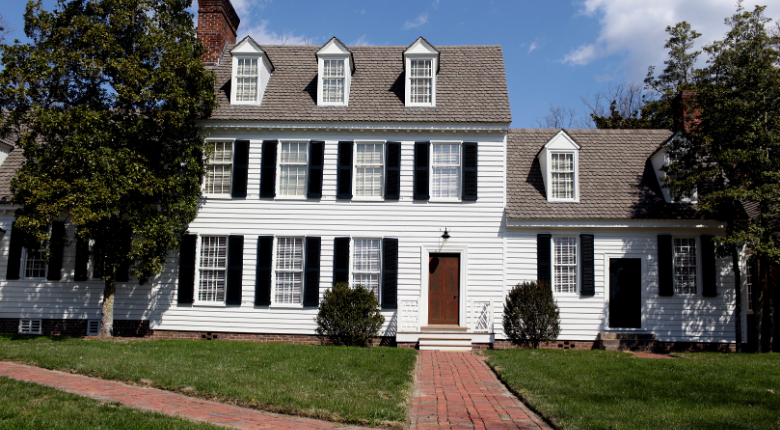 Colonial-style architecture is known for having a door centered in the front of the house, often with a transom or other rectangular windows above it. It is often capped with an elaborate crown or other decorative elements. The home is corniced, which means it has embellished decorative moldings, and multi-paned windows are arranged symmetrically both vertically and horizontally. The roofs are side-gabled, and often have chimneys on both sides of the home. And most traditional colonial homes have a portico: a large porch supported by columns.
Victorian
Coming in right after the colonial architecture is Victorian, which dates from the 1860s to 1900. Victorian is known for its steeply pitched roofs with ornate gables and rooftop finials. These two or three-story buildings often incorporate brick, though sometimes it is colorfully painted. Octagonal or round turrets and towers decorate the top of these homes. Because of the intricate decoration on a Victorian, some are referred to as "gingerbread houses".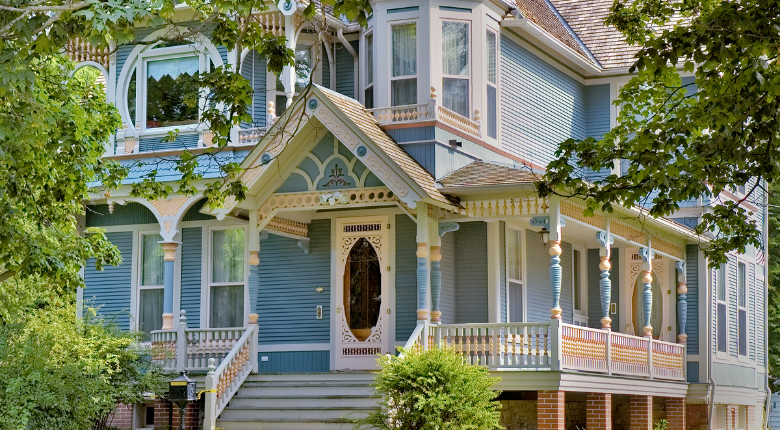 Named after Queen Victoria, variants of Victorian architecture can be found around the globe as British architects spread the influence to the United States, Australia, and New Zealand. The interiors tend to be unique, with often rambling floor plans and surprising turns. Victorian homes are very sought after when they're in good repair--and a great fixer-upper project for ambition.
Ranch
The ranch-style home isn't unique to Pennsylvania: it was a craze across the country in the middle of the 20th century, and the ranch-style continues to be built today, altered, but with the distinct features intact. A traditional ranch house is one story, with an open-concept living space. Whereas Victorian houses might have no yard to speak of, a ranch usually has both a large front and back yard and tends to have ample patio space. The homes are long horizontally, with large windows facing the front.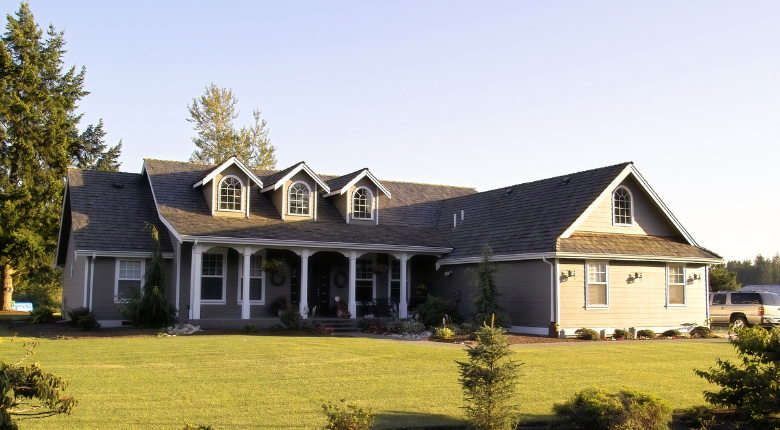 Ranch-style homes are so popular because of how versatile and practical they are. They can be modified and remodeled easily, and they fit into virtually any neighborhood. In fact, a study from Trulia found that ranch homes are the most popular home style in 34 of the 50 states.
Cape Cod
The next most popular home style in Pennsylvania is Cape Cod. These are low and broad, single-story homes with steep gabled roofs. There is usually a chimney in the middle, but Cape Cod homes are known for having very little in the way of ornamentation. The central door is flanked by multi-paned windows. In Cape Cods with an upper floor, there are often two dormer windows facing front.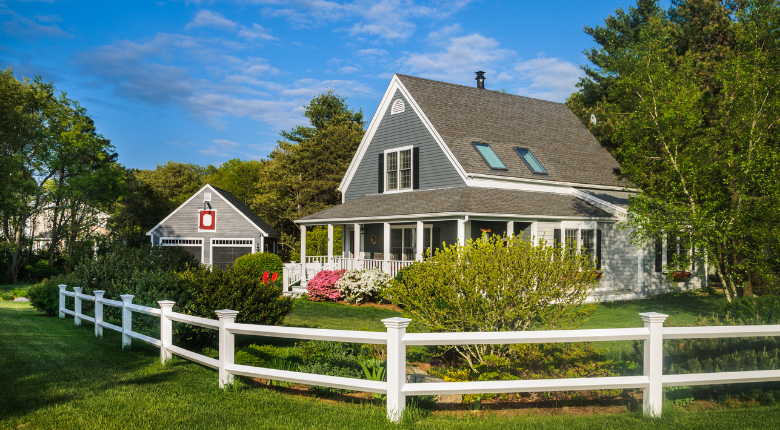 The Cape Cod-style house originated from Puritan carpenters and was meant to be a practical home for all forms of weather. But what started as just a practical home has become a much sought-after architectural style for many. Though the construction of Cape Cods had their boom in the 30s and 40s in New England, they are still being built (and bought) today.
Contemporary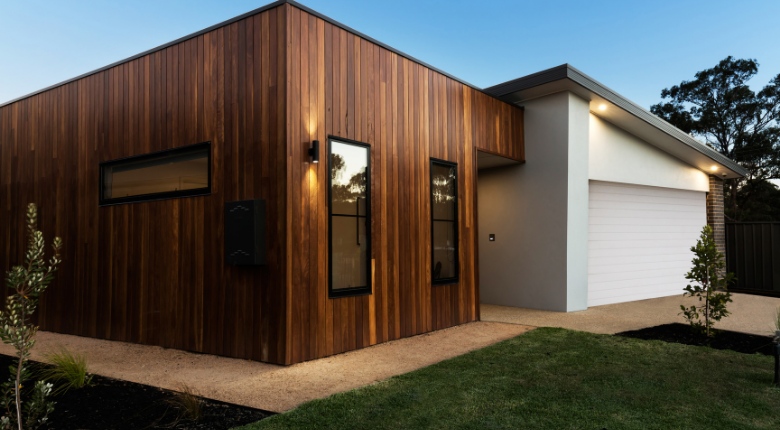 The fifth most popular style in Pennsylvania is contemporary. "Contemporary" is a hard style to pin down, as it encompasses a vast swath of the architecture of the 20th and 21st centuries. A common feature is harsh straight lines, rectangles, both vertical and horizontal, and lack of ornamentation. Often bare materials are used, such as treated woods, bricks, stones, cement, and steel.
What Are Some Other Pennsylvania Home Styles of Note?
Although those are the five most popular home styles in Pennsylvania, the state is home to many other styles thanks to its long history and cultural impact. Some of these include the Early Republic style, which is very classical in design: this was when the country was young and while the Neo-classical buildings were in vogue (think: everything in Washington DC). As surprising as it may seem, Pennsylvania is also home to several noteworthy Spanish Colonial Revival homes, with stucco walls and clay roof tiles, more typically seen in the Southwest. Frank Lloyd Wright also had his influence on Pennsylvania with the Prairie School designs: low-pitched roofs with wide overhanging eaves. And in the early 20th century there was a blossoming of the Bungalow and Craftsman styles, which are one-story homes with a large enclosed porch, front-facing gables, and multi-paned windows.
Contact Us Today to tour a beautiful Pennsylvania home!