The Perfect Lancaster Day Trips For A Quick Getaway
Posted by Alex Lopez on Monday, October 12, 2020 at 11:38 AM
By Alex Lopez / October 12, 2020
Comment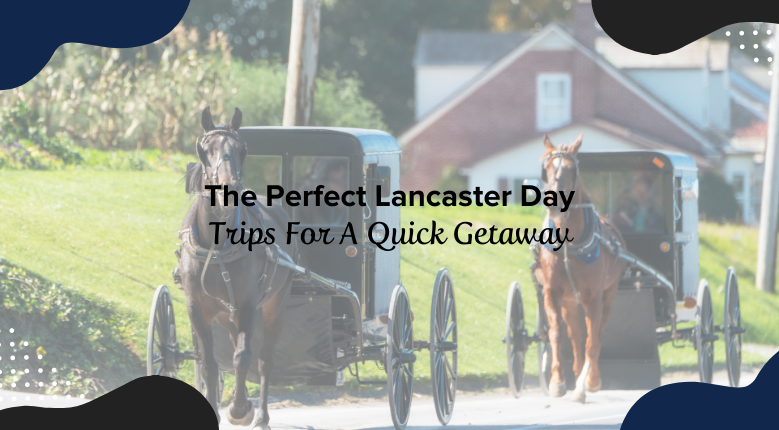 Lancaster, PA has loads to offer. With its charming, retro farmers markets, its stunning rural surroundings, and its many world-class restaurants, the city really does have everything you could ever need. Nevertheless, every now and then, we all need a change of scenery. Luckily, Lancaster is perfectly situated for a wide range of amazing day trips. Looking to get away from the city? Here are some of the best Lancaster, PA day tips.
1. Lancaster County Amish Village
Anyone who lives in Lancaster should take a trip to the Lancaster County Amish Village. The fascinating Amish settlement gives you the chance to see history in action, ride a horse and buggy, discover how the Amish live and work, all while taking a break from fast-paced city life.
2. Philadelphia, PA
The city of Philadelphia is a quick 80-mile trip or a 1-hour train journey. There are loads of things to keep you occupied in Philadelphia, including visiting the Liberty Bell, the Rocky Steps, the historic Independence Hall, or the incredibly Reading Terminal Market. With theater, music, and restaurants to thrill visitors of all tastes, a weekend in Philly is always an exciting treat.
3. Wilmington, DE
Wilmington, DE is another fantastic Lancaster, PA day trip. It's a beautiful city with a charming creek dotted with plenty of sites of historical interest. Be sure to visit the Delaware Art Museum, which is filled with gorgeous Pre-Raphaelite art. The Harley Museum and the nearby Nemours Estate offers a glimpse into the town's history. For nature lovers, Bellevue State Park offers long, peaceful walks with spectacular natural views and wildlife.
4. Washington, DC
Visit the capital of the nation with a day trip to Washington, DC. The city is home to dozens of fascinating monuments and museums that explore the history of the founding of America, including the Lincoln Memorial, the Library of Congress, and, of course, the White House. Plus, the city has loads of beautiful walks, cafes, and restaurants to keep you occupied.
5. Hersheypark
The Hersheypark in Pennsylvania offers fun and excitement for the whole family — especially those members who may have a sweet tooth. The amusement park has dozens of exciting rides for all ages, all candy-themed. Think of it as a real-world Willy Wonka's Chocolate Factory. This is a great place to go with the kids for a fun day away from the real world.
6. Pocono Mountains
The stunning Pocono Mountains are the ultimate destination in Pennsylvania for outdoor adventure, quaint towns, and spectacular views. With luxurious resorts and b&b's, you can stay in this rural paradise for a night or two to get some real respite from city life and soak up some fresh air!
7. Lackawanna State Park
For those who are after a truly rural getaway, head to Lackawanna State Park. Here, you'll be able to camp, hike, and canoe to your heart's content. Filled with serene lakes and magical scenery, there's no better place to unwind after a busy week and really get away from it all.
8. Penn's Cave
Penn's Cave is a once-in-a-lifetime experience. The all-water cavern promises to be a magical, memorable experience for the whole family. Take a guided boat tour of the cavern, explore the nearby mountains, and learn about gemstone panning. This unusual experience really is something everyone from Lancaster should try at least once!
9. White Cliffs of Conoy
If you're interested in hiking, the trails around the White Cliffs of Conoy are not to be missed. The well-paved, shaded trails can even be ridden by bike. You'll find plenty of jaw-dropping views, wide-open spaces, and the indescribable beauty of the striking white cliffs. It's the perfect spot to grab a few impressive Instagram shots!
10. Assateague Island
For an unforgettable island getaway, head to Assateague Island. This lovely spot is filled with beaches, marshes, forests, and bays that you can explore. You'll also find wild horses, birds, and deer. Spend the afternoon fishing, kayaking, biking, or simply relaxing and enjoying a slower pace of life.
11. Gettysburg, PA
In Gettysburg, PA, you can step back into some of America's most important history. This town was the sight of the famous Battle of Gettysburg. Here, you'll be able to step back into the nation's history by visiting the battlefield and the accompanying museum. Here, you'll find plenty of Civil War relics and artifacts — history buffs will absolutely love it.
12. Atlantic City, NJ
Atlantic City is famous for being a major tourist destination. With the famous boardwalk, casinos galore, sweeping high-rise hotels, miles of beach, and a few historical sights, there really is something for everyone in Atlantic City. If you're after an exciting weekend away that really feels like a holiday, this option will be perfect for you. Spend the day relaxing on the beach, then grab dinner with a view or take in a show at one of the city's many theatres.
13. Baltimore, MD
Baltimore is a fascinating city steeped in history. There's also plenty to do and to see on your weekend away. Here, you can see the birthplace of the Star-Spangled Banner, crab ports, the famous Inner Harbor complete with historic ships, some wonderful art galleries, a huge aquarium, Oriole park, and plenty of wonderful museums. In fact, one weekend might not be enough to see this incredible city!
Discover Homeway Lancaster
If you're looking to move to Lancaster, PA, Homeway Lancaster is here to help. Our team of dedicated realty experts can help you find a home that ticks all of your boxes so that you can start your new life in Lancaster as soon as possible. Plus, with our decades of market experience, you can rest assured that you're getting the very best deal on your new home.
Ready to explore the realty market in Lancaster, PA? Check out our Lancaster listings to see what we have to offer, or contact us at (855) 805-0605 to connect with an expert realtor today.