The Pros and Cons of First-Time Home Buyer PA Grants
Posted by Alex Lopez on Monday, January 3, 2022 at 9:09 AM
By Alex Lopez / January 3, 2022
Comment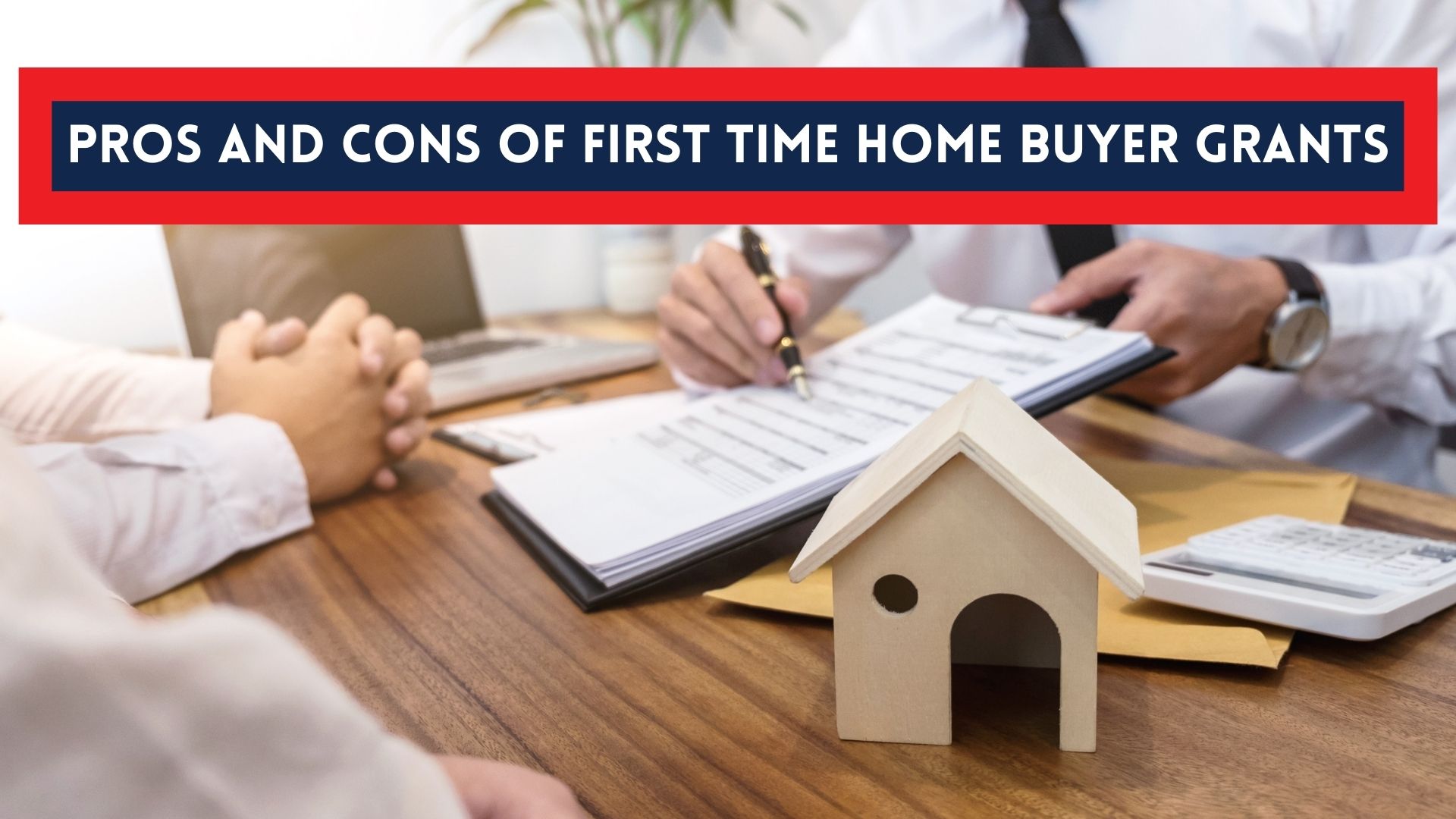 When you're buying a home for the first time, you're undoubtedly nervous. And you have every right to be at least a little anxious. We're talking about a lot of hard-earned money here, not to mention a super-complex series of events to journey through on your own.
Since the money aspect of first-time home buying tends to be the most stressful, we wanted to spend a little extra time exploring what you need to know about homebuyer programs, loans, and grants out there. There are a host of resources and PA grants that you'll want to consider that can significantly make an impact on what you can afford.
But there are some pros and cons to also think about before you make your decision. These are the details you won't likely hear from anyone else. And just knowing what first-time homebuyer grants entail can bring a whole lot of relief and understanding.
Let's Start with the Different Types of First-Time Home Buyer Programs
There are plenty of resources out there that, if anything, at least warrant further exploration. But to help you get started with understanding the various programs available, here are the most common types to know. Remember, grants imply funds you do NOT have to pay back while the loans do require repayment, usually with interest. And there are different assistance programs, too, that can further muddy the waters in between.
Down Payment Assistance
When purchasing a home, a down payment is one of the major expenditures required for most mortgage types. Many first-time homebuyers believe that they must have a 20% down payment to obtain a mortgage, but many lenders accept applications from first-time buyers with as little as 3% down.
DPA Grants
You may be able to apply for DPA through grants, which are not supposed to be refunded. However, because program requirements for loans can differ, it's essential to contact your local or PA state government for more information on any first-time buyer down payment assistance programs.
DPA Loans
Not sure you can cover that whopping down payment on your own? You could also be eligible for down payment assistance (DPA) through several specific sorts of loans to lower the amount you must put down.
Second mortgages, deferred payment loans, and forgiven loans are a few options. Second mortgage payments must be made together with your primary mortgage. Deferred payment loans must be paid off when you retire or pay off your primary mortgage.
Loans cannot be written off during your lifetime, but they may be forgiven in installments over a certain period of time. If you move before the agreed-upon number of years has passed, your loan will have to be repaid if you relocate before the terms of forgiveness are met.
Government-Sponsored Loans
A loan guaranteed by the federal government can also assist qualified first-time house buyers to purchase a home without a down payment - we'll go through these sorts of loans in more depth further below.
Home Buyer Education Resources
If you're not quite sure how to begin or even know where to get started on your house search, you should definitely use online educational programs and resources. A decent first-time home buying course might be free or low-cost, and it may teach you about loan alternatives, the purchase process, and how to apply for a mortgage. Look through real estate courses available online to see if Zing University or another free course makes sense for you.
Closing Cost Assistance
Down payment assistance, as well as government-sponsored and private programs, can assist you with the costs of closing. Closing charges are expenditures you must pay at the conclusion of your mortgage procedure. Closing costs are generally between 3 and 6 percent of the overall cost of your home loan.
Forgivable Loans
Forgivable loans are the closest relative of grants since they may be free if you live in the property long enough. You might, for example, borrow $5,000 to assist with a down payment and have the debt reduced each month for ten years. If you leave before the term expires, you'll be required to repay a portion of the loan. However, if you stay in the property for ten years, it will be completely forgiven.
FHA Loans for First-Time Homebuyers
The FHA offers low down-payment, reduced interest, minimal fees, and the opportunity to defer payments for first-time homebuyers. The Federal Housing Administration and most states provide these sorts of financing.
A first-time homebuyer is defined by the FHA as someone who has not owned a house for three years. So technically, it could be your second or third home purchase over a lifetime. But it's also important to note this definition includes single parents and displaced homemakers who maybe only previously owned homes with their spouses.
You might want to consider these FHA loan options if:
You don't think you have enough money saved up for a large down payment.
You have a limited ability to make high-interest payments and/or lofty fees.
Your official credit score is not high enough to qualify for other loan types or traditional funding.
Other potential drawbacks include:
If you sell your home not long after purchasing it, you could lose out on some of those great loan benefits.
If you later decide that you'd like to refinance your loan or otherwise change the terms of your debt, it might not be feasible with a first-time homebuyer loan.
While some of these loans don't require you to purchase PMI (private mortgage insurance,) you may still be required to purchase insurance offered by the loan program, which could have higher fees and longer payment terms.
Let's Unravel How First-Time Home Buyer Grants Actually Work
As a first-time homebuyer, it's possible that you may qualify for numerous forms of financial assistance. But the difference between grants and other types of aid is that you are never required to repay the money.
A PA grant can help you pay for a down payment on a house as well as closing fees before you move in. Some grant programs are available to homeowners who bought prior to the time they applied.
First-time home buyer grants are distinct from other down payment assistance programs in that they can assist you in paying for a house today, but they come with strings attached for the future.
Here are a few first-time home buyer grants to consider exploring, according to BankRate.com.
Bank of America Grants
Bank of America has two grant options available to assist you with a down payment and closing costs: the Down Payment Grant and America's Home Grant programs. Closing costs are eligible for up to $7,500 in lender credits under the America's Home Grant program, while the Down Payment Grant offers up to $10,000 in down payment assistance.
Chase Home Buyer Grants
If you buy a home in a "low to moderate income census tract" that is certified by the US government, Chase bank may give you up to $2,500 in grant money. These funds are generally spent on closing costs (but they can also go toward your down payment if necessary) and have to be considered taxable income. Your loan officer can help you decide if this is a good-fit grant for you.
National Homebuyers Fund, Inc.
The National Homebuyers Fund, a nonprofit organization, provides down payment and closing cost grants up to 5% of the purchase price of your house. To qualify, you must be a first-time homebuyer, but you must find a mortgage lender that participates in the program. Find lenders in your neck of the woods by calling the organization's hotline at 866-643-4968.
HomePath Ready Buyer Program
The HomePath Ready Buyer program is a homebuying initiative from Fannie Mae, one of two government-sponsored enterprises that support the mortgage market. You may get up to 3% of your house's purchase price as a loan to assist with closing costs through this program.
However, there are several restrictions on what you can buy. You can only qualify if you're buying a HomePath property, which is a foreclosed home owned by Fannie Mae. In addition, you'll have to finish a homebuyer education course.
Good Neighbor Next Door Program
The Good Neighbor Next Door program (this one's not really a grant, but kind of qualifies as one,) which is technically classified as a "forgivable loan," offers significant advantages because of the potential for free money. This government initiative from the Department of Housing and Urban Development provides a 50 percent discount on homes in designated revitalization regions to police, teachers, firefighters, and emergency medical technicians.
You can sell your home for a profit of almost 70 percent if you wait three years to sell it. You will not have to return the discount, as long as you maintain residence in the house for three years. But beware, you won't be able to buy yourself just any ol' home with this program, either.
How Can You Learn If You Qualify for a PA Grant?
Knowing you have first-time homebuyer grants available to you is only half the battle. You'll also need to know and prepare for how to qualify for these PA grants. Here are the key benchmarks recipients of these funds will tell you to focus on first.
Your Contribution to the Deal
Although you may get assistance for the purchase, many grants demand that the buyer pay something as well. One frequent request is $1,000 (whichever is greater) or one percent of the total price of the house.
Knowing Your Income Limitations
Low-income households are usually identified by numerous social programs as those who make 80 percent or less of the area median income (AMI). Some grant programs are limited to people in that range. The income restrictions can also change based on the number of individuals in the household.
Understand PA Home Price Limits
You may also be limited by a financial budget. Once more, these restrictions vary widely depending on the local housing market.
Additional Education Matters
Before receiving money through a grant, it can be helpful to complete a homebuyer education course. Some grants actually require first-time homebuyer education courses to be eligible.
Residence Status
You can generally only obtain a grant to assist you in purchasing a home that will become your primary residence, not one that you'll rent out to someone else.
The Pros and the Cons About First-Time Home Buyer Grants
The key takeaway from all of this information overload about first-time homebuyer grants is this: you won't know if you qualify, and you'll always pay more if you don't bother to ask. Explore some of these different types of grants and lending assistance programs. Ask questions and talk to your banking officer. Remember these essential nuggets of knowledge:
Know your budget and your finances.
Have a plan for how long you intend to live in your new home.
Educate yourself with all the free online courses you can to demonstrate good faith.
If you don't qualify now, don't hesitate to try again later.
When you're thinking about buying a Lehigh Valley, PA home, you'll definitely want to take a deeper dive to explore PA grants. And if it's your first time ever buying a home, or it's been several years, there are some excellent first-time homebuyer grants and assistance programs to consider, too.
Just don't forget to include HomeWay Real Estate in your journey. We can help you find all the house hunting, buying, and selling resources you need, whether it's your first rodeo or your tenth. Contact one of our Lehigh Valley, PA professionals today and see how we can help!