The Step-by-Step Guide to the Documents Needed for Mortgage Prequalification
Posted by Alex Lopez on Wednesday, April 6, 2022 at 9:00 AM
By Alex Lopez / April 6, 2022
Comment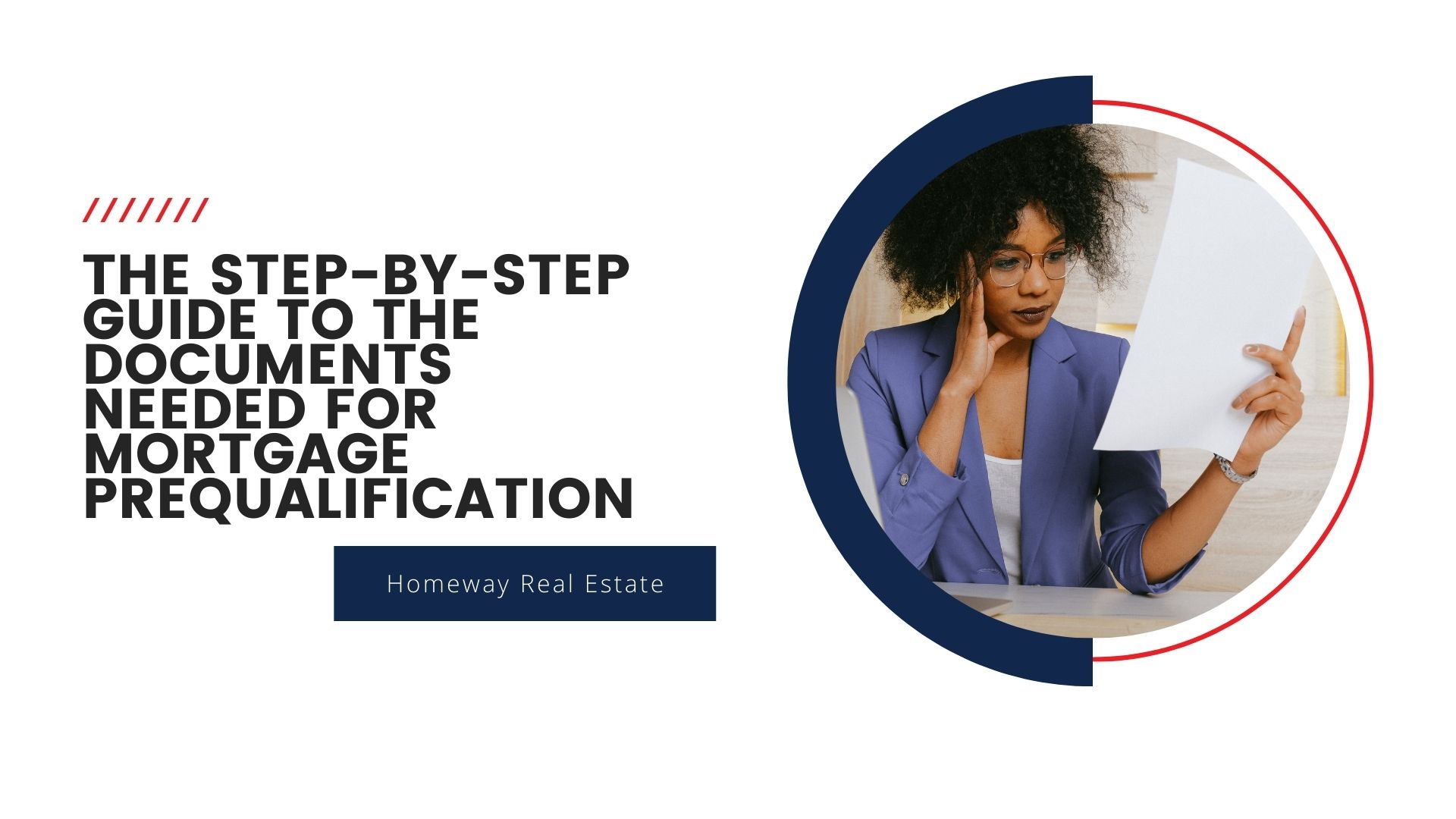 We've shared a lot of information regarding the benefits and advantages of having a mortgage preapproval or prequalification before you begin looking for a property to buy. If you haven't read through some of those conversations yet, take a look. There are key differences between prequalification and preapproval you'll want to know about, and as you might have guessed, lenders all have varying requirements, too.
Today, we'll take that discussion to the next level by sharing a complete list of documents and details you'll need to be able to provide in getting those prequalification and preapproval letters.
While prequalification is less formal than a preapproval and typically requires less "proof," not all of these exact documents will need to be on hand. However, the next logical step beyond prequalifying is mortgage preapproval and loan applications, both of which will require you have these items organized and prepared. So, getting ahead of the lending requirements now will also serve you well.
Without further ado, here's the step-by-step guide you need to assemble all the prequalification and preapproval documents you'll more than likely need to ultimately secure a loan for your new Lehigh Valley home.
Personal Identification
This might sound like an absolute no-brainer, but you'd be surprised how many people show up to apply for the loan with an expired license or without their social security card. Take a minute to verify that you have non-expired forms of ID for yourself and/or anyone else who might be on the mortgage with you. ID cards, driver's licenses, social security cards, and passports are typically all acceptable forms of ID.
Be prepared with at least two viable forms of identification. And in some instances, the lender may additionally ask for proof of residency, which can be satisfied by presenting a utility bill in your name, displaying your current address. Again, not all mortgage prequalification steps will be this in-depth. But it's best to go ahead and prepare ahead of time because you likely will need these pieces of ID later in the homebuying process.
Credit Report
Any lender ready to move forward with your loan application will want to use your social security number to access your credit report. It's additionally a good idea to print a copy out for yourself before you seek a mortgage prequalification, so you can see what items are showing up in your history. Now's your chance to clean up any listings that need correcting, too. If you still have debts on your report, for example, that have been paid off, you may want to request a statement from the creditor proving your final payment. And know that when lenders review your credit report, they'll look to verify what kind of borrower you are in terms of on-time payments, balanced debt-to-income ratios, and overall credit scores.
Proof of Income
If you're a W2 wage earner, you'll want to prepare for the mortgage preapproval process by collecting copies of your past W2s to verify your income. These documents outline any bonuses, overtime, and differential pay that lenders want to take into consideration. You may also still need to provide recent and/or year-end pay stubs. If you get your pay via direct deposit, your pay statements will work in lieu of a traditional check stub.
If you're self-employed, either as a business owner, contractor, or freelancer, you'll want to have your year-end profit and loss statements and 1099s on hand. If you use software to manage your finances, like QuickBooks, you can usually provide those finalized statements as proof of income. And if you are operating as a business entity, get your company structure details prepared, too, including S-Corp, Sole-Proprietorship, or Federal ID documentation.
As part of your document preparation effort to prove your income to a potential lender, be mindful of other means of earning or revenue channels, like real estate investments or passive income streams. Assemble documents that support these additional revenue sources, including bank statements.
Tax Documents
Most mortgage lenders and brokers will also require you to provide up to two or three years' worth of tax documents. These won't be needed right away during mortgage prequalification, but they can be helpful. And when you're officially ready to move forward with your loan application, you'll need these tax documents to prove your year-over-year earnings potential. If you can't find your official documents, you can always connect with your tax preparer for copies of years past.
Bank Statements for All Accounts
Speaking of bank statements, you should probably go ahead and assemble those, too. Bank statements help lenders see a snapshot of your current financial solvency. And they also can portray a big-picture view of your assets. Most lenders will tell you how far back to go, although most only request 60-days' worth of statements for every account with your name on it.
It's also recommended to prepare documents that demonstrate any retirement or brokerage accounts you might have. IRAs, CDs, stocks, and 401(k) statements will all have monthly and/or quarterly statements you can use as proof to a lender. Don't leave out any pages of those statements, either, even if they're blank. Again, these documents will support your assets and have an overall impact on your potential borrowing power.
Create a Complete Document List of Monthly Debts
In addition to proving your earning potential, you also need to prepare documents that point to your monthly debts. While reviewing your debt-to-income ratio isn't usually part of the mortgage prequalifying process, it will be critical to the preapproval and final loan approval. As you assemble your documents, look for specific fixed debts, not incidentals like transportation, groceries, or utilities. And any of those with agreed payment plans in place will need to be documented, as well. Here's a common list of fixed debts that might apply to you:
Mortgage or Rent Payments (lease or current mortgage statement)
Auto Loans (creditor statements)
Student Loans (institution statements)
Credit Card Debts (two months of statements)
Personal Loans (lender statement)
Home Insurance (monthly or annual statement)
Homeowner Association Fees (HOA statements)
Medical Bills (health institution statements)
Make sure that every document representing these debts includes the name of the creditor, along with creditor contact information, the total amount owed, and what payments are due monthly. These monthly expenses will help a lender verify what type of mortgage payment you are likely to afford.
Proof of Tenancy and References
If you're currently renting your home, you'll want to talk to your landlord about getting a written reference documenting your tenancy. Prepare a copy of your current lease, of course. But you'll want potential lenders to know that you've paid rent on time consistently. And a landlord's written reference is a great way to demonstrate your ability to uphold your financial responsibilities as a tenant. Additionally, get the necessary documentation to prove at least 12 months' worth of rental payments. Lenders won't just take your landlord's word for it, so documenting rent payments with your bank statements or rent voucher stubs and invoices can all help provide the proof you need.
Documenting Gifted Funds
It's not all that uncommon for friends and family to contribute to your new-house fund. Housewarming gifts, wedding gifts, and parental financial support can all play a key role in your ability to afford a down payment. But if you're receiving financial assistance in the form of a gift, you'll want to document the excess cash. Lenders will need proof that any funds received are, in fact, gifts without expectations of payback. Especially if you're exploring first-time homebuyer assistance programs, gifting can be complicated without proper documentation. A gift letter will need to be drafted and should include:
The donor's name and contact details, as well as their relationship to you
Your name and contact information as the recipient of the gift
The total of the gift, along with the date it was gifted
An outline of intentions for how you, as the recipient, plan to use the funds
Confirmation that the funds represent a gift, without expectation of repayment
Signatures of both the donor and the recipient
Other Documents You Might Need
There might be additional documentation requirements, depending on your individual situation. For example, if you're a widow or widower, you may need to provide death certificate copies. If you're divorced but your name is still on joint debts and assets, it's best to provide divorce documentation. And should you be responsible for making child support or alimony payments, you'll need to document those terms and payments, as well. Additionally, if you have foreclosures or bankruptcies in your history, you'll want to provide copies of all related documentation, including terms, payments, and timelines.
Co-Signer Information
If you plan to include a co-signer on your loan, you'll need to prepare identification, income, debt, and credit information for the lender, as well. Discuss your document preparation plan with your co-signer so they have the time to collect and assemble their necessary proof of lending eligibility.
Remember, when you seek to get a mortgage prequalification, you won't necessarily need all these documents. Most prequalification steps are based on estimates of income, debts, and finances. But when you're ready for preapproval and official application for the loan, this is the list you'll want to reference. And if you need help finding the Lehigh Valley home of your dreams, you can always count on the professionals at Homeway Real Estate to guide you!