The Ultimate Guide to Buying Your First Home
Posted by Alex Lopez on Monday, March 29, 2021 at 12:00 PM
By Alex Lopez / March 29, 2021
Comment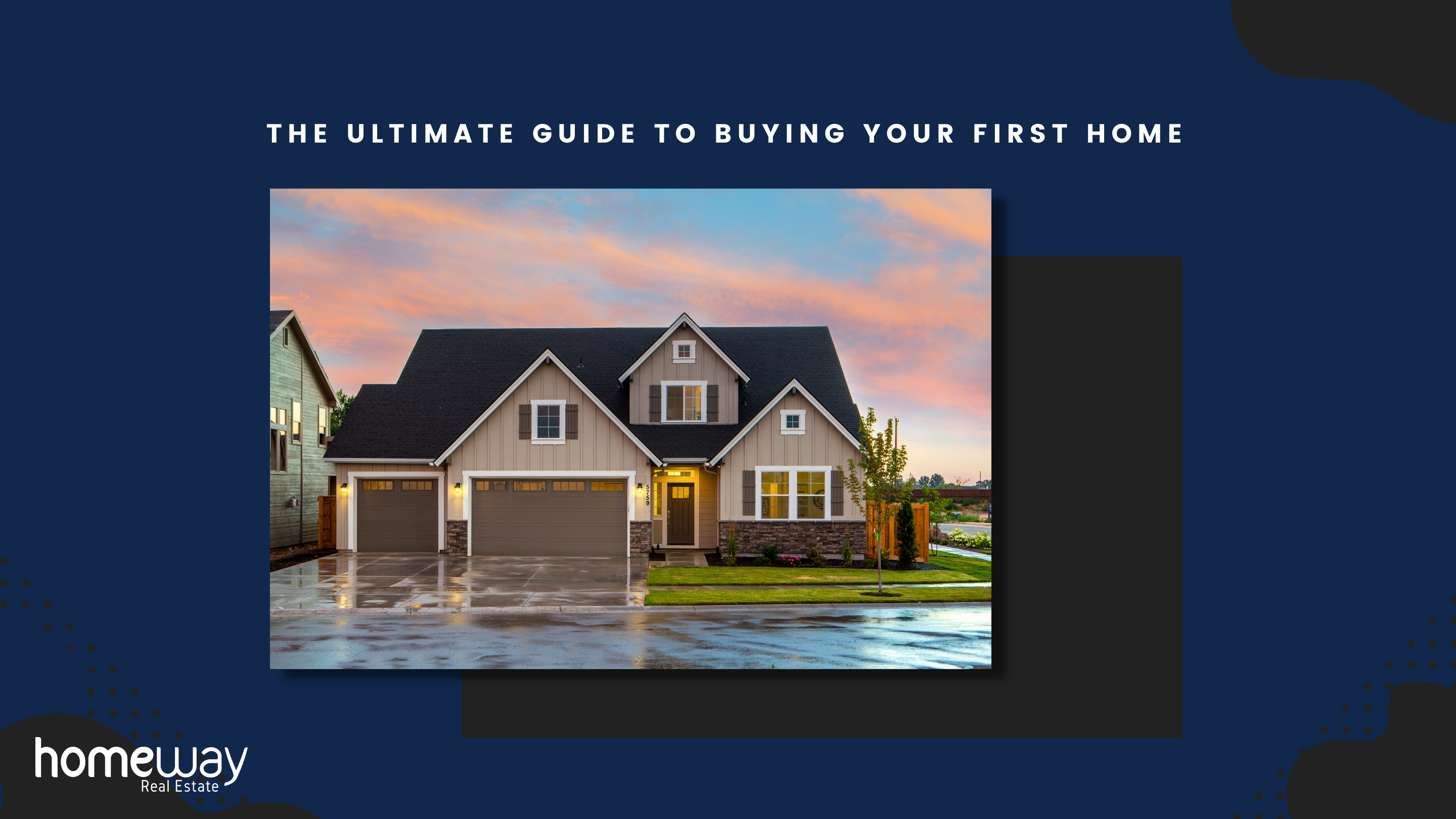 Buying your first home can be challenging and even a little intimidating. Take a look at this home buying guide to help you through every step, definition, and expectation. In this definitive guide to buying your first home, we'll show you what you need to know and help you feel confident in your home buying experience.
Table of Contents:
Chapter 1: Buying a Home: Do You Know the Lingo?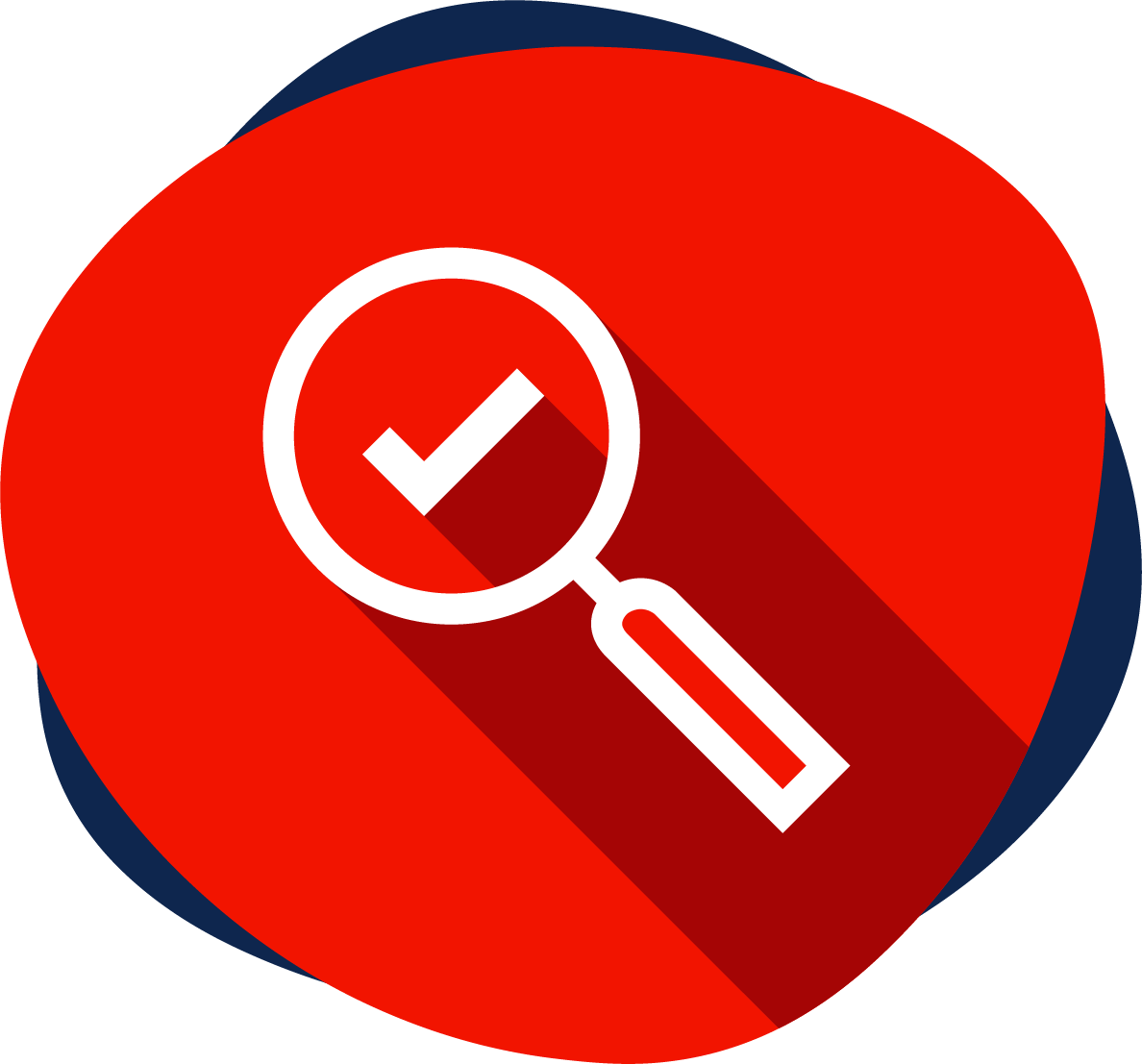 Chapter 2: How to Find the Right Real Estate Agent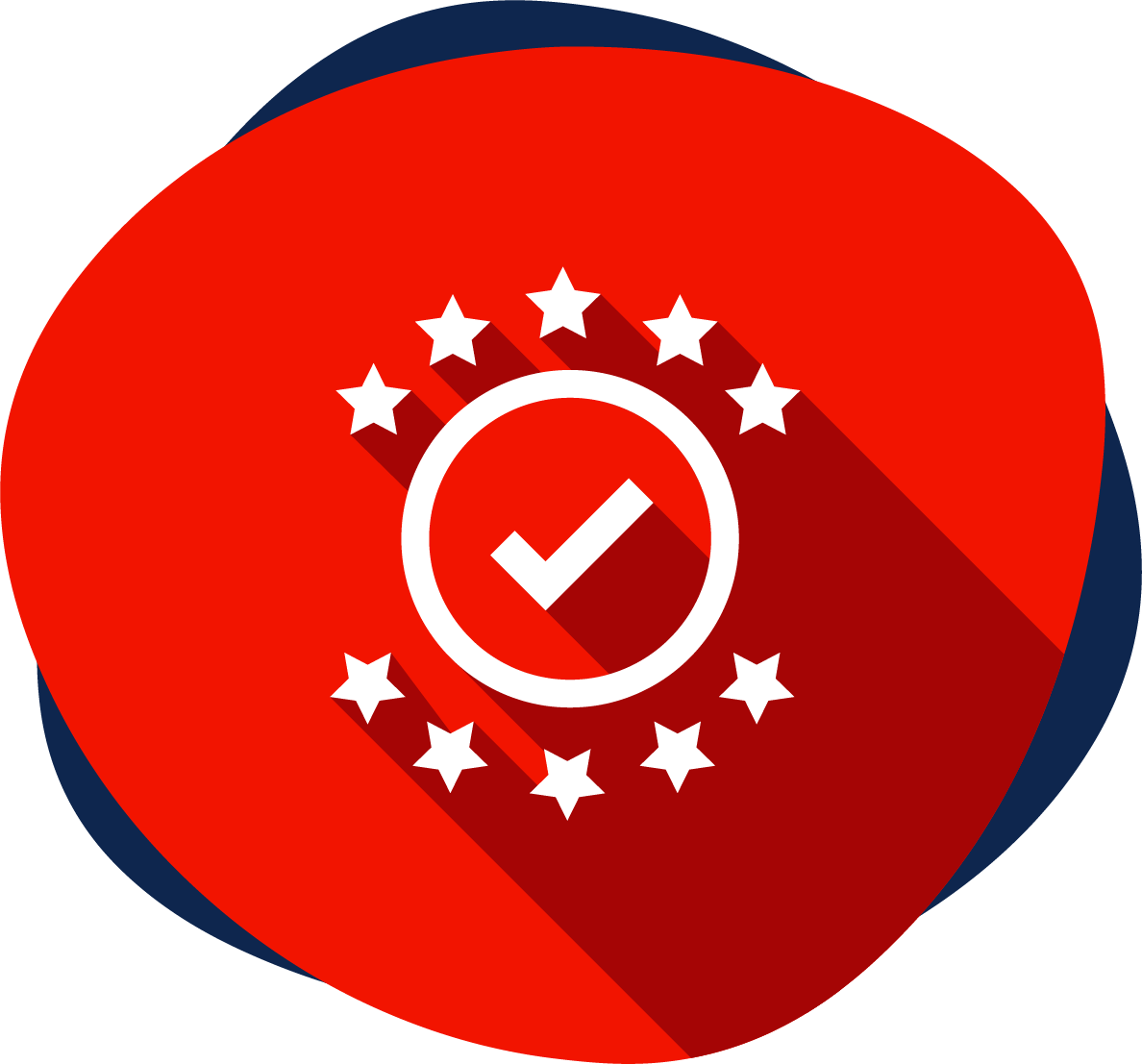 Chapter 3: Kick-Start the Process with Pre-Approval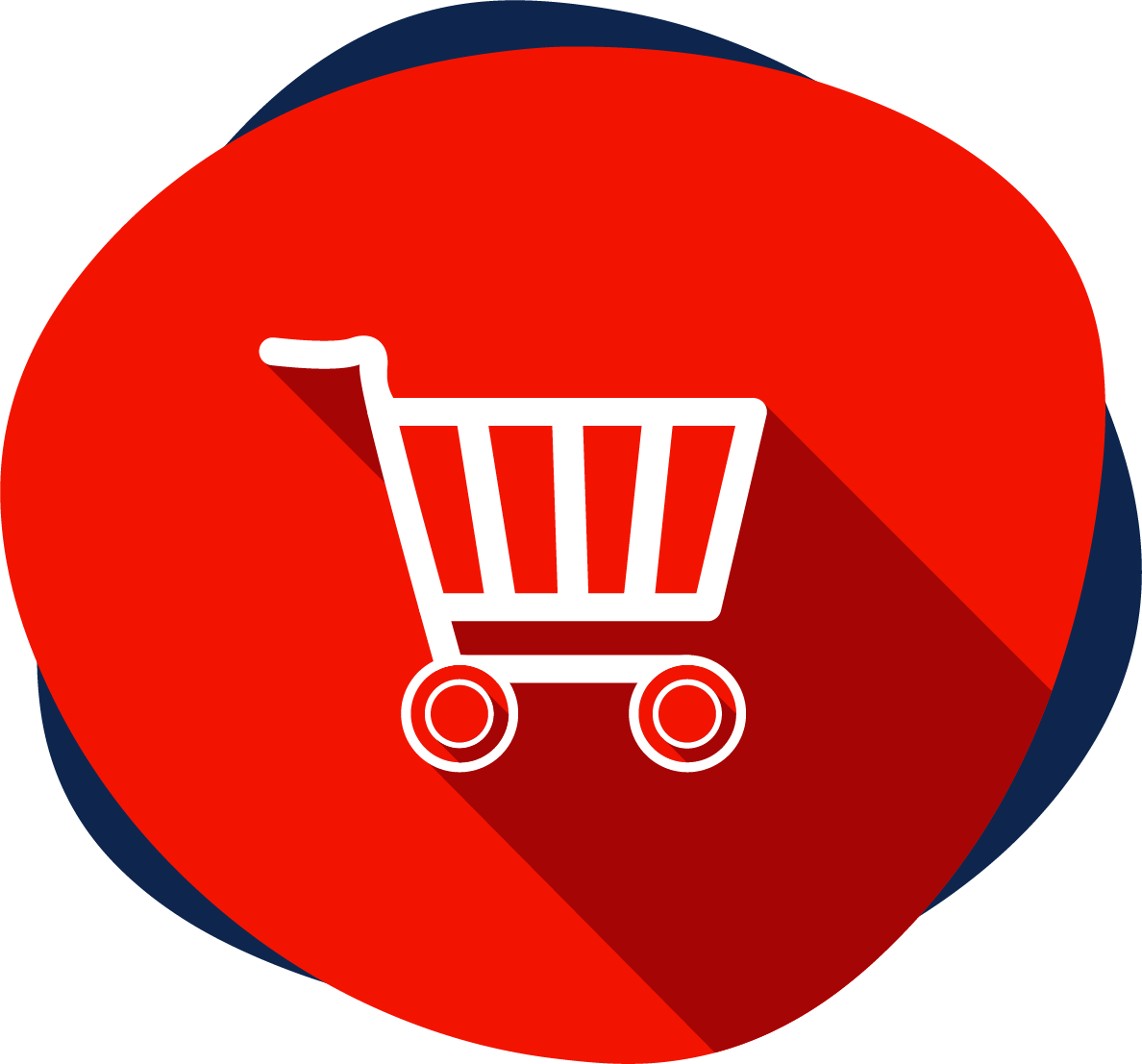 Chapter 4: How to Ensure You Have the Best Home Shopping Experience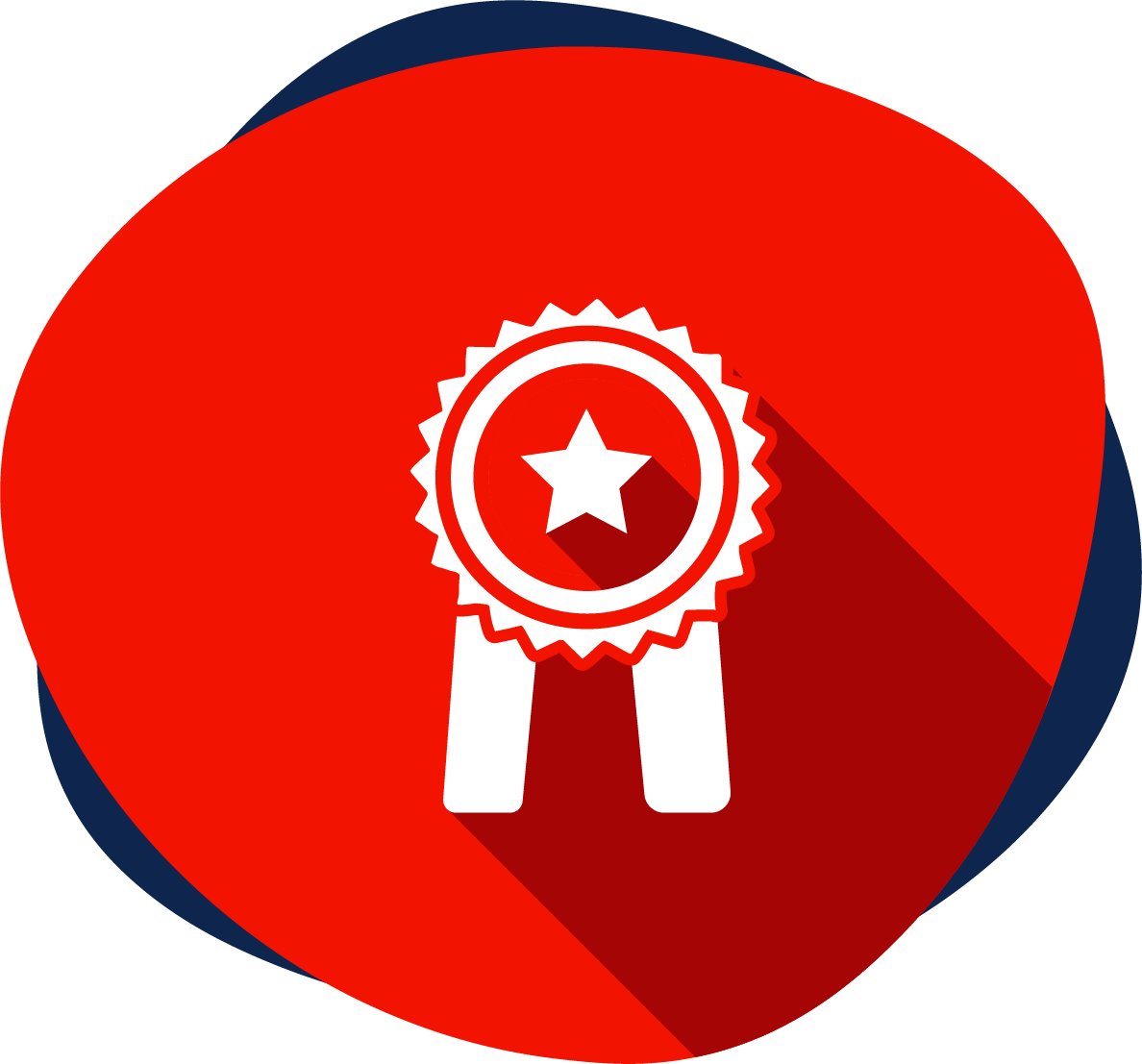 Chapter 5: Making An Offer That Will Win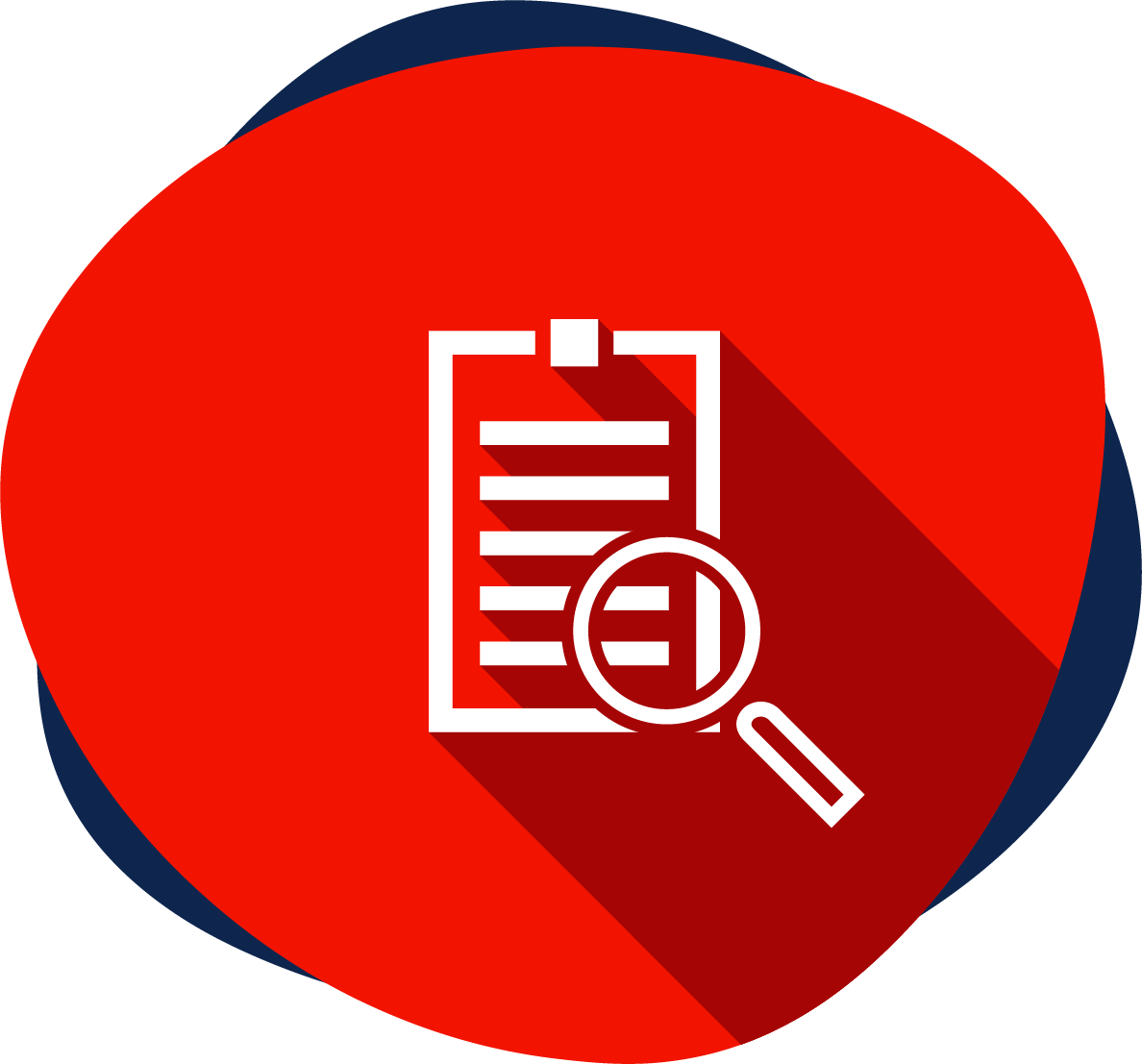 Chapter 6: Your Offer Was Accepted, Now What? Pt 1: Home Inspections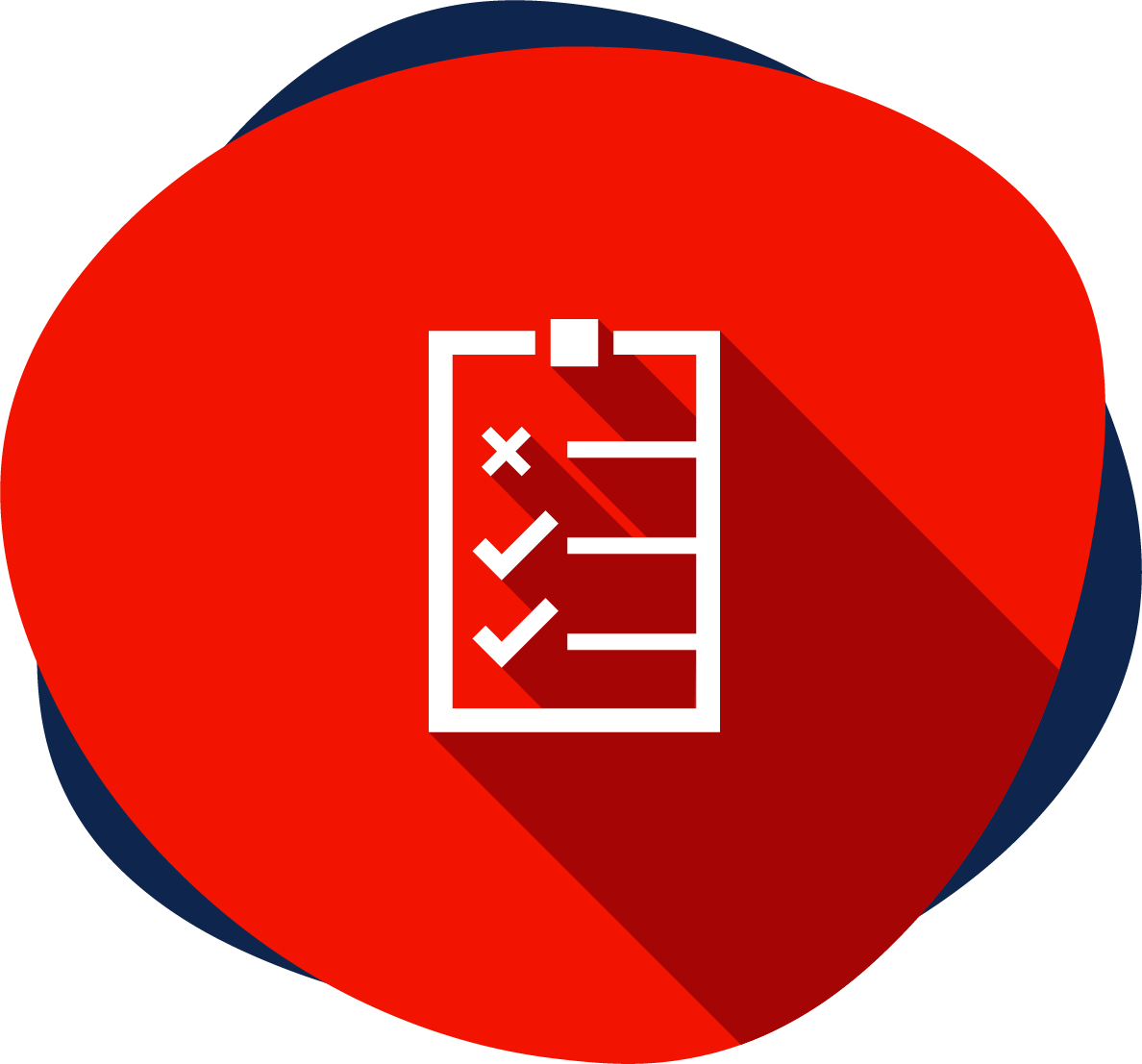 Chapter 7: Your Offer Was Accepted, Now What? Pt 2: Home Appraisal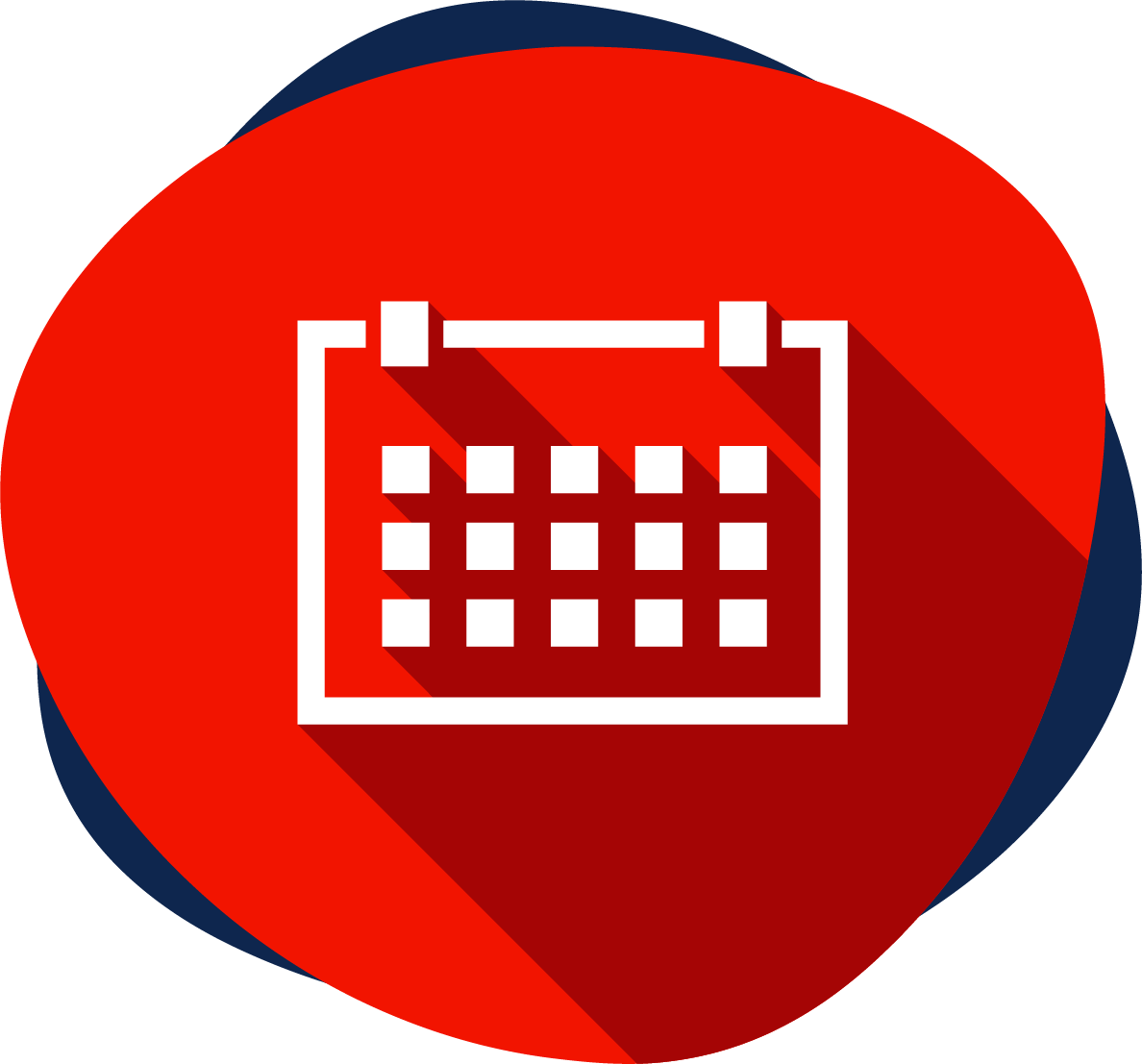 Chapter 8: What to Expect When Closing the Deal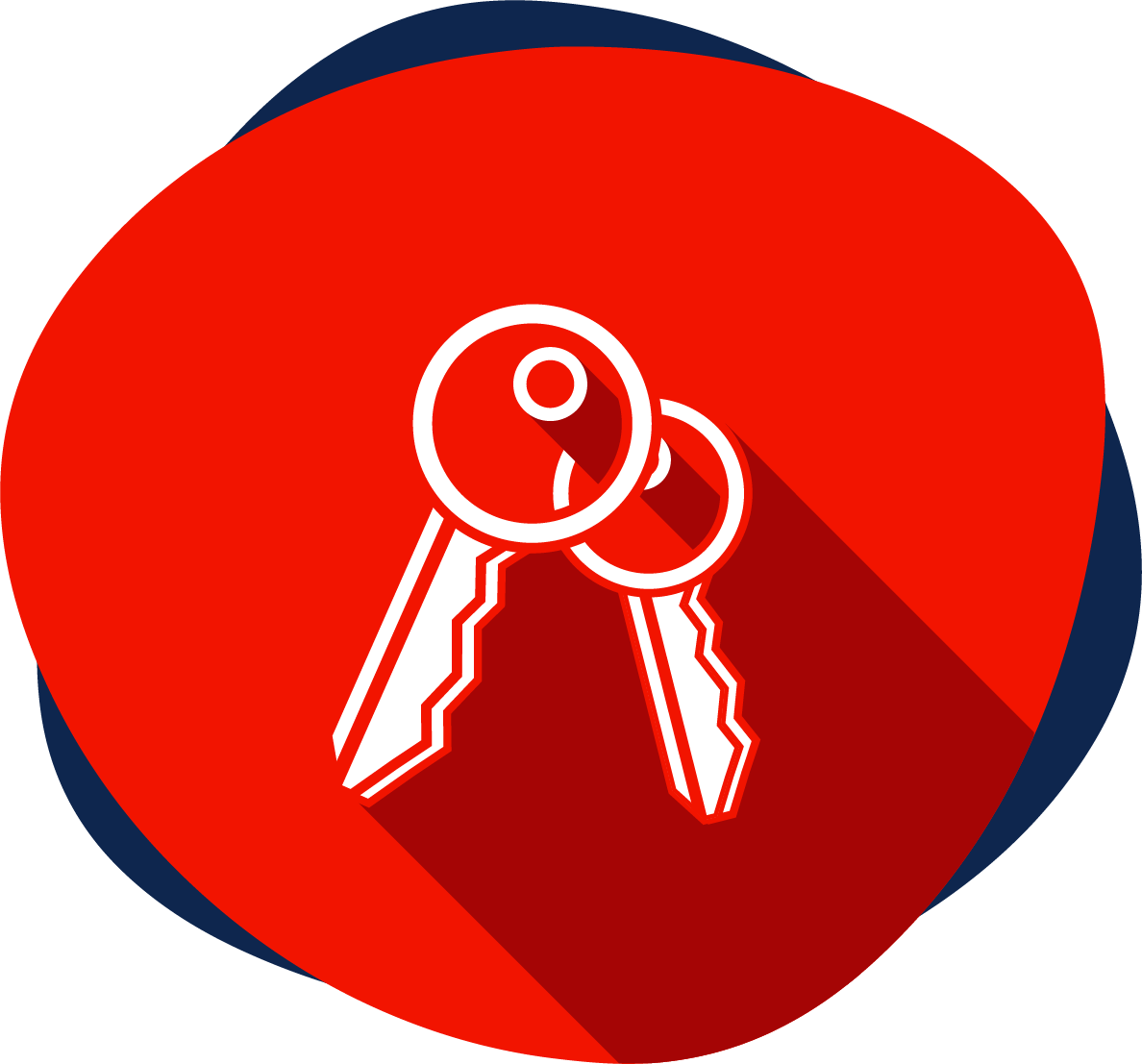 Chapter 9: Congratulations! You're a Homeowner! Time to Move in!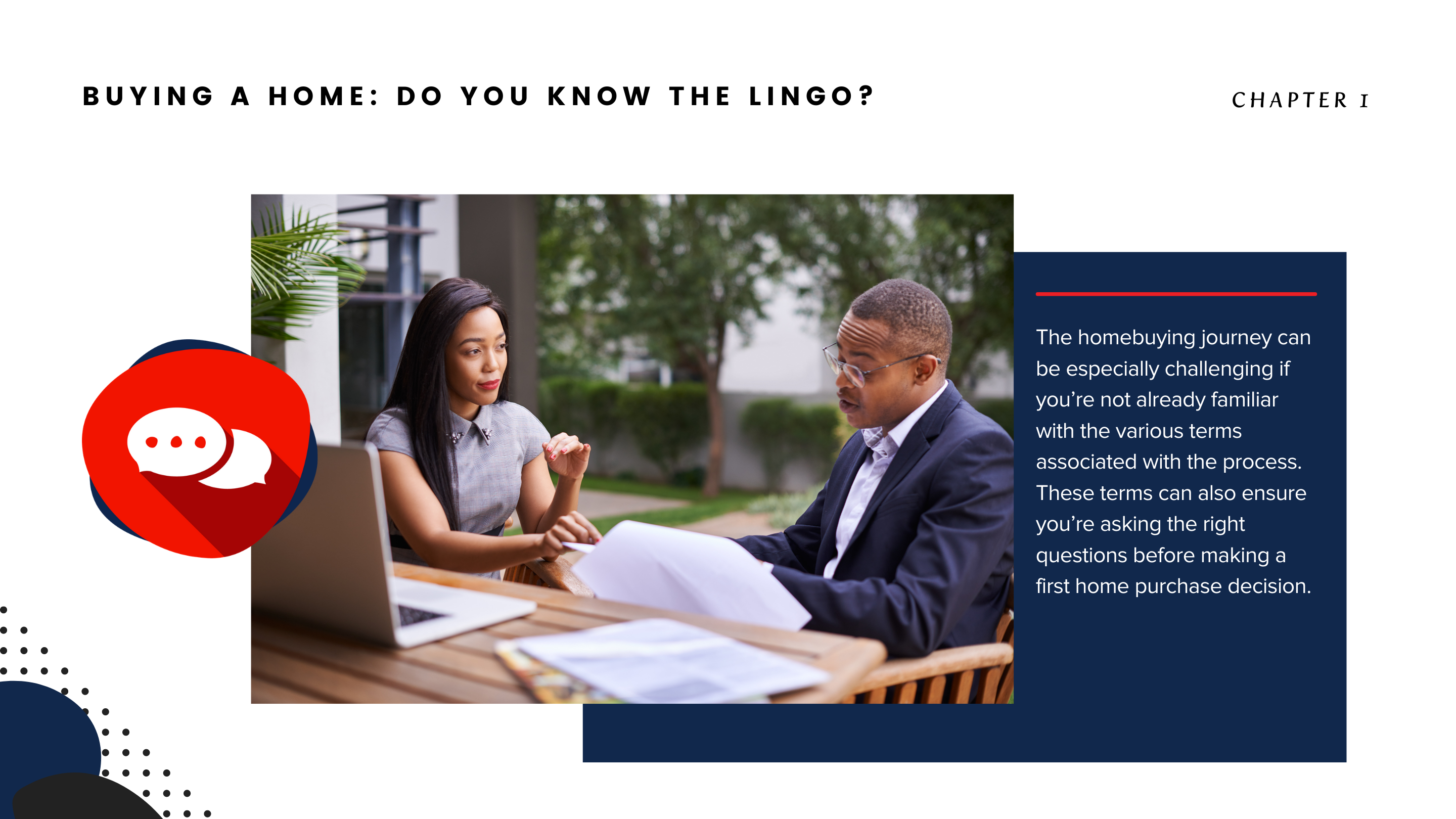 Chapter 1: Buying a Home: Do You Know the Lingo?
The homebuying journey can be especially challenging if you're not already familiar with the various terms associated with the process. These terms can also ensure you're asking the right questions before making a first home purchase decision.
Appraisal:
This step is the professional analysis used to estimate the value of the home. It's a necessary step in validating the home's worth and for your lender to secure financing.
These costs refer to the expenses for completing the real estate transaction. Paid at closing, these costs include points, title insurance, taxes, financing costs, and any prepaid or escrowed items. Your lender can provide a complete list of closing cost items.
Credit Score:
This is a number ranging from 300-850 that is based on an analysis of your credit history. This score is based on borrowing and spending habits and helps lenders determine the likelihood that you'll repay future debts.
Down Payment:
Down payments refer to an amount the buyer pays upfront for the purchase of the home and are typically 3-20% of the purchase price of the house. Some 0% down programs are also available for those who qualify. Ask your lender for more information.
Mortgage Rate:
This is the interest rate you pay in order to borrow money to buy your home. The lower the rate, the better, although these rates are typically determined by the going market rates and your credit score.
This is a letter from a lender indicating that you qualify for a mortgage of a specific amount. These are extremely helpful to secure before you begin searching for your new first home.
Real Estate Professional:
This is an individual who provides services for anyone buying and selling homes. Real estate professionals are available to help you find your dream home, negotiate any of the details that come up, and ensure you understand exactly what's going on in the housing market.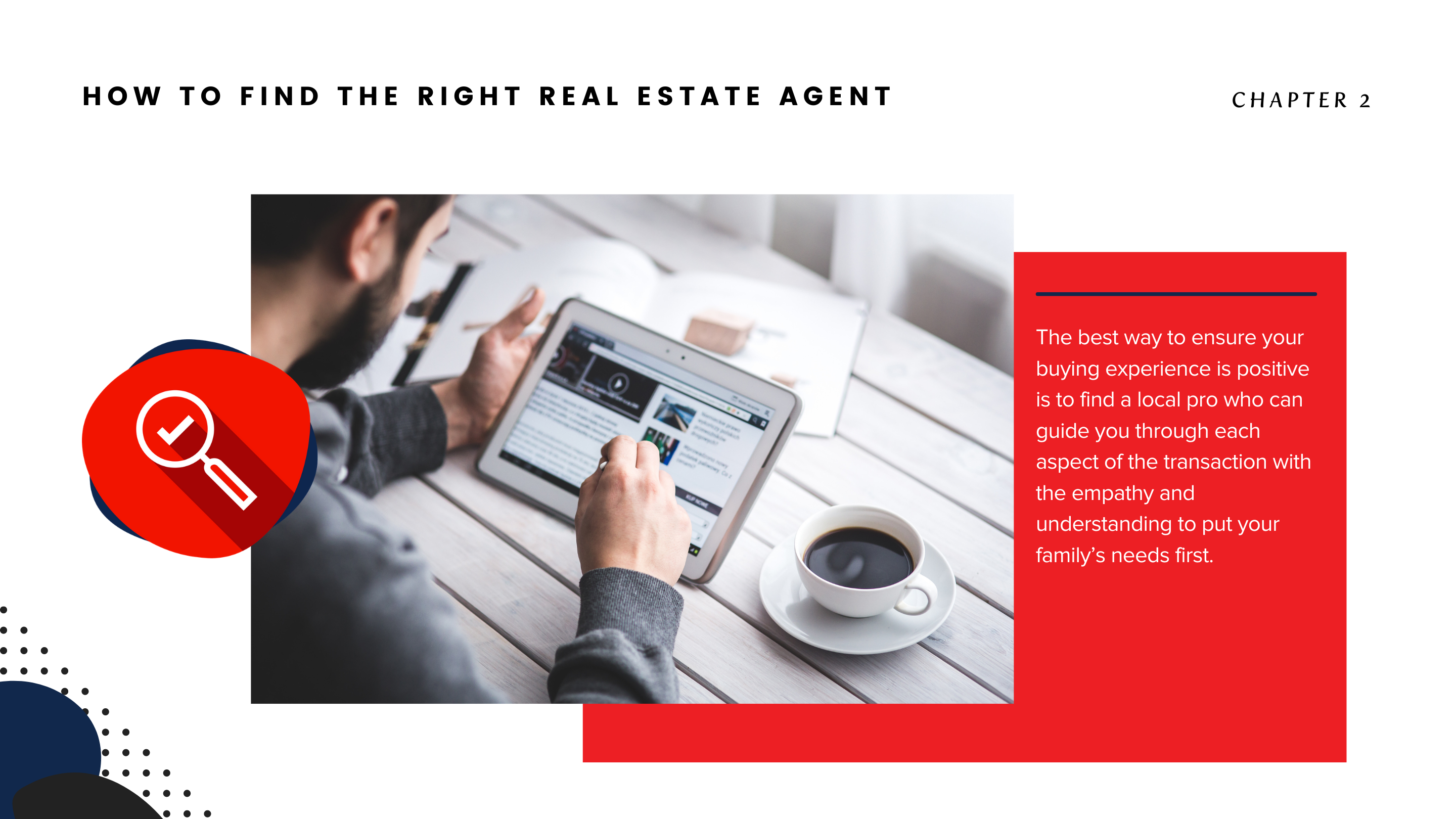 Chapter 2: How to Find the Right Real Estate Agent
When you're confident you have enough in savings for a down payment and are fully knowledgeable about your credit scores, you're ready to find an agent. You'll want a local agent who can guide you through the process of buying your first home. And not just any agent will do. The best way to ensure your buying experience is positive is to find a local pro who can guide you through each aspect of the transaction with the empathy and understanding to put your family's needs first.
Look for a REALTOR®
Anyone can show a home or have an open house, but not all real estate professionals operate with strict codes of ethics. Narrow your pro search by looking for a REALTOR®, which refers to the collective membership mark associated with the National Association of Realtors.
Keep It Local
There may be attractive offers for professional help from nationwide or online pros. But it's best to stick with a local professional instead. Having a localist in your corner means you'll have the most up-to-date information on the market and likely first-hand knowledge of local community living.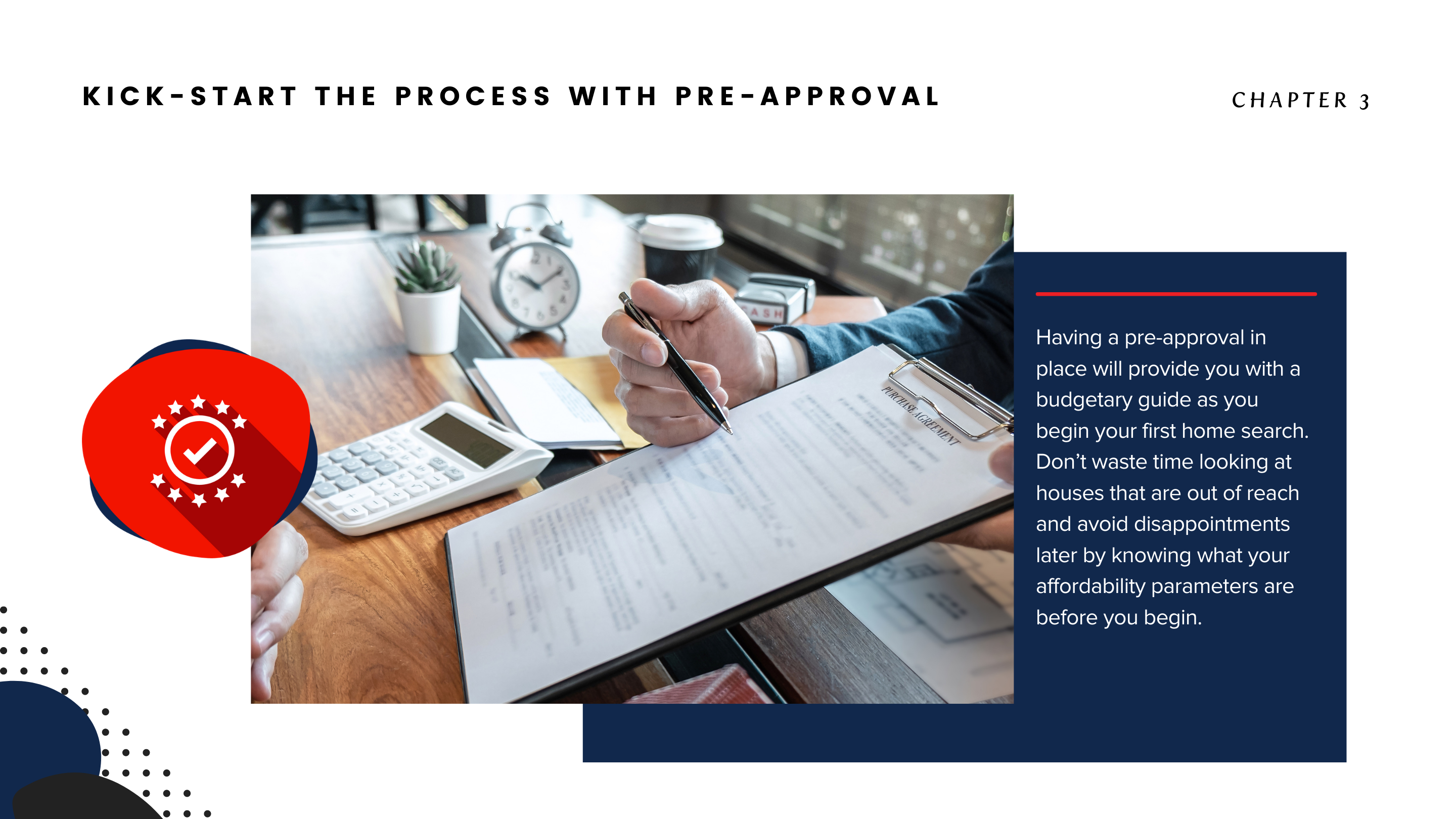 Chapter 3: Kick-Start the Process with Pre-Approval
Your agent will likely have a list of lenders you can work with to get pre-approved for your first mortgage. Having a pre-approval in place will provide you with a budgetary guide as you begin your first home search. Don't waste time looking at houses that are out of reach and avoid disappointments later by knowing what your affordability parameters are before you begin.
Finding a Lender and Knowing Your Credit Scores
There are countless lending institutions and organizations that specialize in homebuyers realizing their ownership dreams. Start by assessing your credit score to know what kind of borrowing position you might be in at first. Lenders will typically look at debt-to-income ratios, so any small loans you're able to pay off now can be helpful. Knowing your financial position will help you find the right lender and allow you to ask the right questions during the pre-approval process.
Loan pre-approval means you're serious about moving forward. A pre-qualification is more of a broad-strokes effort to estimate what kind of home loan you might be able to secure. The pre-approval process will determine your maximum loan amount based on your credit and can provide you with a pre-approval letter. It can sometimes be the determining factor in a seller accepting your offer over someone else's, as well.
Getting Your Numbers in Order
The pre-approval process can also help you get the rest of your numbers in order. Before you begin to schedule open house visits or tours, you'll want to have your approved loan amounts and potential mortgage rates in mind. You can then look at your dream home budget to determine your down payment affordability. Having these financial parameters in place will mean you can be more efficient with your home searching.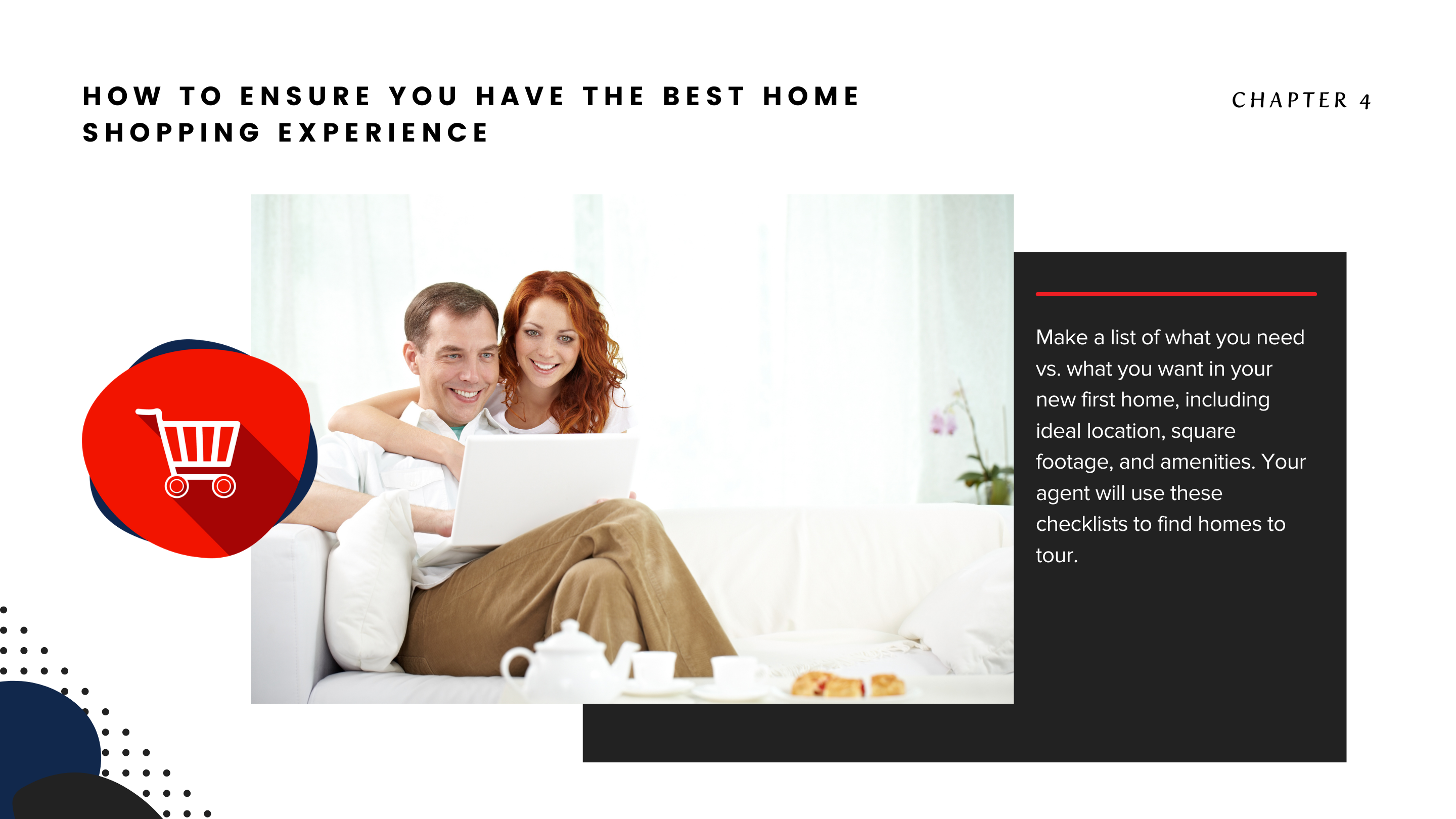 Chapter 4: How to Ensure You Have the Best Home Shopping Experience
Make a list of what you need vs. what you want in your new first home, including ideal location, square footage, and amenities. Your agent will use these checklists to find homes to tour. Don't waste time exploring homes that don't have enough space or require more work than you're interested in doing. It's also important that you keep an open mind and be flexible about those home characteristics that aren't necessarily deal-breakers.
Research Where You Want to Live
Every neighborhood and community has its own charm. Before you fall in love with a home-based solely on the house itself, take a step back. Go for a drive around the neighborhood area. Consider commutes, school districts, and local attractions before you decide. Look for resident reviews and check into local Chambers of Commerce for additional information about the community.
Pick a House Style That Fits
Evaluate your family's needs in terms of space and functionality to help you settle on a style of home that fits. Selecting your ideal location and practical budget isn't necessarily enough. For example, a Cape Cod-style home is typically going to have a master bedroom on the first floor and secondary bedrooms on the upper levels. For families with younger children, having all the bedrooms on the same floor may be a priority. If you're a retiree, you may only want to consider a ranch-style home without cumbersome steps throughout the layout.
Keeping Notes About Your Home Tours & Visits
Once you start touring and browsing the home listings, some of the features and amenities will start blurring between the addresses. Keep notes on the listing sheets to document what you love and don't love about each property you visit. Some agencies will provide a touring feedback form that will figure out your likes and dislikes, this will help your agent understand what a perfect home may look like for you.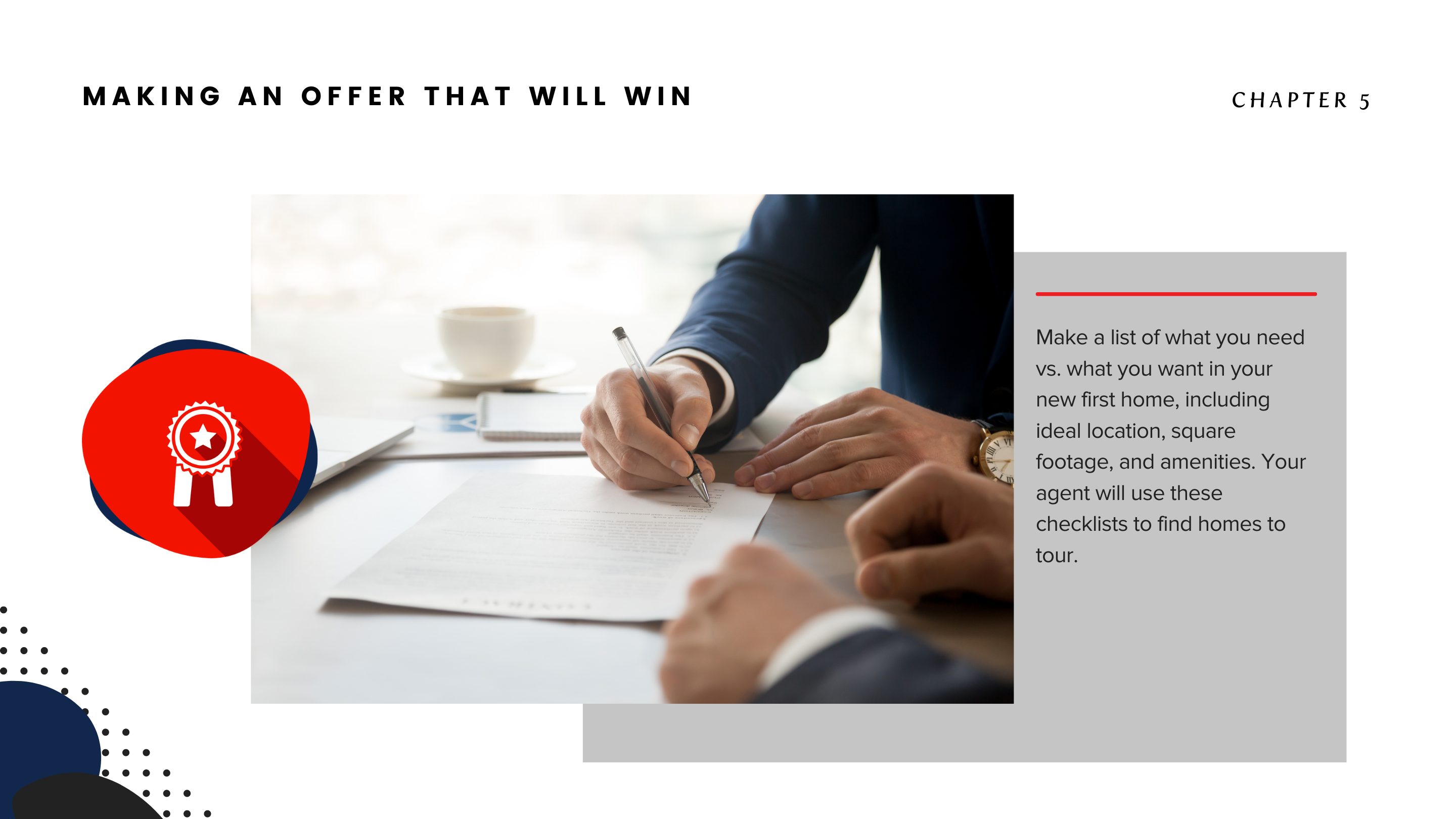 Chapter 5: Making An Offer That Will Win
When you're convinced you've found your dream home, you'll be ready to move forward with an offer. Your real estate pro will help you decide the best price to offer for the home. Housing markets can be incredibly competitive. You may not be the only interested party putting in an offer, so a real estate agent's guidance will be key.
How Your Pre-Approval Letter Can Provide an Advantage
This is also a critical point in the process when a pre-approval letter might provide you with an advantage over other, not-so-serious offers, as well. A knowledgeable real estate agent will have market data and experience to ensure your offer is well within line. And leave the negotiating to your agent, who will know if it's worth pursuing.
How to Determine a First Bid Amount
This is where the experience and market knowledge of your realtor is critical. Rely on the advice of your professional to help you make your first offer. It will likely depend on both your budget and the local market trends.
The Master Negotiator
Your real estate agent will handle the offer communication on your behalf. And this is another pivotal point in the home buying process at which only a master negotiator will do. Let your agent guide you through making or accepting a counteroffer and trust that he or she will do whatever possible to secure the most affordable price for the home. Your realtor will also keep you from overspending on a house that may not be worth it.
Price is not the only Factor
When crafting your offer, the price will not be the only determining factor for the sellers when looking at other offers on the table. Your agent will advise you on ways to strengthen your offer aside from your purchase price. Here are a few things that you can use to craft your strongest offer; flexibility on the closing date, mortgage contingencies, inspection contingencies, appraisal contingencies, as well as price.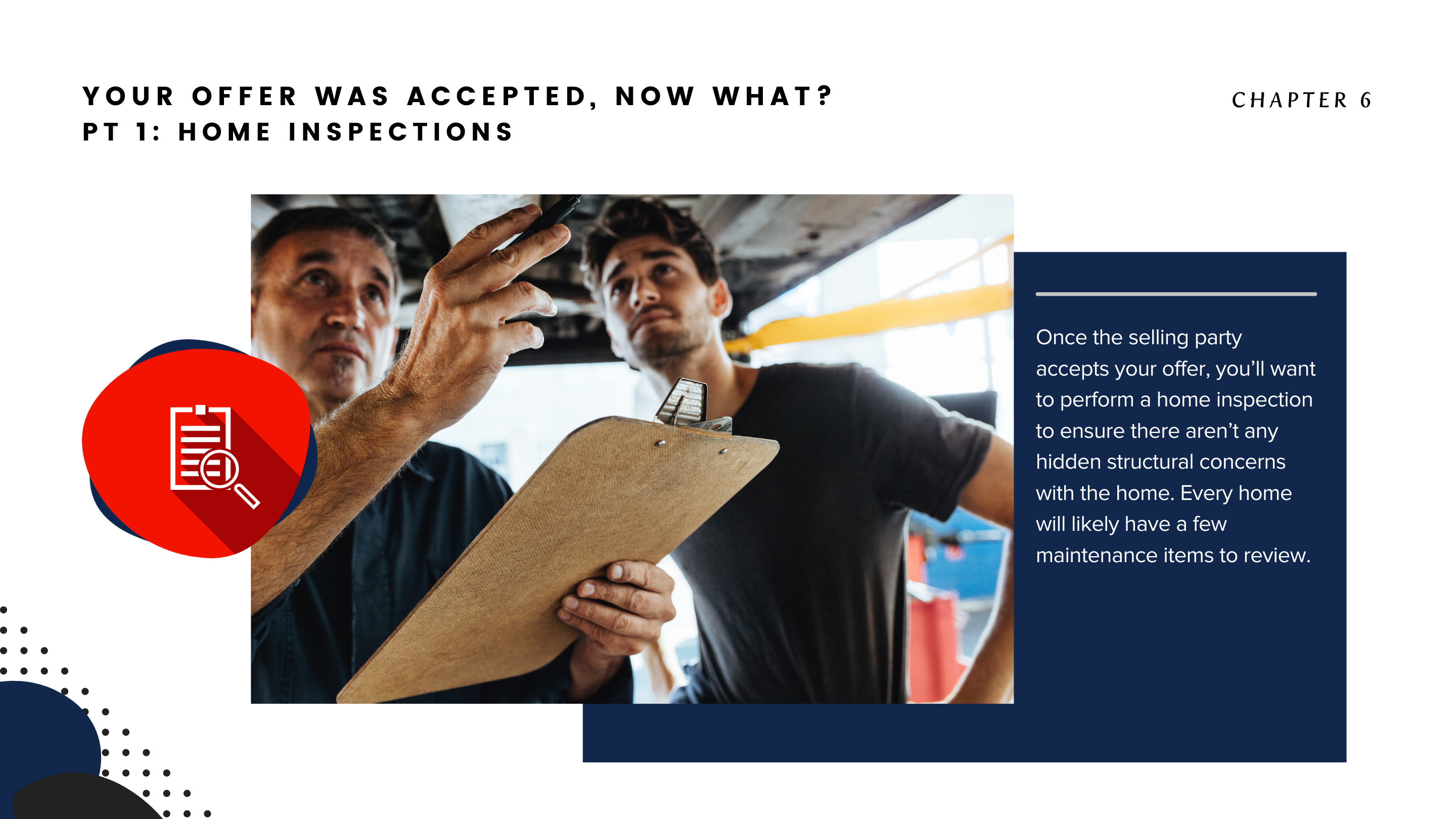 Chapter 6: Your Offer Was Accepted, Now What? Pt 1: Home Inspections
Once the selling party accepts your offer, you'll want to perform a home inspection to become aware of potential concerns and general maintenance for the years moving forward. Every home will likely have a few maintenance items to review. This will include key details about a home's foundation, HVAC, plumbing, roof, and electrical will help you make your final decision about purchasing.
Hire a Professional Home Inspector
Be mindful of finding a professional certified with either the International Association of Certified Home Inspectors (InterNACHI) or the American Society of Home Inspectors (ASHI.) These professionals are licensed and insured, with a keen eye for documenting any cosmetic or structurally concerning issues with the home.
Get Your Own Inspector
Get your own inspection, even if the seller already provided a pre-listing inspection, since conditions can change over a short time. When you hire an inspector, he or she works for you, not the realtor or the seller. Ask questions about your report and make sure you understand everything outlined before moving forward with the home purchase. Your real estate agent can help if any deficiencies warrant renegotiating the selling price of the home.
Inspection Fees Are Cheaper Than Buying the Wrong Home
Generally, home inspection fees are one-time and based on the age and square footage of the home, usually within the $300 to $600 range. This is a marginal fee that can keep you from investing several thousand in a home with more problems than you're ready to fix.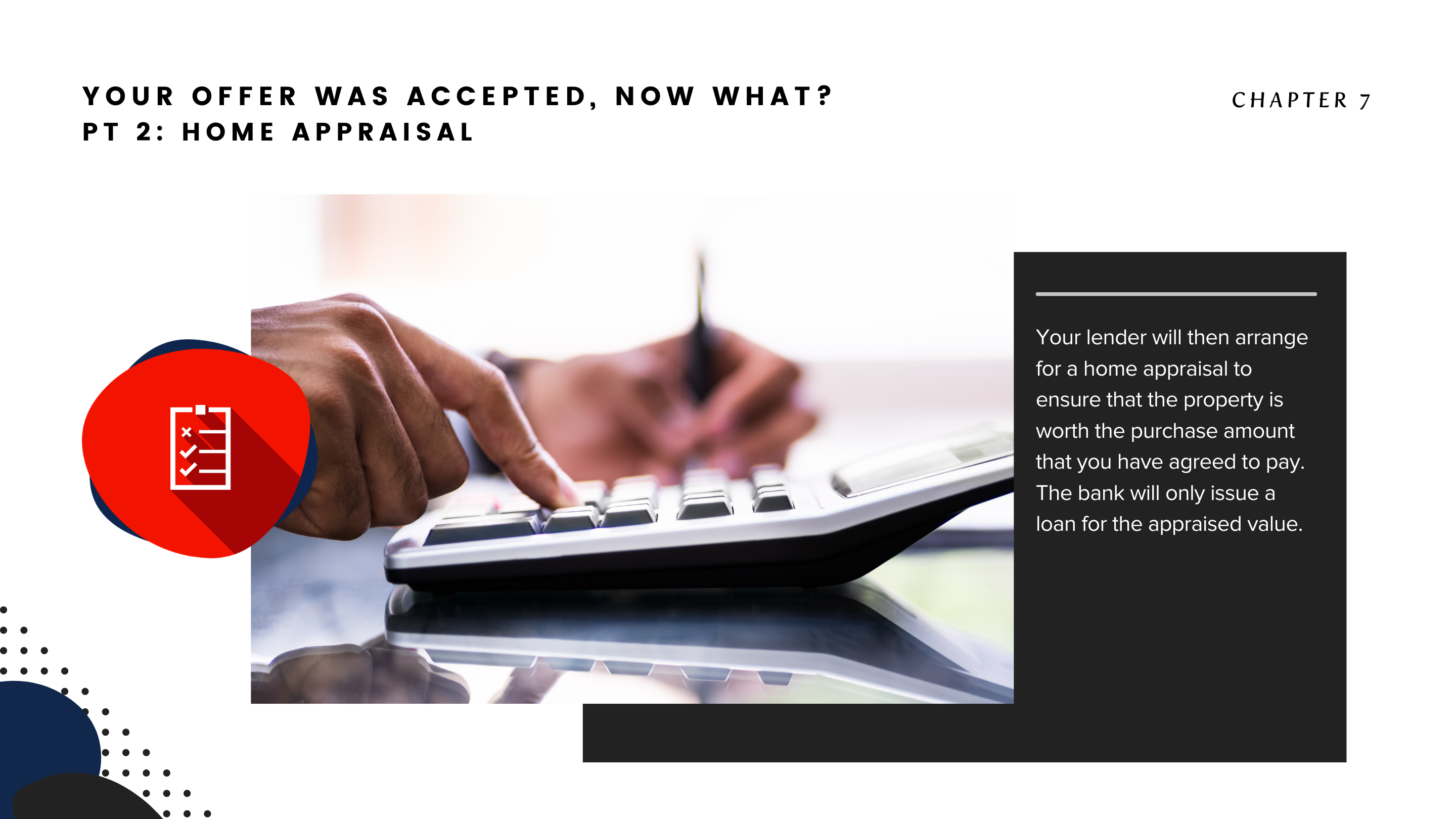 Chapter 7: Your Offer Was Accepted, Now What? Pt 2: Home Appraisal
Your lender will then arrange for a home appraisal to ensure that the property is worth the purchase amount that you have agreed to pay. The bank will only issue a loan for the appraised value.
Factors That Determine an Appraisal Amount
Appraisals are calculated based on a few key criteria. There is some influence by the recent home sales of similar properties in the area. Local market trends may also play a role, meaning a highly popular area with increased growth might skew higher in appraisal rates than a similar house in an older, less-developed area. The home's amenities and features also determine an appraisal amount, including square footage, number of bathrooms, and overall floor plans.
What to Do If Your Appraisal and Loan Amount Don't Match
If there is a difference between the total amount of the appraisal and the sale price of the home, there are a few options. You could pursue another appraisal using a different professional or try to contest the existing appraisal. Or this difference in figures could result in a renegotiation of the offer. If the gap is too big, you are welcome to abandon the deal altogether.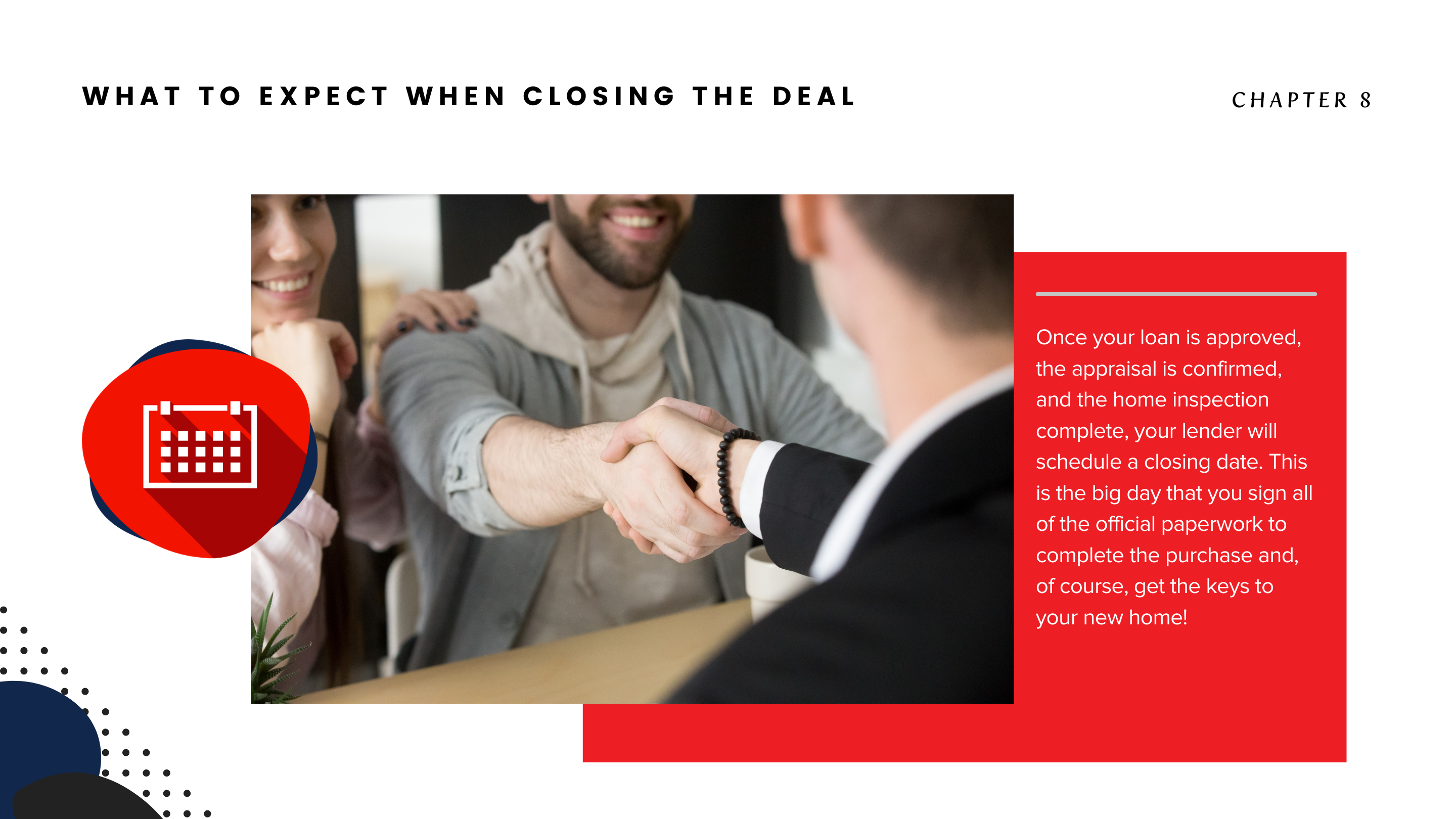 Chapter 8: What to Expect When Closing the Deal
Once your loan is approved, the appraisal is confirmed, and the home inspection complete, your lender will schedule a closing date. This is the big day that you sign all of the official paperwork to complete the purchase and, of course, get the keys to your new home!
Who Attends the Closing?
When you arrive at your closing appointment, don't be alarmed to see others. The sellers might be there, a lender representative and closing agent may also be present. Your real estate agent will usually plan to join you. And any real estate attorneys from either side of the transaction may also be part of the final closing process.
What You Need to Bring
When you head to your closing appointment, be sure to have a few critical documents with you. Of course, make sure anyone part of the loan or transaction has a current photo ID on hand. You'll also want to bring any outstanding documents requested by the title company or the loan officer. Cashier's checks or certified checks are usually the preferred methods of payment for closing costs not being deducted from the sales price. If you're unsure, ask your lender for confirmation.
The title company verifies that the title to the property in question is legitimately given to you as the home buyer. A designated title company closing professional will walk you through the paperwork and can address any final questions about the terms of your loan, escrow, etc. Upon closing, your new title insurance policy will be added to the seller's settlement statement, and typically, the homebuyer's escrow will pay for these policies.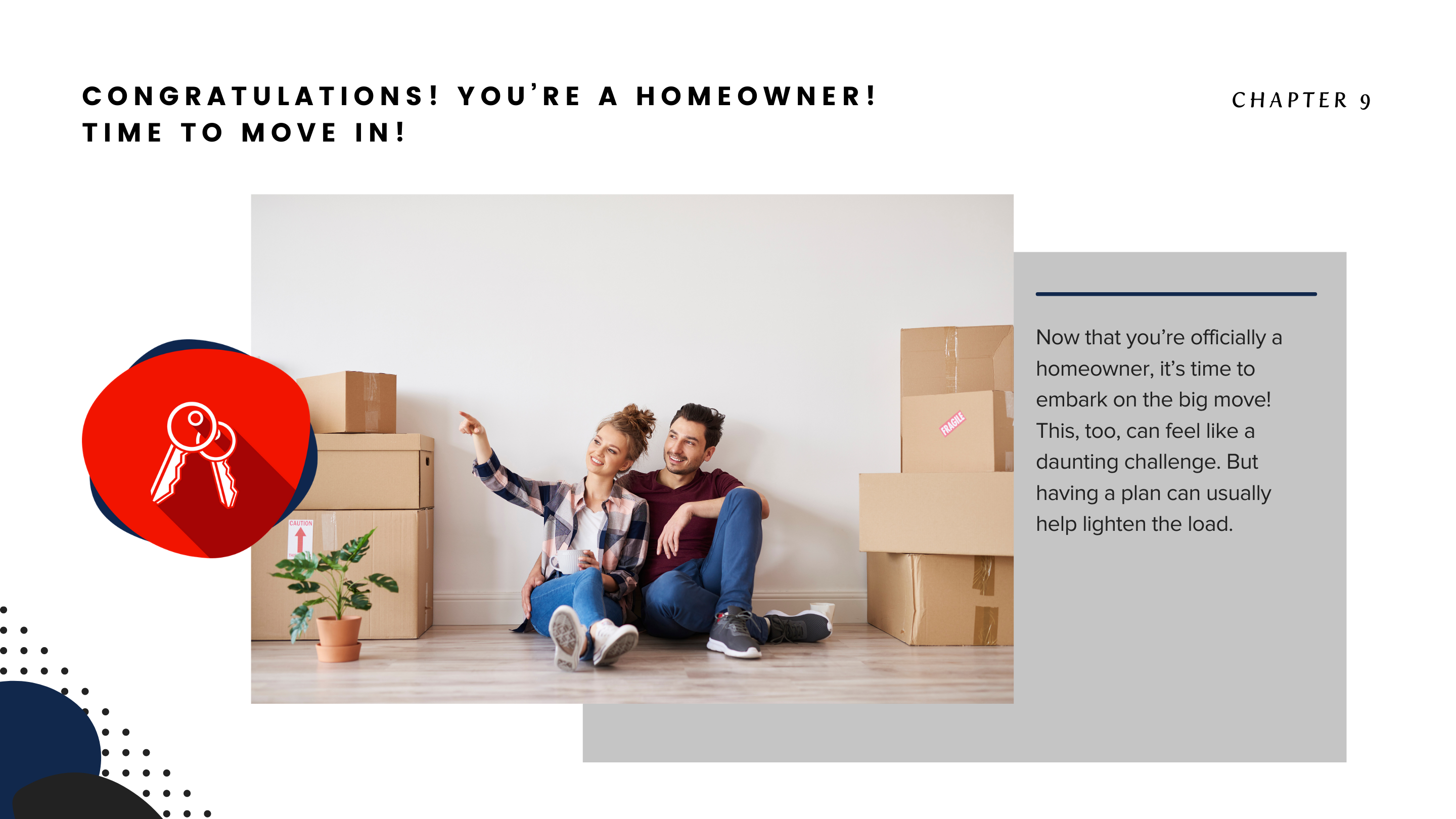 Chapter 9: Congratulations! You're a Homeowner! Time to Move in!
Now that you're officially a homeowner, it's time to embark on the big move! This, too, can feel like a daunting challenge. But having a plan can usually help lighten the load.
Understand Your Timeline to Move
It's crucial that you understand your timeline to move so that you can make arrangements. You'll want to make sure you allocate time to get the water and electricity turned on and in your name before you move in officially. Having a timeline can also keep your countdown days organized, with specific days to pack, clean, fix, paint, etc.
Storing vs. Selling vs. Moving
Going through your things, take time to decide if there's anything you want to get rid of entirely. Don't move items you don't have to if you plan to donate, sell, or store belongings. Consider packing up those things you don't need every day, like decors or seasonal items. Those boxes can be moved anytime, without impeding your transition to the new home.
Hiring Professional Help
Like so many other steps in the home buying process, your real estate agent can be an excellent resource for finding moving help. From reputable moving companies or local storage facilities, your agent should have a finger on the pulse of the market with recommendations. If you're planning to facilitate the move on your own, you may still need references for local plumbers, painters, or contractors to do those last-minute projects before moving in, too.
Conclusion:
Buying a new-to-you home for the first time can certainly be an exciting and overwhelming experience. But understanding the terms and how to navigate with tips like these can help ensure your process is a memorable and positive one.
Share some of your experiences, and feel free to ask us more questions! If you see a topic not discussed, let us know, and we offer additional insights into your home buying journey.