Top 5 Restaurants That Allentown Locals Rave About
Posted by Alex Lopez on Wednesday, March 18, 2020 at 11:18 AM
By Alex Lopez / March 18, 2020
Comment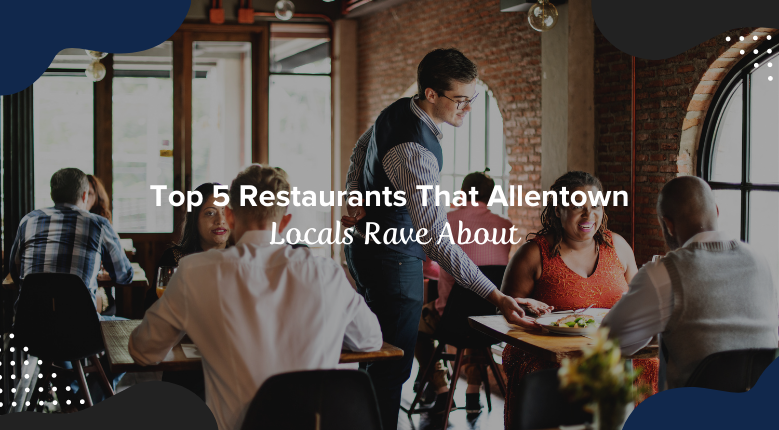 Finding the best restaurants in or around Allentown can make the difference between an unforgettable night on the town and a lunch or dinner that you would rather not remember. Whether you're dining with your family or searching for the perfect setting to pop the question, we have you covered with this quick guide to five of the most popular Allentown restaurants.
You'll find this American-style bistro on the corner of Union Street and South Fulton Street, just a couple blocks west of Lumpy Lou's Bar and Grill. They're closed on Mondays, but you can order lunch and dinner any other day of the week. The casual dining atmosphere is relaxed and soothing, and you can expect nothing but consistent flavor from the food.
Union & Finch is known for their assortment of pickles made in-house. Try the truffle French fries, crab cakes, or chicken and waffles. The menu includes some vegetarian options, including a veggie meatloaf and a grilled vegetarian sandwich.
If you like seafood, this little Allentown hangout should top your list as one of the best restaurants in Lehigh Valley. The food is fresh, the portions are always generous, and you can get a great deal if you drop in during the week and order the dinner special. All dishes are French-inspired, and even the salad bar is a hit with locals.
This little shack of seafood delight is just a few blocks north of the Allentown Fairgrounds on West Allen Street. The nearest crossroad is North Lafayette Street.
Think of this as the no-guilt Mediterranean Grill. Everything is prepared from fresh ingredients with no preservatives. The menu is diverse with vegetarian and gluten-free dishes just as flavorful as any other meal. Some popular menu items include stuffed grape leaves, fresh hummus, and delicious chicken or steak shawarma. The vibe is family-friendly with warm, welcoming staff members.
Lazeez Fresh Mediterranean Grill is located in Tilghman Square Plaza on Broadway. Look for it by the Tilghman Square Shopping Center.
When you want a casual atmosphere with upscale food options like octopus, head to 3501 Broadway to experience this "sophisticated yet unpretentious" Allentown restaurant. The menu is described as New American but features dishes from a variety of cuisines, including Mediterranean, Asian, and French. Dine in the restaurant or slip outside to The Loft for open-air dining.
The diverse menu and upscale food options are what make Grille 3501 one of the best restaurants in Lehigh Valley. Try a meal out on the patio for a more relaxed setting with the same great food.
This small storefront restaurant doesn't have a website or a fancy dining room, but they do offer some of the best authentic Mexican food in Allentown. You'll find it at 158 N 12th Street, where street parking is required. They only accept cash, but it's worth stopping in if you're hungry and want affordable food with tons of flavor and high-quality ingredients. It's at the West Turner Street intersection just down the road from McKinley Elementary School.
While La Placita doesn't have an extensive menu, they will fix your craving for all the Mexican standards like soft tacos, tostadas, burritos, and tamales. You may also want to try something new like hot shrimp soup or menudo.
Seating at La Placita is limited to a few small tables. This is the perfect place to stop when you need to grab food on the run or you just don't want to spend time sitting in a restaurant.
Dining Options in or around Allentown
Allentown has something for every taste bud. Whether you're searching for the spiciest Mexican, the healthiest Mediterranean, or the freshest seafood, there are restaurants ready to make your tongue scream with pleasure. The variety starts with small "hole-in-the-wall" restaurants like the La Placita Mexican Deli and extends to upscale restaurants with sophisticated menus.
These dining options make living in Allentown more enjoyable, but they also giving you a reason to stop and spend a bit of time if you're just passing through.