What Is A 1% Listing Fee & Why Homeway Real Estate Offers It To Sellers
Posted by Alex Lopez on Wednesday, July 29, 2020 at 3:53 PM
By Alex Lopez / July 29, 2020
Comment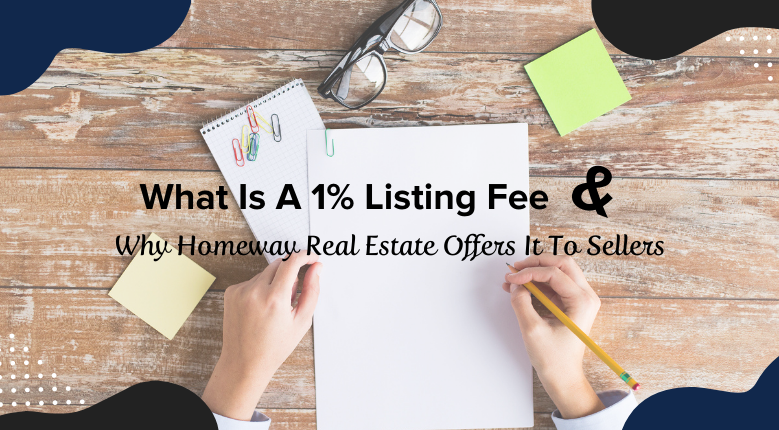 One of the biggest complaints is that real estate fees are too high. According to the National Realtor Association (NAR), 11% of homeowners resorted to selling their homes by themselves to avoid brokerage fees. You might not know this, but selling your home by yourself is not for the faint-hearted. You may end up spending WAY more money in the process.
The second alternative is to approach a realtor and negotiate a lower fee. Unfortunately, this may mean less commitment by some brokerage firms. The good news is that sellers now have another option on the table, realtors that only take a 1% listing fee.
This article demystifies common myths surrounding low commission realtors and outlines the benefits of partnering with them.
How it Works
The listing fee is the commission paid to the listing agent for helping you sell your house. The standard brokerage fee in the United States is 6% commission of the selling price. This amount is paid to the listing agent, who then splits it down the middle with the buying agent (realtor representing the buyer).
It means that the listing agent, in the real sense, gets 3% of the commission. Unlike traditional realtors, low commission listing agents charge just one 1% commission for full-range service. You still have to pay the buying agent their 3% bringing the total brokerage fee to about 4%. Two percent is a significant chunk of change when you are talking about thousands of dollars.
Why We offer a 1% Listing Fee
Homeway Real Estate belongs to a growing group registered discount fee realtors whose main priority is to help homeowners sell faster. The following are some of the benefits of working with a low commission realtor.
1. Huge Savings
Lower cost is the number one selling point of partnering with a realtor that only charges a lower listing fee. Most sellers don't fully appreciate how much 3% is until it's time to pay your realtor. Let look at a quick example.
According to data from the Census Bureau, the average selling price of a house in 2019 was $383,900. Quick math shows that 3% of that amount is $11, 517. On the other hand, a 1% commission only amounts to $3,839. The difference between the two is $ 7,678. The higher the value of the property, the more significant the saving. Now some people may argue that because you are paying less, there is less commitment from the realtor. Nothing could be further from the truth, which brings us to the second benefit.
2. Full service at a Lower Fee
There are indeed discount and flat fee realtors out there that offer limited services due to the low brokerage fee. However, that is not what we do at Homeway Real Estate. The lower listing fee does not translate into less dedication from our team. You still get a full range of services from the hardest working real estate agents in Allentown. These are
Home Valuation - We use our experience and knowledge to set a fair price for your home. Not too high that it does sell or so low that you get less.

Preparing the Home - A home has to be prepared for sale. This is done to enhance the best features of your property. It involves professional photography, virtual tours, and staging, all at no extra charge.

Marketing - Unlike some fixed-rate commission realtors, we go beyond Multiple Listings Service (MLS). We utilize social media and other forms of marketing to get your property in front of potential buyers.

Negotiation and Closing - All buyers who show interest in your property will get a swift response. Once a buyer is found, Homeway pre-screens and takes care of all the logistics to ensure the deal goes through smoothly.
3. Faster Sale
Since we are not looking for a big payday, it is in our best interest to makes sure your house sells in the shortest time possible. Today, the MLS system is one of the best ways to get a buyer, but anybody can do that.
In addition to adding your listing, we create a custom listing on our website, reaching a bigger audience. We also create social media posts to generate more buzz. Lastly, your listing is sent to more than 10,000 potential buyers in our database. All these tools complement each other, leading to more inquiries and a quicker sale.
Takeaway
A study by ResearchGate showed that American real estate brokerage fees are significantly higher than in other developed countries. For instance, residential commission fees in the U.K average below two percent. The introduction of low commission realtors will undoubtedly shake up the market in the coming years.
Fortunately, you don't have to wait for the market to catch up. We boast of some of the most helpful real estate agents in Allentown. There is no reason you should continue to pay more. Get in touch today.